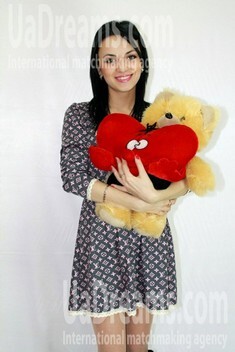 Our personal opinion of this Lady:
She is very attractive and full of energy! She is serious about family and ready to do everything for her only man in future!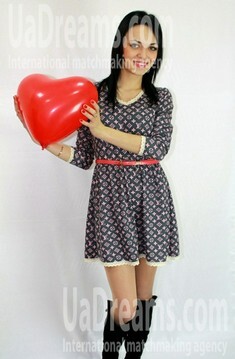 Lady about herself:
I am cheerful usual lady who is ready to share her positiveness and all life with one very nice man! Maybe with you?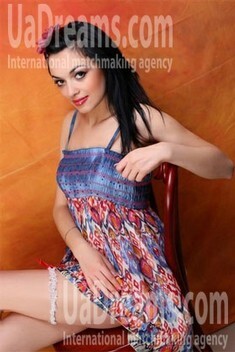 Domestic abilities:
My mom always tries to teach me how to do all house work. I can do it now but I am lazy sometimes :) Hope my husband will help me :) But there is one very favorite thing of mine - I love ironing - it makes me feel very calm.
My typical day:
I adore improving my skills. I have a lot of girl friends with beautiful long hair. I am hairdresser in my soul - so I love to do different beautiful things with their hair :) It takes a lot of time. Also I adore reading and visiting new interesting places. In summer I spend a lot of time with my girl friends on the beach or in swimming pool or in gym. I also like learning new things about other foreign countries that I dream to visit one day!
What I do in my leisure time?
I am very communicative person so I always like making new friends. I adore spending time outdoors especially in summer. I receive pleasure from communication with kind, polite and interesting people who can teach me something new. I know that men like to communicate with interesting ladies that is why I like reading, listening to the music, I like sport because I want always to be in good fit. And it is very important to be in good health that is why I pay a lot of attention to it!
About my family:
I have no sisters or brothers but I have my beloved mother who filled my childhood with positive emotions, health and joy. I was very happy child and now we are very good friends with my mom. She lives in the countryside and I live in the city because of study. I miss her much but we communicate by phone and visit each other very often. Family means a lot for me!
The type of man that I desire:
It would be great to find person with whom I will share all my life but I want him also to share with me his interests, wishes and plans for this life! For me to find soul mate means to find special person who will understand and support you in any life situation. Who will help you whenever you are. I am sure there are no ideal people that is why I am looking for one special attentive, interesting, wise, kind, polite, tender man who will love me. What else usual and weak lady can wish? :)
My future goals are:
I dream about having happy life. People think that being happy means to have expensive car, huge house and a lot of money in future. But I think that we all should learn how to feel happy right now at this very moment. In future I want to finish my study and create my strong family - that will make my life full.