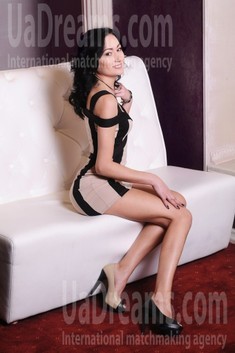 Domestic abilities
I love experimenting in cooking and my loved ladies (mom and daughter) constantly tell me I do it successfully. So maybe once you will have the chance to check it out. I'm sure you won't regret!:) I also like to make designs and sew and knit clothes for my daughter and niece. I love when it's clean and cozy at my home, that's why I often clean out my house, move the furniture to make it look fresh and new. I just like the diversity and hate boring life.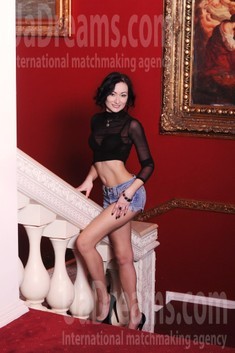 Our personal opinion of this Lady
This lady is very beautiful and sweet, a wonderful housewife, kind and faithful, needs only love, support and understanding. Don't lose your chance to get to know her better! You will be pleasantly surprised.
See her fascinating movements and charming smile...
Feel as if it was your first date with this lady — it is worth 1000 pictures!
Watch this video for FREE
Lady about herself
Reading my profile you can see that I am very sensitive, creative and romantic person. I love people and I am open to communicate with good and kind people. Kindness and understanding are my main qualities. I always support my family and friends, so you can also rely on me. I hate lies, because I'm an honest woman, so I demand it from other people too. I hate cheating, cause I know how it hurts when the man you love cheats on you. And I can also describe myself as a nice housewife. So you have got into safe hands! :)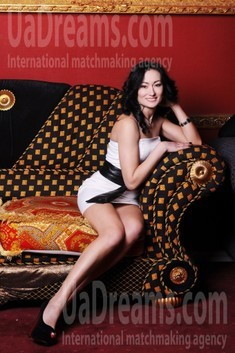 What I do in my leisure time?
I like to spend my free time doing useful and creative things such as reading books, knitting nice clothes for my daughter and friends. I also love to come home after work and relax listening to good music. One my favourite things to do is cooking. So I often cook different dishes and try to make my daughter and friends happy and fed.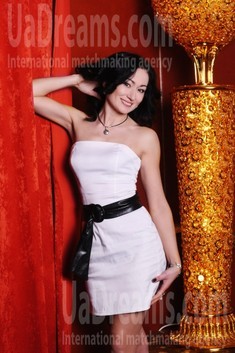 My future goals are
My main dream is love... happiness...family. There's nothing better in the world than to feel my beloved man's care. And to take care of my man is even more pleasant. I know how it is to love with my entire heart and to be loved. And I also know how it is to lose it all...My dream and goal is to find you and to never lose you. To love and to be loved, to build mutual dreams and goals, to fulfill all our plans into reality, just to live full lives...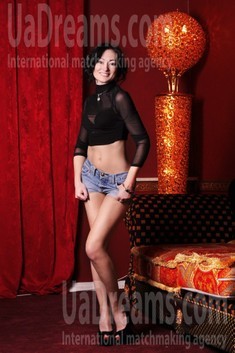 The type of man that I desire
I'm not searching for a prince from a fairy-tale. I'm searching for a real man, who can always support and understand my woman`s nature. Love to me is a mutual understanding. My man should be attentive and caring to me. Also my man has to be kind and polite, smart and wise, responsible for the actions he makes. I want to feel the wings behind my back being near him. I want to fly on the wings of love and to never fall down.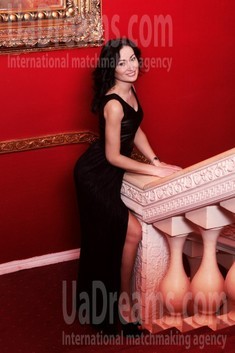 About my family
There are 3 members in my family: my daughter, my mother and myself. A real ladie`s company! My mother is a cook. Probably, my love to cooking is heritable)) My Mom has been working as a cook for more than 50 years in a kinder garden. I can't say, she works there because of money, but because she really loves kids with all her soul, she loves to cook for them and to see them being happy! My mom works hard and she is so energetic, actually, just like me))) I have very many relatives and friends, my home is often full of guests. I consider myself a good housewife and it gives me much pleasure to invite and host all my dear ones.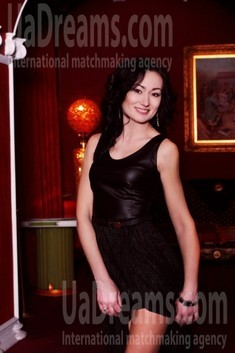 My typical day
The day I work, I wake up very early in the morning, at about 5:30 am, because my work is situated far from my home. Besides, I don't like to hurry up or be late. My day begins from a cup of coffee and... a smile! )) Independently, whether my day was good or bad, my new day always begins from smile. I just enjoy each new day and never allow myself to lose it being in a blue mood! At work I infect my co-workers with my optimism and I do my work with a big pleasure. As for my job, I work with paint and design. I help to choose right colors and make design of posters, cards and so on. I love my job, probably, this love is connected with my childhood... I always liked painting, colors and creative things. Nevertheless, despite my love to work, I don't consider it my priority. Work is a pleasure to me, but I love much more being at home around dear to me people... but there is something missing for the 100% happiness... it's strong man's arms to hold me tight and love me. Maybe yours?)))