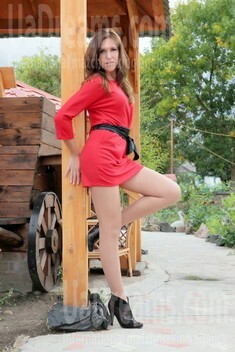 The type of man that I desire:
I will do my best to describe you the type of man I want to find here.. It is not easy as you understand!:) Of course there are some qualities and I want to tell you a few.. So, he should be smart. interesting, courageous, faithful, caring, decent, sociable and with good sense of humor.. Those are the qualities as you see and that is what I value! The most important thing I want you to know is that my man should be the real man inside, because it is very important for me to be next to a person, who is real and true.. I need reliable man next to me.. that is very important! I need to be sure with him in the future, in the next day! I need to be able to count on him, that is very precious things for me.. Loving and kind heart is also important for me! I think that the treasure we all have is the heart inside of our chest and the ability to love.. that is what I am looking here! I am seeking for the man to fall in love, to create the friendly family and simply be happy! Do you appreciate in your life the same?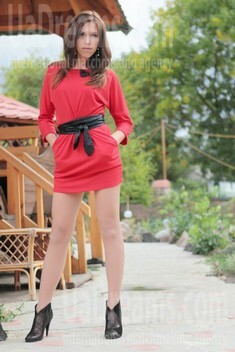 My future goals are:
I have been thinking of this a lot of times.. I know what I have and I can understand what I need.. I have good job, I enjoy and like. I have friends next to me, who always can support and elevate my mood. I have family, sister, brother and wonderful parents, who takes care of me and my daughter.. but I do not have very important thing in everybody's life.. I do not have my own family, my own man.. Family is the most precious we can ever have! I could be satisfied only in my own family, in the loving arms of my man, kissing foreheads of our kids, sharing time together, overcoming the obstacles and experiencing happy moments hand in hand.. I need the person next to me.. I need my man! That is why I am here!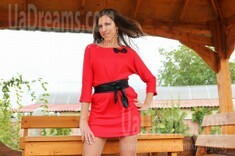 Lady about herself:
I am goal-orientated and I am here with one main purpose.. to find the man and to create happy and friendly family! I look in the future with the wide smile and optimism! I am confident and I am sure that I will succeed..
My typical day:
I do all my best to make the day of mine not so typical! I try to differ the way I spend the time, but of course, there are a lot of things, which are usual in my life! I always make some breakfast for me, granny and Diana! If it is week days I always get ready for the job and then spend my time at work, which I do like and enjoy! I work as accountant in the local bank! After the work time I go home to spend the precious time with daughter.. She is a kid and she needs so much my care and attention! She likes to ride bicycle with my help, she likes to walk in the park, listen fairy tales! So, that is my evenings, but of course I use to meet friends and have some chat with them at the cafe!:) But I dream about other kind of evening.. I dream to come at home, kiss kids and begin to cook the dinner to my man... then, to spend the time all together! What do you think about this? Is that the way you want to spend your evening? In the bosom of one's family...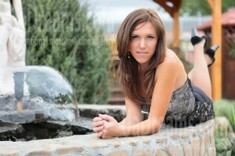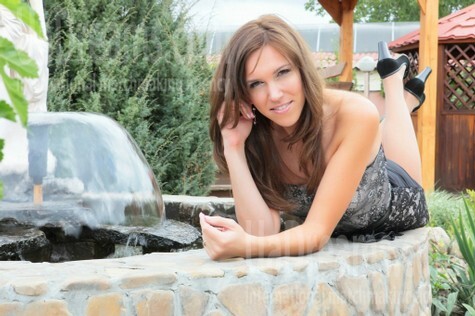 Our personal opinion of this Lady:
Ekaterina makes the impression of very cheerful and emotional lady. She can gain your attention in a matter of seconds. She is family-oriented and sincere.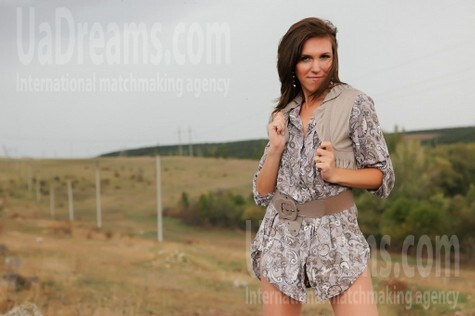 What I do in my leisure time?
I bet every person has own way to relax, have fun and enjoy time! But at the same time there are a lot of activities which are the same! I think that the best way to learn about mine is to spend the time with me..:) Anyway, being mother causes a lot of duties and responsibility, that is why the leisure time of mine is always about daughter! She is my life and I always enjoy my time with her! We are very close and I love her so much... That is why we always have some fun, learn something new, have a walk, visit family members and always spend the time together!:) But, of course, I always find the time for myself, to watch interesting movie, to read book or magazine, to spend evening with friends! But if it is about the communication, I prefer to spend the time with my younger sister and with my mom.. They are my support in the life, they are the family I have here.. But, I want to have the own family, I want to have my man next to me, who will be the source of support and the happiness! The same I will be for him! Do you want the same?
Domestic abilities:
During the life I have had the best teachers of house-holding! My mom, my granny always thought me how to cook, how to keep the home clean and cozy, how to keep the place where I live comfortable and how to treat my guests!:) I have experience how make people enjoy the life with me. I live with granny and she needs my help time to time! I take care of daughter and I do like to take guests at home.. To make them feel cozy! I enjoy to experiment with recipes and spend the time on the kitchen, so then to see the smiles of those whom I love and to whom I cook!:) The most pleasure for me is sweet smile.. no need to tell me the words of appreciation.. the smile is the main!:)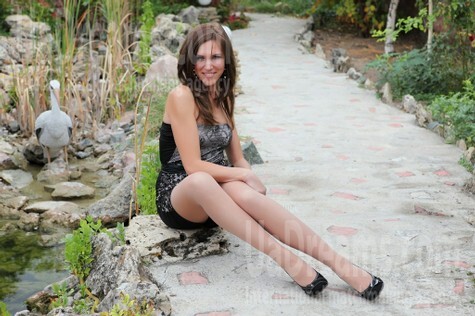 About my family:
I have very big family! Actually, I live with granny and daughter, but I think that my family is much more bigger! I rather often take Diana, my sweet angel, to my parents family, where I usually spend the time with younger sister.. she is younger than me for 9 years, but it does not make the difference between us. We always understand each other better than anyone in our big family! She is not only the sister.. she is my friend I love! Sometimes I meet with brother, he is older! We have five years of age difference and he is another my good friend!:) But the most precious for me my child and my mom.. I feel care, support and love all the time from my mom, I feel that she share her soul with me.. and I do the same with my own daughter! I learnt a lot from mother.. I have the warmth and love inside, which I always share with my kid, but I want to share all this and much more with my man.. my future husband..