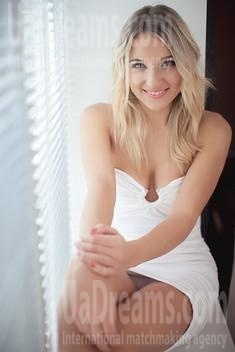 Lady about herself:
I am honest and kind lady. I am serious in my search and I want to make my life complete. I am positive, open, intelligent and have good sense of humor. I am calm and sincere, I do not like conflicts and I would never hurt anyone's feelings. In people I appreciate honesty and kindness most of all.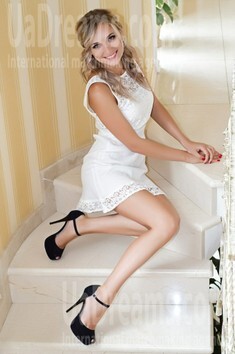 Domestic abilities:
I like to cook! Every time I learn new recipes and try to realize them into reality. I am not lazy and I do everything about the house because I like when everything is clean and in order! I think it is so pleasantly to come back in clean and comfortable home after working day! It gives me a pleasure and that's why I clean my house and don't consider it my ability, because it's usual thing that makes my house look nice!
See her fascinating movements and charming smile...
Feel as if it was your first date with this lady — it is worth 1000 pictures!
Watch this video for FREE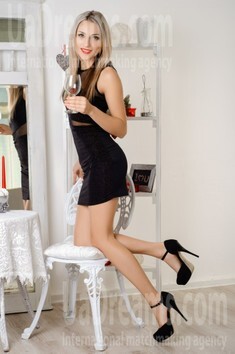 What I do in my leisure time?
As I am a student I have a lot of free time after classes! I like to spend time with my friends!It always brings me a lot of positive emotions! I have many friends with whom we dance, laugh, walk, play different games! We are quite funny and active people!!! I like to care of myself and I'm always in good shape!! I think it is important not just to look good but to feel good inside also!!!:)
The type of man that I desire:
I believe that my second half is waiting for me somewhere here. I hope to meet a man, who will be honest with me, who is serious about relationships and who will love me till the end of life. I want to meet my second half to share everything in life with him. I hope to meet real man, who does not pretend or play games. Someone who is ready to offer his heart and life to a lady like me.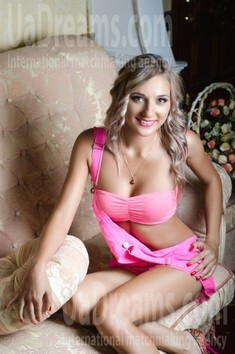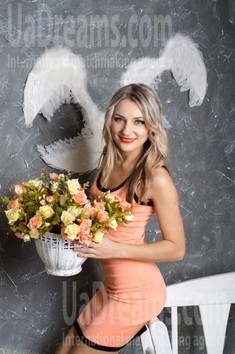 My future goals are:
My future goals are to finish my university and build strong and happy family! Want to be happy with my beloved man! I think that everything is possible for two people who are in love. I promise to be honest and I am sure that I am worthy of a faithful man.
My typical day:
Mostly everyday I do the same things, but it depends on my mood. Of course I have obligations and always do what I have to do. I love life! I love making new photos,love to spend time with friends, love animals,love picnics and the rest near the seaside... I love doing romantic things, it raises my mood! :) Also I can stay at home and read an interesting book. On the weekend I go to my parents because I miss them a lot.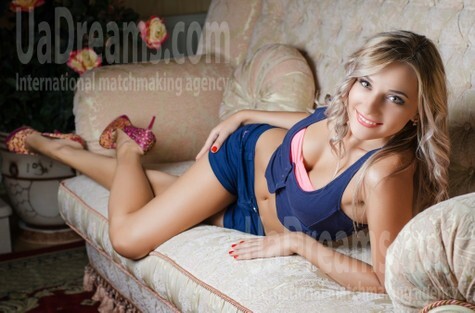 About my family:
My family is not very big but very friendly and happy! Only my mother, father and me!But I live separately from my parents! I was born in Rybakovka near the seaside! But now I live and study in Nikolaev! My family is everything for me! They are the closest people in my life! I always was dreaming to have a little brother or sister but I have only a cousin, she is my uncle's daughter , she is a little girl now but already very clever and kind. Also I have a big and very fluffy cat, his name is Bantik I love him very much :)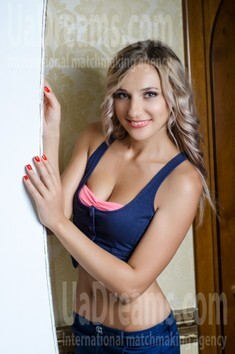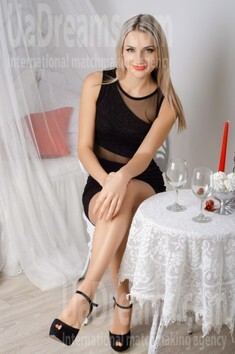 Our personal opinion of this Lady:
She is a very kind, interesting, beautiful and slim girl, so her body seems to be prefect! Lenochka is very friendly and intelligent! She has really nice sense of humor! It is a great pleasure to communicate with her!