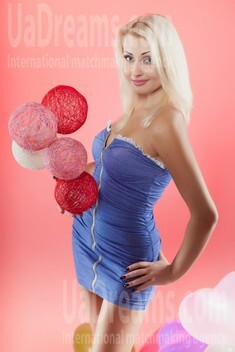 The type of man that I desire:
Every lady wish to be happy, but there are a lot of girls who are too demanding and freakish-I believe true lady shouldn`t behave like that! I wish to inspire my man! To be his muse! I guess woman`s role in the family is to create fantastic cozy atmosphere and save tenderness in relations and warmth in the house! I dream to meet my man after work with delicious dinner and do special things for him every day so he could feel very special next to me. Of course I wait support and tenderness from my husband and it is very important to understand each other. I am sensual lady so wait for caring relations, I can be understanding to my beloved so I will accept him as he is and I have a lot of patience so ready to look for my only one through the whole Planet! ;)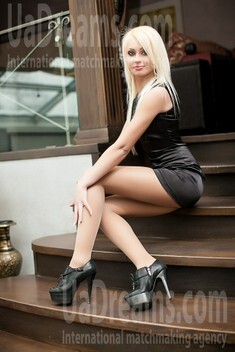 About my family:
I was born in a friendly and understanding family of teachers. Both my parents teach kids at school. Also I have a brother who is 6 years older than me. My mom and dad gave me the most bright and good things and I am very thankful to them. They always understand me and I always respect them. From all members my mom is the closest person I may open all my secrets to. And I am sure she will never betray me! I dream to create same cozy and understanding atmosphere in my own family. In family relations I appreciate support, help, empathy and care of each other :)
See her fascinating movements and charming smile...
Feel as if it was your first date with this lady — it is worth 1000 pictures!
Watch this video for FREE
Lady about herself:
My friends and close people say that I am an open, kind and sincere person. I am always ready to listen, understand and help. Of course it is hard to be good for everybody but I try to be polite! I also may add that I never have bad mood and never fall into depression! This is my secret of happy life ;)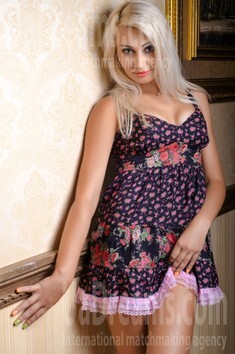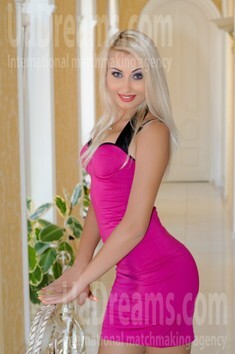 What I do in my leisure time?
My mind if full of creative and crazy ideas and sometimes I just miss time to realize everything :) I try to be very attentive to my work and to everything that connects with it. I love animals and I work in one little company that work by social program-they help to outcasts. I love to help people also and try to do one good deed for somebody per every day. This is my social position. But my work is not everything for me and I love to pay attention to myself too. I like to keep my body in a good shape and sure it is also healthy! I want to be beautiful for my man and hope he also will like some kind of sport doing with me :) Some of my leisure time takes reading and listening to the music. They say each of these things may decrease the stress by 65%! Can you imagine? :) Maybe this is a reason of my smile and positive mood every day? :) My mom says that I may cure stress of my future husband :) I like also to spend time with my parrot. I am trying to teach him new words. He is quite clever and I guess he understands me well...lol It is also interesting to watch TV programs about animals. They are so wonderful and pretty. Many times I took a part in the actions and meetings of animal protections. But of course I have many other interests like sports, especially volley-ball and meeting with my friends. They consider me as an open and sincere person who is always ready to help. And it is pleasure for me to know they appreciate these features in me! I also have some hobbies. I like to collect different colorful not very big notebooks. I love to write there some ideas that inspire me. Don`t want to forget any super idea :) Also my little collection of soft toys inspire me and raise my mood from early morning. I have some favorite also and sleep with them every night :)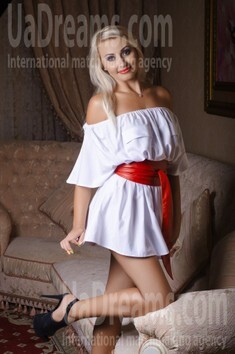 My typical day:
My passion is to create cozy atmosphere in the house. I adore learning something new about things that surround us every day and how they can brighten our everyday life. Often happens that I go to different shops to buy something for the house like towels, some cooking battery, vases for flowers etc. It raises my mood and I imagine the house of my own family in future :) I love learning about interior design too. I may spend hours while reading or watching programs devoted to design. Have you ever heard about Color Therapy? It is very interesting thing that may help you to avoid a lot of stress situations and save your positive mood! I am sure smile and pleasant mood is very important and other people may feel it easily. So your mood may even be a reason of your misfortunes or vise versa-may bring to your life beloved person to share the whole life with ;) ...It would be great if my typical day could start from a tender kiss. That would be a main source of a great mood. :) Usually I start my new day from shower, fresh juices and morning exercises. Those things charge me with energy for the whole day. During the day I help two charity organizations, one of them helps homeless animals and the other one helps orphans.
Domestic abilities:
As I said before I love to create cozy atmosphere in the house, so I pay a lot of attention to cleaning. Adore when everything is in order and I love fresh air, so every morning I start with opening all windows for aeration. Also I love healthy food so I prefer home food to fast food! I would love my man to eat at home every day, sure he will love the way I cook ;) In my flat I have a lot of house flowers everywhere. Hope my man will not mind :) Well I adore doing everything and hope my beloved will appreciate this!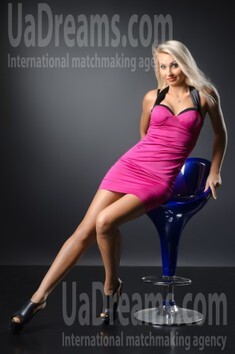 My future goals are:
Everybody wish to achieve some dreams and desires. Aim in the life is like a lighthouse and if you will lose it you will lose your way in life. Goals and dreams are not the same but it will not exist without each other. My dreams help me to make my goals closer and more realistic. My soul strives to find a right person with whom we would create a strong family. This is the main sense of my life. My wish is to create my own family with understanding, love, care, support and respect in it! And also I think it is important to develop as a person: it means to chose right profession, love your interesting work, have enough time for rest and travels, find place in you heart for friends and simply good people. And always be happy!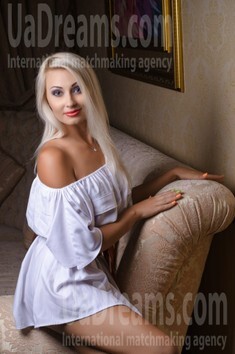 Our personal opinion of this Lady:
Very sincere, soft and beautiful lady. Violetta is like a flower that needs care and tenderness! Maybe she is waiting exactly for you?