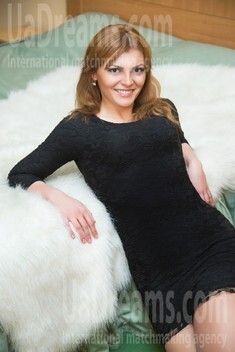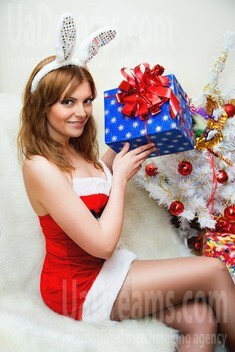 About my family
Originally I'm from Russia and I came to Ukraine in 2002. I have my aunt and her family here in Lutsk. I came to Lutsk to study at the university and then I decided to stay here. My family still lives in Russia. I visit them from time to time and sometimes they come to see me. My parents still live together. They are happily married. I'm not an only child. I have three younger brothers and one younger sister. We're very close and we speak over a phone all the time :-) I'm very close with my father and he is the one who visits me constantly :-)
See her fascinating movements and charming smile...
Feel as if it was your first date with this lady — it is worth 1000 pictures!
Watch this video for FREE
My future goals are
I have a very important goal in my life. I want to spend the rest of my life being happy with my other half. Once we're together we'll create many other goals and we'll make them come true together. It's much easier to build something when you're not alone. :) I'm not a career woman so I don't plan to move mountains in this field. I'm glad I have a good job so I can earn money for the family and still take care of my beloved man when I have one ;-)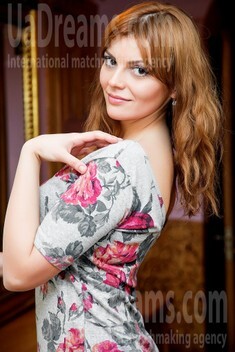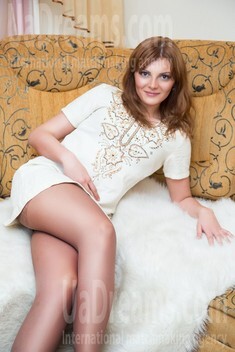 Our personal opinion of this Lady
Ruslana is a wonderful lady. Seems like she has a good mood all the time and every time she comes to the agency her eyes shine and she smiles broadly :-)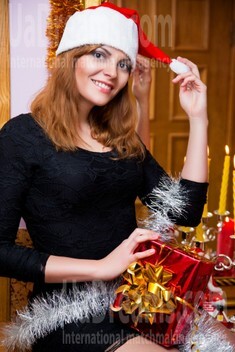 Domestic abilities
I'm lucky to be the oldest child in the family so I'm good at everything ;) I enjoy cooking very much. I like grocery shopping and I'm good at managing budget so I know how to buy good foods spending little money ;-) My father always said my future husband would love me for that! :-) I like to sew and I can mend a tear. I even iron properly ;-) I do chores around the house regularly because I don't like dusty environmental conditions.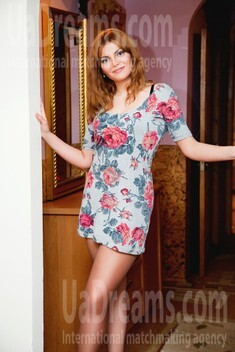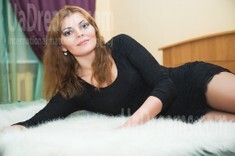 What I do in my leisure time?
When I have free time I try to do something nice because I don't like wasting my time. I like being active, I adore spending time in the open air. I like camping very much. I like long walks, I adore picnics! I like to swim very much, I like getting a sun-tan. :-) I like traveling to other towns and I enjoy going to Lviv. They have delicious coffee and tasty chocolate candies there. ;-) When I'm home I watch comedies. Sometimes I watch romantic movies but I think it's much better to watch something romantic when you're with your other half. I like reading the classics. I dream to learn English perfectly because I want to read original books.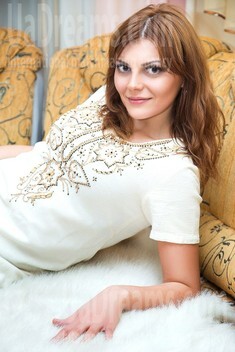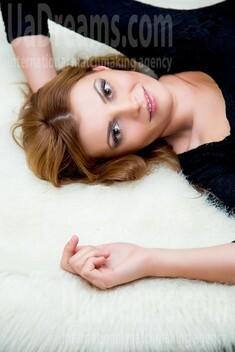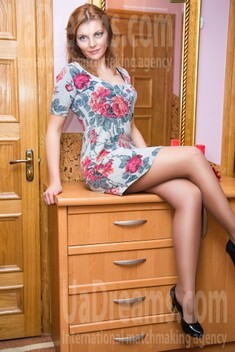 My typical day
I like to get up early because my day seems much longer then :-) That's why I prefer to go to bed around 10 or 11 pm so I can get enough sleep. I like to drink coffee in the morning and sometimes I drink green tea. I rent an apartment together with two girls and we like to chat in the morning while we have our breakfast and before we go to work. In the evening one of us makes a dinner. Sometimes we do it all together. What I do after my work usually depends on the season. When the weather is fine I go for a walk. When the weather is nasty I stay at home and read or watch TV. Sometimes we invite guests.
The type of man that I desire
When I find my soul-mate I think we both will feel it. We both will understand that we're meant for each other. I want someone who will make me feel safe and I will reciprocate. I want us to feel we have each other and nothing will drive us apart. I want us to be sure in each other. I want to have a feeling we're building our future together. I want someone who is able to talk when we have arguments or misunderstandings. I want someone who is ready to overcome all our bad patches and still love each other. Is it you? ;-)