My typical day:
I wake up in the morning and help my mom to cook breakfast. I feed my daughter and make her ready for kindergarten. I go to work then and take my daughter home after I finish working. We spend time together in the evening having family dinner or just watching TV all together.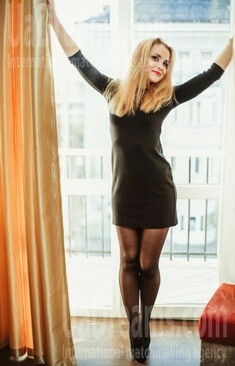 About my family:
I am divorced and I have a daughter. I live together with my parents and I'm very thankful to them for everything they are doing for us and for all their help!
See her fascinating movements and charming smile...
Feel as if it was your first date with this lady — it is worth 1000 pictures!
Watch this video for FREE
What I do in my leisure time?
I have a daughter so I have very little free time. Of course my parents help me but every day I come home after work and spend time with my child. Of course I meet my friends sometimes. If they have children we go to the park together and watch the children playing. Sometimes I go out but not very often.
Our personal opinion of this Lady:
The lady is young but she has bad experience in her past relationships. She really hopes to find her love as soon as possible!!
Domestic abilities:
I like making my home clean and cosy. Most of all I like to invent new decorations for my room and to remove the furniture.
My future goals are:
At the moment my daughter is the most important for me. But every day when I wake up in the morning I dream of a nice man by my side...I'm a young woman and I need love and a caring husband by my side!
The type of man that I desire:
I'd like to meet a man who will love children first of all. If he is kind and if he loves children he'll be able to become good friends with my daughter. I'd like him to have a good sense of humor and to be just a good and positive person.