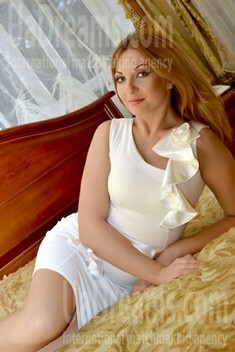 The type of man that I desire
I want to meet a man who is very romantic and affectionate. I want someone who likes to kiss and cuddle. I want someone who enjoys every-day hugs. I think that family life is impossible without those things. I want a man who likes to spend time with his lady and who will not mind going out together. I look for a man who likes to walk holding hands and who enjoys tasty meals made by his lady. I want someone who enjoys walking in parks and having picnics sometimes. Is it you? ;-) I don't need him to share all my interests as we may create our own ones when we're together ;-)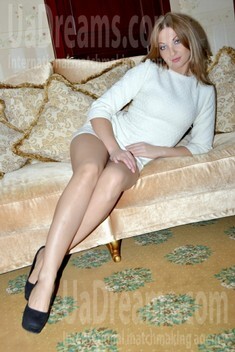 Domestic abilities
I love cooking and my daughter says I cook very well. I hope you will like my cooking for you too!!! ;-)
See her fascinating movements and charming smile...
Feel as if it was your first date with this lady — it is worth 1000 pictures!
Watch this video for FREE
About my family
I was born in Lutsk. At the moment I live together with my daughter in our apartment. My parents live not far from Lutsk in their house. They are still happily married. I'm not an only child, I have a younger brother. I'm in very good terms with my father and he's my best friend. I can tell him everything, he's very supportive. I'm also close with my mother. My parents take good care of me and my daughter and we visit them often. We like having barbecues and picnics together :-) I'm proud of all members of my family because they always treat me well and they help me when I need their help.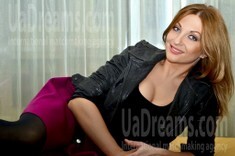 What I do in my leisure time?
I like to spend my leisure time in a different way. :-) I like variety. When the weather is fine I like to play badminton with my daughter. When it rains we prefer indoor games... like bowling :-) In the evenings we do beading sometimes. My daughter likes multicolored bracelets very much. :-) I always wanted to try equestrian sport because I like horses very much. But I haven't had an opportunity yet. Besides that I like fitness and I work out three times a week. When I have a few free hours I like going to the cinema or to the theater. It's always a pleasure to watch something worthy :-) When I have days off I invite my parents or friends and I make dinner for them. I enjoy cooking very much. My nearest and dearest people say I'm good at it ;-)
My future goals are
I'm a very family-oriented lady so my goal is to find a man and create a family with him. I don't dream to become a businesswoman. I have a job I like and it's enough for me. I think every lady should take care of her family first of all. I have a lovely daughter so it's my dream to raise a clever and an intelligent lady. I'm old-fashioned and that's why I think that family should be a number one goal for everyone. Besides that I like traveling very much so I want to visit some other countries together with my other half. It'd be good to visit some romantic places together. :-) And last but not least, I would like to learn some foreign language :-)
Our personal opinion of this Lady
Inna is very beautiful and cheerful. She seems to be a very kind lady.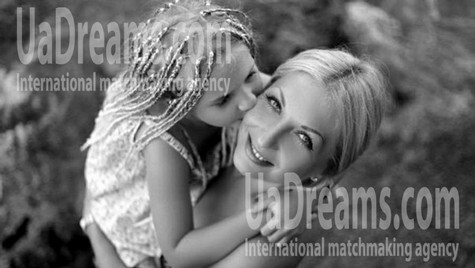 My typical day
I work in shifts. I work four days and then I have two days off. So, sometimes I have to work on weekends and then I rest during a week. When it's my working day I get up early, make breakfast for my daughter, have coffee and go to work :) I finish my work late so usually my parents meet my daughter after school and do homework with her. I pick her up after my working day. When I'm free – we like sleeping longer :-) On my free days I like doing something nice together with my daughter. We meet my parents or friends and enjoy some of our favourite hobbies :-)