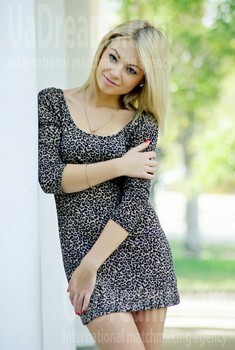 My future goals are
Before I was studying for a stylist but then I switched to become engineer, I know it is a fast change but engineer-ecologist is not so tough! So now I have a diploma of an engineer:) But I didn't manage to find good job in this sphere so I took the job in the leisure center as administrator. And I think that it is not a primary goal for a woman to have the best job - the main goal is to be a good wife and mother! As for me I want to create own family. In terms of having kids so I think we could discuss such questions with my husband as this is very intimate question and I am sure we shall make own decision about this, right? Also I would like to learn how to draw! I have never learned in any special school for this but I really would love to! Who knows maybe I can develop my talent? Also I would like to see the world with my husband! Well I think if you have second half near everything is possible!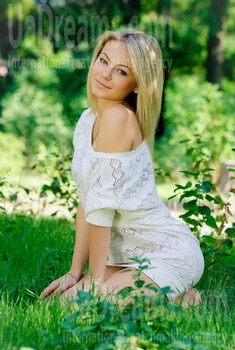 The type of man that I desire
I would like to find reliable, caring and nice man who would love me with all of his heart! I want to find a man who understands me and has the same ideas of life;) I think it is very important to have mutual understanding, as in relations such even small things matter like ideas how to spend free time and where to spend vacation:) I want to find a man who will support me and he would feel the same from me! I think that people in relations should be equal partners;) I want to find a man who knows how to treat a lady and who can be a head of a family;)
See her fascinating movements and charming smile...
Feel as if it was your first date with this lady — it is worth 1000 pictures!
Watch this video for FREE
Lady about herself
I am very easy going and friendly person. I have many interests and like to be active:) but in the same time I like staying at home reading a good book or watching TV. I always try to make my house the coziest one. I have many different statuettes in my house, I like fluffy toys:) I like cooking and can say that I am good at it:)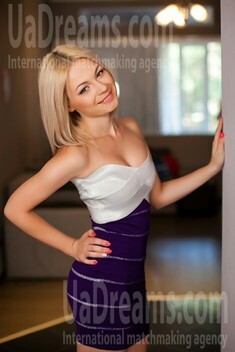 Our personal opinion of this Lady
Very interesting, communicative, young lady. She has a big desire to find her second half. She is extremely positive in her attitude to life.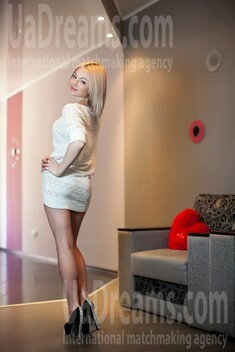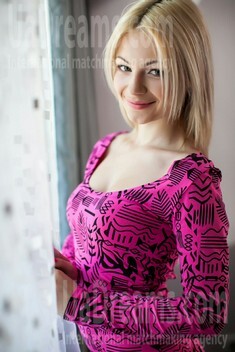 About my family
Well about my family so my parents live in Poltava, it is a nice city near Kiev;) So I was born and studied at school there as well as my elder sister. But when Yuliya my elder sister graduated from school she decided to enter Nikolaev university and so she got married here and now she lives with her husband and his family and they have a daughter - my niece. So after graduating from school I also decided to study where my sister studied and here I am in Nikolaev. I like this city better than home town. So I try to visit my parents as often as I can and so does my sister. Or our parents come to visit us:) I rent a small apartment in here with my former group-mate that also decided to stay in Nikolaev. And it is fun to have nice room-mate. So I learned how to be on my own in another city;) so I think if I move to another country I will be OK, I have very good social skills so I will find new friends easily and I am sure my man would help me a lot;)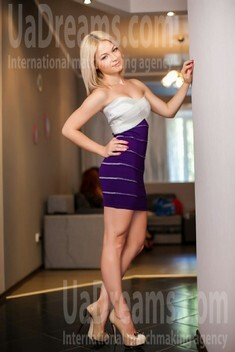 Domestic abilities
Well from early years I used to help my mother about the house. My parents live in a house back home in Poltava so there is always a lot of things to do. So my sister and I used to help mom in cooking and cleaning the house;) So I know how to cook and now when I live on my own I cook for myself and basically take care of myself;) So I can say that I can do many things about the house:)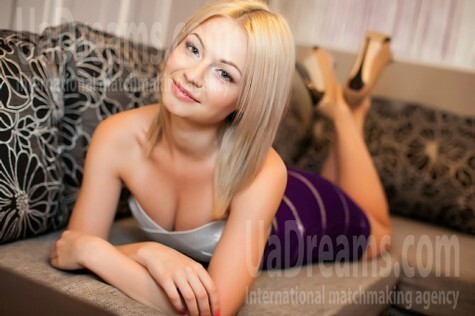 My typical day
I start my day with a cup of coffee to make me energetic. when it's my working day I wake up around 5 am and catch a bus and go to work. In the evening I like to watch TV or read a book or some magazines. When I have a day off I work out in gym do yoga and fitness:) And now as I live with my room-mate we have divided duties and so we do chores together:) It is a lot of fun for us as there are not so many people as there were in the dormitory. But we have more responsibilities. So most of my day I work:) Then I cook or clean the flat:) Sometimes I can go to meet other friends and we can go to some nice cafe. Or I love visiting my sister;) She has a bit tough family situation as you know her mother-in-law gives her a lot of tough time and her husband does not seem to support her that much...well yes it is sad! But I love helping my sister as she is my best friend as well;) And I love my small niece, she is such a cutie;)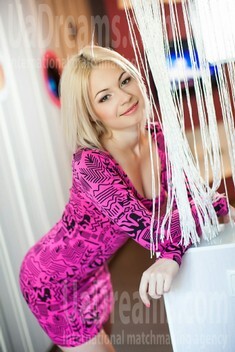 What I do in my leisure time?
Well I do many things when I have free time:) I am very active person and like trying new things:) I work in the leisure centre as an administrator and also I work out in this gym when I have days off. Sport if my biggest hobby. Now I am fond of reading and mostly I prefer to read light novels and I liked one author. She writes good and easy for reading books, so now T. Solomatina is my favorite author:) Also if I have a chance I like to look through fashion and make up magazines:) I think each girl likes this a lot! So I love fashion and try to dress up always in a stylish manner:) Also I can do some things and souvenirs from clay:) It is a special type of clay and so you can easily make earrings out of it! I do not do a lot of such things but those I have done seem to be nice and my friends told me that I could even do them for sale:) But we shall see. But in general I am open to new things and I would love to gain more hobbies, and maybe you will share yours with me?! But of course if I had my beloved man near I would love to spend quality and romantic time with him:))