Dear Gentlemen, here we are happy to present you the testimonials of the members who have found their soulmates with help of our Marriage Making Agency.
Here they express their opinion, experience and suggestions for those who are looking for a second half in another country, as well as appreciation to the company and staff.
Please read our ladies' testimonials about UaDreams, reviews of our agency as well — they are also very happy to be with our agency! Some ladies' testimonials you can also find in How we take ladies photos.
We are so proud of what you, our dearest members,
are saying about us
Just look at these people and their sincere gratitude towards us. Each employee of our company invested a part of his or her efforts and talent, to help you to find your dream!
Show next random testimonials
Dominic: She is so attentive to me
Well it took me over 2 years to make the trip to the Ukraine and see the lady that initially brought me to the site. I had a lot of mixed emotions about UaDreams but the lady was so sincere in her body language on the chats. She always threw me many kisses and was so excited to see me. I kept thinking why should I pay for such service? But I received a response from the agency saying that paying customers are serious about dating and they are most likely single guys looking for real love and not married guys playing around dating sites. This made a lot of sense and I fit the single guy category.
To make a long story short, I was truly amazed to see my beautiful lady in real life. She is so attentive to me and even more amazing than the photos and chat. I hope this is the beginning of a new chapter in my life.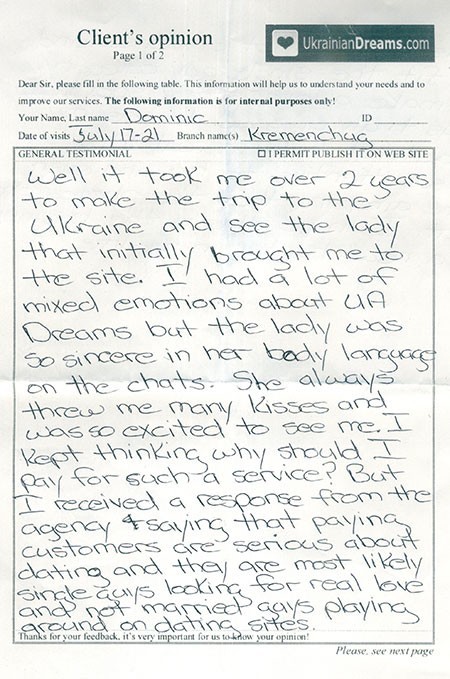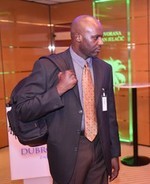 Dominic / USA
17-21 July 2017
trip to Kremenchug
Show next random testimonials
Robert: I have only positive thoughts from my visit
Dear Sirs
I must apologise for the delay in writing to you sooner but, thank you very much for your help and support with my visit to Cherkassy.
I had not realised that the office shut so early as there seems to be many people chatting and needing translations.
However, I must thank the branch and the Translator for waiting on me and my significantly delayed arrival. It was confusing travel with many confused messages from the airport and airline but, we eventually took off at 09:00 GMT (11:00 Ukraine Time) arriving in Kiev at about 14:30. After passing through passport control and customs, I was on the road to Cherkassy but with an expected arrival of approximately 18:00. I phone the office and, the translator was very accommodating and we arranged a meeting for 18:30.
This occurred and, although there was some nervousness on mine and the ladies side, the Translator helped for the hour, calming all down. She was extremely accommodating and understand and, I would like you to please extend my thanks to the Cherkassy branch and, especially to the Translator for accommodating me.
I carried on with my stay using the options I had chosen but, none of this could have happened, had it not been for the introduction through your agency and, the support for our first meeting.
I felt that the meeting was a great success, especially when I compare this to the first meeting I had in Nikolayev all those years ago.
The translator had hoped that she could take a photo of the both of us but, I declined as, with all the problems and delays with travel, I was not really in as much of a presentable state as I would have liked for such a photo. I had promised your Translator that I would prepare a statement before I left and pop in for a photo but, I wanted to make the best of the time I had, which was limited and left Cherkassy a little earlier to get to Kiev and have a short tour there. Between myself and my lady, we will choose a good photo and send this to the agency. Either she will do this or, I will send to you by e-mail.
I will say, that I was very happy with the help and support you have given as an agency and once again state clearly that the Cherkassy Branch were very accommodating and supportive.
Now, I have only positive thoughts from my visit and plan to continue my contact with my lady and see how things progress over the next few months with a planned visit within the next couple of months.
Once again thank you for your help, support and patience.
Sincere regards,
Robert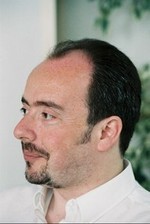 Robert / United Kingdom
14 December 2016
trip to Cherkassy
Uadreams reviews
Average:
2172 UaDreams review(s)
Latest review 16 days ago