Dear Gentlemen, here we are happy to present you the testimonials of the members who have found their soulmates with help of our Marriage Making Agency.
Here they express their opinion, experience and suggestions for those who are looking for a second half in another country, as well as appreciation to the company and staff.
Please read our ladies' testimonials about UaDreams, reviews of our agency as well — they are also very happy to be with our agency! Some ladies' testimonials you can also find in How we take ladies photos.
We are so proud of what you, our dearest members,
are saying about us
Just look at these people and their sincere gratitude towards us. Each employee of our company invested a part of his or her efforts and talent, to help you to find your dream!
Show next random testimonials
Adrie: There were romantic sparkles flying between us
For me the trip started bad because toilet in kiev was flooded. But that was are only bad shit.
The trip was perfect, the locals are friendly. And the street graffiti beautiful. I was a little nervous meeting with my lady. And she was also nervous. Julia (translator) made us feel comfortable.
There were romantic sparkles flying between us. I feel very happy during the trip because of my lady. One of the best moment in my life.
I will never forget this memory and I hope to make more memories with her.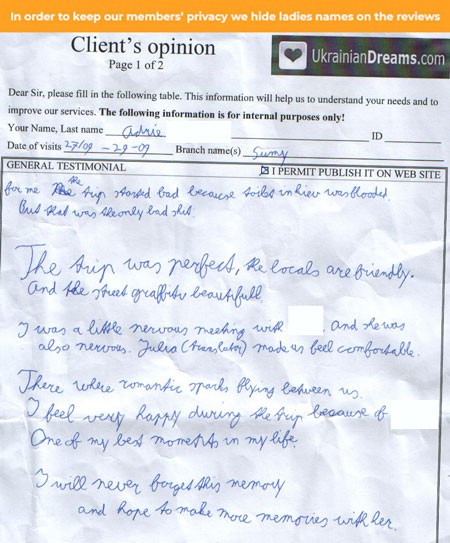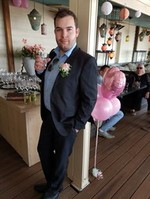 Adrie / Netherlands
27-29 September 2019
trip to Sumy
Show next random testimonials
Phil: There was nothing hidden from me
[I] Was very skeptical of online dating service. When I did search on google saw good and bad, but the bad was not at all bad. When I got here, agency picked me up at airport and got me to the hotel with no problems and made sure everything was good before driver left.
Everything was as the agency stated. There was nothing hidden from me. Translator was very good and enjoyed every minute of my visit. The choices of restaurants were very good. This is my first time abroad and I would do it again. I feel very safe and comfortable with this agency. If you have doubts, you shouldn't! The agency is one of the best I have found and very pleasant with everything.
All the negative comments that come up when you search this agency is from men that want everything for free. Companies can't stay in business if everything is for free! Prices are reasonable. I would recommend this agency to anyone that asks me. Thanks again for for your services and help.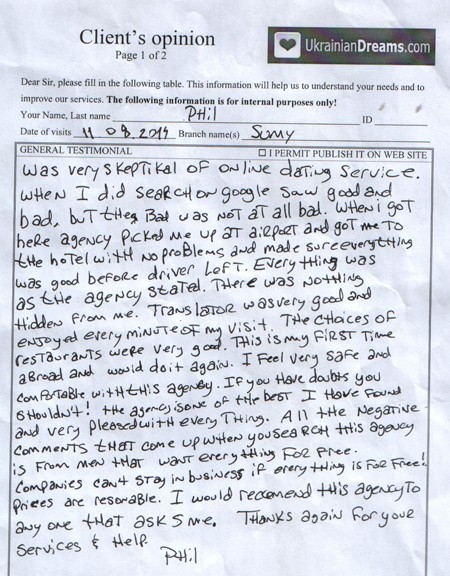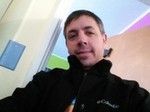 Phil / USA
11 August 2014
trip to Sumy