Dear Gentlemen, here we are happy to present you the testimonials of the members who have found their soulmates with help of our Marriage Making Agency.
Here they express their opinion, experience and suggestions for those who are looking for a second half in another country, as well as appreciation to the company and staff.
Please read our ladies' testimonials about UaDreams, reviews of our agency as well — they are also very happy to be with our agency! Some ladies' testimonials you can also find in How we take ladies photos.
We are so proud of what you, our dearest members,
are saying about us
Just look at these people and their sincere gratitude towards us. Each employee of our company invested a part of his or her efforts and talent, to help you to find your dream!
Show next random testimonials
Adrie: There were romantic sparkles flying between us
For me the trip started bad because toilet in kiev was flooded. But that was are only bad shit.
The trip was perfect, the locals are friendly. And the street graffiti beautiful. I was a little nervous meeting with my lady. And she was also nervous. Julia (translator) made us feel comfortable.
There were romantic sparkles flying between us. I feel very happy during the trip because of my lady. One of the best moment in my life.
I will never forget this memory and I hope to make more memories with her.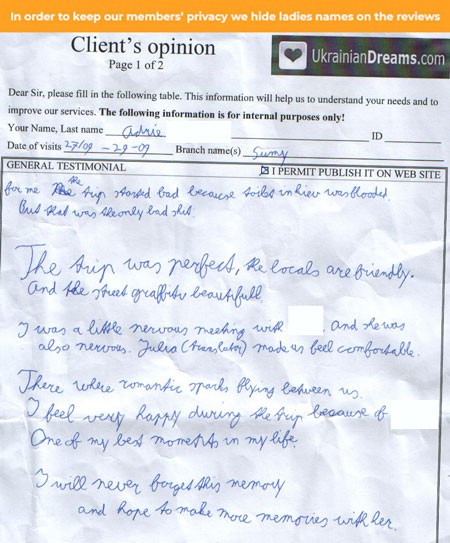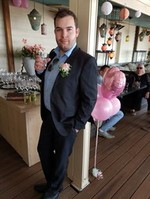 Adrie / Netherlands
27-29 September 2019
trip to Sumy
Show next random testimonials
Matthew: I am very happy to have made the effort to come to Ukraine
I have been very impressed with the service I have received from Ua Dreams. The lady that I came to see, was beautiful beyond my dreams! I am very happy to have made the effort to come to Ukraine to meet her. I hope to keep in contact with her when I return to USA.
Also, the manager and staff were extremely helpful in organizing my trip. Our translator, Katya, was incredible. She was excellent at understanding and translating our conversation, and helping us to relax and be at ease. She certainly went above and beyond to help with other practical matters a well.
Over all, I am very pleased with all of the services I received!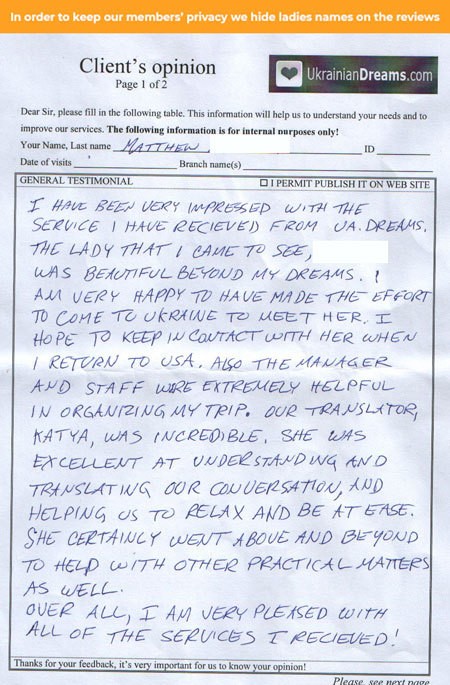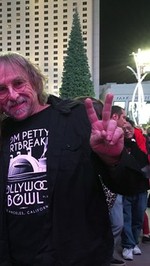 Matthew / USA
13 September 2019
trip to Sumy