Dear Gentlemen, here we are happy to present you the testimonials of the members who have found their soulmates with help of our Marriage Making Agency.
Here they express their opinion, experience and suggestions for those who are looking for a second half in another country, as well as appreciation to the company and staff.
Please read our ladies' testimonials about UaDreams, reviews of our agency as well — they are also very happy to be with our agency! Some ladies' testimonials you can also find in How we take ladies photos.
We are so proud of what you, our dearest members,
are saying about us
Just look at these people and their sincere gratitude towards us. Each employee of our company invested a part of his or her efforts and talent, to help you to find your dream!
Show next random testimonials
Phillip: UaDreams decided to refund 100% of my package
I have been a good customer of UaDreams.com for several years and the service has always been very professional and efficient.
Recently, I decided to reserve a trip package. Unfortunately with recent terrible explosion in West, Texas that damaged a friends home I had to cancel my package. The cancelation was 30 days before my arrival date so I knew I would lose 50% of my package money.
I asked UaDreams to cancel but I did not tell them the reason for canceling. UaDreams handled my cancelation very professionally and inquired about the reason for canceling.
When I supplied the reason, UaDreams decided to refund 100% of my package less the administrative fee. To me this was more than fair and honest. UaDreams demonstrated a very professional and ethical business practice. In my experience, UaDreams customer support makes them a very respected company and in the future I will definitely use there services.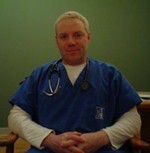 Phillip / USA
5 May 2013
Show next random testimonials
Lee: I was treated like King!
Great Wonderful!
So Great Experience!
I was treated like King!
I will never forget these wonderful, wonderful people!
They are The Best and My Friends
Lee!
Video of Lee:
I want to welcome you to this wonderful experience. Has anybody ever had any doubts im just totally blown away, amazed how this wonderful people. Im not acting, Im not an actor. This is my true feelings, how I feel, that I come to the Ukraine.
I was actually fearful, I was scared, and I had my doubts, but all that has been eliminated. I've met the kindest, wonderful human beings that a man can meet. Beautiful girls, beautiful people. I encourage everyone and anybody, who has any doubts about coming here, about not finding the person, that they really would like to find. And they think that they have an experience of a lifetime. I will remember this moment, this day, this hour, this time in my life for the rest of my life. It's been absolutely a wonderful experience! I've been treated like a king!
And beyond that, I've never been treated so well even in my own home country — has never treated me like this people. The welcomed me with opened arms, warm smile ans opened heart. I don't think anybody could determine how much I appreciate these people. They've done everything for me. Everything! I haven't have to do anything, but just wake up in the morning — breakfast is there. I didnt have to do anything — supper is there. I didnt have to worry about nothing — the car is there.
These people are amazing! And if anybody has any doubts, any doubts... I am an American, you can call me, you can ask me, you can e-mail me. I'll give you my honest opinion. It's the best, most fantastic thing I've ever done in my life! I encourage you, I tell you. All you gotta do is ask me a question, I'll be more than happy to answer your questions. These people are the best! Thank you!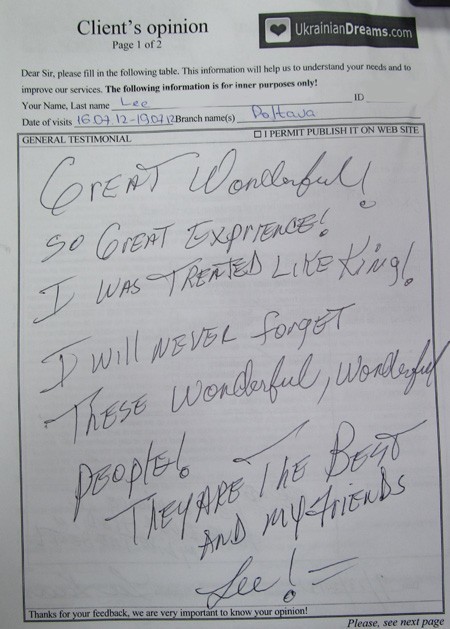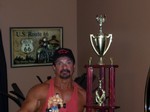 Lee K. / USA /
16 July 2012
trip to Simferopol
Uadreams reviews
Average:
1916 UaDreams review(s)
Latest review 27 days ago