Dear Gentlemen, here we are happy to present you the testimonials of the members who have found their soulmates with help of our Marriage Making Agency.
Here they express their opinion, experience and suggestions for those who are looking for a second half in another country, as well as appreciation to the company and staff.
Please read our ladies' testimonials about UaDreams, reviews of our agency as well — they are also very happy to be with our agency! Some ladies' testimonials you can also find in How we take ladies photos.
We are so proud of what you, our dearest members,
are saying about us
Just look at these people and their sincere gratitude towards us. Each employee of our company invested a part of his or her efforts and talent, to help you to find your dream!
Show next random testimonials
Kenneth: Don't be afraid to come to UA, it's a lot of fun
Hello! I came from Abu Dhabi to Cherkassy to visit with my lady, so far it is when incredible, it is a lot of fun, she is brilliant. It's the best decision that I've ever made was to come here.
People are great, service is fantastic. I'm just enjoying myself. Don't be afraid to come to UA, it's a lot of fun.
I'm having a great time! This lovely country is excellent, people are super friendly, the food is unbelievable, prices are great. How can be it?
It's not a typical tourist destination and i think that actually adds to UA its charm. Welcome to Ukraine!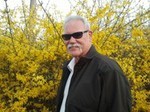 Kenneth / USA
20-24 April 2013
trip to Cherkasy
Show next random testimonials
Steve: The costs justify the results
I was pleasantly surprised at the services provided by UA Dreams. I had reservations at the first about online dating and looking for women from another country. But the agency from the very beginning helped me with my trip to meet my special lady. From booking the trip, to car to pick me up at airport, hotel reservation was more than I expected. The translator was great and the entire experience was very romantic and enjoyable. My fears and doubts were put to ease, and the costs justify the results. I highly recommend the agency UA Dreams if you want to make yours come true.
Video:
Hi, my name is Steve. I came to Ukraine via the UaDreams agency to meet a special woman, the agency exceeded my expectations and I would recommend it to anybody that once take a chance in finding love here through the agency, everything that I have said and more. I found the people very warm and friendly here in the Ukraine. There is a lot to do: dancing, gourmet eating, nice coffee shops, and just the food is great, people are warm and friendly, and the women are beautiful!
Testimonial sent by E-Mail:
Thanks for the email and question. First I want to again state that I was so impressed with the trip to Sumy and Ukraine overall. My trip was so great and one of my best trips/vacations ever. I have started to spread the word about your services to my single friends. Kate our translator was off the charts with her ability. She's invaluable.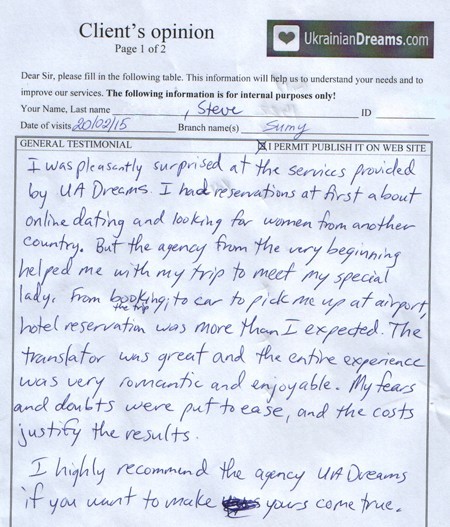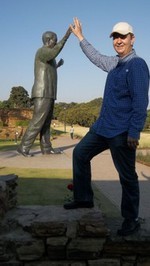 Steve / USA
20 February 2015
trip to Sumy