Dear Gentlemen, here we are happy to present you the testimonials of the members who have found their soulmates with help of our Marriage Making Agency.
Here they express their opinion, experience and suggestions for those who are looking for a second half in another country, as well as appreciation to the company and staff.
Please read our ladies' testimonials about UaDreams, reviews of our agency as well — they are also very happy to be with our agency! Some ladies' testimonials you can also find in How we take ladies photos.
We are so proud of what you, our dearest members,
are saying about us
Just look at these people and their sincere gratitude towards us. Each employee of our company invested a part of his or her efforts and talent, to help you to find your dream!
Show next random testimonials
Jerry: I actually came back to the U.S.A. with money in my pocket!
I had an awesome trip to Poltava! This was my first trip to Ukraine. I had been planning this trip for some time but she and I both have very demanding jobs and we couldn't make it happen until recently.
My lady and I have corresponded for some time and I went to see her and only her. Every moment my lady and I spent together was very special to me. I do plan on returning again, and hopefully it will be soon!
I had an opportunity to try a lot of food including several of the Ukrainian National Dishes and the Ukrainian cuisine was great! And it was also very affordable. I actually came back to the U.S.A. with money in my pocket!!! Hahaha
My interpreter Kate was the best and she went above and beyond in her job and also in helping my lady and I communicate effectively! At the moment my lady speaks only a little English and I am very proud of her for that! I really didn't speak Russian or Ukrainian. But that will change before my next trip!
I would also like to mention and compliment Irina from the Poltava branch. She went with us on one date when Kate couldn't. She was also great, what a fun, positive and bubbly personality she has!
I would recommend a visit to Poltava to anyone considering it. And I would definitely recommend UaDreams, especially for their first trip! In fact I have recommended the agency to a couple of my single friends.
As I said before, I am already trying to determine when I can return again. Thank you to UaDreams and the Poltava branch, especially Kate and Irina for all of your help!
I don't know if I will need UaDreams for my next trip but if I need your help on my next trip I am sure I can count on you again.
On another subject not related to my review...
I am trying to establish a way for my lady and I to communicate and correspond outside of the agency where it is more economical and faster. But if it is okay we will still use the agency to communicate some until other ways can be established.
Thank you so much!!!
Sincerely,
Jerry
***
Hello,
Yes, you may publish my review. It was my honest review! :)
And thank you so much for your continued service to my lady and I.
Jerry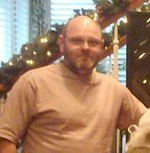 Jerry / USA
14 February 2017
trip to Poltava
Peter: can tell you that I did not fall in love with the girl, but I did fall in love with the city of Simferopol
I, Peter Marra, have just returned from a trip to the Ukraine and the wonderful city of Simferopol. I went there with much anticipation about meeting a special girl whom I had been writing to for four months. I was the first American to visit your Simferopol branch. I can tell you that I did not fall in love with the girl, but I did fall in love with the city of Simferopol, and Alex and Olga.
Alex and Olga are your branch managers in Simferopol, and they truly went above and beyond all of my expectations. We had dinner together in the evenings and I truly felt like I was with family.
My Suitcase was lost in Kiev; I think the suitcase ended up in India. Alex was good enough to lend me a coat until the next day and even offered me clothes since I did not have any. I was amazed! Who else would do something like this? Alex and his wife called me every day while I was there and made sure I had everything I needed. They were always just a phone call away. Even at the agency I felt like it was my own. They took the time to show me around the city and filled me in on many great sites.
I don't know what you are paying Alex and Olga, but they definitely deserve a raise! When my dreams of my girl went down the tubes, they were there for me. After all, you can put two people together but you can't force love. They definitely did their job. They put us together, but nothing evolved except my love for the city of Simferopol and for Alex and Olga.
In closing, I want you to know that I hope to plan another trip with C.C. and Simferopol. Alex and Olga are definitely on my itinerary!
Peter
December 2005
David: Thanks to CC I know I already have good friends there
I have just returned from a trip to Poltava and I must say thay noy only did you do what you said you would do, but you went above and beyond my expectations. The driver met me at the airport as promised and even Elena was at the CC office to help me get into the hotel. The accomadations were excellent. and I must say that Alex, Oleg, Elena, and Julia were very helpful.
Alex was my interpreter And he was excellent, even getting me back to my hotel after too much white beer. He took me to an authentic Ukranian restaurant and I am now in love with borsch. I was so pleased that I am actually considering moving to the Ukraine. Although things did not work out between the woman and I, I still had a great vacation. I will be back soon because I love the Ukrainian people and Poltava.
Thanks to CC I know I already have good friends there. My only stipulation is that if CC does not give its Poltava representatives a 10 % raise immediately, I will not return for they elected m! e as their representative. Ha, ha, ha. Nonetheless, they are all very deserving of all you can give them based on their hard work dealing with crazy American men. So cough up some money and I will see Alex, Julia, Oleg, and Elena in a couple of months.
Your very satisfied member
David
December 2005
Jack
December 2005
Robert: Thanks for keeping some basic - but extremely important standards
I am a new member here. I have tried some other sites where scamming is usual. Off course it costs a bit of money - but here I have already after few days gotten aquainted with a woman who actually answers my qustions and taken a sincere interest in my person. There is a real dialogue and that is just great.
So thanks for keeping some basic - but extremely important standards !
Your professionalism deserves respect !
Robert
December 2005
Alberto: I am confident I will find my future wife
For six months I have email and phone few ladys from the agency, also getting help from the support office, is been absolutily fantastic, I am now ready to make a visit to Lutsk, Poltava, to see some of the ladys I have been in comunication. I am confident I will find my future wife, excelente agency well run business.
Thank you for this happines you brougth to my life.
Alberto
December 2005
Andy: The trip could have started better
I have just a arived back from Ukraine. This was definatley the best trip that I have ever taken.
The trip could have started better, with my luggage going missing for 4 days, and then thigs being stolen from the luggage when it finally arrived. Dana and her great team in Lutsk did not let these problems affect anything. They treated me like an old friend coming to visit, there was always a warm comforting smile, and they were always willing to help, going out of their way to make the trip special and memorable. Basically Dana and her team in Lutsk are Fantastic :-)
The ladies in Lutsk are wthout a doubt the most beautiful in the world. The lady that I met is beautiful, intelligent, friendly, a real dream to be with. Every moment with her was like being in the best dream ever, and I did not want to wake up. It was a huge shame when I had to leave, I will be going back as soon as I can arrange it.
It is so worthwhile to do this. I might be repeating what others have already said, but GET ON THE PLANE NOW!!!! It is worth it, it is a trip that you will never forget or regret.
Huge thanks to all the guys in Lutsk, and I look forward to seeing you again.
Andy
December 2005
Thomas: Now Life is Complete!
I am happy to announce Elena C and my engagement. We made this lifelong committment to spend our lives together on my second trip to Kharkov. I feel CC is an excellent match making agency and it feels like being with good family. Olga has been the key to this match and continues to exceed our expectations in every way. Another successful love story, please include our photo of our best day so far!
Thomas
November 2005
Goeran
November 2005
Roger
October 2005
Randy: I sincerely wish to thank you for introducing me to Oksana / Poltava
Hello Oleg and crew,
I want to say thank you to yourself, Alex, Elena and Julia for all your help during my stay there in Poltava. I had a really good time and enjoyed learning about your city and all the pretty ladies there. It is unfortunate that Elena did not work out for me after all the time I had spent writing her letters. However, I sincerely wish to thank you for introducing me to Oksana. I think there is almost certain to be a good relationship between us and very likely even marriage.
My accomidations were very good and the hotel staff was very nice and considerate to me. The food was good and the wine excellent. In short I really enjoyed my time there and enjoyed getting to know you all. Julia was a very helpful guide on my tours of the Fire Department so please let her know how much I appreciated her help.
Take care and good luck with Helen.
Sincerely,
Randy
October 2005
Jack: I want to say that office in Zaporozhye is hard working... My appluse to them!
Dear Victor and staff at CC! Especially the staff at the
Zaporozhye
Branch: Helena and the two Natasha's
It is incredible the amount of time and effer that Helena and the other staff members have put into making my stay here meaningful and enjoyable. I didnot know what to expect to get when I arrived here but from the time I arrived at the Airport, the drive here, and my stay at the Hotel I have had nothing the best service.
I met a lady on my first night here named Natalia. She and I have had such great chymistry together that we have decided to be married. WE are both so much inlove with each other that it is scary at times. You could call it 'fate' or 'Provadence', or what ever but the very same things I am thinking she is to. I have never been so happy in my whole life as now. If it were Posible we would be married right away, but we have both agreed that to spend our lives away from each other would be absolutely too painful and lonely. So we are making arrangements for my next vist to be near the New Year and the Ukrainian Christmas.
I want to say that this office in Zaporozhye is hard working and deserves the best that can be given to them for their work in the plans they have helped Natalia and I to make or meeting and engagement a succesful one. My appluse to them.
I will do all I can to assist them in the future.
Spasibo. Da Svedania
Jack
October 2005
Goro: I wish a very good success and keep continue on good service.
Hello Ms. Maria,
Thank you so much of you and your staff's help. I enjoyed very much while I was in Kharkov. Ms. Olga was so professionally help me out to arrange for the next movement. Because of her help, we (Goro and Victoria) were engaged. We love each others very much and she starts transaction to move to U.S.A. as soon as her paper work is done. I am coming back to see her in December. Ms Olga knows what to do and where to go for next arrangement and movement. I also had a meeting with Victoria's family and they are very nice families with warm welcomed to me. I wish a very good success and keep continue on good service. I put our picture on my profile so you can post it on your site with this letter.
Again, thank you so much for your good work.
Goro
September 2005
David: I can't tell you how much it means to me.
Please send the following message to the staff at the Zaporozhye office. Hi Ladies, You made me feel so welcome that it didn't seem like a business at all. I can't tell you how much it means to me.
Thank you for being so sweet!
David
September 2005

Gerrit
August 2005
Arden: Thank YOU for continuing to make CC the best Marriage Agency anywhere
Dear Support Center STAFF: Thank you for your continued excellence and astute diligence in ferriting out the problems inherent in the questions and/or comments made, and for arriving at solutions that in my view are most fair, honest, and honorable.
Thank YOU for continuing to make CC the best Marriage Agency anywhere. Lastly, though exceedingly far from being the least in importance, by any means whatsoever, I continue my pursuit of finding that one beautiful (heart and soul!!!) Ukrainian Lady who is my soulmate, and with whom I will make a complete and thorough life, marriage and family, of course, as mine and my future wife's goal. It is only a matter of time, but, at present, and with the Ladies with whom I am in contact, it seems that that bond may already be beginning to formulate--I sure hope so. Thank YOU Maria, Sergey, Yura and all the others with whom I have not as yet had the pleasure of having made your acquaintance, and working together with.
All the best.
Arden
September 2005
Jack: If I had have known about CC from the beginning I would not have lost so much money
Dear staff at CC,
I have been writing ladies from other web-sites and was hooked into a scam by several of the ladies. I found CC by acciedent on day while looking for a web-site to report these scammers. If I had have known about CC from the beginning I would not have lost so much money.
I have found the lady I am communicating with now to be very much the real McCoy. Even when I sent her Pressents she did not wish me to think of her correspondence with me to be for the gifts. We have shared our inner souls even before I am able to come see her in September or October. I will need your special watchful care over me during that time as I am in a wheelchair, and have some extra needs. My Lady knows about my situation and it has not effected our relationship one bit.
You have been good to me so far and I know you will meet my requirements for assistance when I come.
Jack
June 2005
Ken
April 2005
John: Hello from Poltava
Hello from Poltava,
I understand you wish to hear my impressions of the Poltava branch. So I would wish you to know I find them very impressive and helpful to me. Bogdan is professional and very easy to deal with but also he is friendly and I know he is watching out for me. And the other translators and I are enjoying going out to dinners with my ladies and doing their very best to speak our ideas and thoughts clearly even though Russian and English can be very different at times to make compatible. I have even begun to talk some decent Russian myself, and have wandered around the city and even gone to the main market to buy things. I really like the Ukrainian people, they are so very friendly and just seem to be easy to be with.
So in conclusion I want to say I am enjoying myself greatly and the Poltava branch is very well run in my opinion.
John
March 2005
Jim: I would say to all the people thinkink of taking a trip to the Ukraine to do it!
I have just returned from my trip to Simferopol. Everything was as written by others on this site. I was greeted at the airport by Zarina and my interpretor Rasul and the women of my dreams Angelica. They took me to the hotel and got me settled in. Then it turned out to be Zarinas Birthday and she invited me to celebrate it with her and her family. I was so impressed!! I spent 10 days getting to know Angelica and explored all of Crimea.
Rasul was a godsent. He knew perfect English and really helped in my times of need. I would say to all the people thinkink of taking a trip to the Ukraine to do it. The women are so friendly and sincere. I also think that the services you provided were excellent. I can't wait to retun!!
Jim
February 2005
Dan: Trip to Sumy
Hello Maria !
I just wanted to thank you again for all your help!!!!
I had a wonderful time
in Sumy, Oksana and I were engaged while I was on my trip!!!
Who would I write to about getting a visa for Oksana to come to the USA, I wrote to the laywer CC has on there site but I have a problem. His web site says I need pictures of Oksana and me together to prove we have meet. Although I have video and pictures of my trip we didn`t get any pictures of us together, we never thought of this and did not know we would need them. Is there someone at CC that I could write to that could help us with this? Again I want to thank you for your help!!!!!!!
Dan
January 2005
Dale: Keep up the good work
I just came back from a trip to Ukraine, I had a great time despite my luggage being missing for 3 days. I've read all about other people having good luck here and figured It was my turn to see for myself.
I spent the best 9 days of my life with a beautiful, friendly lady. We got engaged on December 28th and now I'm working on getting her home.
She is probably one of the best good will promoters you have. I truly believe that your doing men all over the world a great service, keep up the good work.
I'm a believer. Best advice is get on the plane, see for yourself, you will not be disapointed.
Dale
January 2005