Testimonials & reviews
Dear Gentlemen, here we are happy to present you the testimonials of the members who have found their soulmates with help of our Agency.
Here they express their opinion, experience and suggestions for those who are looking for a second half in another country, as well as appreciation to the company and staff.
Please read our ladies' testimonials about UaDreams, reviews of our agency as well — they are also very happy to be with our agency! Some ladies' testimonials you can also find in How we take our ladies photos.
We are so proud of what you, our dearest members, are saying about us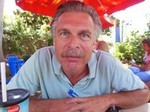 Mark / USA
25 October 2015
trip to Kremenchug
Mark: This has been my fifth trip here
Hi, this is Mark, I am from California in the United States here in Kremenchug for the second time I believe and sharing with you that I have amazing time here, met an amazing lady, and I am excited to have seen her for the second time as well. And it looks like we may be able to have a relationship, so I am a happy person right now.
I would like to encourage you, if you are watching this, to believe that UaDreams is legitimate and works, it seems to be working for me and if you haven't had an opportunity to come to Ukraine I would encourage you to do so, this has been my fifth trip here and it is an amazing country with an amazing people and a very interesting culture.
Leave testimonial about UaDreams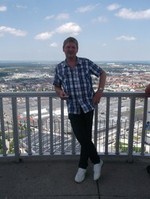 Enrico / Germany
12 December 2016
trip to Kharkiv
Enrico: I could see the stars sparkling in her eyes
About meine Lady and me...
It's so difficult for now to say more as in my thoughts.
It was on a day in October, as I see her for the first time on this site here. And I believe I was fallen down to her even in this first moment. We had written so much letters, talked about our past, our dreams and wishes too.
And now I'm here in Kharkiv in only one reason. I wanted to see her, to get to know her in real. Yes, I believe she is exact this so wonderful woman who I had made my picture of her in my thoughts before. We had meet and I had wish the world would be stay still for some moments, but the time goes. We was walking in the city, sit in the cafe, had evening meal in a pizzeria and breakfast in my apartment. We had a slow dance in the club.
Today is Monday already and she is working now. In the evening we will meet together, the last real for this year, and I hope I could see the stars sparkling in her eyes. I decided to close my account on this site, because I had found the one I'm looking for. And in my thoughts, I hope she will do the same and we will have our future conversation in private way and see each other soon. Big thanks to Victoriya for her translation and assistance in usual things, when can be difficult for a man from abroad in this so exciting city.
With my thanks and best regards,
Enrico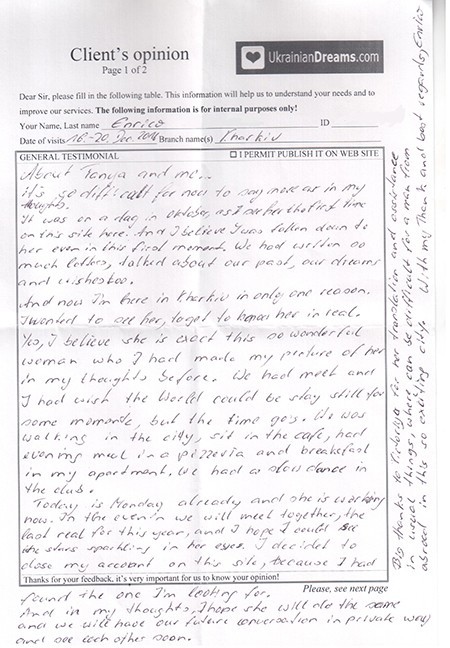 See what our clients say
Donald: I had a wonderful time!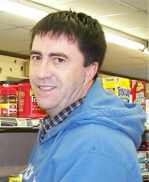 Donald
December 2008
trip to Simferopol
Mark: I would like to compliment your web site designers
I have see many other date web sites and yours is one of the best in artistic design and ease of use and function. I have notice that you are constinately making impovements and I appreiciate this very much. I think you will do well in the future and beleive that you provide a valuable service to the ladys of ukraine.
When I come to Ukraine in the near future I well be looking forward to meeting some of the hard working employee in your offices. I want to be able to come bak to the USA and tell others about your sevice. Have a nice day and Merry Christmas!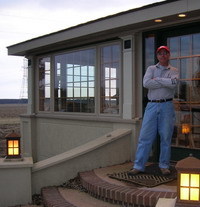 Mark
December 2008
Fernando: I'm happy with my trip to Donetsk Branch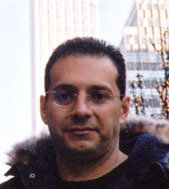 Fernando
December 2008
trip to Donetsk
Matthew: I will tell another American to travel to Sumy and to meet lovely women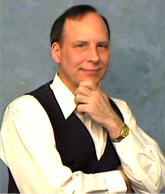 Matthew
December 2008
trip to Sumy
Hampton: The stuff at UaDreams was very accommodating and very helpful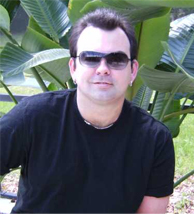 Hampton
December 2008
trip to Simferopol
R. H.: I could not ask for any better service. When I return to Ukraine, it will be because of my Ukrainian angels that make me miss that place so much.
The Hidden Gem called Ukraine I had been corresponding with women for almost four years and finally decided that the only way to make my dreams come true was to personally meet them. So, here I was, heading toward the women I met through the agency of UADreams.com. Going into a country that had been forbidden to us in the United States for so many decades. A culture unknown, filled with so many stories of hardship, organized crime, scamming and violence.
What I had found was a land filled with angels who were kind, considerate, soft-spoken and had a sense of personal responsibility to help you all the way through your endeavor. Their sense of cleanliness was almost to an obsession, but a welcomed one. Oh, and they had some of the best food I have ever tasted.
My journey began while on the train from Kiev to Poltava. I had travelled half-way around the world to be here and after thirty-six hours of travel I would find myself in a city with a hotel room somewhere and no way of finding it. My first angels were Olia and Oksana who I communicated with by mobile from the train. I did not know what train I was on or what time it would arrive. No one on the train spoke English and I could not understand my own ticket. Oksana found my train and said she would meet me at the station when I came in. That was an hour from our conversation. I could never expect that type of service from any company at home.
As soon as I stepped off the train, I heard my name being called. There was my angel of Potava, Oksana. She watched over me through my whole stay there and took care of my every need. I could not ask for any better service. When I return to Ukraine, it will be because of my Ukrainian angels that make me miss that place so much.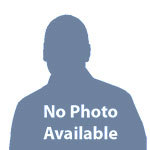 R. H.
December 2008
trip to Poltava
Roger: It's a good experience and it's a beautiful town.
Hi, my name is Rogelio. And I'm so glad to be here in Sumy, very beautiful city on the North of Ukraine. I'm glad to be here, at this office and to be met with this wonderful staff of the matchmaking agency. They are so kind all the time and they help a lot with your coming here in Ukraine.

Even if you don't speak neither Russian nor Ukrainian, they help you to arrange the meeting with the lady of your dreams and to find all those things you need in this wonderful city on the North of Ukraine. If you know some words in Russian or Ukrainian you can use in communication with your lady.
I'm tired because of the long trip from Kiev to Sumy, but I'm in good mood because here I met the ladies, that are very beautiful. See you.

Roger
December 2008
trip to Sumy
Kurt: The staff at the agency and the interpreters were like our own personal team to help Lena and I get to know each other. Now she is my girlfriend!
Dear UA Dreams,
A few years ago, I never would have considered dating a woman from outside my country. Now, the world has changed, and with the rapid proliferation of the internet, new oportunities for people to find their soul mates have been opened. When I first heard about your agency, I was sceptical. After thinking it over for a few weeks I decided to sign up. I have been generally disappointed in the women of my own country. So what was there to lose in trying something different?
Here in the USA there are standard ways to meet people. You can meet through friends, get setup on blind dates, or try local internet sites like Match.com or Eharmony. Or you can try the bar scene. Sure, you might be able to find your other half by these methods. But I am very selective, and I was disappointed in the results. It was not until I gathered my courage and tried UA Dreams that my eyes were opened to an entirely new experience! For me, this turned out to be the best thing I could have done. I have found Ukrainian ladies to be the most interesting, exciting, intelligent, sweet, beautiful women I could have imagined! One very special lady named Lena and I started to communicate frequently through the agency. Right from the beginningI felt a special connection with her. Some time progressed as we were getting to know each other through our letters, and I decided I had to meet her. I asked if she would agree to a meeting, and she agreed!
You will find that going to Ukraine is an adventure, and you should always be prepared for the unexpected. There was something very unique about going there to a new place and meeting Lena. It was truly an amazing experience! Without the support from the agency, none of this would have been possible. The staff at the agency and the interpreters were like our own personal team to help Lena and I get to know each other. Now she is my girlfriend! In fact, at times with the help of Julia and Alla, I almost forgot I was in a foreign country and my girlfriend and I don't speak the same language.
I arrived in Poltava at 4:00 AM on November 5th, 2008. After 5 hours of sleep and a shower, it was time to meet Lena at the agency. I was very excited and at the same time nervous waiting for her to arrive. When she first walked in the door, I was stunned and breathless! Although I had many photos of her, she was even more beautiful in person. My heart was racing, my stomach had butterflies, and it seemed as though I would melt into the floor. We looked into each others eyes, and then she ran over and gave me a warm hug.
This whole incredible experience made such an impression on me it was worth all the travel time just for that one moment! But of course that was just the beginning. I knew right then that Lena and I had a special connection. I stayed in Poltava for the next eight days. Lena and I went out to many dinners. We went bowling. We went shopping. She showed me the sights around Poltava.She cooked a great dinner for me. I met her family. At the end of the time, it was very difficult to leave. We agreed to see each other again next March, and I am already looking forward to it. I really have the sense that she is the one I have been looking for. Lena is a very sweet, kind lady. We are off to a great start!
Obviously, there is no guarantee that you will find your soul mate in Ukraine. Sometimes there is chemistry, and sometimes there is not. This is just the same as dating in your own country. But if after getting to know a lady through letters, you have a good intuition that she might be the one for you, I recommend you go to visit her. If you are even the slightest bit adventurous, open to new possibilities, and have the time and money, I assure you this will be an unforgettable dating adventure!
Finally, I would like to personally thank Oksana, the manager of the agency, Constantine the transportation expert, Julia and Alla the interpreters, tour-guides, coaches, and counselors. Without all you, I would not have met Lena! I owe you my sincere appreciation and thanks! I look forward to seeing you all again soon.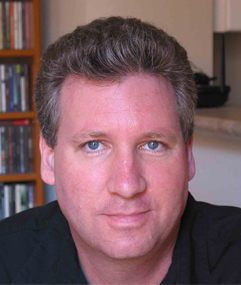 Kurt
November 2008
trip to Poltava
Leo: I fell in love with the country!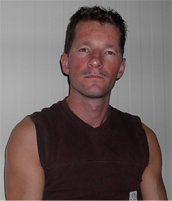 Leo
October 2008
trip to Simferopol
Jay: It's a good experience and it's a beautiful town

Jay
August 2008
trip to Simferopol
Keith: I'd just like to thank them for all their help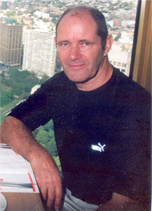 Keith
August 2008
trip to Simferopol
Odd: I've enjoyed my stay here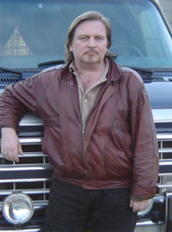 Odd
August 2008
trip to Simferopol
Gary: I would just like to thank all the staff
Dear UA Dreams team, I would just like to thank all the staff there for all their great work, especially the translators, for without them I would not be able to talk to the love of my life who I have found on your wonderful site.
Thank you all once again, Gary.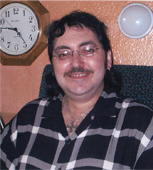 Gary
November 2008
Dale: Staff in Kremenchug
I just wanted to make a statement about your staff in Kremenchug. Your branch manager there Natasha, is very good and very professional and also the translator named Masha has been a very wonderful Lady to work with. She has been very good at helping me with things.
Thank you very much.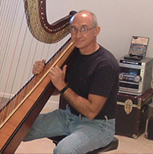 Dale
October 2008
Donald: I met one very special lady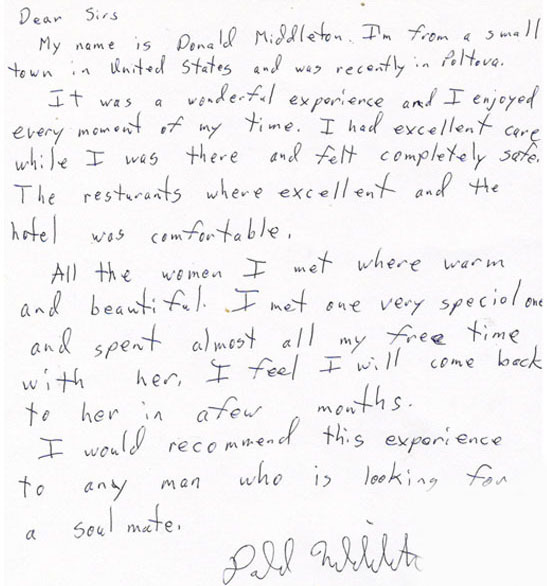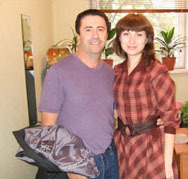 Donald
October 2008
trip to Poltava
John: If any guy is thinking about coming over, my advise is: don't take too long
I like to thank Sumy office for making me welcome.Also I like to thank Oksana for looking after me during my stay.
My lady that I come to meet is much better than I expected.I just wish she could come back with me.
If any guy is thinking about coming over, my advise is: don't take too long.I am sure you won't be sorry.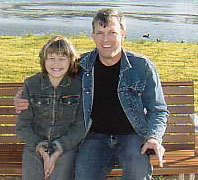 John
October 2008
trip to Sumy
Johnny: My stay in Poltava was very super
My stay in Poltava was very super,or to say splendid, the best vacation ever,and my translators were the best. Sincerely, Johny Andersen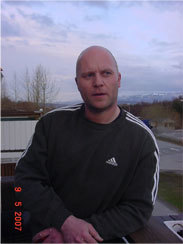 Johnny
September 2008
trip to Poltava
Ralph: I will come back again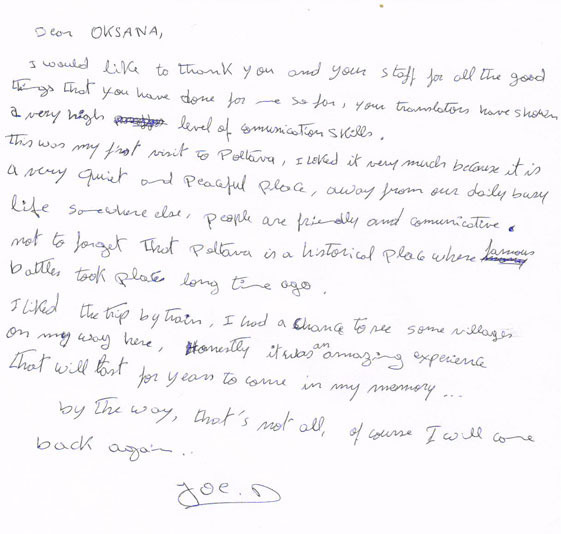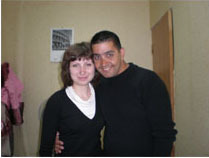 Johnny: Thank you for a wonderful stay, and a wonderful lady
Hello olia! I just wanted to say thank you for giving me the chance to meet irina! i do not know which is more beautiful, Irina or the whole city of Odessa!! Well i would always choose Irina, but your service was fantastic! Your english interpreter Nelly was always ontime, showed me all the restaurants and shops, and generally watched out for me that i was safe and ok! I was picked up and dropped off at the airport safely and on time, and honestly treated with respect.
The hotel apartment was very nice, and was very westerner friendly. My lady was everything i hoped for, and the personnel in the agencies office helped me and my lady complete the k-1 fiance visa papers that she needed to complete. All in all, it was just as advertised. The lady was who she said she was, and everthing was great! Thank you for a wonderful stay, and a wonderful lady. I would visit Odessa again! I would use your agency again! Take care, sincerely, Ralph G.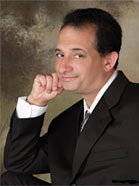 Johnny
September 2008
trip to Odessa
Carl: I wanted to make sure that I had given Dana at the Lutsk office the credit she deserves
Hello, I wanted to make sure that I had given Dana at the Lutsk office the credit she deserves. When I was there in July she made sure my stay was wonderful. I truly appreciated her and had a wonderful time while I was there and I wanted you to know she was a big part of my trip being so much fun. It is too bad she wasn't available to date also. She is a very kind and tender woman. One who will make some man a very happy wife.

Carl
September 2008
trip to Lutsk
Simon: Don't delay your future is waiting: this was the best decision of my life!!!
To all men who think about making a trip:
I can only recommend coming on a trip. I went to Donetsk and IT HAS CHANGED MY LIFE FOREVER (I hope)!!! I met the lady I had been writing to for a year and we had four incredible meetings in four days. Now I know my search for my second half is finished because she is that one!!! However, guys, prepare well for your trip!!!
Don't have expectations, have a good correspondence beforehand, as you can expect to just turn it up and expect to meet the special one! Remember also that the lady has a whole life in Ukraine. She will have work or the other commitments. Be understanding or this show support to her and you will find maybe your love too!
Learn about the country but don't worry about the language my translator Marina was not only an excellent translator but a fantastic guide. If you can learn some phrases do so, it can go a long way! I had five great days in Donetsk. I believe I have found my second half!!! I will go back again and again to see my lady.
DON'T DELAY YOUR FUTURE IS WAITING: THIS WAS THE BEST DECISION OF MY LIFE!!!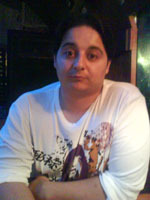 Simon
September 2008
trip to Donetsk
Ron: A dream come true for an old batchler like me, looking to settle down.
It is the end of August now. I was in Poltava the first week in June. I waited for my testimony because I wanted to see what the results of my trip would be. Like many men searching for a wife, I read a lot of things about the bad experiences and scammers. I can only speak for myself. I communicated with 3 different ladies and there was one I was very interested in and she was the reason for my trip. We wrote and exchanged pictures for almost a year and my hopes were very high for our meeting.
The week before I was to leave she stopped writing and was removed from the agency. I didn't know what to do. Reservations made and my vacation from work scheduled I went anyway.
Guys..... I was not disappointed. I was alone in a strange country and did not speak the language. The staff in Poltava treated me like a king. They made me feel very comfortable and seemed to understand my concerns. Within 1/2 hour I was at ease. They took me to my hotel and made sure it was satisfactory for me and helped me check in and get comfortable.
Then the Ladies. I do mean "Ladies"..... I spent 4 of the best and most interesting days of my life. Morning with one and evening with another and vice versa depending on when they were free. Open, honest, serious, educated, fun and beautiful. A dream come true for an old batchler like me, looking to settle down.
The reason I waited to tell my story is that I wanted to see what happened after returning home.Now that I have met these 2 ladies we can exchange personal information. I wondered what would happen without the agency between us. It has only gotten better. The ladies are serious and our relationship is growing. No one has asked me for money or had any sort of emergency they need help with. ( I am sure many of you guys know what I am talking about.)
Now my problem is deciding which woman to choose. It is very difficult because I would be very happy and satisfied with ether one. Actually I am glad the original woman disappeared. More letters and another trip will help. Like I said I only have my experience. My advice......If you are only looking for a good time? Don't go. (Although you will have a good time)....If you are looking for sex? Don't go. These ladies deserve respect !!!
If you are looking for love and a woman like no other to spend your life with? Then by all means GO !!! I hope my experience will help anybody that has questions or concerns like I had.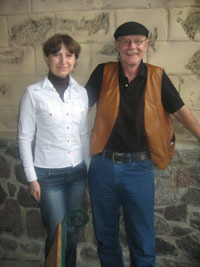 Ron
September 2008
trip to Poltava
Keith: I recommend everyone to come to Simferopol!!!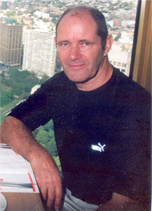 Keith
December 2008
trip to Simferopol
James: I had very very excellent trip to Lutsk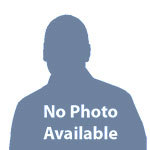 James
December 2008
trip to Lutsk
Roger: The girls in Lutsk are very beautiful.
What can I tell you about Lutsk?It's a very beautiful town with lots of nice places to visit and things to see.There are many bars and restaurants to go to and to relax.The girls in Lutsk are very beautiful.The stuff of the agency is very helpful.They will tell you about Lutsk and will help to to chose the places to see and to go with your lady.You can ask them for any help and they will never refuse.They are very kind and warm hearted.I recommend you to visit Lutsk.You'll be satisfied with your trip and you are sure to come back to Lutsk again!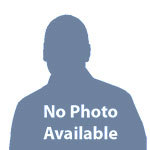 Roger
July 2008
trip to Lutsk
Carl: Let me recommend Lutsk office, it's fantastic!!!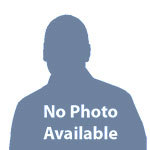 Carl
July 2008
trip to Lutsk
Graeme: My dreams were realized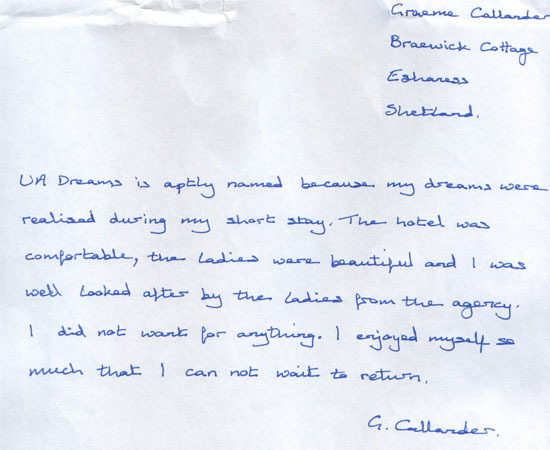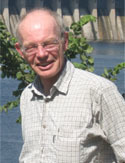 Graeme
July 2008
trip to Zaporozhye
Tycho: I guess the Sumy office would be as glad to help me with it as they helped me to feel supported by them once I was arrived and searching some of reference point.
I came to Sumy to meet that marvellous girl, which I communicate with thrue letters since a few months now and curious to meet her in real life. Only a real meeting face to face make it possible to say if there might be understanding between us and may be more.
So I went by car driving thrue Europe starting from undernieth Amsterdam thrue Germany, thrue Poland and crossing a great part of Ukrane. In each country I had to drive thrue is 800 kilometers thick. In Poland I had to find my way thanks to roadmaps and in the East of that land finding your way began to be difficult. Leaving the border of Europa into Ukraine take me one and a half hour by the border. After a few kilometers in Ukrane, I discovered the lack of boards indicating the direction to the next cities or when they where writen it was not so clear to me where the road leads to. I discover too that the roads are in less perfect state than I am used to inside Europe. Every board are writen in cyrillic handwriting and sometimes in three kind of way of writing it. Really how bigger the city is how more difficult I was able to found my way thrue it. So was Kiev with several ring ways!
After Kiev I had to drive 340 kilometers untill Sumy. In the city Romin, I had to recheck the direction cause it has never been thought about how strangers can find their way. The best tip is to follow the white midline of the road and the main circulation! If you arent so good in topolgy, reading the position of the sun to know where you are, translating cyrillic handwriting while you are driving and are able to adapted yourself to 8 different driving styles, dont drive all the way there. Dont try to find your way by yourself without roadmaps! You just need it cause there so few boards along the side of the road. Train is really not an option. The train has to stop before a railroad cross with the road so the controler can close the barrier let pass the train who has to stop again waiting for the controler after reopening the barrier so he can regain the train so it can persute his way!
Finally I arrived in Sumy. After to have asked in the center where my hotel was, cause I had booked it autonomously from my meeting booking at the Sumy Dreams office. I was glad to be in my room after 48 hours driving with two nights and 5 hours sleeping in total. Once I was arrived I was doubing about my ability and my motivation driving all that way back! Lucky mee I only had to do it after three days. So I advise to prefer taking the plane next time to Borispol and take there one of that little busses which you had to reserve a day before who will cross all the countryside untill Sumy. I guess the Sumy office would be as glad to help me with it as they helped me to feel supported by them once I was arrived and searching some of reference point.
I came after a shower to meet the manager of the Sumy Office Dreams and read the rules who are involved when you are going for meeting a girl. Once done that, I had some time to ask some questions about organisation of trip package or meeting with the girl next day.
I went to the office at 14:00 in order to begin of being part of the meeting I planned in and other make possible it took place, As the girl was able to speak english we do not need to have an interpreter and where given freedom to do so whatever we liked to do by ourselves. We drove both with my car into the center. There parked the car and went to a cafe. It was just raining. She had an umbrella. I never have one, because I came from a land where rain is being part of living there being Dutch and the wind there make it not possible to use an umbrella. I found very emancipated and sexy she gived me a place under her umbrella. Walking to the cafe we already began to talk about abilities to speak write which languages and informing about past experience last year.
The beer make it possible to destress and talk about funny stuffs, which is the base to create a great atmosphere where both get more in confidence to feel free to ask questions we first might not shall ask in the first stage. After having take a beer on a teras, the weather was beter pleased with us and went to the public garden eating some spicy pancakes. On the public bank there was more opportunity to be more intimate and let take some fotos by a passing mother. We had to remind about time, cause she had to got one of that little bus again back to her town. We rushed till my car so I could be able to reach the bus halt she needed to be. Our parting with kissing each other had something marvellous, where we communicate to each other our both envy to meet each other once again.
After she went into the bus, I came in the office back to report how the meeting took place. Reporting our wish to meet again. So they can be hulpfull in next steps following from a sideline our relationship and be able to give us advise about how futher.

Tycho
June 2008
trip to Poltava
David: I recommend the services of UaDreams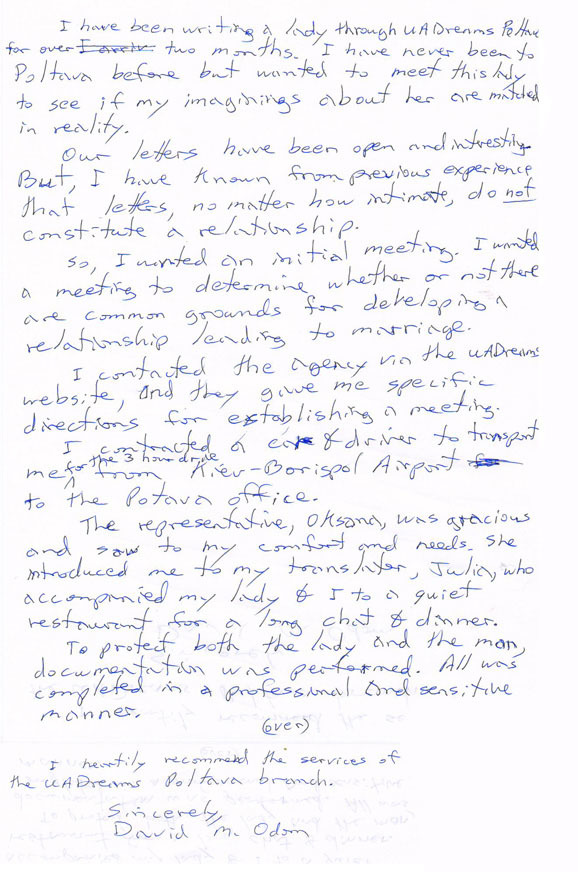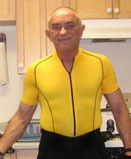 David
May 2008
trip to Poltava
Joseph: Lutsk, although it is my first time, it is a good place, a good place to visit.
I would like to tell you that your agency people are very nice, they try to do their outmost to help you and to make you happy and comfortable.
Lutsk, although it is my first time, it is a good place, a good place to visit. From the other side, the lady is very nice and I am willing to see her in Malta. From my opinion, she is a good mother, and really takes care of her family.
See you soon in Malta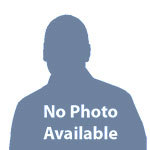 Joseph
May 2008
trip to Lutsk
Thomas: I knew she was the was the woman for me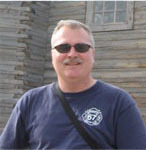 Thomas
May 2008
trip to Zaporozhye
Teodoro: I am thankful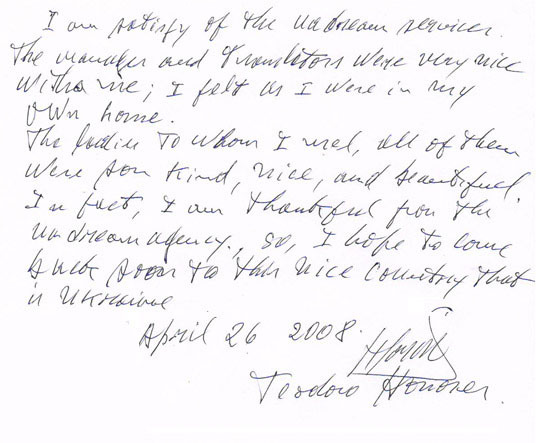 Teodoro
May 2008
trip to Poltava
Guy: You won't regret it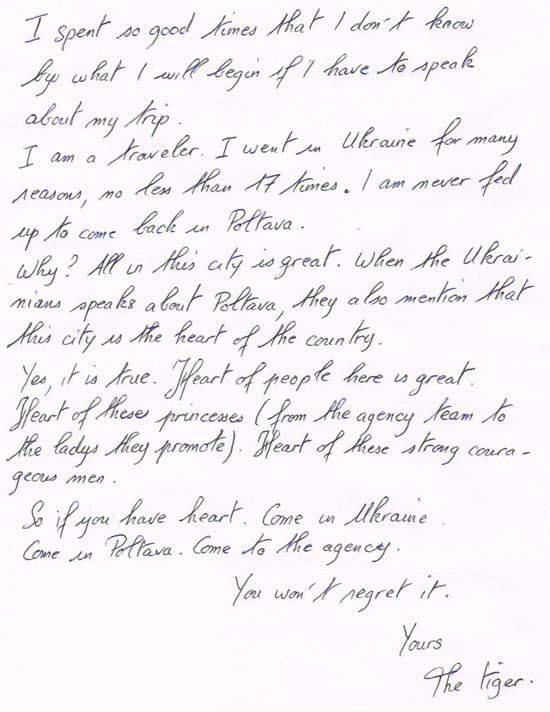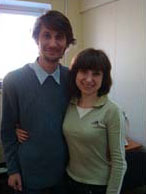 Guy
April 2008
trip to Poltava
Peter: Sumy branch are a dream team
Sumy branch are a dream team friendly, eager to help and efficient. They did everything in their power to make my visit happy and successful.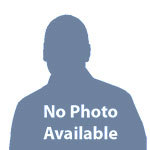 Peter
April 2008
trip to Sumy
Brad: I had a great time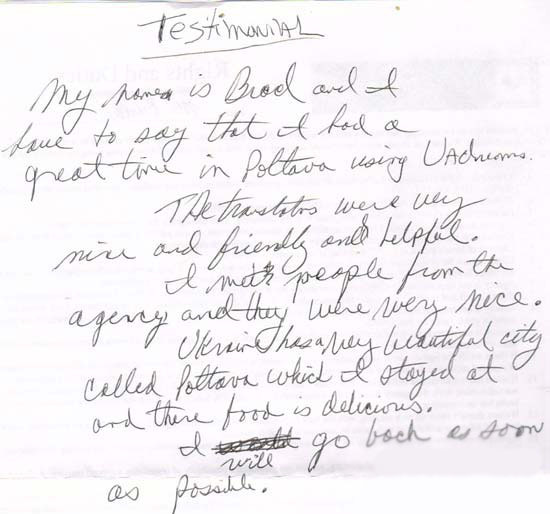 Brad
April 2008
trip to Poltava
Stefan: Beautiful country, beautiful people


Stefan
April 2008
trip to Poltava
Daniel: I've found the love of my life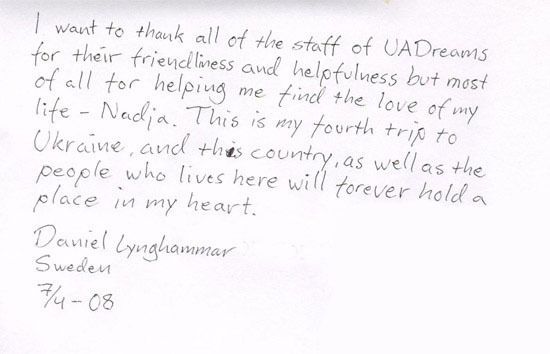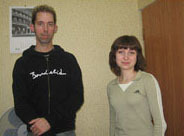 Daniel
April 2008
trip to Poltava
Louis: A qui je dois d'avoir passe un magnifique sejour
Juste un petit Mot pour remecier l'equipe de l'agence de sumy Svetlana, Alexandra, Valera,Marishka.
A qui je dois d'avoir passe un magnifique sejour. Par eux j'ai pu apprendre a connaitre un peu votre culture et visiter des endroits magiques.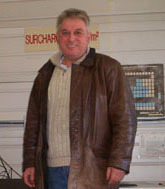 Louis
April 2008
trip to Sumy
Bob: My latest trip I consider to be the best yet.
I have made a few trips to Poltava over the last couple of years. Each trip was a very unique experience. My latest trip I consider to be the best yet. The biggest reason for this was the girl doing the interpretting this time.
Yevgeniya was very exceptional and made me feel very comfortable at each meeting with the lady that I went to visit. I hope that she will be there when I come back to Poltava this summer. Would you please pass on my gratitude to her.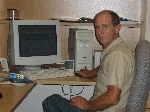 Bob
April 2008
trip to Poltava
Ken: The service was excellent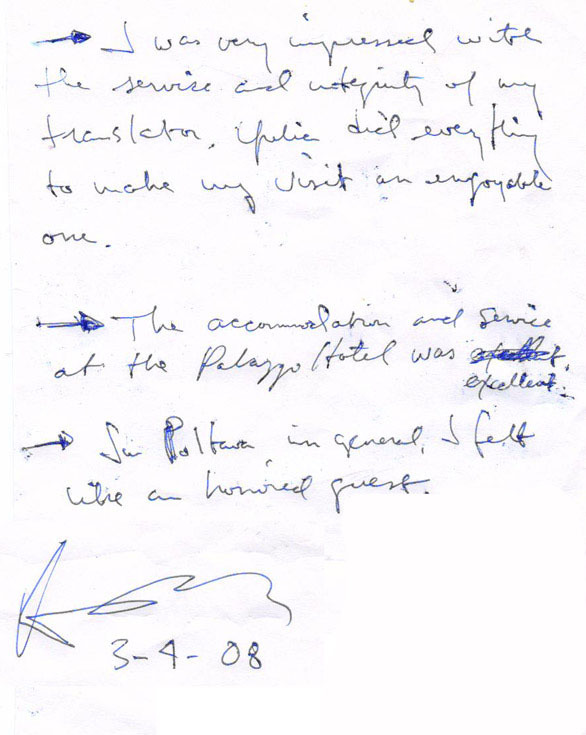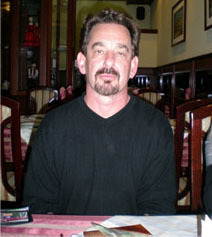 Ken
April 2008
trip to Poltava
Louis: Merci pour l'accueil chaleureux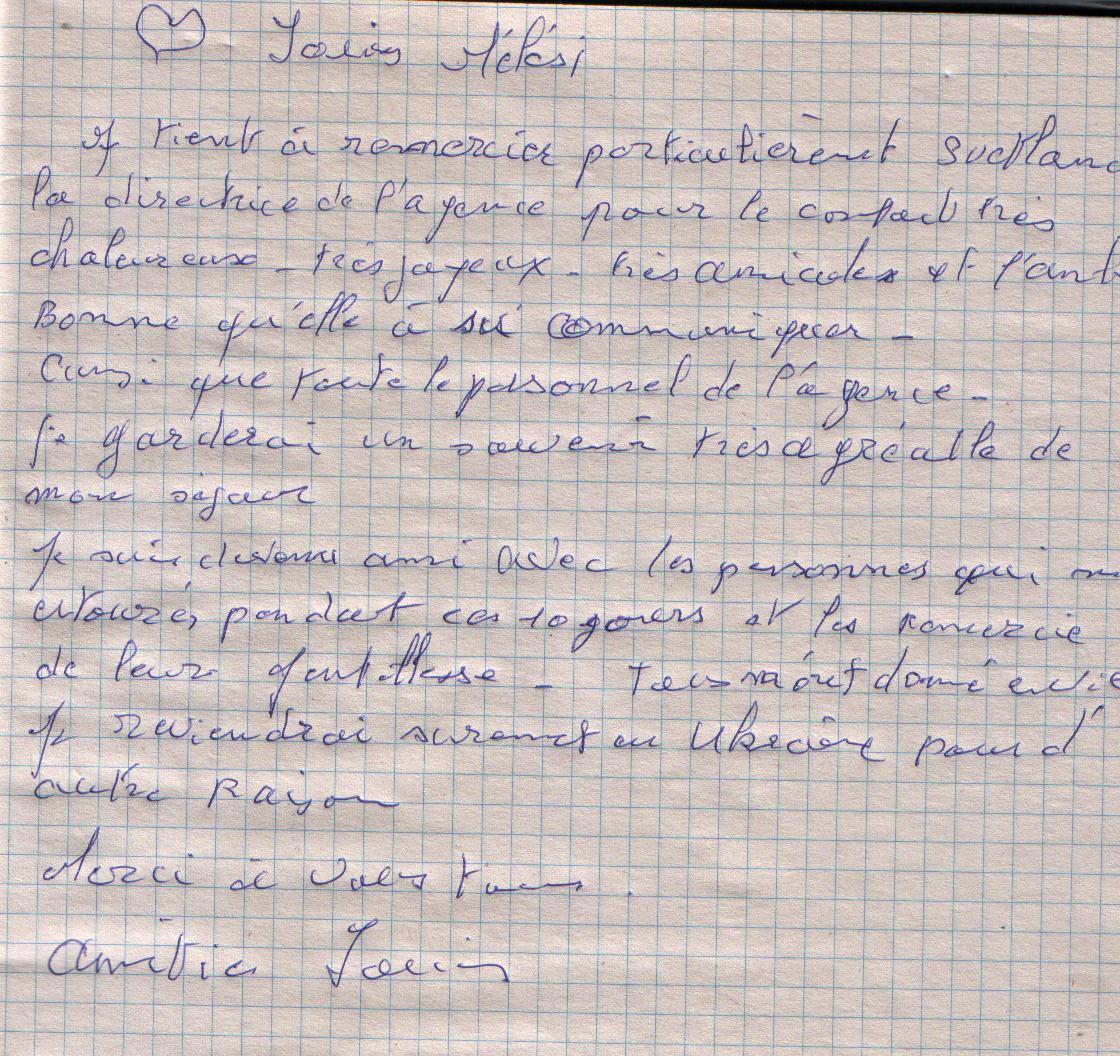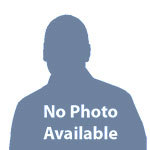 Louis
March 2008
trip to Sumy
Greg: I enjoyed my trip to Ukraine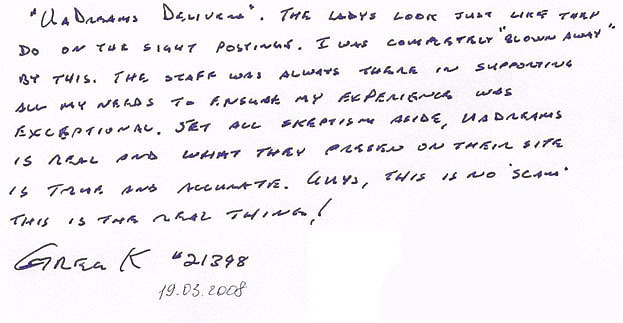 Greg
March 2008
trip to Poltava
Bob: A unique and pleasant experience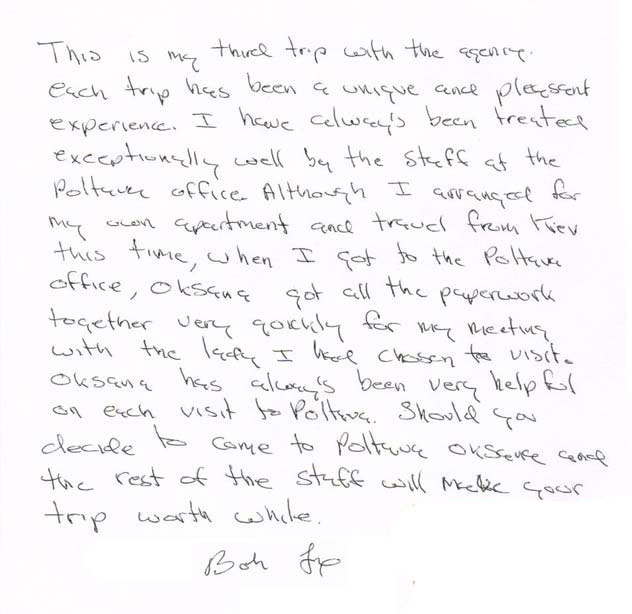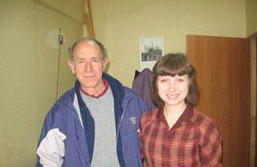 Bob
March 2008
trip to Poltava
Irvin: Nice trip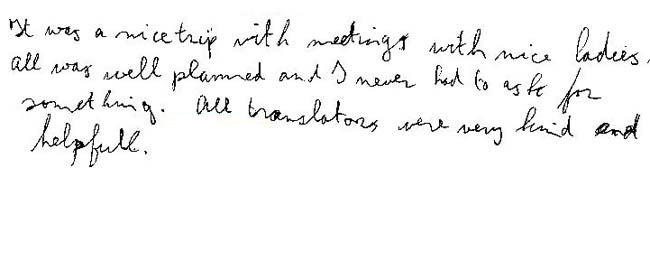 Irvin
March 2008
trip to Lutsk
Jean: I was so happy to meet the girl with who I correspond! It was such unbelievable!!!
Madam,
I write you this letter to say you that I came back from Ukraine! And I want to say you that my trip to Kremenchug was GREAT!!! Everything spent itself very well!!!!
I keep such pleasant souvenir in my heart and in my mind! I was so happy to meet the girl with who I correspond! It was such unbelievable!!! I felt so much emotion and happiness!!! I profited of each moment that I spent with her! Just, it was so fine!!! Sincerely!
It was just very important to meet us! And we wish to see us again soon: )! So, I will contact you once again in a few months to prepare a new trip to Kremenchug!
I appreciated very much the support and assistance of the Kremenchug Agency! I want also to thank them for their kindness and patience! Because it was rather difficult for me, to speak and to understand the English: )!
Thank you very much for everything!

Jean
February 2008
trip to Kremenchug
Andrew: Thanks to Dana and her team at the Lutsk Branch
Dear Olia (trip coordinator),
I would like you to convey my sincere thanks to Dana and her team at the Lutsk Branch for being so considerate, helpful and informative in my meetings with potential partners and making my stay relaxed.
Sincere Thanks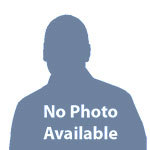 Andrew
February 2008
Visited Lutsk
Haddad: You guys are wonderful. You have surpassed all of my expectations.
Madam,
Dear Olia (trip coordinator),
You guys are wonderful. You have surpassed all of my expectations. You truly are the most convenient and friendly service i have had the pleasure of being a member to. I would like to express my sincere gratitude for you and all the staff at UADreams and its Sumy branch.
Actually, you're so friendly and helpful that i truly look forward to travel to Ukraine through your agency.I'm sure i'll be in good hands. The country is as beautiful as its people.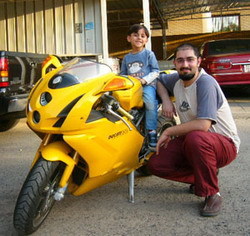 Haddad
February 2008
Suhr: Dreams that come true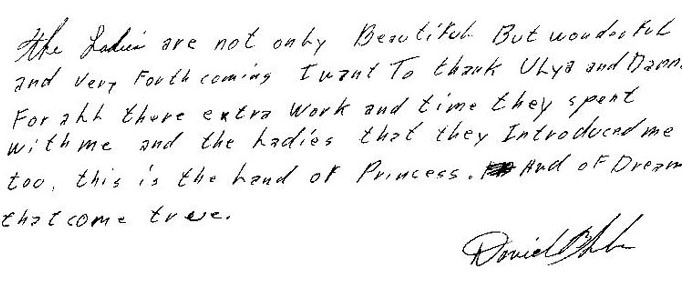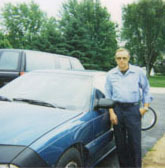 Suhr
February 2008
trip to Lutsk
David: I'm glad I choose UaDreams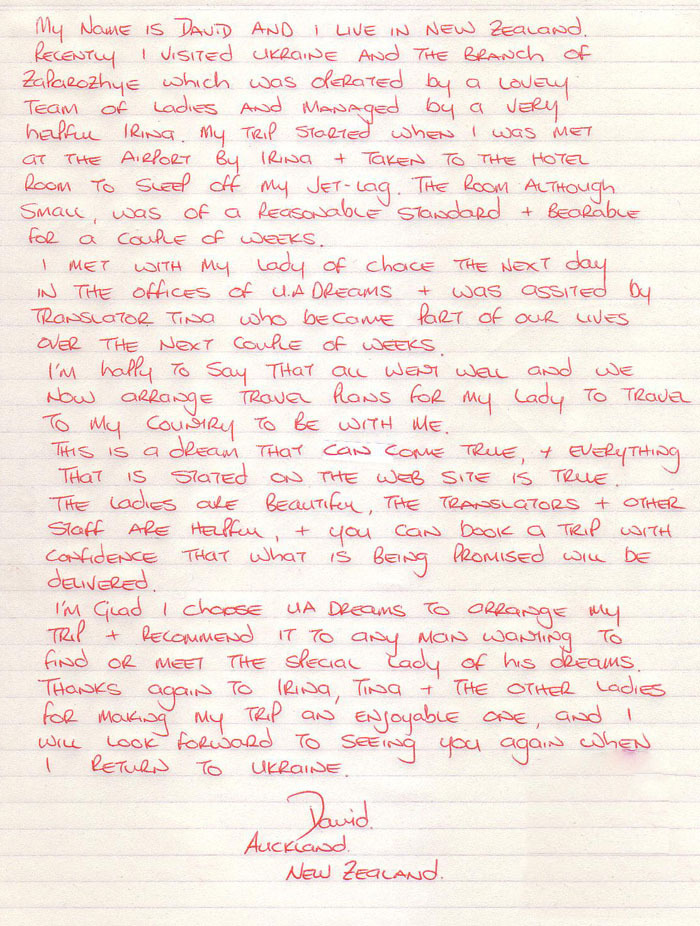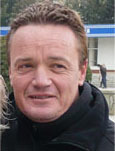 David
February 2008
trip to Zaporozhye
Wortley: I would recommend the service of UaDreams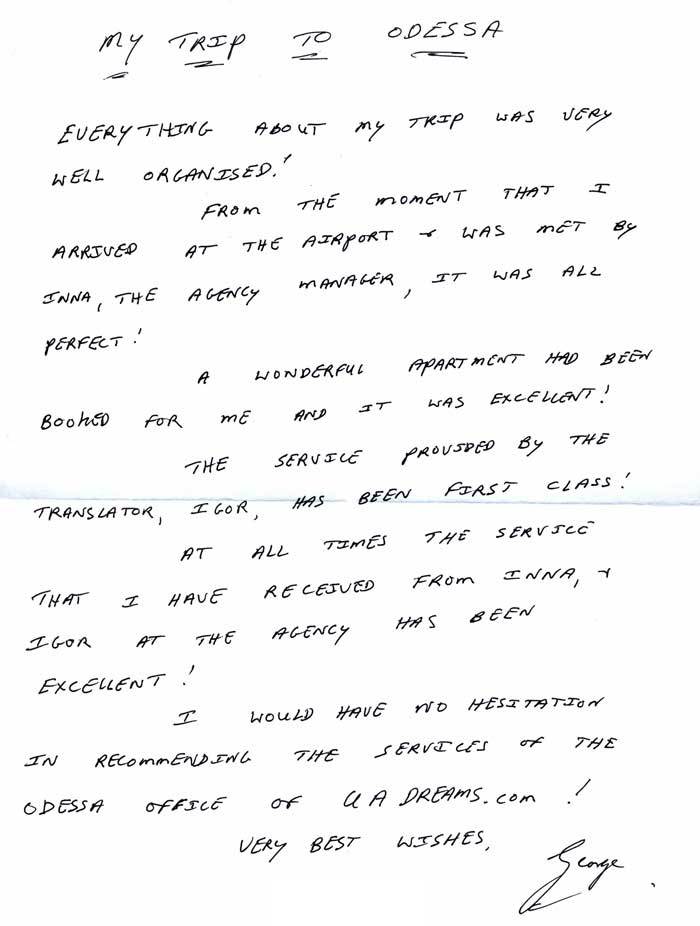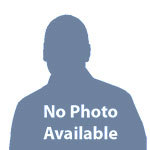 Wortley
February 2008
Trip to Odessa
Schulein: The trip far exceeded my expectations!
A happy end after all!
I really want to thank everybody at the Sumy branch office, they made my stay the best it could be. I came the Sumy to meet the love of my life but it ended after the first meeting, all alone in Sumy all of the staff and especially Alla tried their very best to help and entertain me. I did meet with a friend and spend some time with her but she wasn't what I was looking for. The driver was a true friend, always looking after me and the little English he does speak was just enough to get a message across.
Alla as a woman didn't really know how to organize a tour of the city but a friend of the driver did, at no cost did he almost spend an entire day with me showing me the city introducing me to the local customs and cuisine. When I told Alla that i would be touring Sumy with him multiple phone calls crossed over not to get me in trouble or too drunk, also during the day the office checked up on me, we had great fun fooling the girls.Well what do women do know? shopping of course, when I asked Alla to take me shopping for souvenirs she was almost ecstatic.
The day before I needed to go home every effort was taken to reach that last lady to meet and late in the evening long after the office closed the phone in my hotel room rang, it was Oksana telling me that she had finally reached the lady and she wanted to meet me early in the morning before I needed to leave for the airport. We met and it was early, both of us were nervous and most shops were still closed, we had something to eat at the least romantic spot but I could feel the chemistry between us, I think after this meeting I'll have a much better chance of success.
I came to meet one friend and lost her but gained the friendship of eight other more special people. If all of these people didn't put this much effort into my trip it would have been unbearable. Again I want to thank the staff of the Sumy branch office for my wonderful trip. I miss them already and i`m looking forward to my next trip to Sumy even if there isn`t a lady waiting for me!!!!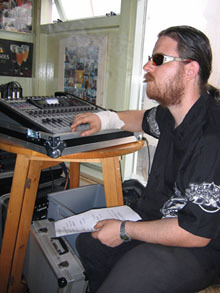 Schulein
January 2008
Trip to Sumy
Tanya, 18

Margarita, 23

Julie, 24

Olia, 35

Diana, 21

Masha, 29

Kristina, 37

Sveta, 25

Masha, 29

Valeriya, 21

Aniuta, 27

Lilia, 34

Ludmila, 43

Katya, 22

Nastya, 28

Tina, 28

Kate, 27

Alina, 25

Irishka, 30

Juliana, 27
More 900+ ladies
Support questions
Support: Hi, Larry!
How can I help?
You: Goodmorning, I need america woman searching for man