Dear Gentlemen, here we are happy to present you the testimonials of the members who have found their soulmates with help of our Marriage Making Agency.
Here they express their opinion, experience and suggestions for those who are looking for a second half in another country, as well as appreciation to the company and staff.
Please read our ladies' testimonials about UaDreams, reviews of our agency as well — they are also very happy to be with our agency! Some ladies' testimonials you can also find in How we take ladies photos.
We are so proud of what you, our dearest members,
are saying about us
Just look at these people and their sincere gratitude towards us. Each employee of our company invested a part of his or her efforts and talent, to help you to find your dream!
Show next random testimonials
Steve: The costs justify the results
I was pleasantly surprised at the services provided by UA Dreams. I had reservations at the first about online dating and looking for women from another country. But the agency from the very beginning helped me with my trip to meet my special lady. From booking the trip, to car to pick me up at airport, hotel reservation was more than I expected. The translator was great and the entire experience was very romantic and enjoyable. My fears and doubts were put to ease, and the costs justify the results. I highly recommend the agency UA Dreams if you want to make yours come true.
Video:
Hi, my name is Steve. I came to Ukraine via the UaDreams agency to meet a special woman, the agency exceeded my expectations and I would recommend it to anybody that once take a chance in finding love here through the agency, everything that I have said and more. I found the people very warm and friendly here in the Ukraine. There is a lot to do: dancing, gourmet eating, nice coffee shops, and just the food is great, people are warm and friendly, and the women are beautiful!
Testimonial sent by E-Mail:
Thanks for the email and question. First I want to again state that I was so impressed with the trip to Sumy and Ukraine overall. My trip was so great and one of my best trips/vacations ever. I have started to spread the word about your services to my single friends. Kate our translator was off the charts with her ability. She's invaluable.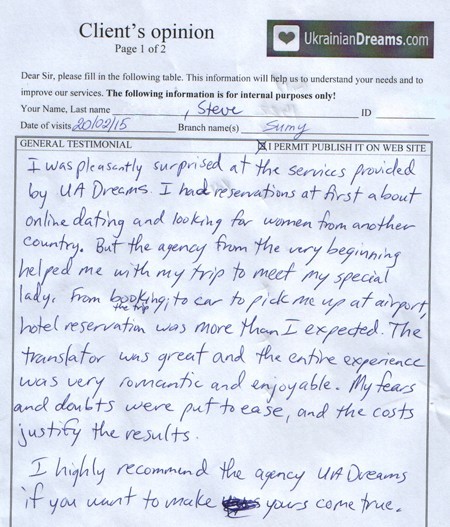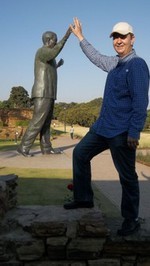 Steve / USA
20 February 2015
trip to Sumy
Show next random testimonials
John: I hope I can convince her soon to become my fiancee
The quality of the service at the Merefa branch of UA Dreams was simply outstanding. From the time I made the decision to travel to Ukraine in search of my special lady, the agency handled everything to the last detail. They responed to all questions in a timely manner. The hotel accomodations were the best. All amenities with wonderful restaurant and friendly helpful staff.
The interpreter Veronica, I cannot say enough about her. She was wonderful and we actually became friends. I felt I was able to talk to her about everything. We learned from each other quite a lot as she had many questions about life in America as well. She showed me many wonderful sights in and around Kharkov. It is a beautiful city and I was very impressed. I definitely would like to come back again some day.
I met with three ladies during my stay. They were all very nice however there is only one lady that I will see again very soon. She is the most elegant, beautiful lady I have ever met. She is quite remarkable as far as goes from not speaking much English to already been able to converse with me quite well. I hope I can convince her soon to become my fiancee.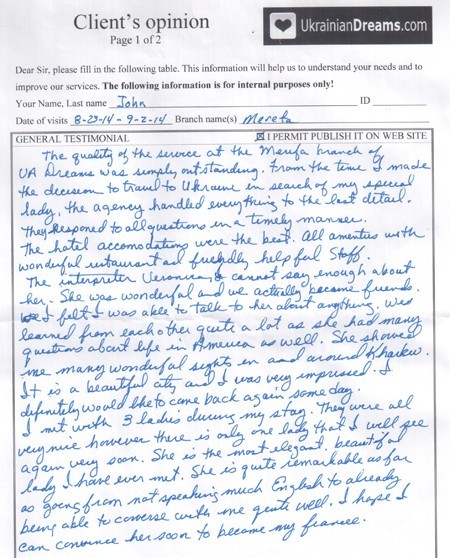 John / USA
23 Aug. – 2 Sept. 2014
trip to Kharkov
Misha: I had a most wonderful time!
I am very happy with my trip! The staff made me feel welcome as soon as I walked in the door. Julia my translator could not have more to make me feel like I was the only person she was working with! I had a most wonderful time!
My lady is even more beautiful in person than her photos and I am living a dream in real life! We had much fun together from the first moment and the office had much to do with that.
I do recommend the agency and this office to all!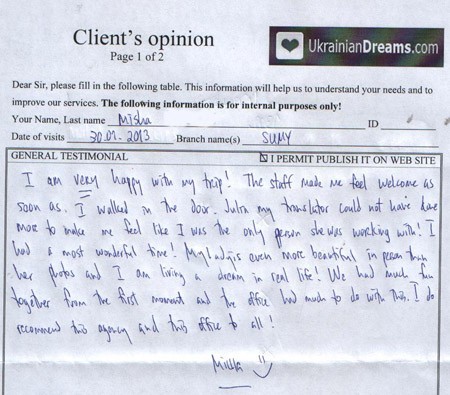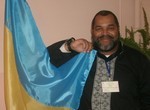 Misha / USA
30 January 2013
trip to Sumy
Neil: Thanks for your help with my lady
I visited Poltava on my own accords and arranged my own flights and accomodation in order to meet my special lady.
The drive form Kiev to Poltava was 4 hrs and proved to be quite good considering the snow on the ground.
I stayed in a nice hotel and the staff are very nice. My first meeting was late on a Monday in the agency, where I was greeted by the agency staff and my lady. We had a coffee talk for about 30 mins, them I left with the lady to a restaurant to get to know each other better. My lady and I did not originally meet on UaDreams website and we had been communicating for some 2 weeks prior. I have enjoyed my stay in Poltava and I fully intend to return in the summer. Thanks for your help with my lady.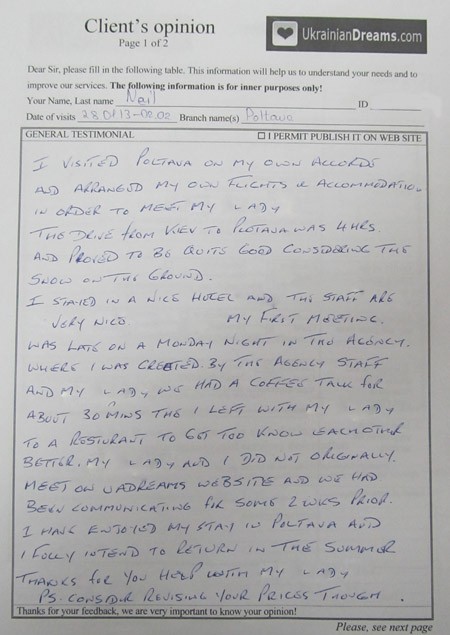 Neil
United Arab Emirates
28 January 2013
trip to Poltava
Freddy: I think she is the one and only for me
Hey this is my second trip to Zaporozhye and this lady I meet last, last time I am still having a good time with her, we have spend a week together every day. But she also had to work. But my trip was very good and we have talked a lot of things through, and I think she is the one and only for me.
I have also meet some of her family so I think she has the same feelings for me, but time will tell, hoping the best.
The translator was also good told a lot about the city and everything and I will be back to meet my lady.
Freddy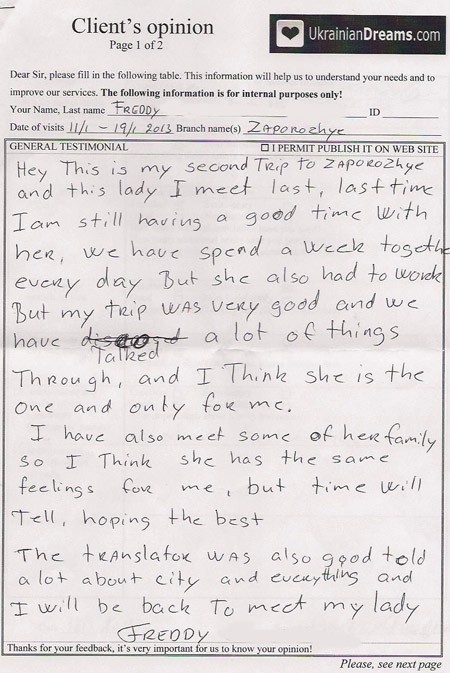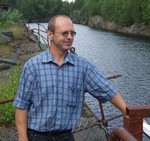 Freddy / Denmark
11-19 January 2013
trip to Zaporozhye
Bernd: Lady is calm and friendly
I am nicely surprised about the English knowledge of the lady.
Lady is calm and friendly.
The guide is nice (Anastasia).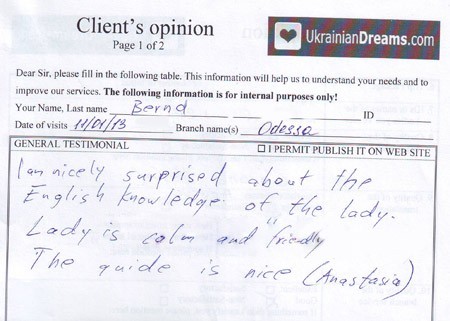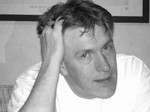 Bernd / Germany
11 January 2013
trip to Odessa
Anders: All the best!!!
ALL THE BEST!!!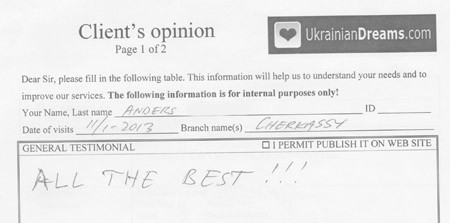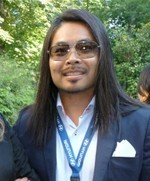 Anders / Sweden
11. Januar 2013
trip to Cherkassy
Hendrik: No any complaints
No any complaints about the translation.
She did a very good job.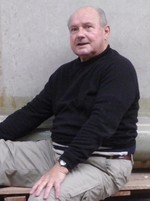 Hendrik / Netherland
3 January 2013
trip to Ivano-Frankovsk
Olivier: I like this country because people preserve the value of family here..
Testimonial in French:
C'est la dernier fois que je viens ou Ukraine, et j'ai voulu revenir en hiver voir la beauté du plains recouver de neige. J'aime ce pags et j'ai trouvé une nation ou des habitans pour tojour tourné vers la valeor de la famille.
Je suis trés heureux d'avoir rencontre la jeune fille et je sais que c'est réciproque, maintenant, il fair laisser au temps,le temps de construire notre relation et nos projets, et j'espire vraiment que malgré tout ce qui nous sépare, nous savons y parvenir, avec confiance. Et j'ai confiance en l'avenir.
Joui à l'agence pour son profesionnalisme et disponibilité.
Joui à Anna.
Testimonial in English:
It's the second time, I come to Ukraine, and this time, I have wanted to come in winter, see the beautiful plain of snow. I like this country because I have found people preserve the value of family here...
I'm very happy to meet my lady, and I know that it's mutual now, we must to leave the time, the time for built our relation, and ours project (plan). I hope that we will manage to do with trust and I have trust in the future.
Thank you agency for the profesional and her available.
Testimonial in Ukrainian:
Це був вже другий раз, коли я прийшов в Україну
Я хотіла прийти, щоб побачити красу зими сніжні рівнини
Я люблю цю країну, і я знайшов нація чи народ завжди перетворити ваші сімейні цінності
Я дуже радий, що зустрів дівчину, і я знаю, що це почуття взаємно
Тепер, залиште час, щоб побудувати наші відносини і наші проекти.
І я сподіваюся, що незважаючи на все, що відділяє нас.
Ми будемо робити це за упевненістю і я вірю в майбутнє.
Спасибі агенству за професіоналізм та доступність.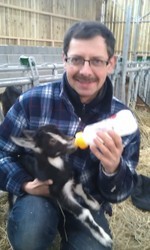 Olivier / France
27 Dec. - 2 Jan. 2013
Uadreams reviews
Average:
1867 UaDreams review(s)
Latest review 12 days ago