Dear Gentlemen, here we are happy to present you the testimonials of the members who have found their soulmates with help of our Marriage Making Agency.
Here they express their opinion, experience and suggestions for those who are looking for a second half in another country, as well as appreciation to the company and staff.
Please read our ladies' testimonials about UaDreams, reviews of our agency as well — they are also very happy to be with our agency! Some ladies' testimonials you can also find in How we take ladies photos.
We are so proud of what you, our dearest members,
are saying about us
Just look at these people and their sincere gratitude towards us. Each employee of our company invested a part of his or her efforts and talent, to help you to find your dream!
Show next random testimonials
Al: Guys come on over and take a look at these beautiful ladies
Hi! I am here in Odessa, Ukraine. I have come from Plymouth, Massachusetts in the USA. I have been the member of UADREAMS for three and half years. And I can say their service and their professionalism and the service that they have given to me for these 3.5 years have been excellent. I have made two trips to Ukraine. Last year I spent a month in Cherkasy. And this year I've spent a month here in Odessa. And all of the ladies that have been presented to me were all beautiful. They are very lovely and smart. They have everything that I was looking for. And fortunately and finally I have met my Dream Girl here in Odessa. And she has agreed to come back to USA and live with me in the USA this summer as soon as she can get her visa and passport together. And I am extremely excited about finally finding my true love with a wonderful and beautiful lady from Odessa, Ukraine.
And all along all the service that I have ever received from UADREAMS has been first class. The interpreter, Kate (Ekaterina – that is a little bit tough for me to tell that name, but as she said Kate for short) has been excellent. She has been with me all the time I have been here for a month. She has been with me all the step of the way. She has taking me on a guided tour. She has made all the appointments and all the arrangements for my driver. I can't ask for anything better than she was. She is a true friend of mine now. And I will be forever grateful to both UADREAMS and Kate.
I have been living in the past month in this beautiful hotel. It is only three years old, very modern. People here are… at this hotel... It's a family hotel... They have been wonderful to me. They have served me breakfast every morning. Everything in this trip and every time that I have come to Ukraine has just been excellent to me. You know, men from USA really to go to UADREAMS and take a look for themselves. The best luck secret in the world is the beautiful ladies of the Ukraine. And I am just so excited that the only thing was missing in my life and I am so happy that I was persisting enough to finally find her . I went through numbers of ladies. They were all very lovely, they are who are presented in their profiles. Everything about them is true. But I am so delighted and excited. Everything along the way of three and a half years is just been great... my e-mails, my video- chats with the ladies all this time has been excellent. The interpretation has been wonderful. And I highly recommend for you guys in the USA to come and to find the greatest secret in the world.
And even traveling around Odessa... Odessa is beautiful especially is on the ocean. It's very similar to the place I live. I live in Cape-cod, Massachusetts with the ocean and everything that is on the Black Sea is very similar like I said to where I live. I would enjoy living here and living there. We do plan on doing both you know in our lives as well. So my life has been 100 per cent in my favor. And I am so grateful to my interpretor, to UADREAMS for giving me this opportunity. And like I said guys come on over and take a look at greatest secret that this world has and at these beautiful ladies of the Ukraine.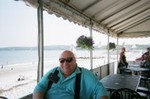 Al / USA
4 March 2014
trip to Odessa
Show next random testimonials
Mark: It's all real, despite anything else you may read or seen!
SUMY. The local complain of cold temperatures, snow, and just bad winter conditions. I have been blessed with unseasonably warm weather (considering I planned for -8 to -20 F). The times it has snowed have been periodic, but nearly perfectly timed to enhance romance- it was snowing at the end of my "Romantic Dinner" creating incredible ambiance. I find myself surrounded by amazing, picturesque settings in the city and countryside that is other wise called "boring" here. Perhaps not having this at home makes me appreciate it even more!
Agency was helpful but I chose to make my own arrangements for transport and hotel. I am staying at the hotel on one of the main streets of the city center. The hotel is updated and very comfortable, with clean room, great service, decent food, and English speaking staff. My room offers an amazing view of the main street, and a nearby square.
What can I say about my "Mother hen" Oksana? Certainly she is my translator and guide. However she has been more as well. She concerns herself with my wellbeing and needs. She has made herself accessible 24/7 during my stay. She handles all of arrangementes for the activities and needs of myself and my lady (her client). She has been my confidant, and my guide to cultural differences, offering suggestions, showing options, and explaining things I would not otherwise understand. Oksana has a whimsical accent and an occasional mispronounced word that add to her personal charm as well as that of this country! So fun!
My time here has been very enjoyable from the first minutes until now. I expect nothing different over the next two days as sadly being this trip to aclose. My activities with my lady have been diverse and many. It started with a tour of the city center with the names of the many things seen now blurring as there was so much. These included the love symbol, the mural of times past, and the symbol of the city the Sumska (Purse), two churches, and strolling of the two main streets. A romantic dinner followed with snow falling at the end of the date. I can't begin to list all the cafes and restaurants that have been comfortable, warm and inviting. I am no connoisseur of fine dining, but everything I have had has been great!
A new experience for me has been the Ukrainian Banya. Wow!!! So very cool! We prepared a meal, enjoyed the sauna and swimming. BBQ in the middle of winter? Heck Yea! Another afternoon was spent horse riding. It was a long day when we travelled to Kharkov and enjoyed a day of fun at the water park "Jungle". In the evening we toured a little, and also went for a short stroll in Gorky Park. I hope to return here in the spring.
A spa/salon day is planned for my lady today, and this evening we have reserved a private room at restaurant "Versal" and shall enjoy a special meal, a little champagne, some quite music and hopefully a slow dance or two (more?). We have not planned Saturday yet, but Sunday I will tour Kiev before flying home to California on Monday.
My lady has been amazing! She is beautiful, intelligent, and determined. I find my feelings for her growing each day. I can only hope to win her heart as she has captured mine! I look forward to the prospect of an incredible future with this lady. She has accepted an offer for a committed relationship until we meet again in the spring! :)
Video:
So, I have had an amazing time, here in Sumy. And have gone to some incredible places, seen incredible things, and had some really good food. I have spent a lot of time with a lady that I came to visit and I am very happy to say that we have a good relationship and we are going to continue that relationship.
And it would not be possible without UaDreams and been able to come here, and me and no one another… and I cannot say too terribly much other than thank you. And it has been a wonderful experience!
For the gentlemen who maybe watching this – it's all real, despite anything else you may read or seen! And I would encourage you - check it out for yourself! And come to Ukraine!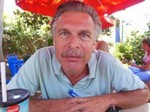 Mark / USA
2-7 February 2015
trip to Sumy
Latest and fresh testimonials date by date
Roopam: My visit to Poltava was fantastic
My visit to Poltava was fantastic. I was here over the New Year eve. Kate was extremely helpful in the translation services, as well as giving me a tour of the landmarks of Poltava. It was pretty cold but we did well during my 3 days in the city. I look forward to coming back in warmer weather.
My time with my lady was good, I did get to know her better and hope to continue communication.
The restaurants were very good.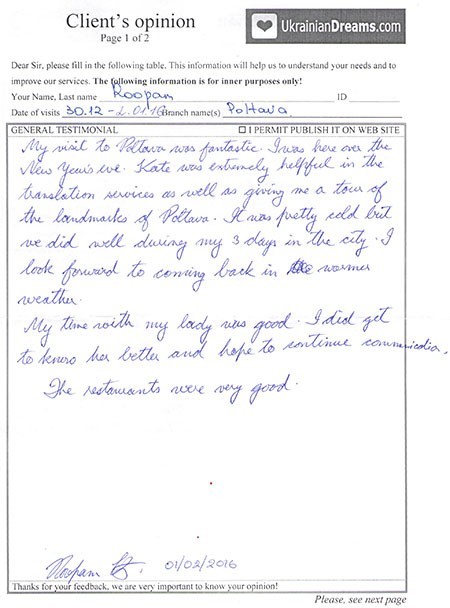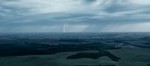 Roopam / USA
31 December 2015
trip to Poltava
Oscar: Always excellent!
Hello everyone at all UaDreams staff at all offices and all male clients throughout the world who read this. My name is Oscar and I am a nurse from the southern USA. I have seen the 2015 Christmas and New Year video and I must say it is well done and excellent. I love it! I sincerely do congratulate all the staff from all the branches who took part in the video to give us season's greetings in so many different languages!
I thoroughly enjoyed hearing the season's greetings in all the languages. It sure makes me feel good to know that all your staff truly cares about us guys and take the time to make these videos. It helps to bring the joy and love of the season to us all, at least for me it does. As I may have mentioned before, we are not so different after all. Strip away our skin color and other superficialities and we all share the same needs and desires.
Thank you very much. Your Christmas is on the 7 of January so to all staff there and the lady clients I say, " I wish for you all a very Healthy, Happy, and Prosperous New Year and a very Merry Christmas!"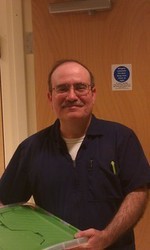 Oscar / USA
31 December 2015
Felix: Anna did a great job
Anna did a great job hosting our first meeting. She's a wonderful lady and very professional.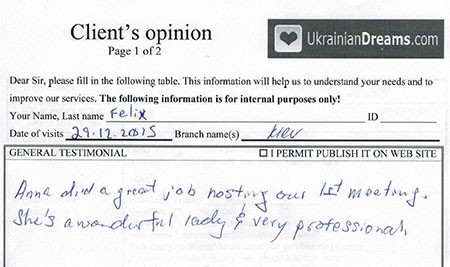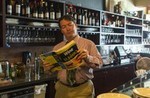 Felix / USA
29 December 2015
trip to Kiev
Uwe: All the best and good luck!
Hallo ihr Alle in der Agentur!
Ich wünsche einen guten Rutsch ins neue Jahr und viele glückliche Tage das ganze Jahr 2016 mit großen Erfolgen und viel Freude, alles, alles Gute von Uwe.
Hello everybody in the agency!
I wish you a healthy start into the New Year and a lot of happy days, the whole happy year 2016 full great successes and joy, all the best and good luck from Uwe.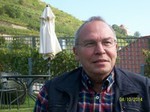 Uwe / Germany
29 December 2015
Mark: My first New Year away from home
This is my third time visit to Kremenchuk and my lady here. It has been a wonderful experience in many ways. My translator Natasha has been extremely helpful, explaining Ukrainian traditions, as well as showing me all there is to see, and also doing her main job - translating for me and the lady as she knows no English and my 20 or so words of Russian won't make for a very long conversation. LOL
Thanks to Natasha and my Lady for a wonderful new experience - my first New Year away from home. Everything has been EXCEPTIONAL.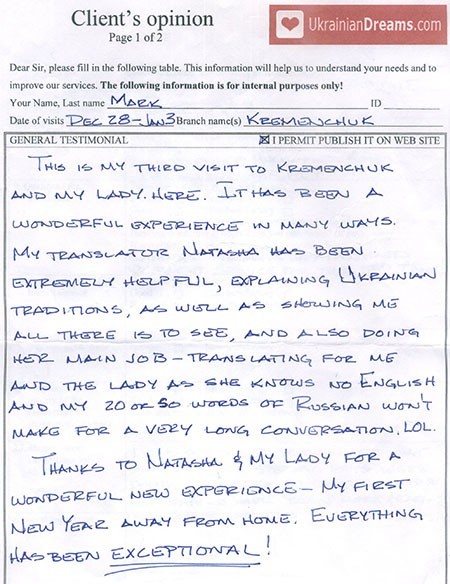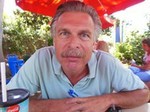 Mark / USA
28 December 2015
trip to Kremenchug
Mark: I am very happy with services I perceived
Hi, this is Mark Hall from the US. I am here in Nikolaev for the second time having very wonderful time. I would like to thank my translator Karina for assistance with young lady I came here to meet. The services of UaDreams have been above my expectations and particularly my translator here has been with incredible job, showed me around, took me to places and I have been to use her both visits. And I am very happy with services I perceived.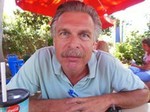 Mark / USA
26 December 2015
trip to Nikolaev
Roopam: I totally enjoyed spending time with her
My visit to Nikolaev was excellent. I experienced wonderfully warm weather except the last day of my visit. Nastya, my translator was phenomenal. We had lot of good conversations and she was outstanding in facilitating conversations with the lady. My lady is a wonderfully funny and beautiful young woman. I totally enjoyed spending time with her and look forward to getting to know her better.
I did not get to explore too much of the city and would like to come back in summer. I think the roads need improvement :)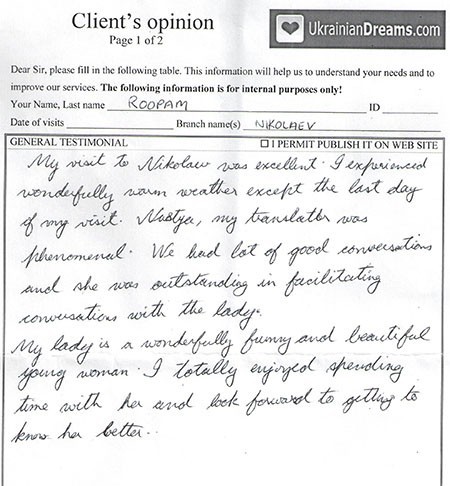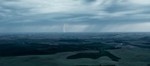 Roopam / USA
26 December 2015
trip to Nikolaev
Ahmet: I felt so comfortable with assistance agency served
I met my lady at office and liked her so much. Moreover, the day we like do up was so entertaining and I felt so comfortable with assistance agency served. Translation was so good that even my English was not so good; she understood want I mean every time. I am so pleased that I am a member of the agency.
Video:
Hello! Nice to meet you. It was a perfect date I had in Kiev. I loved the places my lady showed to me. And the translator was the best translator in the world. Her skills were perfect. Everything was perfect. Thank you very much.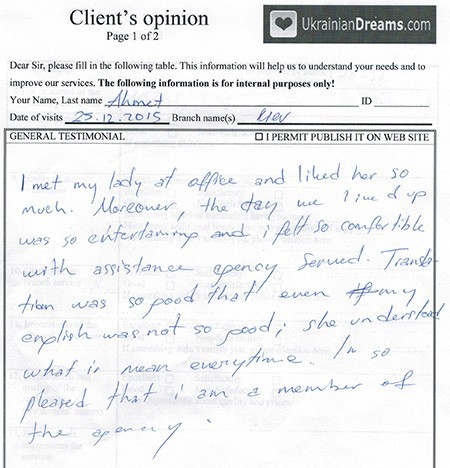 Ahmet / Turkey
25-26 December 2015
trip to Kiev
Norm: Christmas and Seasons Greetings
At this time I wish to say thank you for all your help this past year in allowing me to make new female friends in the Ukraine. Thank you for the wonderful Christmas season greetings video you provide to us now from your staffs in all locations. Each and every year you do a great video for us customers. I know your Christmas in Ukraine is around January 6th so I wish you all the best on that day in your country. Thank you. Happy New Year! Norm, Kelowna BC Canada.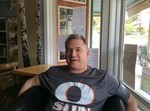 Norm / Canada
24 December 2015
James: When we get married, I will invite you to the wedding
Ana (translator) was very pleasant and helpful.
Inform the client about passport requirement.
Better direction about procedure with coming to office and going on date.
When we get married, I will invite you to the wedding.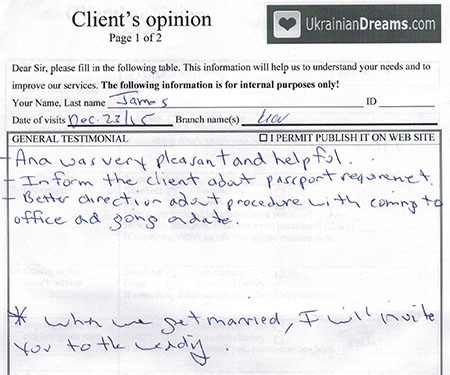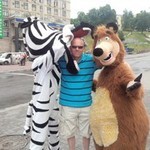 James / Canada
23 December 2015
trip to Kiev
Saif: I highly recommend that you organize your trip through the agency
My experience was simply beyond my expectations! The managers, the interpreters and the drivers went above and beyond to ensure the best possible experience for me. They are not only professionals in their own fields but also are fun to be with.
The ladies that I met were stunningly beautiful, friendly, easygoing and intelligent. I enjoyed their company thoroughly. I will be going back to Ukraine to meet one more lady in May 2016 before I make a final call.
In summary, Ukrainian women are generally social, friendly, intelligent, extremely beautiful looking and have very strong family and moral values. I am totally convinced that I want to live the rest of my life with a Ukrainian woman. I just don't know who that woman is yet. But, I'm sure that she's a Ukrainian and I'll find her soon!
And of course, if you want a safe and an unforgettable experience, I highly recommend that you organize your trip through the agency. I wish the best of luck to everyone who shares a common dream with me.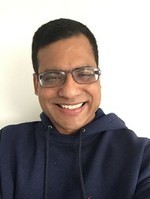 Saif / Australia
23 December 2015
trip to Kremenchug, Poltava
Hector: Both made me feel like in home and I love them!
I want to thank the agency (Poltava) for everything, the city tour and the meeting was awesome, special thanks for my city guide (Irina) and also for my translator (Elena) both made me feel like in home and I love them!
I hope to see them soon again!
Thank you very much!
And about my meeting I have to say that at the beginning I felt too nervous and the translator help me and make me feel comfortable, I hope everything could work between the gorgeous and intelligent lady that I meet!
Best Regards,
Hector, Mexico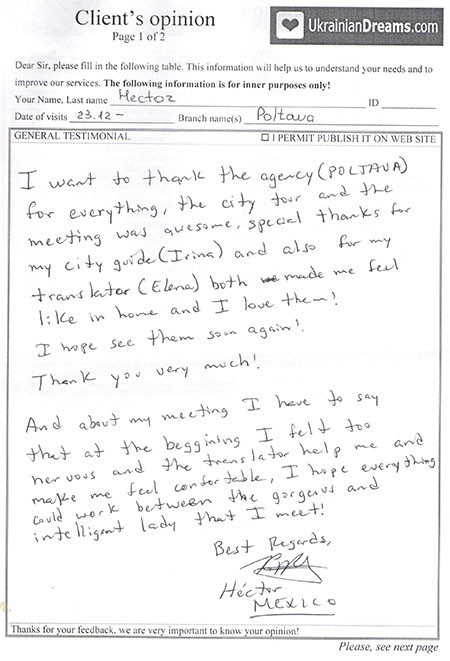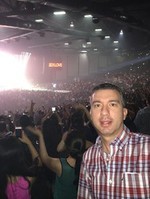 Hector / Mexico
23 December 2015
trip to Poltava
Hector: I appreciate all their help to make this adventure amazing
I want to thank you for this great opportunity to know a great lady and also for your attentions (the guide for the city Vika was wonderful and showed me many things and places around Kiev, also Valentine in the introductory, he was also helpful and attentive) I appreciate all their help to make this adventure amazing. Thanks for everything. Hector. Mexico.
Video:
I want to thank you for the agency and for the other attention. Also, for the guide tour and also for interpreter. Everything was great. Thank you for all. I have an opportunity to meet a great lady and I hope to be here soon. Thank you.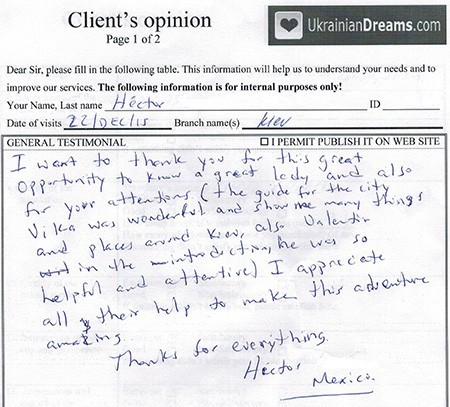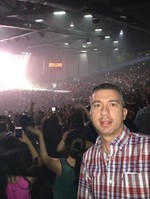 Hector / Mexico
22-28 December 2015
trip to Kiev
Georg: Nice young lady
Nice young lady
Nice translator
Nice restaurant, nice music
Good service of the agency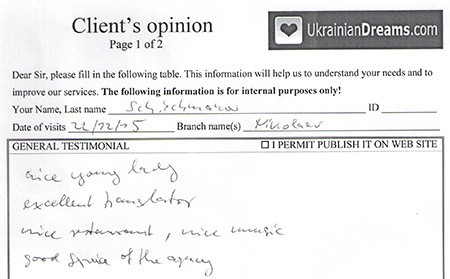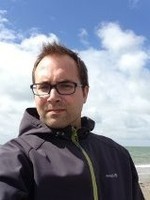 Georg / Germany
22 December 2015
trip to Nikolaev
Georg: Wonderful translator
Nice lady, wonderful translator, nice restaurant.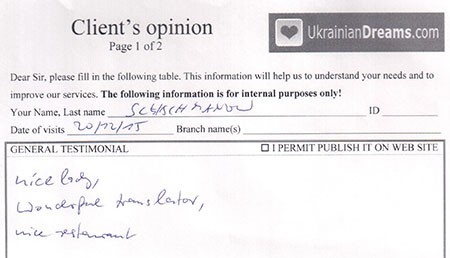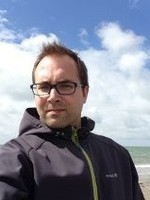 Georg / Germany
20 December 2015
trip to Kharkiv
Georg: Excellent translator
Excellent translator, good service, nice lady.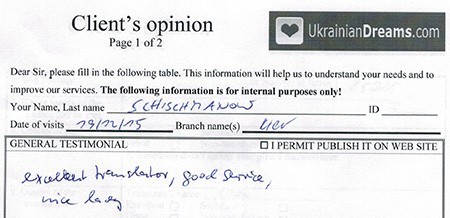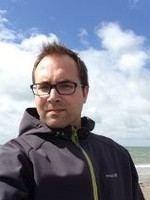 Georg / Germany
19 December 2015
trip to Kiev
Saif: Please don't be sceptical about following your dream
This was my first ever visit to Ukraine. I came to Poltava to meet my lady for the first time.
The experience has been fantastic. The team at Poltava has gone above and beyond to ensure the best possible experience for me. My Interpreter, Irina, is not only a high class professional but also a great fun to have around.
I am also extremely happy about my dating. The lady has exceeded my expectations in every way. We have both agreed to take our relationship to the next level and I'll be coming back here soon.
So, if you have a dream, please don't be sceptical about following it.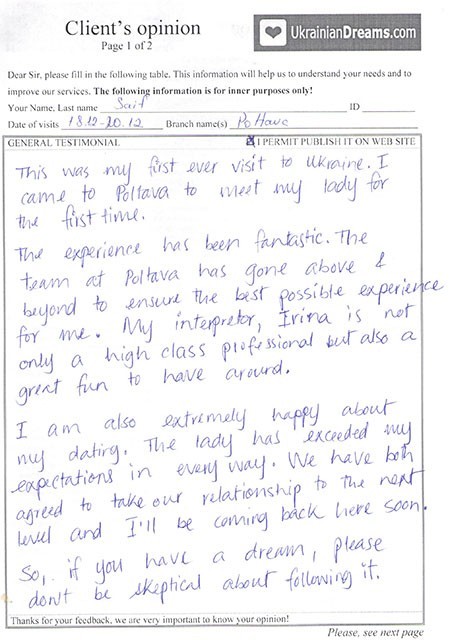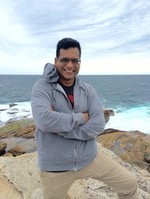 Saif / Australia
18-20 December 2015
trip to Poltava
Jean-Pierre: We are both optimistic
I met my lady at the agency office. The expectations of the date was confirmed. We like each other after meet. We spend a wonderful evening in nice restaurant. The translator was excellent and we are both optimistic that it is beginning of something more.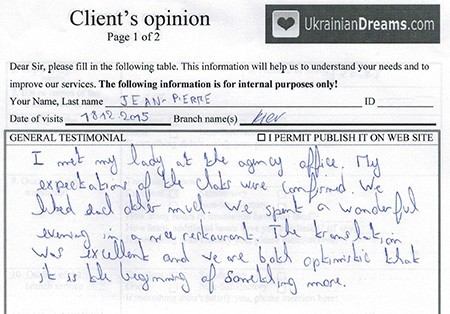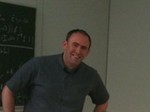 Jean-Pierre / Germany
18 December 2015
trip to Kiev
Mats: Ukraine is forever in my heart
Dear support and co-workers on UaDreams,
This feedback applies throughout your organization in general, but for the office in Lutsk in particular.
My stay in your beautiful country during the period 4 to 7 December 2015, and I've rarely been better treated. After a few months of exchanging letters, and video chat with my dear lady in Lutsk so we decided to meet. We set the date and then I chose to use UaDreams to arrange hotels, interpreters, transportation and more.
I begin with to give praise to my chufför, I felt great confidence in his driving. Then my hotel, very good hotel with good breakfast and very helpful staff. I also want to commend all the Ukrainians I have been in contact with the taxi drivers, staff in restaurants, shops yes everyone has been very nice to me. So my first meeting with your culture I would not have done without you.
Finally, I want to talk about our interpreter, Luda, I do not know if she named Ludmila really but it does not matter. What a woman, what a wonderful friend. I am deeply impressed by her work and tremendously grateful for her attention to people's feelings and needs. I do not think I had gone home with the knowledge of my lady, Lutsk and Ukraine without her help.
I am forever grateful and I will forever be indebted to her. Unfortunately, I missed to show my gratitude in place, but I will try to repair the damage at a later time. Me and my lady have decided more meetings, however, no definite date. Although we can meet without UaDreams involvement, I will like to have the help of an interpreter. When there is only one and it is allternativ Luda. We have also decided to use part of your letter service and above all you video chat.
Maybe a few words about my reason for my trip, she, my lady. Or as I call her my princess, she is absolutely stunning. I've really got a winning ticket and I hope that all the other guys who are looking for beautiful, smart, super friendly and more find their way to this gold mine that UaDreams is.
I greet and thank all your staff.
Warmest Greetings from the land of the north, Sweden.
Mats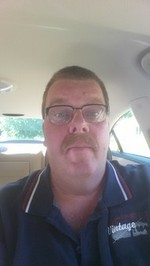 Mats / Sweden
15 December 2015
trip to Lutsk
Saif: My heartiest thanks to the entire team
My trip to Kremenchug has been fantastic. All people at the agency have been extremely friendly and helpful. The agency manager Eugene, and the interpreter Oksana have gone above for beyond to ensure the best experience I could possibly have.
My heartiest thanks to the entire team. I will certainly come back.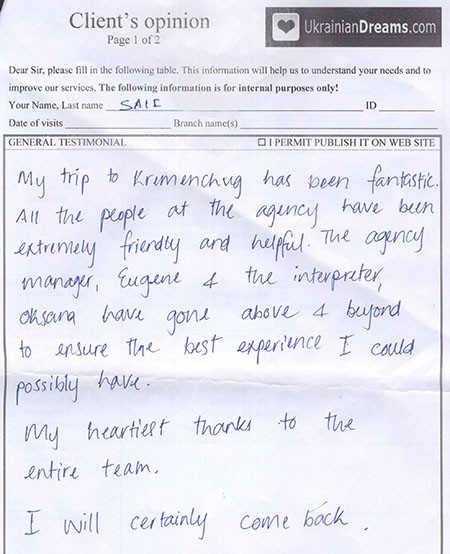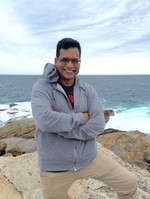 Saif / Australia
15 December 2015
trip to Kremenchug
Alexis: This is the only agency I would recommend
The agency has always made me feel comfortable; and this is the only agency I would recommend. The ladies are all very nice, and yes, they look like their photos, but even more amazing in person. The the translators made me feel very comfortable; and made everything easy. The agency was also nice enough to make some quick changes; due to unexpected issues with my luggage and transportation. I felt welcomed at all times. Everyone was nice to me in Ukraine.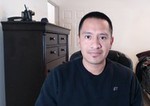 Alexis / USA
14 December 2015
trip to Kiev
Bill: She made me feel comfortable and welcome
The translator Marina was excellent. She made me feel comfortable and welcome.
My first meeting with my lady was fantastic.
Thank you very much for your assistance.
It was great experience.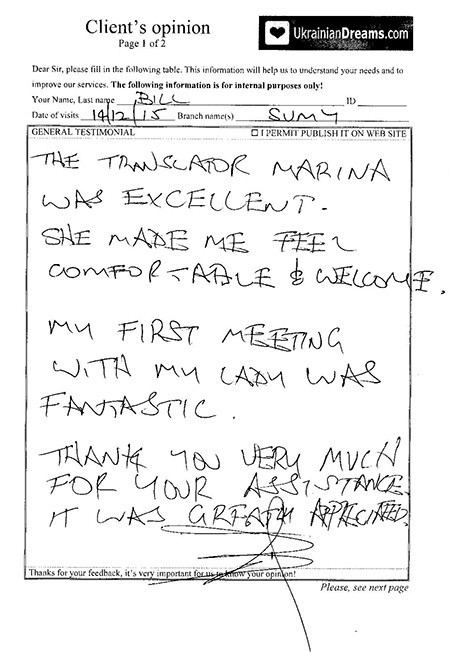 Bill
14 December 2015
trip to Sumy
Felix: Everyone left content
Oksana, though not needed for interpreting was very helpful.
My only complaint is the the address provided "from headquarters" isn't correct. Maybe that's was the locals call it, but, better to list what's on the side of the building. Things ran efficiently, we had a good meeting, everyone left content. Oksana was kind enough to walk me to her bus stop and introduce me to the downtown and its lovely sites on the way there.
The staff at UaDreams-Kremenchug are just as professional as any other if not more so.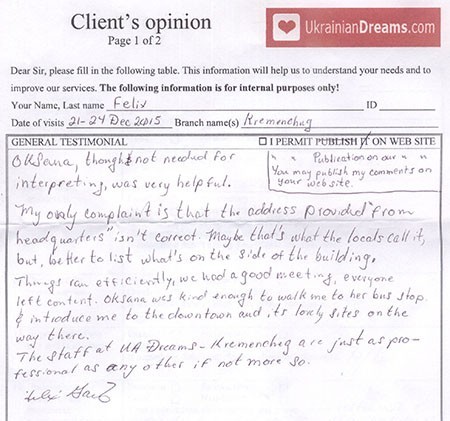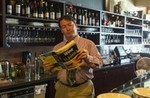 Felix / USA
13 December 2015
trip to Kremenchug
Alexis: Very honest
The agency was very nice and professional. Very honest. I felt very comfortable with lady and translators; my lady was terrific and nice, she recommended a really nice restaurant and the food was excellent. Everyone in the agency including the ladies were very nice. The gentleman translator was very nice also, and I felt comfortable also; very nice experience overall.
Video:
My experience here in Kiev has been excellent. Everybody have been very professional. I felt nothing, but comfortable with everybody. I will definitely recommend every man must to come here. And it will be treated I think very good. I had a great time and I am looking for my next experience here.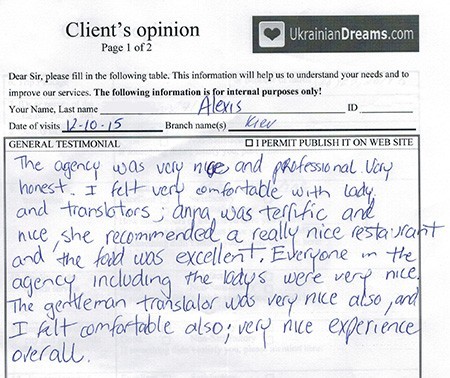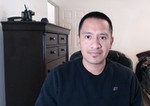 Alexis / USA
10-12 December 2015
trip to Kiev
Justin: I have formed a deeper, stronger connection with the woman
Kate was solid, and helped me acclimate to my surroundings well. She helped me communicate with my lovely girlfriend and through her, I have formed a deeper, stronger connection with the woman I had most dear to my heart. Poltava, I'll see you again.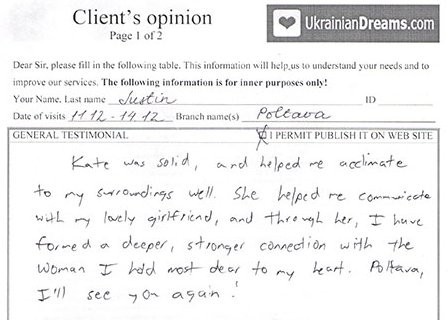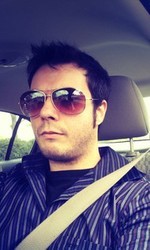 Justin / USA
10-15 December 2015
trip to Poltava
Uadreams reviews
Average:
1976 UaDreams review(s)
Latest review 47 days ago