Dear Gentlemen, here we are happy to present you the testimonials of the members who have found their soulmates with help of our Marriage Making Agency.
Here they express their opinion, experience and suggestions for those who are looking for a second half in another country, as well as appreciation to the company and staff.
Please read our ladies' testimonials about UaDreams, reviews of our agency as well — they are also very happy to be with our agency! Some ladies' testimonials you can also find in How we take ladies photos.
We are so proud of what you, our dearest members,
are saying about us
Just look at these people and their sincere gratitude towards us. Each employee of our company invested a part of his or her efforts and talent, to help you to find your dream!
Show next random testimonials
Steve: The costs justify the results
I was pleasantly surprised at the services provided by UA Dreams. I had reservations at the first about online dating and looking for women from another country. But the agency from the very beginning helped me with my trip to meet my special lady. From booking the trip, to car to pick me up at airport, hotel reservation was more than I expected. The translator was great and the entire experience was very romantic and enjoyable. My fears and doubts were put to ease, and the costs justify the results. I highly recommend the agency UA Dreams if you want to make yours come true.
Video:
Hi, my name is Steve. I came to Ukraine via the UaDreams agency to meet a special woman, the agency exceeded my expectations and I would recommend it to anybody that once take a chance in finding love here through the agency, everything that I have said and more. I found the people very warm and friendly here in the Ukraine. There is a lot to do: dancing, gourmet eating, nice coffee shops, and just the food is great, people are warm and friendly, and the women are beautiful!
Testimonial sent by E-Mail:
Thanks for the email and question. First I want to again state that I was so impressed with the trip to Sumy and Ukraine overall. My trip was so great and one of my best trips/vacations ever. I have started to spread the word about your services to my single friends. Kate our translator was off the charts with her ability. She's invaluable.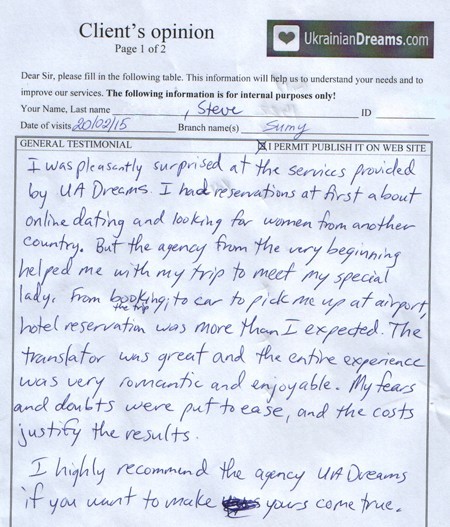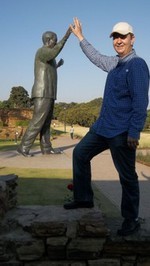 Steve / USA
20 February 2015
trip to Sumy
Show next random testimonials
Ronnie: I assure you that you must follow your dreams
This is to be my last day here in Kremenchug. And this trip by far, had been the time of my life. A couple, or even a few years ago, I had met this wonderful and amazing Princess online here at UaDreams. At first, as all are, I was a bit sceptical of this company or of their services rendered. Just as many Americans, or of any country for that matter. However as the story goes I had met her online here at UaDreams, and I had been in deep admiration of this girl from day one.
She has been the girl I have dreamed of ever since I was 5 years old, a very young boy. Well after exchange many many letters and almost a full year of video chats, I had finally decided to come to Ukraine and to meet this wonderful lady. Well upon arrival at the Kiev Airport, eventually my plane was late, I was greeted by my amazing interpreter Natasha and branch manager Eugene.
Both were very happy to see me and to take me to my destination hotel. Such an amazing experience both with the quality of services these nice people have provided to me. Everyone here was completely happy, and in good spirits to see me. Even all people I have run into, while walking around town, in restaurants and especially my hotel were all so very kind and courteous.
This place that I've visited, is truly like a home away from home. And everyone here is truly genuine.
My translator Natasha was very professional and captious, and could translate my true meaning and affection towards my lady, even much better than I could express myself towards her , it's simply amazing. I had purchased the extra dream date with the amazing flowers for our first night out, and I am sure glad that I did, as my lady hs enjoyed them fully and the smile on her face was to die for. The restaurants have had simply amazing food, and was really reasonable considering the amount of food and drink that we had received.
Despite any recent confusion that had arose in the Eastern and Crimea parts of Ukraine the complete rest of Ukraine has remained untouched. The people here are all kind, genuine, and personable. They are all looking out for my best interests, while I am here. A lot of people from my hometown had have bad things to say to me about why not to come here. But I assure you that you must follow your dreams, and to get out to enjoy this lovely country and wonderful people it holds. As well as such wonderful ladies here.
I had gone to the countryside to make a wonderful BBQ with my lady and she even brought some of her family members to meet with me. Everything went as planned and we had the time of our lives here. Words could never express the true meaning of love that I have for this country, these very grateful people, or for my dear lady here in Kremenchug.
The only thing I regret is coming back home and not planning enough time longer to spend here in such lovely country and with such a dear and very gorgeous lady. I'll come back to America now after not a long enough trip and I must tell you that I must come back very soon again, as this country and a lady still has kept my heart here in Kremenchug. I hope to come back very soon to retrieve it.
Ronnie USA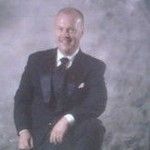 Ronnie / USA
18 May 2016
trip to Kremenchug
Latest and fresh testimonials date by date
Eddie: I think the "Mail History" feature on the website is fantastic!!
Hi Team,
I just wanted to write and let you know that I think the "Mail History" feature on the website is fantastic!!
It's so good to know that there is a trail there in case immigration or some government agency wants proof of communication with the lady.
You do a very good service.
Thanks,
Ed.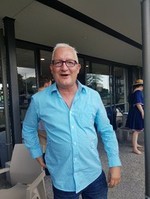 Eddie / New Zealand
22 May 2018
Michael: My translator, Anton, was very attentive
Translation service was excellent. My translator, Anton, was very attentive and made sure I was comfortable. His suggestions for the date were good, and we were related. He followed up with me after the date to make sure my stay here was good.
Very professional!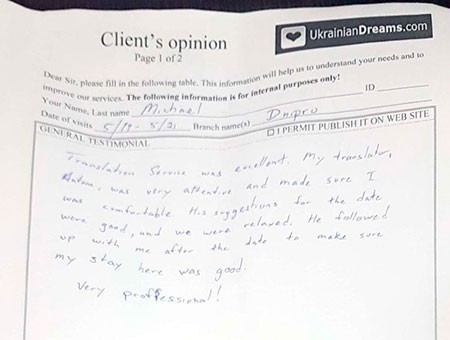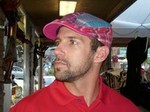 Michael / USA
19 May 2018
trip to Dnipro
Sergio: A great trip! A great adventure!
I like the service a lot. I enjoy the company of the lady and my translator was really fun to be with.
The agency provide everything I required and requested ahead time.
A great trip! A great adventure!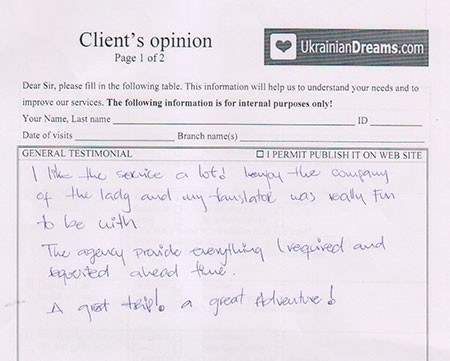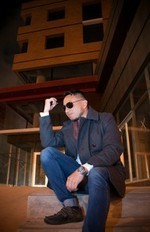 Sergio / Guatemala
18 May 2018
trip to Ivano-Frankovsk
Alix: Loving the experience
No question just a thank you. Although I questioned this site at the start, over a year ago, I am now 100% convinced, I have had many women contact me, many BEAUTIFUL women, and age gap was a concern until a 22yr old, 15 years younger than me and only 4 years older than my little sister, named Sophie opened me up and read me like a book and understood that book, something that NO ONE, no exaggeration, has ever been able to do, including highly qualified psychoanalysts. If I had not stuck with it I would never have met this extraordinary young lady, I cannot predict the future however I have a very positive feeling about this and my instinct is never wrong. I hope to meet her soon. So you and your people have my deepest thanks.
Sincerely
Alix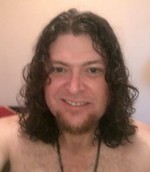 Alix / Australia
17 May 2018
Tim: Pleasant relaxed atmosphere
Olga that translator was so very excellent. Not just translation, but also with advice and help with my lady.
The office was welcoming and a pleasant relaxed atmosphere.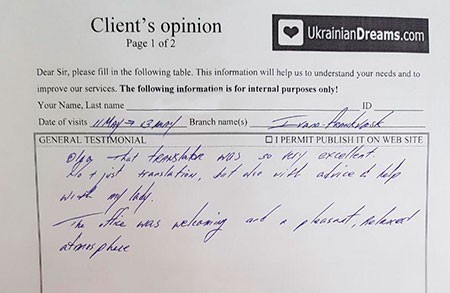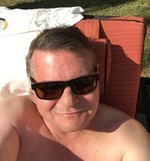 Tim / USA
11-13 May 2018
trip to Ivano-Frankovsk
Kjell: So far I have nothing to complain
— Hello, what is your name, sir?
— I'm Kjell from Stockholm, Sweden.
— Can you tell me something about your experience here?
— We're having a nice afternoon, it's a nice weather here in Dnipropetrovsk, and I've been to Ukraine several times, and this is the first time in this city. So far I have nothing to complain. We had a very nice meeting, and good translation service. Overall it was a good impression, and tomorrow I continue staying here in Dnipro, and we'll see if I go to another city or go to Sweden.
— Alright, thank you.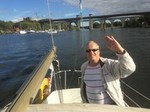 Kjell / Sweden
11 May 2018
trip to Dnipro
Loveleen: You are hope and always bring smile on my face
Greets,
UaDreams is like best friend helping and making our dream come true. You are hope and always bring smile on my face. Best Part is when i feel low simple solution is Uadreams. Really appreciate you.
Regards,
Loveleen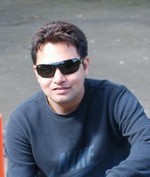 Loveleen / India
10 May 2018
Peter: I am impressed!
Hello,
I know I have said this before, but I feel like I need to say it again.
I am so impressed with the ladies here. Every single one of them is sweet, kind, intelligent, and beautiful. They are all treasures.
Peter
Peter / Costa Rica
10 May 2018
Mikael: It was very enjoyable visiting my lady also this time
Yana was excellent very cooperative and did as always very good translations.
— Hi!
— Hi!
— This is you second visit, right?
— Right. And last time I was here one month ago.
— What are you impressions?
— They are very good! It was very enjoyable visiting my lady also this time.
— What places did you visit?
— Carpathian mountains and Voda Club.
— And what did you like more?
— Voda Club, because it had pools inside and outside. And they have some that was really warm.
— Ok. Thank you!
— Thank you!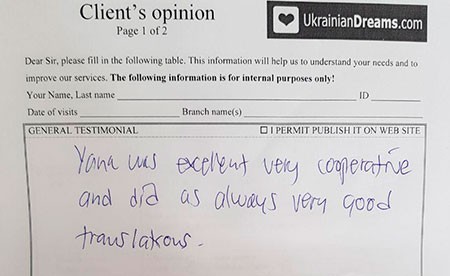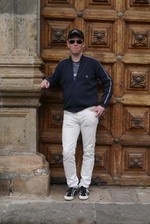 Mikael / Sweden
10 May 2018
trip to Ivano-Frankovsk
Stewart: Our translator was a great help with all of our activities
It was an excellent time with my lady. Alena was terrific with her translation, her positive personality and was a great help with all of our activities and supporting my and my lady's time together. Thank you so much!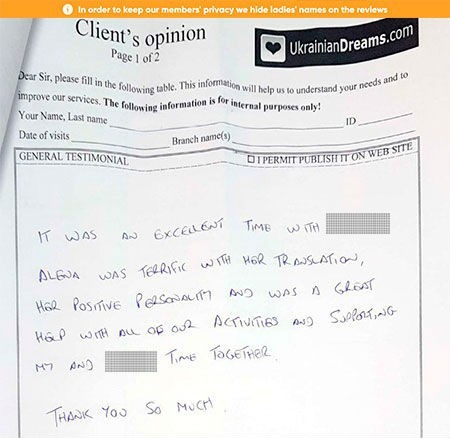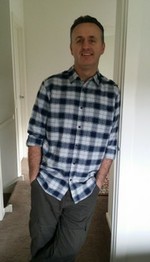 Stewart / Australia
10-13 May 2018
trip to Dnipro
Shai: Translation was very good
I already been there, meeting was first. Translation was very good. I hope to come to there again. Thank you.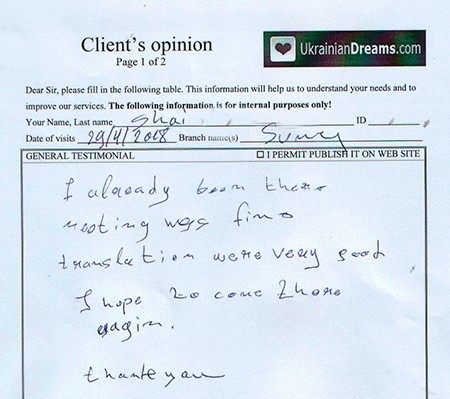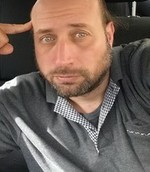 Shai / Israel
29 April 2018
trip to Sumy
Takehiro: I enjoyed dating with the lady
I am satisfied with this dating.
I enjoyed dating with the lady.
I want to make good relationship with her.
About the interpreter. I thank to help me for making good mood and to advise me about manner.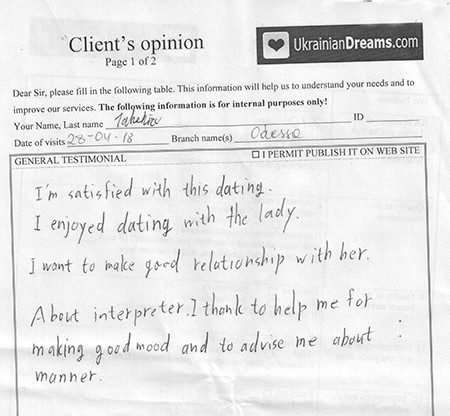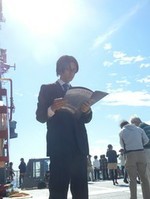 Takehiro / Japan
28 April 2018
trip to Odessa
Ed: Make your choice and travel to see her in person as soon as you can
Helen was our translator for the meeting. Both ladies were polite during the meeting; and I answered all my questioning were addressed for the first time meeting. My suggestion to any man that is interested in any lady with uadreams do not waste your time writing letters for months of month. Make your choice and travel to see her in person as soon as you can. Establish the relations with lady with qualifying questions for meeting. Make sure you ask for a 2 meeting if she is interested. Then write and get to know each other, and return to see her again. Good luck.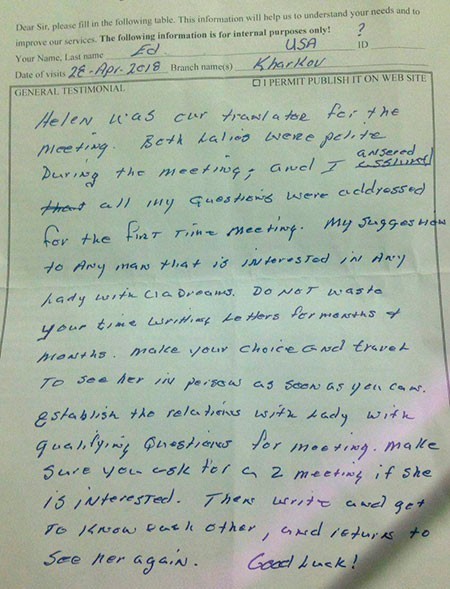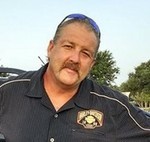 Ed / USA
28 April 2018
trip to Kharkiv
Martijn: I really liked my trip!
I have enjoyed my trip very much. It where 4 days and those days where great. The translator was good and professional. The hotel where great and my lady where adorable. I really liked my trip!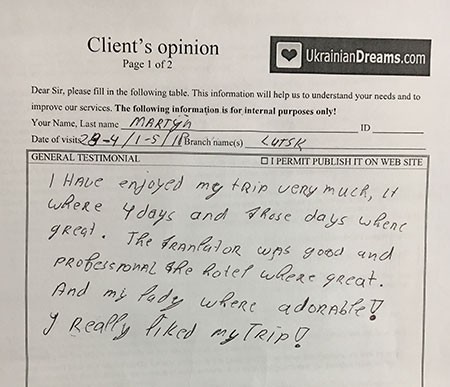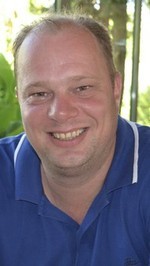 Martijn / Netherlands
28 April — 1 May 2018
trip to Lutsk
Martijn: The service from the agency was also great and I will use it again!!!!
Hello UaDreams I have enjoyed trip to Lutsk from the beginning till the end.
The translator were very professional and have helped me with everything I asked her. And I think I can call her a friend now!! And I can tell you I return to Lutsk in June again and I shall order translation again.
The woman who I have met was really great and we have still contact with each other private and also on at the agency because I find it very important that she feels herself comfortable and get the right translation. And I will certainly use the agency again. So my trip was great and the service from the agency was also great and I will use it again!!!!
Lovely greetings
Martijn
I return back UA DREAMS!!!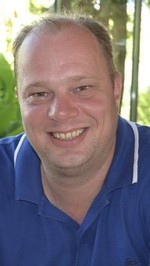 Martijn / Netherlands
28 April — 1 May 2018
trip to Lutsk
Ed: You have helped with achieving a dream of finding my TRUE SOULMATE
UaDreams-Member Support!
I want to take this moment, now that I have returned back to the USA. My trip to Kharkov, to see my lady was the most wonderful experience. She is everything her profile states and more and I am looking forward to returning in June to see her once again.
As for Alena my translator. I was so blessed to have her for this trip. She and I have become such great friends while in Kharkov, that we still communicate, even now that I am back in the USA. She is a great asset to UaDreams and even more to my relationship with my lady.
Thank-you for all of your help over the years and our first introduction meeting. My only wish is that I could have come sooner, but mother nature created havoc with trip plans twice, one with heavy rains flooding my home and again 16 months later with a hurricane.
I want to part this with a quote I read while in the Kharkov, airport before leaving. "Everybody Dreams"... It is only those top 1% that leave the comfort of their home and reach out and achieve their Dream "...
With your help and your agency... you have helped with achieving a dream of finding my TRUE SOULMATE... Without you... this would have taken a much longer time to find her...
Thank-you so much!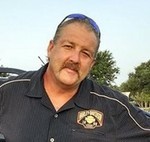 Ed / USA
27 April 2018
trip to Kharkiv
Shai: The agency workers were polite
Everything was ok. The translator was fine. The agency workers were polite. I do not have any other comments.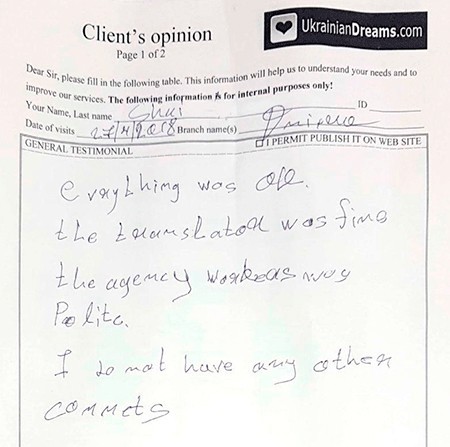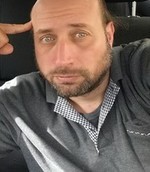 Shai / Israel
27 April 2018
trip to Dnipro
Ed: 10 star rating
My belief is the same, as those that live in Eastern Europe…They believe that their true soulmate "Twin Flame" will be found on the other side of the world. There are horror stories all over the internet… and many negative reviews about UaDreams and yes other online dating sites. I am here to set the stories and reassure you…UaDreams lives up to what they provided and beyond. Yes, I had my doubts in the beginning, but now just returning from Ukraine… I have found my TWIN FLAME.
What I was seeking for, I was not going to find in my country. As a man from a western country, I am a romantic… and have been told that I am one-in-million, and I was not going to settle again. This is my story with UaDreams.
We had planned to meet within the first 6 months, but Mother Nature challenged our relationship with a heavy flood where I lived and 32 inch of floodwater in my home. 16 months later, we set out to meet again, and Mother Nature struck again, this time 66 inches from hurricane Harvey. We worked through so many challenges, and as of this review, I have returned from Ukraine, and I can now say, I found my TRUE – Twin Flame. Be very patient and always communicate clearly is the key.
"Twin flames are actually a single soul that was created at the beginning of time, but divided, as in Plato's idea".
"Soulmate- usually refers to a romantic partner, with the implications of an "exclusive lifelong bond".
To truly understand these statements, one must really be truthful with themselves and discover exactly what it is that you want in your life for a partner….but more than that, you have to truly understand what this means to you.
The Soulmate Formula requires maturity that few people have the patience for, but the only alternative is settling because we weren't prepared to do the work or wait for someone who is both highly conscious and compatible.
We're born with an urge to partner and procreate, but we've evolved past that. Our purpose is more than the survival of the species; our purpose now is to improve the world we live in.
How worth it then, to wait for the one who shares the same vision that we have and who is also the same one that makes our heart race.
To find that one-in-a-million connection we can either hope we get lucky, or we can be more aware just how many things need to fit for us to experience the magic of a Twin Flame. There are five elements that all have to fit, missing one- it's not a soulmate. Spark, Chemistry, Butterflies, Compatibility, and a Shared Vision.
" Everybody Dreams... but only a few take the actions needed to realize them".
" GO SEE HER IN PERSON" – A relationship does not start, until you meet face to face!
Thank you – UaDreams for helping bring the two of us together and making our destiny and our dream REAL!
Sincerely,
Ed (aka Harley)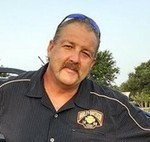 Ed / USA
27 April 2018
trip to Kharkiv
Jonathan: She made communication transport and co-ordination very easy
* Olga was a very good translator. She helped and made communication transport and co-ordination of everything very easy.
* My lady's profile states she speaks fluent English. My understanding as a client means that a translator would not be needed much. This was not the case, but more of a reflection either on site or the girl itself.
* Everything else was great.
* I think the lady should be able to review her own profile from time to time to reflect correct situation and to check all info is correct.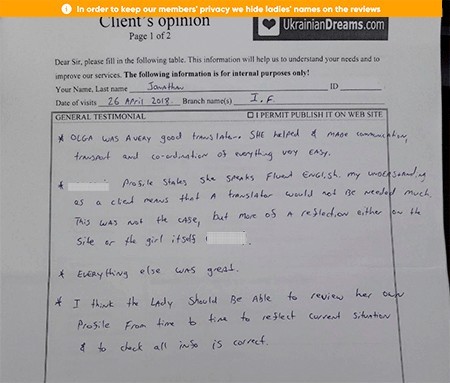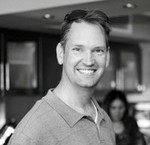 Jonathan / Australia
26 April 2018
trip to Ivano-Frankovsk
Donam: The translator was really good
I like UaDreams Romantic date service. In their office, I met my lady and then went to the restaurant. The translator was really good and she did memorize very long sentences and translated without any obstacles. If I visit Ukraine again, I will must sellect UaDream's service again.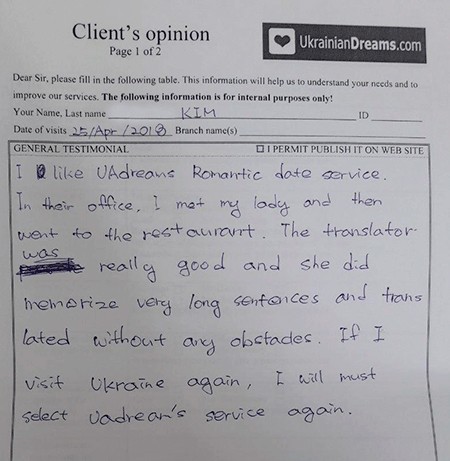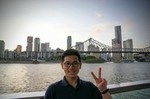 Donam / Australia
25 April 2018
trip to Ivano-Frankovsk
Guillermo: The places are so comfortable to spend the time and relax
The city is nice, and the translator service was excellent. Is nice place to know, the ladies are pretty, the places are so comfortable to spend the time and relax.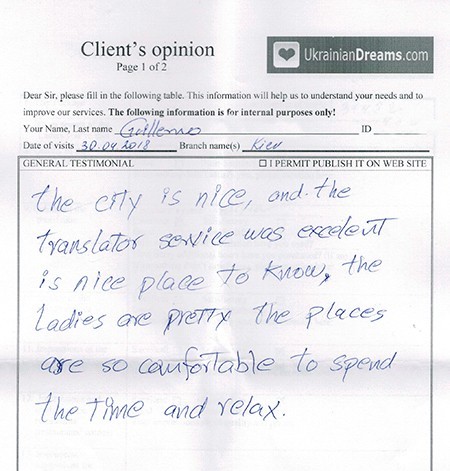 Guillermo
24 April 2018
trip to Kiev
Erik Jan: The kindness of the people makes you feel at home soon
Well, it is time to sit down and write down my impressions of my visit to Sumy and the meeting with my lady. Those days were overwhelming with many new impressions but after all it was all worth it!
Sumy itself is a nice and quiet city. The kindness of the people makes you feel at home soon.
Also the translator, Katryn, is a very kind and nice person. She does not only understand very well her job as a translator but she also was a good support in the meeting between me and my lady.
My lady made me making the decision to make this visit to Sumy. Before the meeting, we had contact by letters and videochat. Her warm letters and amazing smile took me to Sumy.
The date itself started quite uncomfortable. I guess both my lady and I needed time to find each other in this situation. Katryn, our translator, handled the situation very well. Yes, the date with my lady surprised me and I sincerely believe that when our shyness fades away she will be much more than just woman from the warm letters and the amazing smile!!!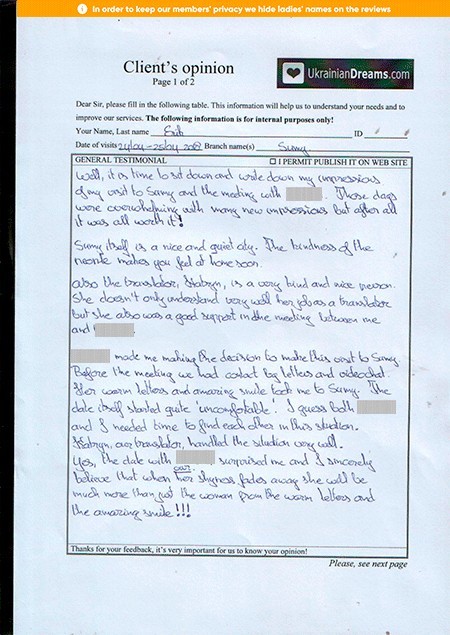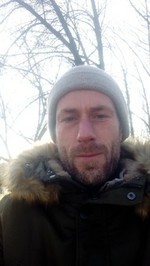 Erik Jan / Lithuania
24-25 April 2018
trip to Sumy
Uadreams reviews
Average:
1917 UaDreams review(s)
Latest review 21 days ago