Dear Gentlemen, here we are happy to present you the testimonials of the members who have found their soulmates with help of our Marriage Making Agency.
Here they express their opinion, experience and suggestions for those who are looking for a second half in another country, as well as appreciation to the company and staff.
Please read our ladies' testimonials about UaDreams, reviews of our agency as well — they are also very happy to be with our agency! Some ladies' testimonials you can also find in How we take ladies photos.
We are so proud of what you, our dearest members,
are saying about us
Just look at these people and their sincere gratitude towards us. Each employee of our company invested a part of his or her efforts and talent, to help you to find your dream!
Show next random testimonials
Karl-Heinz: This is my 3rd trip together with the Uadreams
After a situation of not believing in love any more I found with the agency the lady of my dreams and love.
We chatted and wrote several weeks and months and with the help and organization we met this weekend at Cherkassy. We fall in love and we plan to stay together in Germany and marry this year.
The service of this agency is very helpful and unique.
We thank UADreams very much for making our dream alive.
Video:
My name is Karl-Heinz and this is my first trip to Cherkassy and the 3rd trip together with the Uadreams. All together I spent here 4 days in Cherkassy and I can say that Ukraine at the moment is very safe, the people that I met here are very friendly, we met a lot of wonderful people here. I've met the lady of my dreams.
I had a wonderful service by agency and interpreter. They took care of me, beginning from when they took me in the airport, they brought me to this town which is around 2.5 hour away from Kiev. We had a wonderful trip here and spent a wonderful time and I met the lady of my dreams for 2 days. I was able to see the city, all important places around the city, we also visited several restaurants.
The food is very good here, the restaurants are very good and I can only say the company and the agency took very very good care of me. And I am very happy that finally I met the lady of my dreams and I thank the agency very much and I recognize and I suggest to all people that see that video and are looking for the perfect match to come here to Ukraine to go with UaDreams for your trip and come here and find the lady of your dreams.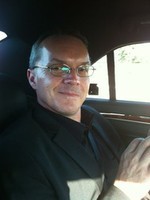 Karl-Heinz / Germany
20-23 February 2015
trip to Cherkassy
Show next random testimonials
Mike: You are a genuine organization not just interested in money
I read all the stories yesterday about helping the orphan children and was very moved by them. It truly is a sad situation for any child and I congratulate you all for this assistance, time and caring you give them. I was pleased that some of my payments go towards this.
Now I truly know you are a genuine organization not just interested in money! You set an example for others.
I guess all previous Soviet controlled countries have same problem as Ukraine.
All the best,
Mike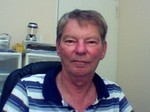 Mike / South Africa
14 August 2018
Sean: It was extremely interesting
I was met at the airport by Anna. She was very friendly. We proceeded to the hotel. The hotel, 4 room villa, was clean and the staff was very friendly, many spoke English. I met with my lady on 2 January for hours. Anna was very helpful with translation. We had a walk around the city center. I was not able to meet with my lady on 3 January but Anna was available to take me to traditional Ukraine restaurant and then a guide tour at the Kharkov museum, in English. It was extremely interesting.
I met with my lady 2 additional days, the last being Friday. We went to a Karaoke bar and we sang. It was very fun. I will be leaving Kharkov on Saturday, 6 January back to Kiev. Anna will meet me to ensure I get to my flight on time. Overall it was a very pleasant experience and I hope my relationship continues to grow.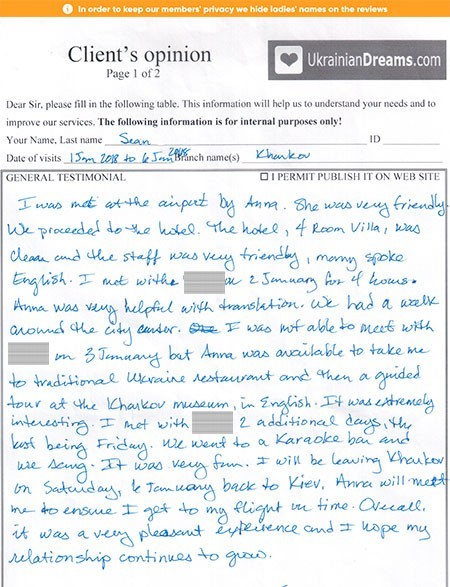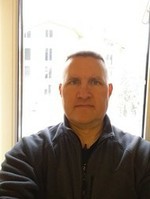 Sean / USA
5-15 January 2018
trip to Kharkiv
Antonio: I recommend it to everyone to visit in the future
This is my fourth visit to Ukraine and it was a pleasant experience, I visited the same beautiful lady for the fourth time and it's been a wonderful visit, we had so much fun, visited different restaurants and places of interest, it's a wonderful experience, especially on New Year's Day, this country has many traditions and people is so friendly. I recommend it to everyone to visit in the future.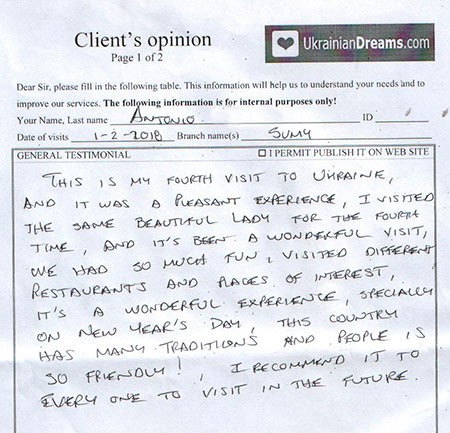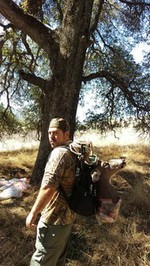 Antonio / USA
2 January 2018
trip to Sumy
Uadreams reviews
Average:
2160 UaDreams review(s)
Latest review 17 days ago