Dear Gentlemen, here we are happy to present you the testimonials of the members who have found their soulmates with help of our Marriage Making Agency.
Here they express their opinion, experience and suggestions for those who are looking for a second half in another country, as well as appreciation to the company and staff.
Please read our ladies' testimonials about UaDreams, reviews of our agency as well — they are also very happy to be with our agency! Some ladies' testimonials you can also find in How we take ladies photos.
We are so proud of what you, our dearest members,
are saying about us
Just look at these people and their sincere gratitude towards us. Each employee of our company invested a part of his or her efforts and talent, to help you to find your dream!
Show next random testimonials
Simon: I love being there
Hi!
Wow, I really do not know where to start...
My experience with UaDreams has been amazing, from the very beginning. I quickly met a wonderful lady and we got on so well, right from the start. It was hard to imagine that this was possible, especially as there are so many stories about scams on the internet.
I felt that I was able to put my trust in UaDreams and after a few months I decided to come to Ukraine to meet my lady. Wow! All of my hopes and dreams were realised immediately.
Ukraine is full of the most genuine and caring people in the world. I have travelled to many countries, but I am yet to find other country like Ukraine. I love being there. Our translator Katya is a wonderful lady too and made sure that I was completely satisfied with my experience every day. I felt like I had the royal treatment.
Since our first meeting, my girlfriend and I have been in contact with each other every day, throughout the day. I have also visited Ukraine again and spent more time with my girlfriend and her daughter.
We are now planning our future together, so watch this space!
Thank you so much for all of your help, hard work and commitment. It is truly appreciated and impossible to tell you how much it means to both of us.
Take care,
Simon
Yes, you are more than welcome to publish any of my testimonials that I have written, including the original feedback that I wrote at the end of my first visit to Nikolaev. I hope our story will encourage other people to find their soulmate through your agency.
Thank you so much again!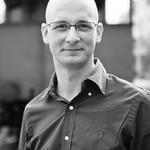 Simon / United Kingdom
21 August 2017
trip to Nikolaev
Show next random testimonials
Walter: I had amazing and gratifying experiences in all my travels!
My last trip to Rivne was very successful in all areas.
I would like to thank this opportunity to thank for the perfecten service from the agency. Everything was uniquely prepared, I had with Olga, a really sensitive and attentive Translator. She knew how quickly the voltages of a first meeting to resolve and gave me the feeling of being always been there. 
At this point I want to emphasize that I had this feeling in all my travels and all translators. I would like to congratulate you and encourage you to continue this good work and service so professional to lead on.
As you know I have so done some travel, and I had amazing and gratifying experiences in all my travels. 
But now I have found a Lady what has captured already in the chat and then the real meetings, my heart by storm. It's still hard for me to believe that I should just be lucky but I'll take this gift that has been made possible by your service, gratefully. 
I would like to thank you for your support over the past months, and I assure you that I will always make known your exceptional service. 
I wish you continued success! 
Walter 
P.S. Please add to them, that i want say thank you for perfect support and to the manager and translator from Lutsk, Sumy, Odessa; Nikolaev, Cherkassy and Rivne wich i was visiting in the last month. If you want you can also use my picture from the profil. After our first common trip to Lviv and Cyprus in the end of may, my Lady and me will give you one more testimonial about our relationship.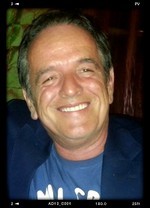 Walter / Austria
7 May 2014
trip to Rivne
Jeff: We are smiling
— We are sitting in our restaurant and I want to ask you some question if you do not mind.Okay?
— Okay.
— It is your second meeting. Jeff tell me please a few words about city. Do you like our city in winter?
— Yes, I like it. yes!
— How about lady? What do you think? Tell me your opinion.
— Lady very cute.
— Thank you. And how about translator?
— Very good.
— Thank you very much. We have a very good time here. Agree with me?
— Yeah.
— How is your mood?
— Good.
— Good. We are smiling. Thanks a lot.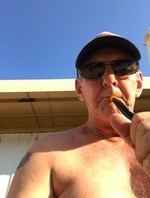 Jeff / Australia
9-17 January 2018
trip to Dnipro
Markus: There was felt the fully support of the UaDreams agency
The organization went smooth and there was felt the fully support of the UaDreams agency. The translation service provided from Liubov was just amazing.There is nothing to add.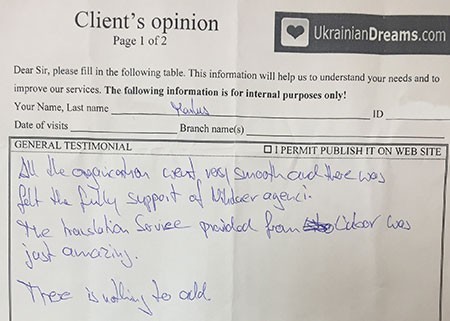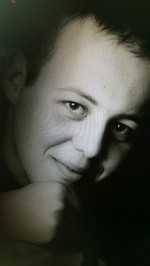 Markus / Germany
8 January 2018
trip to Nikolaev
Sean: It was extremely interesting
I was met at the airport by Anna. She was very friendly. We proceeded to the hotel. The hotel, 4 room villa, was clean and the staff was very friendly, many spoke English. I met with my lady on 2 January for hours. Anna was very helpful with translation. We had a walk around the city center. I was not able to meet with my lady on 3 January but Anna was available to take me to traditional Ukraine restaurant and then a guide tour at the Kharkov museum, in English. It was extremely interesting.
I met with my lady 2 additional days, the last being Friday. We went to a Karaoke bar and we sang. It was very fun. I will be leaving Kharkov on Saturday, 6 January back to Kiev. Anna will meet me to ensure I get to my flight on time. Overall it was a very pleasant experience and I hope my relationship continues to grow.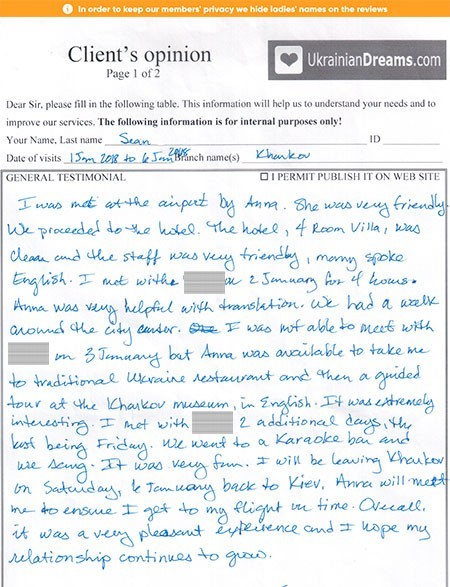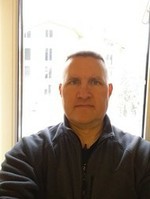 Sean / USA
5-15 January 2018
trip to Kharkiv
Mohamed: Finally thank you for your services for me
Thank you for the services provided but I have some notes perhaps you can take advantage at them.
First about the payment method I suggest you have returned ways in which a customer may pay by bank transfer.
- 2 - I suggested that the translation service by provided in Arabic in site.
- As for the interpreter Oksana it is very nice and good translation and has helped us a lot.
Finally thank you for your services for me.
Mohamed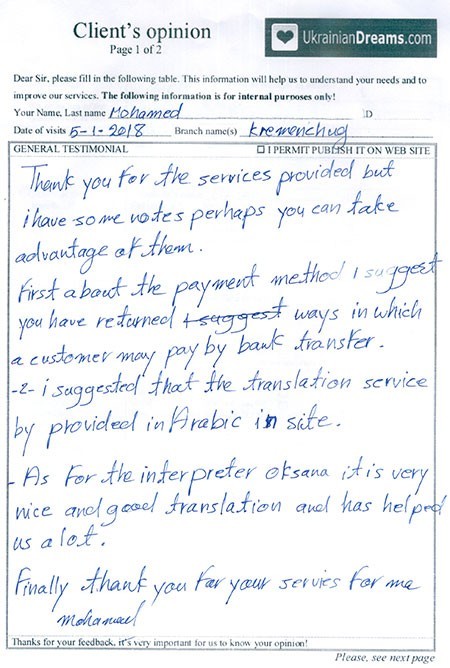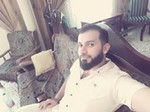 Mohamed / Libya
5 January 2018
trip to Kremenchug
Antonio: I recommend it to everyone to visit in the future
This is my fourth visit to Ukraine and it was a pleasant experience, I visited the same beautiful lady for the fourth time and it's been a wonderful visit, we had so much fun, visited different restaurants and places of interest, it's a wonderful experience, especially on New Year's Day, this country has many traditions and people is so friendly. I recommend it to everyone to visit in the future.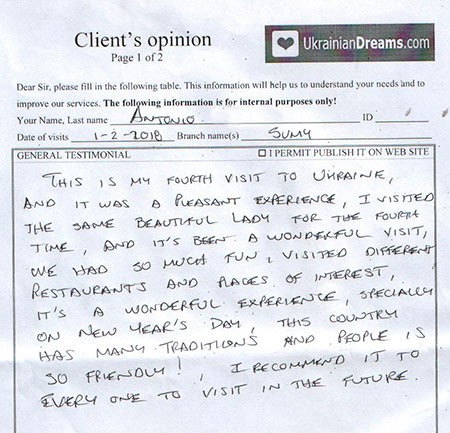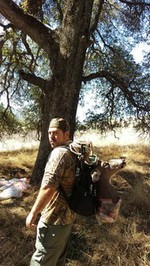 Antonio / USA
2 January 2018
trip to Sumy
Uadreams reviews
Average:
2302 UaDreams review(s)
Latest review 18 days ago