Dear Gentlemen, here we are happy to present you the testimonials of the members who have found their soulmates with help of our Marriage Making Agency.
Here they express their opinion, experience and suggestions for those who are looking for a second half in another country, as well as appreciation to the company and staff.
Please read our ladies' testimonials about UaDreams, reviews of our agency as well — they are also very happy to be with our agency! Some ladies' testimonials you can also find in How we take ladies photos.
We are so proud of what you, our dearest members,
are saying about us
Just look at these people and their sincere gratitude towards us. Each employee of our company invested a part of his or her efforts and talent, to help you to find your dream!
Show next random testimonials
Lee: I was treated like King!
Great Wonderful!
So Great Experience!
I was treated like King!
I will never forget these wonderful, wonderful people!
They are The Best and My Friends
Lee!
Video of Lee:
I want to welcome you to this wonderful experience. Has anybody ever had any doubts im just totally blown away, amazed how this wonderful people. Im not acting, Im not an actor. This is my true feelings, how I feel, that I come to the Ukraine.
I was actually fearful, I was scared, and I had my doubts, but all that has been eliminated. I've met the kindest, wonderful human beings that a man can meet. Beautiful girls, beautiful people. I encourage everyone and anybody, who has any doubts about coming here, about not finding the person, that they really would like to find. And they think that they have an experience of a lifetime. I will remember this moment, this day, this hour, this time in my life for the rest of my life. It's been absolutely a wonderful experience! I've been treated like a king!
And beyond that, I've never been treated so well even in my own home country — has never treated me like this people. The welcomed me with opened arms, warm smile ans opened heart. I don't think anybody could determine how much I appreciate these people. They've done everything for me. Everything! I haven't have to do anything, but just wake up in the morning — breakfast is there. I didnt have to do anything — supper is there. I didnt have to worry about nothing — the car is there.
These people are amazing! And if anybody has any doubts, any doubts... I am an American, you can call me, you can ask me, you can e-mail me. I'll give you my honest opinion. It's the best, most fantastic thing I've ever done in my life! I encourage you, I tell you. All you gotta do is ask me a question, I'll be more than happy to answer your questions. These people are the best! Thank you!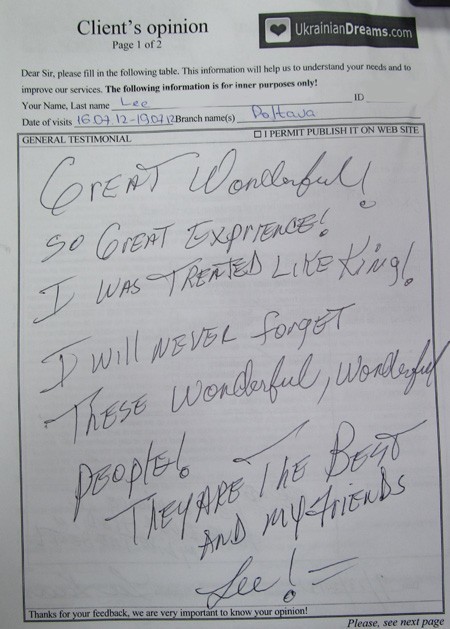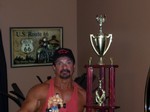 Lee K. / USA /
16 July 2012
trip to Simferopol
Show next random testimonials
Timothy: UaDreams is a remarkable agency and one that could be fully trusted
The Agency: UA Dreams: Excellent – high class, very honest and professional. Everything they say is true. They are very transparent in all communications. Their prices are reasonable for the services they provide and security they give.
The Interpreters: Very professional, English is excellent. Translates not just words and expressions but also conveys meaning with all correct emotions. Every day was meaningful and very special as my lady and I built our relationship. The interpreter was dedicated specifically to the lady and myself for many months. We were like a family.
The City: Sumy. During the visit toured the most beautiful Sumy park, monuments, museums, churches and best restaurants.
The Lady: 19 months of communications with letters and video chat twice weekly. By the time I arrived to daily meet my lady, our foundation for friendship and trust were established. We could spend our special time together getting to know each other more closely and in the proper way. My heart will stay in Ukraine, Sumy with my lady.
Overall: I've been to Ukraine many times before this trip and love the country and the people. This trip was my most enjoyable and successful. UaDreams is a remarkable agency and one that could be fully trusted.
Hello! I am Tim from USA, from Washington DC. And I am in the Sumy agency of UADreams. I'd just like to give you my opinion. I have been here for about 10 days to meet my special lady. The first thing that I noticed about the agency is it was very very professional. From the very beginning of the time I arrived in Sumy I had many communication with my interpreter and with the agency's manager.
And I was very impressed about how they handled my introduction. I first came into the office to meet my lady. I was greeted by the managed and by the interpreter who actually spoke very good English. I was very impressed by her ability to understand what I was saying and translate back to me. Then I met my lady. We then had a discussion and went out for a walk in the city and had a bite to eat. And I was just... oh... my heart, it was great, it was great. One thing that I really appreciated was the relationship between the interpreter and my lady.
They had been communicating, the interpreter had been communicating for me for a number of months and established a very good report. So, not only did she know us personally but she was also able to interpret my words in such a way that the feelings were broadcast to the lady and vice versa. And I felt that it was a very important attribute of the communication while I was here. For the 10 days we did a number of things. I went on several tours of Sumy, got to see all the national monuments and the parks; very impressed by Sumy. It's a beautiful city.
And during all this time my lady and I were building our relationship and our communications with each other. After a few days I felt that we were all a big family. I just want to say thank you very much, UaDreams. You have been awesome and have really helped me to make this relationship possible. And I look forward to working with you in the future.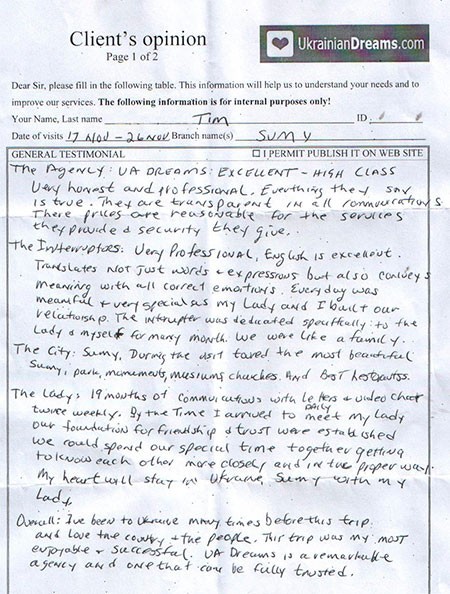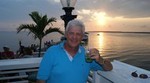 Timothy / USA
17-26 November 2017
trip to Sumy
Robert: You will need it so take advantage of it
To anyone that thinks this is not real think it again. It is easy to meet the most & beautiful girls in the world. If you are reading this and you have joind the sight go for it. You will never regret coming to meet your lady. The staff are all really helpfull, translator service is second to none. You will need it so take advantage of it.
Come on guys get with it. Get your butts on a plane. To all have a great time I did and will be back.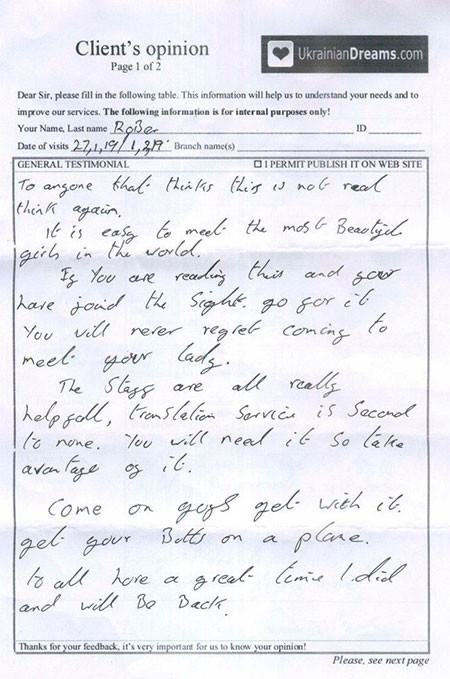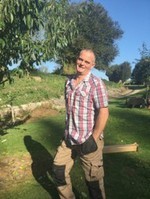 Robert / United Kingdom
27 January 2019
trip to Kremenchug
Aslan: Very happy to meet such a great person
Nazar great personality, down to Earth, fun to be around, a person whom one can relate at all levels. Very happy to meet such a great person.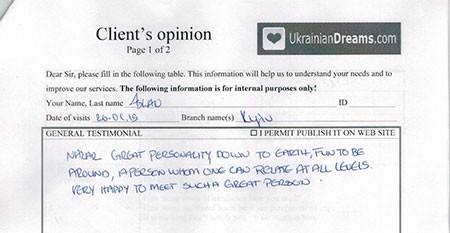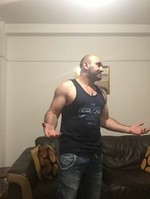 Aslan / United Kingdom
26 January 2018
trip to Kiev
Abdullah: The best trip of my life so far
First trip in Cherkassy. Met my lovely lady with a very friendly translator. I was skeptical initially. But after meeting with them I found it is real. And what a lovely three days I had. The best trip of my life so far.
I definitely recommend UaDreams. They are very much real and work honestly for the clients. All the ladies and stories are real here.
I am coming back in March to meet my lady again.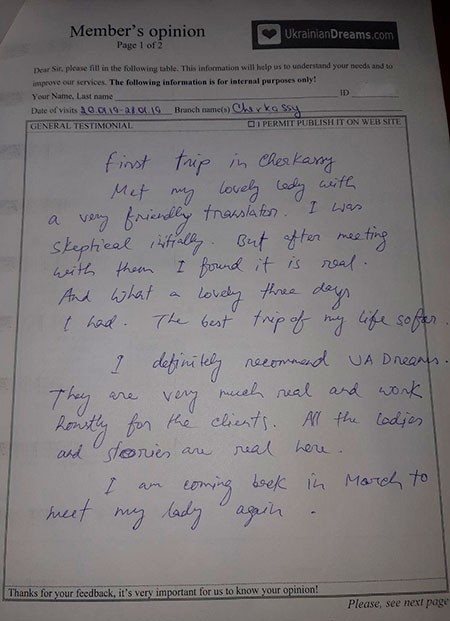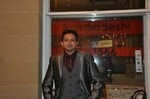 Abdullah / United Kingdom
26-28 January 2019
trip to Cherkassy
Alex: It was a very pleasant experience
It was a very pleasant visit.
Good attention from the manager from the beginning.
Irina, the translator was a very nice person to spend during the time with the girl.
Good English, very polite and the best good sense of humor, to make the conversation with the girl more relaxed and interesting.
Despite the cold weather with snow I really enjoyed all the places we went and I could plan another visit on spring or summer with a nicer weather and more places to go outdoors.
Video:
I would like to say all the staff of the Rivne office — thank you for all the time that I spent with them, with Iryna (translator) and ladies. It was a very pleasant experience even if the weather was not very good with the snow and ice but I spent a good time and hopefully I can come back in summer or spring to have a better choices of activities to stay outdoors. But in general I had a good time and hopefully I can keep coming more frequently to this city.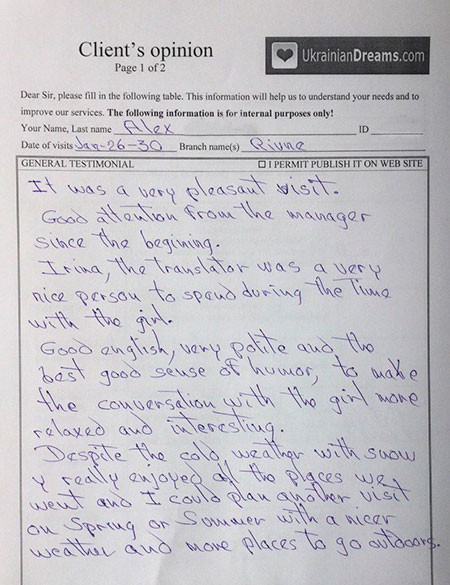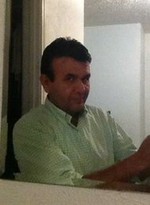 Alex / USA
26-30 January 2019
trip to Rivne
Larry: Irina has been an amazing translator
To whom it may concern
Irina has been an amazing translator, her English is perfect. She has an amazing personality and has made my time here extremally enjoyable. She is professional in her work and I believe is an asset to your company.
Thank you very much for everything she has done while I have been here.
Regards, Larry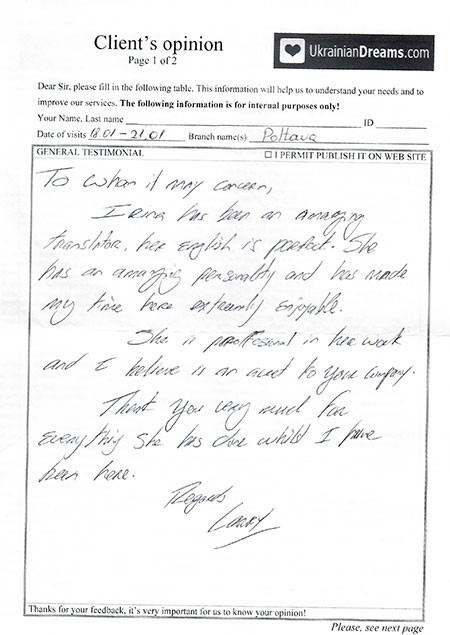 Larry / New Zealand
18-21 January 2018
trip to Poltava
Daniel: My lady was the Best of the Best
Had a great time with my lady. My lady was the Best of the Best. She took care of me the whole time. She showed around her town. She took me shopping and knew what stores to go to for discounts. My lady was very kind and sweet. She always made sure I was having a great time. Our communication only became stronger as well as our feelings towards one another after spending quality time on this trip.
We had a very romantic time in the snowy mountains together. I am very happy that my lady took me to one of her favorite places.
My translator was great. She understood everything I was saying. If my lady didn't understand, Olga was right there to explain what I was trying to say. All three of us had a great time.
I will becoming back to visit my lady.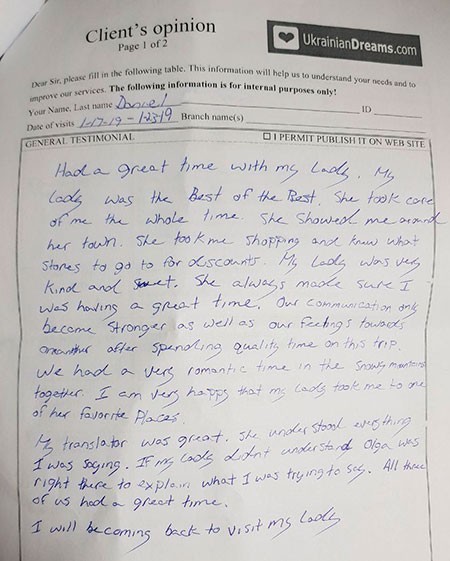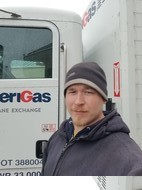 Daniel / USA
17-23 January 2019
trip to Ivano-Frankovsk
Ken: Very enjoyable
Excellent time with my lady.
Very enjoyable.
Daria was excellent translator. A Joy.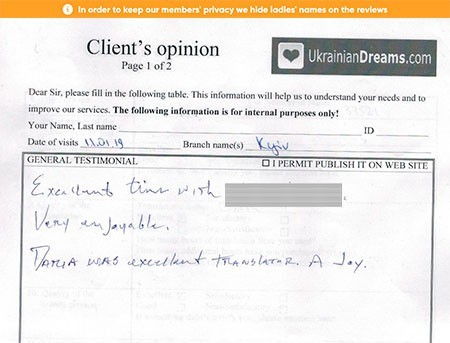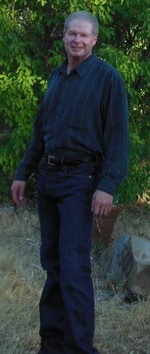 Ken / USA
11 January 2019
trip to Kiev
Rainer: The service from agency was excellent, they are organized
Hello, my name is Rainer. I am here and I spent here a really nice time with her. Also the service from the translator was excellent. We have seen so much nice things. They showed me this nice town. We were at many good restaurants, cafes, do something together. Also the service from agency was excellent, they are organized.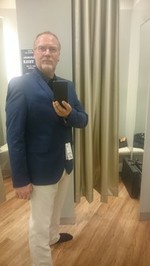 Rainer / Germany
11-16 January 2019
trip to Nikolaev
Robert: Very helpful and also great company
Anastasia was a wonderful host and translator. Very helpful and also great company. She made myself and the lady I was introduced to very comfortable. Thanks.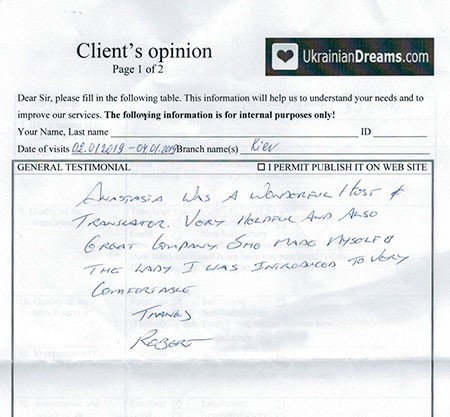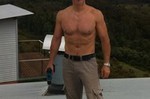 Robert / Australia
2-4 January 2018
trip to Kiev