Show next random testimonials
Karl-Heinz: This is my 3rd trip together with the Uadreams
After a situation of not believing in love any more I found with the agency the lady of my dreams and love.
We chatted and wrote several weeks and months and with the help and organization we met this weekend at Cherkassy. We fall in love and we plan to stay together in Germany and marry this year.
The service of this agency is very helpful and unique.
We thank UADreams very much for making our dream alive.
Video:
My name is Karl-Heinz and this is my first trip to Cherkassy and the 3rd trip together with the Uadreams. All together I spent here 4 days in Cherkassy and I can say that Ukraine at the moment is very safe, the people that I met here are very friendly, we met a lot of wonderful people here. I've met the lady of my dreams.
I had a wonderful service by agency and interpreter. They took care of me, beginning from when they took me in the airport, they brought me to this town which is around 2.5 hour away from Kiev. We had a wonderful trip here and spent a wonderful time and I met the lady of my dreams for 2 days. I was able to see the city, all important places around the city, we also visited several restaurants.
The food is very good here, the restaurants are very good and I can only say the company and the agency took very very good care of me. And I am very happy that finally I met the lady of my dreams and I thank the agency very much and I recognize and I suggest to all people that see that video and are looking for the perfect match to come here to Ukraine to go with UaDreams for your trip and come here and find the lady of your dreams.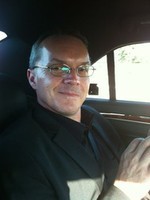 Karl-Heinz / Germany
20-23 February 2015
trip to Cherkassy