Show next random testimonials
Gregg: I felt completely safe and comfortable during my entire visit
This is my last day in Sumy and has been one of the best of trips of my life. Two months ago I met a wonderful lady online. After exchanging letters and photos for a few weeks, we decided to video chat. We would talk several times a week and still exchanged letters. We decided to meet in person but each of us could not meet before mid-August sue to work obstacles.
Despite the short time to plan and make arrangements, the agency staff made it happen. I can not express my appreciation enough to the staff helped me. When I arrived at the airport, I was met by my driver and was called by the translator to check on me.
I meet a wonderful lady and we had so much fun during our time together. Julia (our translator) was wonderful. She was always there to help translate but also made sure dinner reservations were made. She also helped me in making sure the taxi and restaurants treated me fairly. Thank you Julia! I will remember your kind and professional attitude.
Despite the recent conflict in the southeast part of Ukraine, there was not sign of trouble in Sumy. I felt completely safe and comfortable during my entire visit.
Thank you to the main branch and Sumy branch!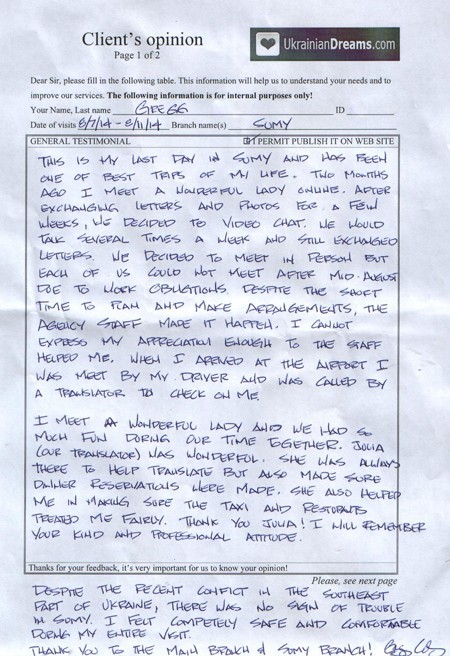 Gregg / USA
7-11 August 2014
trip to Sumy