Dear Gentlemen, here we are happy to present you the testimonials of the members who have found their soulmates with help of our Marriage Making Agency.
Here they express their opinion, experience and suggestions for those who are looking for a second half in another country, as well as appreciation to the company and staff.
Please read our ladies' testimonials about UaDreams, reviews of our agency as well — they are also very happy to be with our agency! Some ladies' testimonials you can also find in How we take ladies photos.
We are so proud of what you, our dearest members,
are saying about us
Just look at these people and their sincere gratitude towards us. Each employee of our company invested a part of his or her efforts and talent, to help you to find your dream!
Show next random testimonials
Walter: I had amazing and gratifying experiences in all my travels!
My last trip to Rivne was very successful in all areas.
I would like to thank this opportunity to thank for the perfecten service from the agency. Everything was uniquely prepared, I had with Olga, a really sensitive and attentive Translator. She knew how quickly the voltages of a first meeting to resolve and gave me the feeling of being always been there. 
At this point I want to emphasize that I had this feeling in all my travels and all translators. I would like to congratulate you and encourage you to continue this good work and service so professional to lead on.
As you know I have so done some travel, and I had amazing and gratifying experiences in all my travels. 
But now I have found a Lady what has captured already in the chat and then the real meetings, my heart by storm. It's still hard for me to believe that I should just be lucky but I'll take this gift that has been made possible by your service, gratefully. 
I would like to thank you for your support over the past months, and I assure you that I will always make known your exceptional service. 
I wish you continued success! 
Walter 
P.S. Please add to them, that i want say thank you for perfect support and to the manager and translator from Lutsk, Sumy, Odessa; Nikolaev, Cherkassy and Rivne wich i was visiting in the last month. If you want you can also use my picture from the profil. After our first common trip to Lviv and Cyprus in the end of may, my Lady and me will give you one more testimonial about our relationship.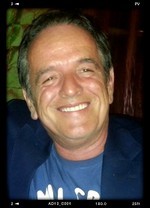 Walter / Austria
7 May 2014
trip to Rivne
Show next random testimonials
Mark: It's all real, despite anything else you may read or seen!
SUMY. The local complain of cold temperatures, snow, and just bad winter conditions. I have been blessed with unseasonably warm weather (considering I planned for -8 to -20 F). The times it has snowed have been periodic, but nearly perfectly timed to enhance romance- it was snowing at the end of my "Romantic Dinner" creating incredible ambiance. I find myself surrounded by amazing, picturesque settings in the city and countryside that is other wise called "boring" here. Perhaps not having this at home makes me appreciate it even more!
Agency was helpful but I chose to make my own arrangements for transport and hotel. I am staying at the hotel on one of the main streets of the city center. The hotel is updated and very comfortable, with clean room, great service, decent food, and English speaking staff. My room offers an amazing view of the main street, and a nearby square.
What can I say about my "Mother hen" Oksana? Certainly she is my translator and guide. However she has been more as well. She concerns herself with my wellbeing and needs. She has made herself accessible 24/7 during my stay. She handles all of arrangementes for the activities and needs of myself and my lady (her client). She has been my confidant, and my guide to cultural differences, offering suggestions, showing options, and explaining things I would not otherwise understand. Oksana has a whimsical accent and an occasional mispronounced word that add to her personal charm as well as that of this country! So fun!
My time here has been very enjoyable from the first minutes until now. I expect nothing different over the next two days as sadly being this trip to aclose. My activities with my lady have been diverse and many. It started with a tour of the city center with the names of the many things seen now blurring as there was so much. These included the love symbol, the mural of times past, and the symbol of the city the Sumska (Purse), two churches, and strolling of the two main streets. A romantic dinner followed with snow falling at the end of the date. I can't begin to list all the cafes and restaurants that have been comfortable, warm and inviting. I am no connoisseur of fine dining, but everything I have had has been great!
A new experience for me has been the Ukrainian Banya. Wow!!! So very cool! We prepared a meal, enjoyed the sauna and swimming. BBQ in the middle of winter? Heck Yea! Another afternoon was spent horse riding. It was a long day when we travelled to Kharkov and enjoyed a day of fun at the water park "Jungle". In the evening we toured a little, and also went for a short stroll in Gorky Park. I hope to return here in the spring.
A spa/salon day is planned for my lady today, and this evening we have reserved a private room at restaurant "Versal" and shall enjoy a special meal, a little champagne, some quite music and hopefully a slow dance or two (more?). We have not planned Saturday yet, but Sunday I will tour Kiev before flying home to California on Monday.
My lady has been amazing! She is beautiful, intelligent, and determined. I find my feelings for her growing each day. I can only hope to win her heart as she has captured mine! I look forward to the prospect of an incredible future with this lady. She has accepted an offer for a committed relationship until we meet again in the spring! :)
Video:
So, I have had an amazing time, here in Sumy. And have gone to some incredible places, seen incredible things, and had some really good food. I have spent a lot of time with a lady that I came to visit and I am very happy to say that we have a good relationship and we are going to continue that relationship.
And it would not be possible without UaDreams and been able to come here, and me and no one another… and I cannot say too terribly much other than thank you. And it has been a wonderful experience!
For the gentlemen who maybe watching this – it's all real, despite anything else you may read or seen! And I would encourage you - check it out for yourself! And come to Ukraine!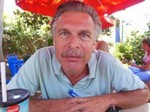 Mark / USA
2-7 February 2015
trip to Sumy
Latest and fresh testimonials date by date
Peter: Thank you very much for these very good years
hallo liebes ua-team. ich war hier bei ihnen viele jahre bis ich jetzt endlich meine traumfrau gefunden habe.jedes mal wenn ich in die ukraine gekommen bin wurde ich immer pünktlich am airport abgeholt und zu meinem hotel gefahren. der ganze service ist toll und alle sind sehr freundlich zu mir und herzlich. die übersetzerinen waren auch wunderbar und mann hat mit ihnen schon eine freundschaft geschlossen. auch in der agentur waren alle sehr hilfsbereit und freundlich und wenn ich einmal ein problem hatte oder irgendwas brauchte wurde es sofort erledigt. ich kann diese agentur nur weiter empfelen und würde immer wieder hier herkommen.vielen dank für diese vielen guten jahre, ihr peter.
Hello dear UaDreams team. I was a member of your website for many years, before I have found a lady of my dreams. Every time when I came to Ukraine, I was met at the airport on time and brought to my hotel. The whole service is great and everybody is friendly and sincere. The translators were great as well and we became friends. Everybody at the agency was also very helpful and and friendly, and when I had a problem or needed something, everything was arranged. I can only recommend this agency and would come here again. Thank you very much for these very good years, your Peter.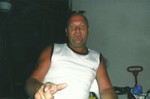 Peter / Germany
6 January 2017
Zeid: A Whole Hearted Thanks To UA Dreams
Thank you all for the Christmas and New Years video you made for us all. It shows the level of care UaDreams affords to us all here. I'm wishing UaDreams TEAM & Members a Happy, prosperous and rewarding 2017. Thank you again for everything.
ZEID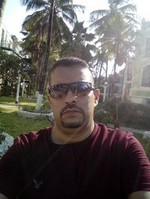 Zeid / Kenya
4 January 2017
Pascal: Highly impressed by the quality of the meetings
Highly impressed by the quality of the meetings, by the class of Natalia, in addition to her professionalism!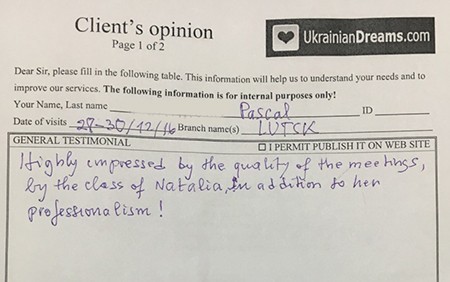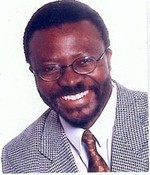 Pascal / France
28-30 December 2016
trip to Lutsk
Andres: I am very delighted with your video based on Christmas
Hello to all the representatives of UaDreams I am very happy I am Andres and I want to tell you that I am very delighted with your video based on Christmas although a few days ago I have been a little busy for some causes but I am sure of you.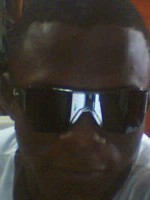 Andres / Colombia
26 December 2016
Pierre: Great team!
Great team! So cheerful! Amazing stuff, so communicative. Just one word — Bravo!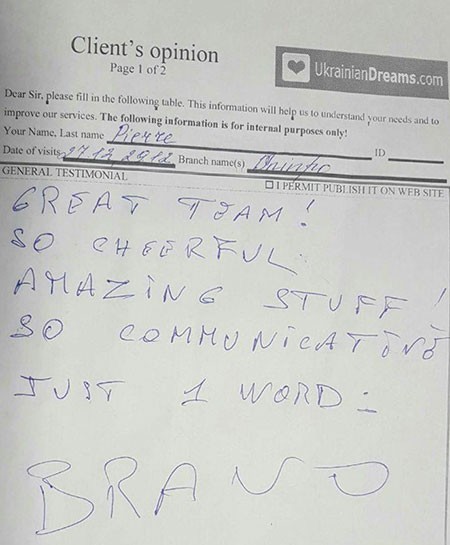 Pierre / USA
27-29 December 2016
trip to Dnipro
Oscar: Christmas Video & Gifts
Hello all staff at UaDreams. I am writing just to say "thank you" for the wonderful Christmas video all of you made for us men. It is excellent and I loved it! It brought great cheer to me at this time which is sorely needed. I say this because in my life now there is some sadness concerning family. But this video from all of you has made a big difference and it reminds that other people in other lands care very much! And the Christmas gift for us is very much appreciated, thank you!
Sincerely,
Oscar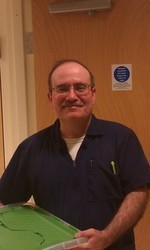 Oscar / USA
26 December 2016
Etienne: I'll never forget Zaporozhye!
Dear all,
I am so sorry not to be able to give any general testimonial. I can give you a very specific one. I only came to see my lady!
I saw her 3 times.
She dazzled my heart so much that I cannot think or write anything else than about her.
I'll never forget Zaporozhye!
Etienne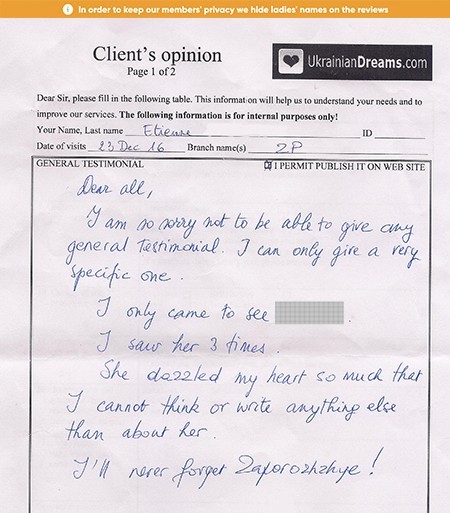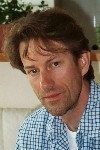 Etienne / Belgium
23-25 December 2016
trip to Zaporozhye
Jerry: The visit was great
The visit was great. Elena was very helpful and professional. The girl was a bit shy but also very nice. I am hopeful of this particular visit.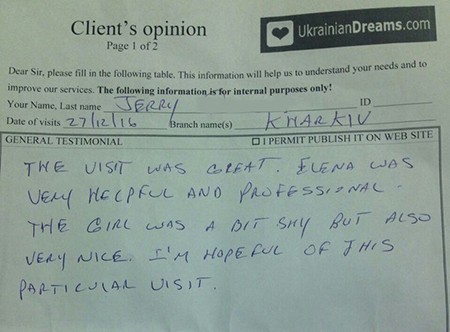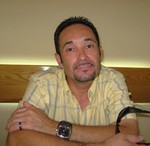 Jerry / USA
22 December 2016
trip to Kharkiv
Ali: Thank you Uadreams!
Everything was good. Thank you Uadreams!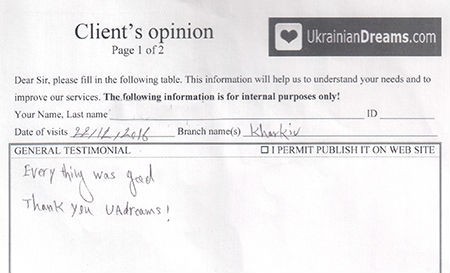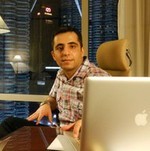 Ali / Iran
22 December 2016
trip to Kharkiv
Santosh: I'm very glad that I had visited
I'm very glad that I had visited and made the trip. Everything was very good. Our translator Anna was very good in translating our conversation. I highly recommend Anna and the agency for visit. Thank you.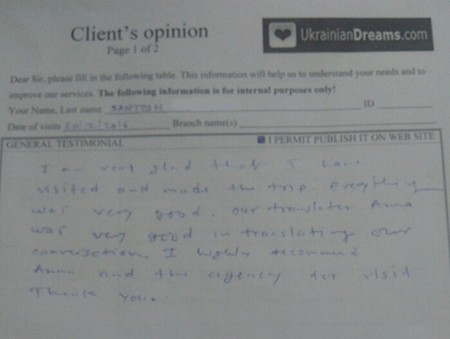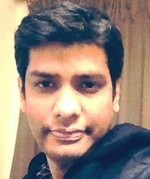 Santosh / France
21 December 2016
trip to Cherkassy
Jerry: She actually translates not only my words
Olga is very nice and also very helpful. I can see that she actually translates not only my words but also what I am trying to express, and she does it in a positive way. Jerry
— So, my impression was pretty good of the UaDreams, the service. Olga was excellent translator and the lady was pleasant so far. I think everything is good.
— How do you like our town?
— Very nice in everything, a little small but very nice.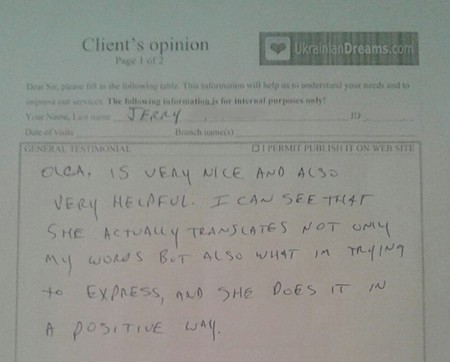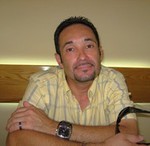 Jerry / USA
20 December 2016
trip to Rovno
Jerry: I am happy with the lady
Anna was an excellent host and I was very pleased with her and her service. I am happy with the lady and with everything so far.
Jerry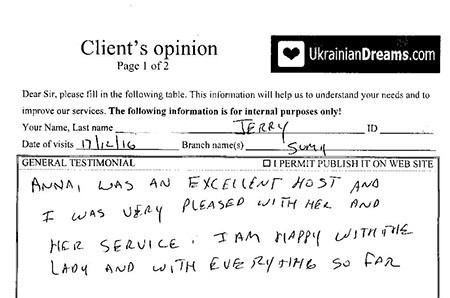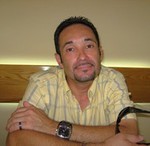 Jerry / USA
17 December 2016
trip to Sumy
Michael: Thanks a lot for help me in my trouble
I like your interpreter very. He was a very good help for me. Thanks a lot for help me in my trouble. The dates was very interesting for me. Your service was very excelent. Thanks a lot again.
Hello, my name is Michael, I came to a lady from UaDreams in Kiev. When I was arrived to the airport, some taxi driver stopped me and suggested me to drive me to Kiev. I agreed. When we get to my hotel he asked me about the payment and I gave him my card.
A day later I found out that my money was disappeared. It was around six hundred US dollars. My translator from UaDreams suggested to help me and we went to the police department. And now I hope to get my money back. I recommend you guys to use the service the agency provides to save your money. I appreciate UaDreams staff for their help. Thank you very much.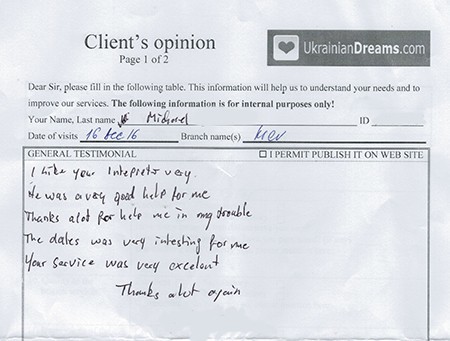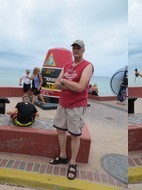 Michael / Switzerland
16-23 December 2016
trip to Kiev
Robert: I have only positive thoughts from my visit
Dear Sirs
I must apologise for the delay in writing to you sooner but, thank you very much for your help and support with my visit to Cherkassy.
I had not realised that the office shut so early as there seems to be many people chatting and needing translations.
However, I must thank the branch and the Translator for waiting on me and my significantly delayed arrival. It was confusing travel with many confused messages from the airport and airline but, we eventually took off at 09:00 GMT (11:00 Ukraine Time) arriving in Kiev at about 14:30. After passing through passport control and customs, I was on the road to Cherkassy but with an expected arrival of approximately 18:00. I phone the office and, the translator was very accommodating and we arranged a meeting for 18:30.
This occurred and, although there was some nervousness on mine and the ladies side, the Translator helped for the hour, calming all down. She was extremely accommodating and understand and, I would like you to please extend my thanks to the Cherkassy branch and, especially to the Translator for accommodating me.
I carried on with my stay using the options I had chosen but, none of this could have happened, had it not been for the introduction through your agency and, the support for our first meeting.
I felt that the meeting was a great success, especially when I compare this to the first meeting I had in Nikolayev all those years ago.
The translator had hoped that she could take a photo of the both of us but, I declined as, with all the problems and delays with travel, I was not really in as much of a presentable state as I would have liked for such a photo. I had promised your Translator that I would prepare a statement before I left and pop in for a photo but, I wanted to make the best of the time I had, which was limited and left Cherkassy a little earlier to get to Kiev and have a short tour there. Between myself and my lady, we will choose a good photo and send this to the agency. Either she will do this or, I will send to you by e-mail.
I will say, that I was very happy with the help and support you have given as an agency and once again state clearly that the Cherkassy Branch were very accommodating and supportive.
Now, I have only positive thoughts from my visit and plan to continue my contact with my lady and see how things progress over the next few months with a planned visit within the next couple of months.
Once again thank you for your help, support and patience.
Sincere regards,
Robert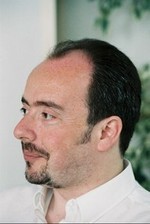 Robert / United Kingdom
14 December 2016
trip to Cherkassy
Enrico: I could see the stars sparkling in her eyes
About meine Lady and me...
It's so difficult for now to say more as in my thoughts.
It was on a day in October, as I see her for the first time on this site here. And I believe I was fallen down to her even in this first moment. We had written so much letters, talked about our past, our dreams and wishes too.
And now I'm here in Kharkiv in only one reason. I wanted to see her, to get to know her in real. Yes, I believe she is exact this so wonderful woman who I had made my picture of her in my thoughts before. We had meet and I had wish the world would be stay still for some moments, but the time goes. We was walking in the city, sit in the cafe, had evening meal in a pizzeria and breakfast in my apartment. We had a slow dance in the club.
Today is Monday already and she is working now. In the evening we will meet together, the last real for this year, and I hope I could see the stars sparkling in her eyes. I decided to close my account on this site, because I had found the one I'm looking for. And in my thoughts, I hope she will do the same and we will have our future conversation in private way and see each other soon. Big thanks to Victoriya for her translation and assistance in usual things, when can be difficult for a man from abroad in this so exciting city.
With my thanks and best regards,
Enrico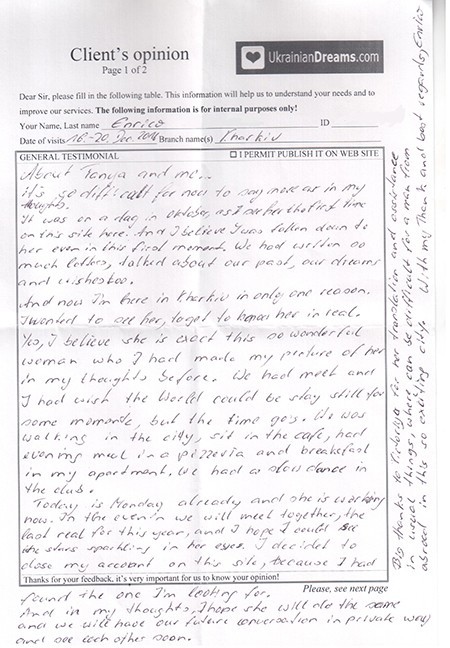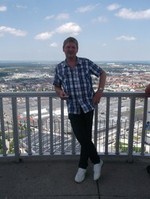 Enrico / Germany
12 December 2016
trip to Kharkiv
Christian: I would be very inclined to use UaDreams service again
I was very pleased with the service. It was great getting to know the translator. Leila was very helpful getting me around town. It was great getting to know my lady. She was a very sweet girl. I got to know her quite well and I hope that we can keep this going. The hotel was wonderful and I was very pleased with the service. On my next trip back to Ukraine I would be very inclined to use UaDreams service again.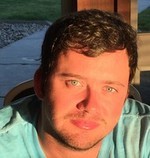 Christian / USA
12-15 November 2016
trip to Cherkassy
Bob: Wonderful visit!
Wonderful visit! The lady was lovely. Our translator Julia was professional, wonderful, nice. I would recommend this experience to anyone!
Tx!
Bob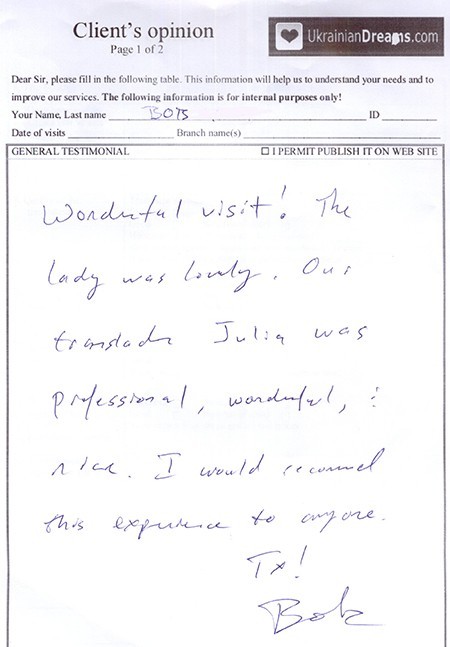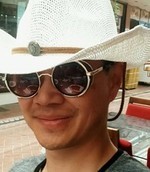 Bob / USA
12 December 2016
trip to Kremenchug
Ken: Prompt and very helpful
Nazar prompt and very helpful. Provided very good translation service. My lady is as she appeared in photos and video chat, polite and intelligent. Have enjoyed stay in Kiev very much.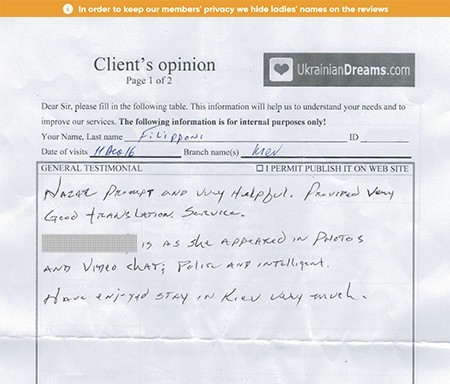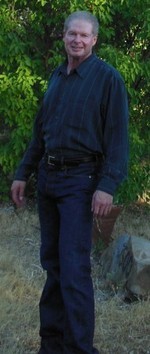 Ken / USA
11 December 2016
trip to Kiev
Gabe: I would definitely consider coming again to visit
I had a great time traveling to Ivano-Frankivsk to meet my lady. We had a great visit getting to know each other and our translator, Ira, did a wonderful job and was very helpful. I would definitely consider coming again to visit, although in the summer when it is warmer.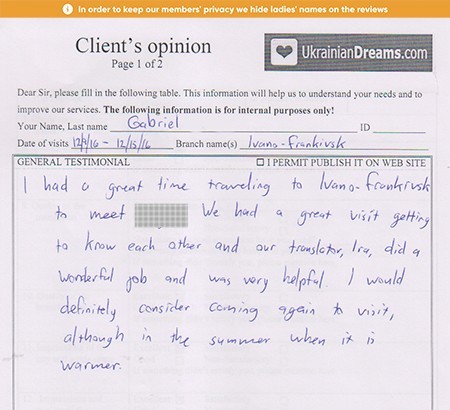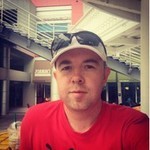 Gabe / USA
9-15 December 2016
trip to Ivano-Frankovsk
Patrick: Everyone should come here!
Hello,
I was very happy to come to IvanoFrankovsk. The lady that I have met is very pleasant and smiling.
It's a happiness to be with her :)
I hope to come back again to meet her and continue our corespondence.
The restaurants was very good and the hotel very comfortable.
I like the city of Ivano-Frankovsk and I feel in security here.
I was very happy to visit the mountains.
Everyone should come here!
Patrick from France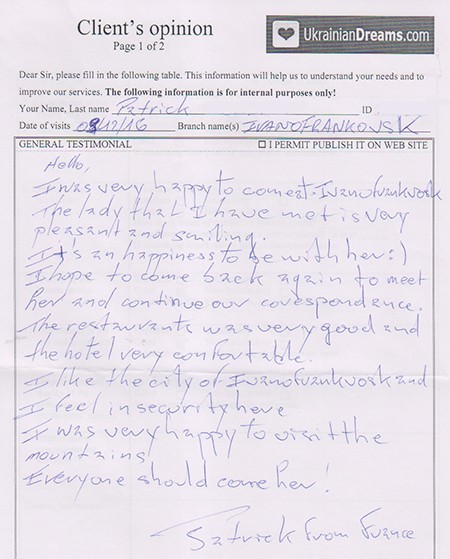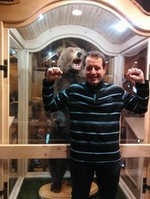 Patrick / France
9 December 2016
trip to Ivano-Frankovsk
Uadreams reviews
Average:
1763 UaDreams review(s)
Latest review 6 days ago