Dumbest Dating Mistakes
12 Jan 2016
Popular Dating Mistakes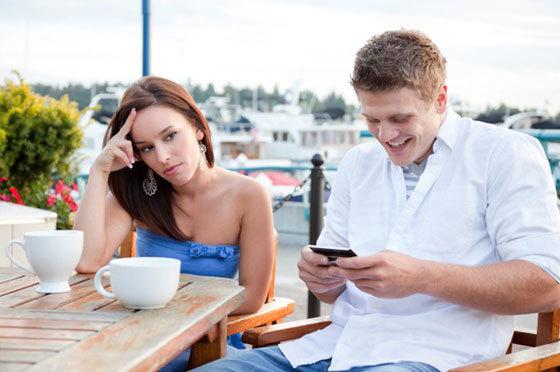 To be faithful men are persons more difficult to advice to. The first thing to mention is that they do not like any advices as what they do is always right. Don't they?
However we would like you to read through some interesting points about boys making outstanding mistakes )))
You may feel the best supposedly you have done something crazy during a date. And who knows, shame on you and do not tell your mom!
Indeed every fellow could do damn bad, funny and ridiculous thing on a date, however we would like to fun you with the following examples.
What for – you will ask? Do you need to read some mistakes of others? Yes, definitely, that will help you to avoid them in future, to become better partner and to learn from bad examples.
A Boy Who Were Asking His Date To Wait For The End Of His Relationship
He was dating with one girl, but lately he began to disappear. Actually he did not want to break with his lady however was interested much in another one. His first girl notified his miss, she asked about that but did not like the respond. He was like prolonged his relationship with the second lady, who was about to move. What is more, it was pity for him to lose her for that time. The next phrase he said was like he would let know when he would break up, so she may wait for him to be free soon.
Haha. Epic fail!
A Proposition To Go Upstairs For Having Sex
One man confessed that he was dating with a lady with quite big age difference – she was younger. She came to our city and knew almost nothing that is why she was definitely inspired by me and my actions – I showed her lots of entertaining things. However he did not imagined being together with her, he meant serious relationship, but girl's wig and juicy appearance seduced him all the time. So one evening he walked her to the door and was about to ask for going somewhere for a glass of wine or something..buuut, goodness! Instead of that he proposed to go upstairs and have sex right now! Lady rushed out and they never saw each other.
Alcohol Makes Your Tongue More Vivid
One guy had a date, the second one with a smart beautiful lady, but he felt that she was not interested in him. He confessed that he did not have courage to invite her for another day to go out and there wasn't better way than to get some drink to relax and to ask her finally. But alcohol made hit deal and the guy told that probably young lady was the type who wanted serious relationship. Yep. That probably is so, however not with him as girl changed the conversation and afterwards disappeared.
A Hesitatory Boy
This guy saw his date in the bar, just while entering he noticed her but rushed away as she did not look like on photos. He did not come and say "Hello" or smth else. He just left and as he confessed he hated himself. He ghosted. He did sent her messages about his illness and so and so forth, she offered another date. That was really unpleasant, he could not do anything.
Caught With Asking Another Girl's Number
His story began with few dates with this lady whom he liked but was not sure that he is into her. To have something serious? Well he needed time to think it over.
One morning after sex it was breakfast time in one café. But boy got interested in waitress as she was more of his type and he considered her to be more attractive. So when his date left for bathroom, he began to act. Well, his attempts were almost successful with her phone number but his lady came back. She fixed that and left. However this hot fellow and waitress continued their acquaintance with dating till now!
Freaking Out
This is a story of a boy who got interested with a girl for about 1 month or maybe more. Let us mention that he had long term single period and intended to have something serious finally. He sincerely hoped that probably this relationship could grow into something great. They enjoyed time of being together; he liked her high temper and funny nature. Once he had terrible working day and she invited him to her place, they had wonderful dinner, afterwards sex and in the morning he heard from her "I really like you". He could not explain why but he freaked out of her. He wanted to have a single period, she was about to push him to something serious that causes pressure, so he asked her not to call him for a while - that offended her and she left. He missed her much.
Well of course you may know thousands of similar stories and we would be deeply glad to know some of them with happy endings. Being like a fool does not mean to be a fool. Mistakes – are our life experience, some people ghosting, some dates reschedule or cancel, one relationship failed just to let another ones to start. Be better, make your future smarter and beautiful with bright emotions. Be attentive, sharp eyed, sensitive and ejoyed your life in full!