The type of man that I desire
I would like to find a family oriented man. He should be serious, purposeful and reliable. I would like my beloved man to be honest, gentle, tender and strong. I would like to feel his care and affection and give that all to him. He also should be open and positive. I like men with a good sense of humor. ;))) And of course my beloved man should be romantic a little bit!!! I hope to spend a lot of romantic evenings together))))
About my family
I was raised in a good family. My parents give me a lot of care and warmth and traditions. They taught me to value family! I have a sister and she is older than me and lives with her husband and daughter.
See her fascinating movements and charming smile...
Feel as if it was your first date with this lady — it is worth 1000 pictures!
Watch this video for FREE
My typical day
My morning starts with breakfast that I cook with my daughter! Then I go to work and she goes to school. At work I usually spend 6 or 7 hours... It depends where I go...In the evenings I go to the gym and for dancing trainings. I want to dance with my beloved))) On weekend I go to the seaside in summer, walk in the park, visit theatre. When the weather is cold I like to spend my time at home, to read books, watch nice movie and I like to create new receipts for preparing delicious meal!
How would I describe myself
I am a very attractive and sensitive woman. Sometimes I can be shy a little. I am also a very romantic woman. I like to take care of my family; I am a very devoted woman. I enjoy my life and I adore smiling. I like to make everybody around me happy. ;))) I know what I want from the life and I always try to achieve my goals. I have a lot of energy inside and you can see it in my sparkling eyes!!! Only the one thing that make my eyes sad is lack my beloved man in my life! I do believe in finding a nice man for me and I dream about that every day and my eyes will always sparkle with happiness!!!))))
Domestic abilities
My mother says that I am a good cook and I adore to cook something incredible. Meals that we used to eat every day not only perfect but have a nice view on plate. I like to clean my house cause I adore warmth and cozy in my home. I also like a fresh smell in my house.
Our personal opinion of this Lady
Vita is a kind, tenderness, sincerity and good lady who wants to have serious and long loving relationships! The man who will meet with her will be happy for the rest of life ! He always will have her care,love and be surround a gorgeous woman next to him!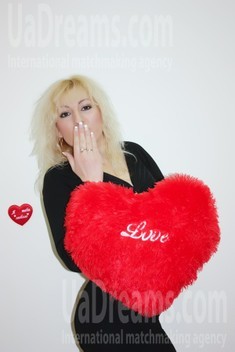 My future goals are
In the future I want to have a nice, strong and loving family, live in a cozy house, which will full with happiness, love and understanding, tenderness and harmony. I hope to become a loving and caring wife to my husband.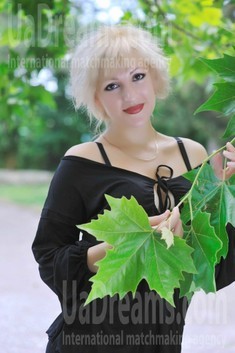 What I do in my leisure time?
I adore listening to music and dance. Dancing and music always improve my mood and give me a lot positive emotion and inspiration!. I also like to do many things around the house ... I like to spend free time in the open air, especially near the sea. I adore nature and I admire it beauty! Now I also spend a lot of time for learning English as I know that it is important for me and my future;))))