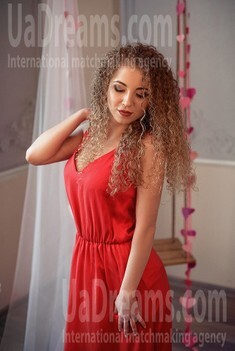 Our personal opinion of this Lady
The lady is a sunny, charming, kind, devoted ray which will give you a good mood and make you smile every day! :) She is slender as a cypress, tender as a rose petal, and at the same time she is a passionate tigress and a little imp:) She is a kind, sweet, sincere, pleasant in communication, executive person! Dariya is well-educated, sociable, serious, purposeful, knows how to solve several problems at once:)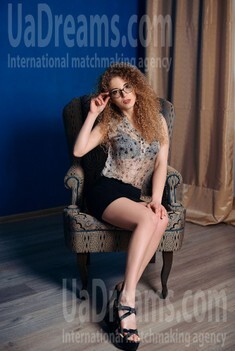 Domestic abilities
I am a very tidy person :) I always keep order in the house! I appreciate home comfort and warmth. I think that the woman is the keeper of the hearth. A woman thinks about every little thing so that the whole family rushes home. Heat, comfort, the atmosphere of happiness - these are the internal components of the house! :) My favorite place in the house is, of course, the kitchen! I very like to cook :) No matter how many rooms, people spend more time in the kitchen, so it should be the coziest, warm and most importantly - fill and charge with positive emotions. Comfort in the house is like a healthy well-groomed body! :)
About my family
Family ... This is a very important word for every person, because you can not be happy without a family. They will always understand you, console you and forgive you. Parents, grandmothers and sister are my best friends with whom I am interested and having fun :) I grew up in a full-fledged family with a warm relationship! I mostly appreciate love and understanding in my family. I'm glad that I have such a close-knit family! I would like to transfer this to my future family :) The most trusting relationship I have with my sister, we are very close in spirit :)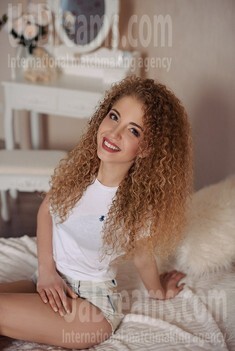 How would I describe myself
I like an active way of life, sports, traveling. I want to travel as much as possible! I have already visited a few countries and I want to open more this fantastic world for myself with my other half and soulmate:) I am very sociable, I easily find a common language with people:) I'm like a little mouse that can brighten up the winter cold evenings, give caress, tenderness and care to my favorite man:) I'm waiting for a hunter who can catch me and tame me!))) From the rest of the girls I differ by the excess of trust, the desire to help relatives, friends, I am very sympathetic. And of course, I differ from others with my curvy hair!))) This is my mark of pride.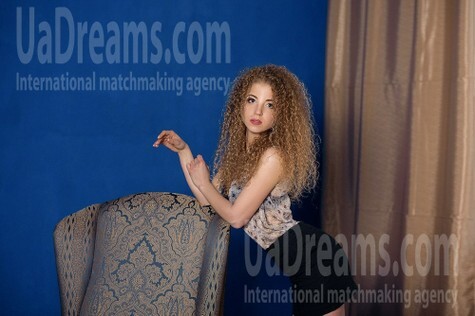 My future goals are
From an early age I had a dream of a strong happy family, where love and mutual understanding will prevail, but as I grew up, I realized that stability is also very important for me! Also, I want to develop as a person and open up my possibilities and develop the creative side of myself :) The main vital goal for me is to be healthy physically and mentally! I think that a woman does not have to earn money for a family. This is a man's concern. A woman can also engage in business. The main thing is that it does not become for her the main job. She can do her own thing for the soul, but remain faithful to her feminine nature. I think that a woman should inspire a man to perform his deeds!:) The ideal goal of a person's life is when you give yourself to the universe and enjoy it!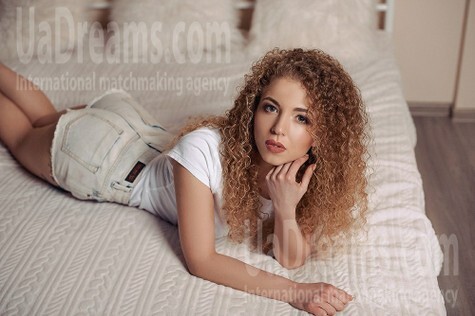 My typical day
Usually, I start my day early in the morning and prepare a healthy tasty breakfast. After that I get dressed, put on make-up and comb my hair. I always start my day with a beautiful big smile!))) Then, depending on the day of week, I go to work or go to workout in a gym :) When my workday ends, I come back home. An evening walk is important for me! Like this, I rest after the day's work and find harmony in myself :) And, of course, it's good for health! All in one! :) In the evening I prefer to relax at home, spend time with my family at warm dinner. Sometimes with friends at Cafe :)
What I do in my leisure time?
In my spare time, I prefer to be with my family and share together cozy evenings, with tasty food and long conversations or meet with close friends and spend a good time together. For example, we like to walk in the park or go to the premiere of new films. In the summer I adore cycling, it brings me great pleasure and a good mood! I really love nature and all the gifts that it gives us :) I like an active lifestyle! I always try to give people a smile with my good mood, charge everything around me with positive emotions :) I like to spend my evening with an interesting book and hot green tea with lemon :)
The type of man that I desire
I would like my future man to be self-sufficient, strong, confident, intelligent... I'm looking for a man with clear eyes and an open smile:) I'm looking for an interesting and frank man who does not hesitate turn his soul inside out , the one who knows how to speak and listen ... But I think that love does not choose. It comes (often unexpectedly), takes you by the hand and leads you into her world, its kingdom, which is not sold or bought but is given by someone or something :) You do not need to walk, look for love, you do not need to entice and call for it, you do not need to try to catch it, but you just need to relax, let your feelings (complexes) go, and it will immediately find you. Because you are unique, and such as you were not and will never be on earth, therefore Love will not miss its only chance to try its charms on someone unknown to it, and this is the unknown you are:) The most precious thing that nature has - LOVE! I know this and I believe in it :)