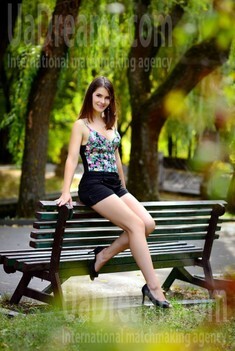 My future goals are
Of course I have a lot of dreams and expectations for my future. that is why I joined this agency. I want to meet my love and my life partner here. The man who will love me and who will accept my child. However, the nearest my goal is to return to work and to become independent again. I do not like sitting at home. :) I need to work in order to feel myself complete. I hope you understand what I mean. :)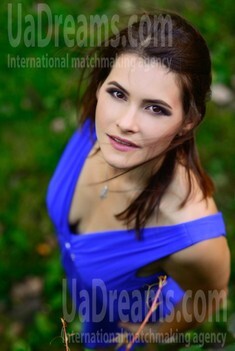 How would I describe myself
I am cheerful person and sometimes maybe too emotional. However I think it is the feature that makes me special. :) I like adventures in my life. I think this makes life more interesting. :) I am very positive and always look on the bright side.
See her fascinating movements and charming smile...
Feel as if it was your first date with this lady — it is worth 1000 pictures!
Watch this video for FREE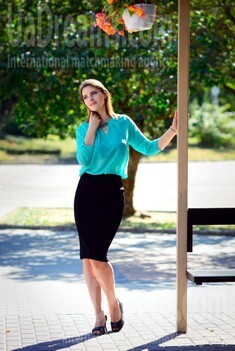 My typical day
The most part of the day I pay attention taking care of my son. Every day I start from jogging in the morning and then start my other domestic abilities. In the day time I usually go for a walk with my son. He likes spending time outside. We lie in a house and have a lovely yard where he can play. Usually I have a lot of things to do during the day but in the evening I try to make some time for myself: I do yoga or read a book. I also like staying up when everyone is asIeep and to have a quiet time on my own. :) It is very important for me to be in harmony with myself.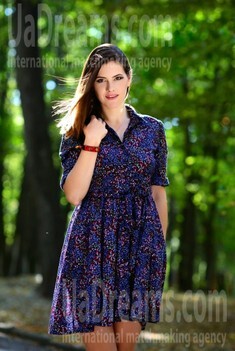 Our personal opinion of this Lady
The lady is very pleasant. She is sincere and really wants to find her true love. She suffered from her previous relationships but still she believes in true love and trust. She will be a loving and caring wife for her future husband. She is very artistic too and it is very interesting communicating with her.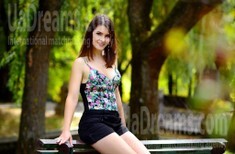 What I do in my leisure time?
I am a single mother and I do not have much free time now. However when I do have such then I like to read adventure literature. I can read all night long if I have such possibility. Also I practice Yoga. I like it a lot and it helps me to relax and to forget about all the problems in my life. :) Sometimes I like to cross-stitch. I already made some nice pictures for the living room. :) I love travelling too! It is my biggest passion. I do not have possibility to travel now because my son is too small to travel and I miss that a lot.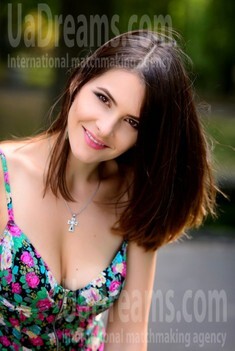 Domestic abilities
I do everything by the house. I cook and clean and wipe. I think I am a good hostess, at least I try to be. ;) I love cooking a lot but mostly I cook healthy dishes for myself. However I also love cooking regular meals for my family. I love decorating a lot and I like redecorating my place from time to time. Also we have a garden near the house and there is a lot of work there too. You know, there is always some work when you live in the house and also near it.
About my family
I was born in a village together with my grannies and moved to the city when I turned 5. My family if very friendly and funny. :) We love to have fun together. :) I value loyalty and sincerity in my family. We trust each other in everything and I think I am very lucky to have the family I have. My mom and dad are divorced and already got married for the second time but I am totally ok with that. I visit my dad and his family very often and we have friendly relationships. I also have a younger sister. I have the closest relationships with her and also with my cousin. You know, there are things you cannot tell parents and I trust my secrets to my sister and cousin. And of course I cannot but tell about my son Amir. He is my little angel.. :)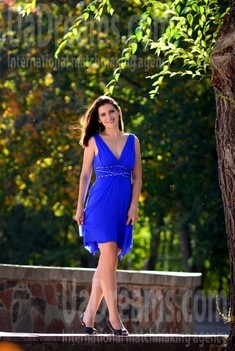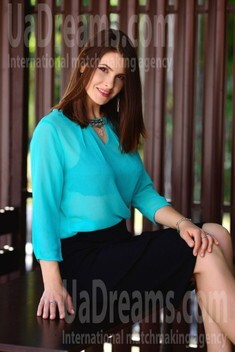 The type of man that I desire
I want to be with a man who is reliable and responsible. I imagine my future man as a man who does what he promises and I can trust him. I really want to be able to rely on him in difficult situation... I want him to be my rock... I also want to support him in everything and to be his helping hand too. I also want my man to be funny and unpredictable sometimes. I love surprises when it is pleasant and I also want to make surprises for my future beloved. :) I want him to be a little bit "crazy" with me, but crazy in a good way of course. ;)