The type of man that I desire
My preferences in men are simple. I want to be with a caring man. Who can talk with me and can support me. From my side I want to do the same, to take care of and love this man. I appreciate sense of humor in men. I like laughing and having fun. I want to be with a man, who can laugh with me and at the same time I want to feel a strong shoulder next to me. Also it is important to be with a man, who will be a friend for me, a man I can trust. It is not easy but I hope to meet my destiny here and spend all my life together.
How would I describe myself
I can say that with me it is never boring. People like spending time with me. I have a lot of friends. They are next to me when I need them. It is also important that my friends feel my support too. I am a patient and kind-hearted person. I am active and like sport. Dancing is important part in my life. It makes me feel good and fresh. For me there is always a lot of reasons to be happy. I like sun. I like nature and I feel harmony with this world. I want to meet a man who can support me, be with me and I am sure that I can give him love.
See her fascinating movements and charming smile...
Feel as if it was your first date with this lady — it is worth 1000 pictures!
Watch this video for FREE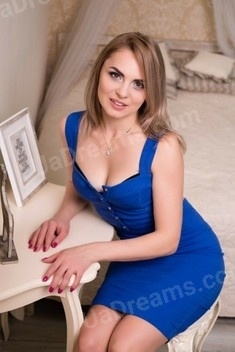 My future goals are
To be happy with my future husband. Being in harmony with myself and with world, to find my love, the person who can always be with me. I want to love and to be loved. It would be great to spend time with the person I love. Walking in the parks and squares, enjoying nature and having a nice time together. Also travelling is important part in my life. I find that it is always great to learn something new. To discover new places and to talk with people. Family is very important for me. I want to be in relations with a strong and reliable man. And I am ready to give him my love and care.
About my family
My family is not so big. I have my son, father and sister. My son is 13 years old, he is an active boy. He likes sport a lot and also he is learning different languages. Sometimes we are learning together and it make us closer to each other. I love my sister so much. She is always next to me when I need her. My family always gives me support, I can tell them everything, all my problems and all my thoughts. It is very important to connect with people whom I love. I can make my family happy and they also trying to make me happy. This is what I appreciate in my life.
Domestic abilities
I am an open-minded person, I like speak to people and have great conversations. I am kind and like helping people, it is important for me to see them happy and to make their lives better. I am creative and always think about new branches where I can show myself and my skills. Bakery sweets is my passion. It is interesting to make something new. My son always shows me something new. It is very interesting to learn something new and I can see my child from another side. I am open for new page in my life and I am so excited to learn something with a person whom I love.
My typical day
I am a very active person. I start my day waking up early. Than I do sport. I like running and doing exercises. Sport makes me feel free and comfortable. After that I cook. Cooking is my passion. I like making different dishes and baking. Also all my friends like when I cook, we have a great time together. I also spend my time with my son. We talk a lot, play and cook together. For me my health is very important. I always do my best in order to be in shape. I like dancing, I feel so happy during the dance.
See her fascinating movements and charming smile...
Feel as if it was your first date with this lady — it is worth 1000 pictures!
Watch this video for FREE
What I do in my leisure time?
I like dancing and doing sport. Also I like cooking with my son and by myself. There was a time when I was fond of hand making. I am a creative person and doing something with my own hands is very interesting for me. Also I am a romantic person, I like soft music, dancing. And at the same time I have so much energy, everybody can see this fire inside me. I like cosiness and always try to give that to my friends and family. The holidays are also important for me, I like cooking different dishes and spend time with my family.
Our personal opinion of this Lady
Marina is a lovely person, we think that she is kind, responsive and open-minded. She is looking for a man, who will be a friend for her and in future she wants create a family and to be happy. She likes travelling, dancing, smiling and also she is smart. She is full of positive energy!