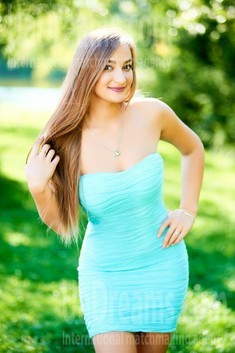 Domestic abilities
When needed, I cook, and by the way do this with the great pleasure, also wash dishes, iron clothes, wash my clothes and tidy up the rooms :) I like to keep my home clean :) I am not a lazy person. I do whatever I should. I usually clean and do basic household things. Also I enjoy treating my close ones with home-cooked meals and bakery. :) Especially it's fun to experiment with new recipes! Of course there can be failures sometimes, but it's possible to make absolutely anything taste delicious if you practice a lot! :) Isn't it?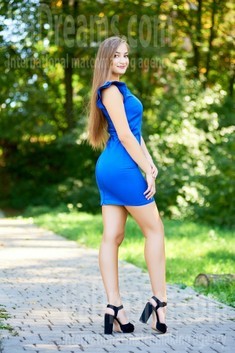 The type of man that I desire
I am looking for the man who, first of all, will be a real gentleman, the one with a good heart and loyal character.I am really into men who open the doors in front of their ladies, pull them the chairs and help them put their coats on. Nice sense of humor, good behavior, pretty smile are things which are highly appreciated too:)) I am kind and caring and I would like to receive the same in return from my future beloved. Another thing is mutual support which also takes a considerable part of relationships. I hope I'll find that in my future partner :)
See her fascinating movements and charming smile...
Feel as if it was your first date with this lady — it is worth 1000 pictures!
Watch this video for FREE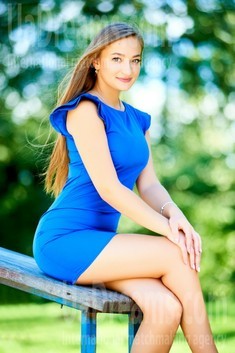 My future goals are
So many aims and goals to enumerate but I will try :) Since I am very ambitious, I know very well what I want. The priority for me is to create a family and be surrounded by the care and love of my close people, and more important by the man who will be my second half. I want to realize myself as a good dentist, a professional doctor, because self-development is something I care of too. Also I want to become a mom one day, at the same time a good wife and a supportive shoulder for my future husband. I am a real explorer, so another goal is to discover as many beautiful places on our Earth as possible :))
See her fascinating movements and charming smile...
Feel as if it was your first date with this lady — it is worth 1000 pictures!
Watch this video for FREE
About my family
My family for me is something I always feel happy to talk about. It is not big, but consists of nice and loving people. I have my caring parents, my older sister and these are the closest people for me so far in my life :) I feel very comfortable when being at home... It's a nice feeling, like you are surrounded with people who like you and love you and are ready to do anything to support you. Our sweet and playful cat called Bon'ka and a pitbull dog Rokki make our family complete :) I think, you would never find anyone happier when you see us all together :))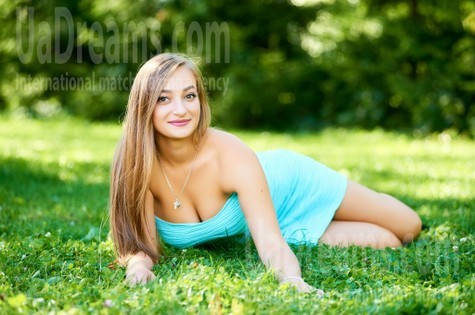 What I do in my leisure time?
I always find something to do when I have some spare time :) You would never be bored with me, I find fun reading different books and magazines, listen to the music, play some sport games, outdoor activities, some house work :) I don't get that much free time because of my studies, but when I still have it, I love doing all those various things :) However, there are days when I prefer to spend my free time quietly. You'll be able to see me sometimes sitting on a sofa sipping my favorite tea, watching some TV program. But normally I am on the move and it makes my life busy but interesting :)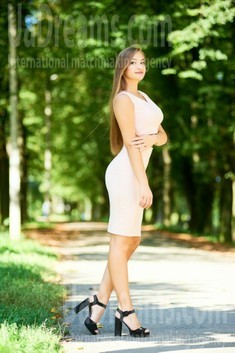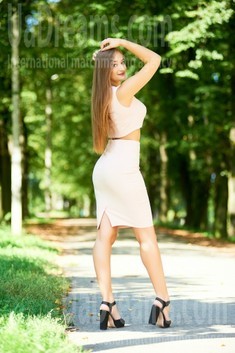 Our personal opinion of this Lady
As for her age, this lady is very mature and goal-oriented. She is charming, interesting to talk with, feminine and determined. She manages to combine everything in her life, and there is still a big place in her life for Love to be occupied :)) We believe that she will be a great life companion for some lucky man!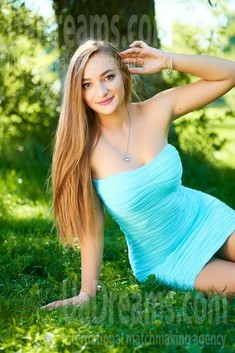 How would I describe myself
I am an easy going person, I like to correspond about everything, I am very good at keeping secrets:) At the same time I can always sort any situation out and support my close people when they need it. I gladly share my opinion, but I never try to make things happen my way (at least in somebody else's life). I try to smile and stay optimistic even when things don't go the way I expected! This world is a reflection of our thoughts, and thus I try to stay upbeat no matter what happens! I am always on a positive note and take everything with a nice smile on my face :)
My typical day
I really study very well, that's why a significant part of my time during the day I spend at the university :) That's a big challenge to become a good doctor, that's why I normally have many classes to attend. I wake up, have my morning daily things to do, some light breakfast, usual exercise and run for the university:)Also I visit gym, language school. I get back home and normally need some relax, so I can do anything to feel more relaxed. Usually I chat with friends, watch some TV news, or read something interesting on the Internet.