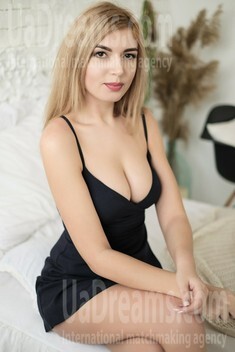 Domestic abilities
If there is one thing that will not make me stressed, so it's cooking. I love just going over to the stove and making something that not only will take my stress away, but eat some delicious food to enjoy. I really like when the apartment is tidy, comfortable and full of life. For doing this, I have so many potted plants that give cosiness and provide fresh air. They need attention and to be watered, several times per week I clean them from dust and I fertilize them. But it does not scare me because they give beautiful flowers, and flowers give cosiness.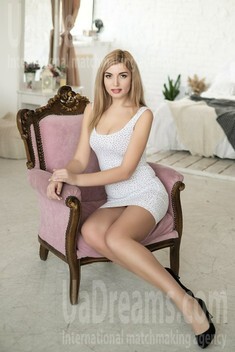 How would I describe myself
I am a simple lady and I have a lot of love in my heart, I need to take care of someone, to look into eyes of my man and see my smiley reflection, I like holding hands and I just melt in warm strong arms, I like hugs very much. And you? I know what I want and I know how to achieve it, but I need a person near me, to be my support, my friend, my lover. I am looking for love and I am ready to share it with a right man.
See her fascinating movements and charming smile...
Feel as if it was your first date with this lady — it is worth 1000 pictures!
Watch this video for FREE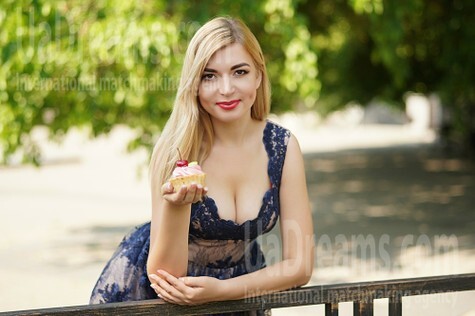 What I do in my leisure time?
I am an active and dynamic person, but sometimes I have days when I need to relax and take some minutes to do something that I like. When I have busy days, after work I can make a hot bath and switch on the music, it is the best way for relaxation. When it is a nice weather outside, Vitalina and I always have a walk. We live near a good playground and we can find a lot of ways how to have fun. My daughter is a future lady and I teach her how to cook and bake delicious cakes. We have one more hobby- we like to paint. Basically, my days are usually the same, as I am a careful and loving mother, I always try to spend as much time with my daughter as I can.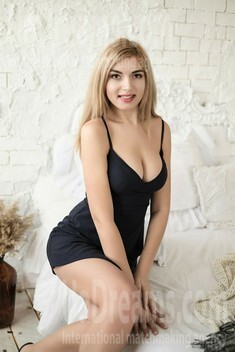 My future goals are
My future goals are connected with finding a life partner, making good family and developing. The vision of myself is to become a caring wife. I would like to focus on family and maybe in 10 years I would like to see myself as a good chef. I'd like to do what I'm doing now—that is, enjoying my work and taking care of my daughter. The most important thing, however, is to be a happy, valued member in family and a loving wife. I want to wake up in the morning and know that I am the happiest woman ever.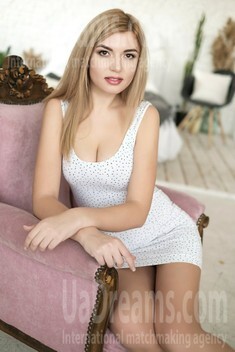 Our personal opinion of this Lady
Anna is a cheerful and optimistic lady. She loves her daughter and takes care of her. Being loved means a lot for Anna and she is looking for a man who can make her happy. She values honesty a lot and would never forgive betrayal.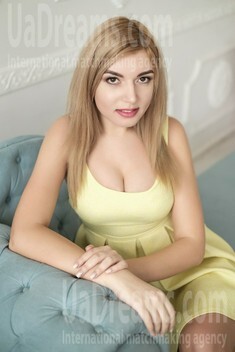 The type of man that I desire
I'm looking for a gentle and responsible man. A man should treat women with respect. If you don't respect women, you're not a man I am looking for. It is important to know how to listen to a woman. Of course, we are very sensible and too emotional and sometimes we talk too much, but men like these features in us, we know how to bring harmony in the house and warmth in relationships. A man should be a leader and I will follow him in any life moments, because I am a woman and I don't want to rule and control, I want to be tender and caring. And the most important is to love children, as I have a daughter I need to be sure that my future partner will love her also.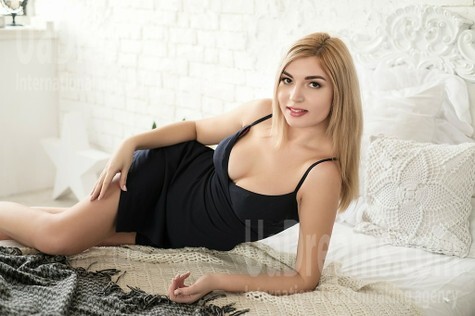 About my family
My family is small, but I do not think that it is a disadvantage, it means that I have stimulus to make my family more extended, I have a sister, she doesn't live with me, but she thinks a lot about me, as well as she keeps in touch with me over the phone every night. Also, I have a daughter, she is 9, but even in her age, she is very clever and smart. I even can't imagine life without her. She is my soul and love. I consider that children in our life have a very important meaning, and if there were no children, then life would not be so nice.
My typical day
My typical day starts early. I wake up near 7 a.m. and I start to cook breakfast for my daughter. Sometimes she feels sIeepy and we do some exercises with her, I want to teach Vitalina a healthy lifestyle. We go to school and I go to my work. In the evening when she is back from school I cook dinner for us, sometimes she helps me. Then we do her homework. She is a capable girl and Vitalina is always interested in learning new things, but sometimes she needs help, like all children, she is pleased when we spend time together.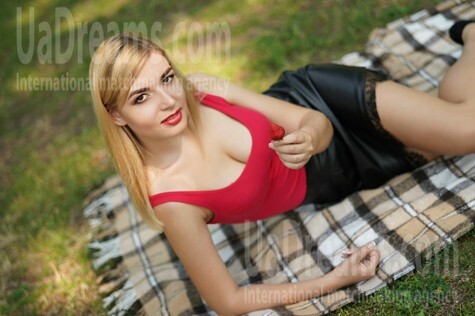 Get a much better idea of the lady's personality!
Discover her life and secrets no other men know :)
It's intriguing like finding an unknown world...