Testimonials & reviews
Dear Gentlemen, here we are happy to present you the testimonials of the members who have found their soulmates with help of our Agency.
Here they express their opinion, experience and suggestions for those who are looking for a second half in another country, as well as appreciation to the company and staff.
Please read our ladies' testimonials about UaDreams, reviews of our agency as well — they are also very happy to be with our agency! Some ladies' testimonials you can also find in How we take our ladies photos.
We are so proud of what you, our dearest members, are saying about us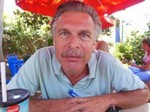 Mark / USA
2-7 February 2015
trip to Sumy
Mark: It's all real, despite anything else you may read or seen!
SUMY. The local complain of cold temperatures, snow, and just bad winter conditions. I have been blessed with unseasonably warm weather (considering I planned for -8 to -20 F). The times it has snowed have been periodic, but nearly perfectly timed to enhance romance- it was snowing at the end of my "Romantic Dinner" creating incredible ambiance. I find myself surrounded by amazing, picturesque settings in the city and countryside that is other wise called "boring" here. Perhaps not having this at home makes me appreciate it even more!
Agency was helpful but I chose to make my own arrangements for transport and hotel. I am staying at the hotel on one of the main streets of the city center. The hotel is updated and very comfortable, with clean room, great service, decent food, and English speaking staff. My room offers an amazing view of the main street, and a nearby square.
What can I say about my "Mother hen" Oksana? Certainly she is my translator and guide. However she has been more as well. She concerns herself with my wellbeing and needs. She has made herself accessible 24/7 during my stay. She handles all of arrangementes for the activities and needs of myself and my lady (her client). She has been my confidant, and my guide to cultural differences, offering suggestions, showing options, and explaining things I would not otherwise understand. Oksana has a whimsical accent and an occasional mispronounced word that add to her personal charm as well as that of this country! So fun!
My time here has been very enjoyable from the first minutes until now. I expect nothing different over the next two days as sadly being this trip to aclose. My activities with my lady have been diverse and many. It started with a tour of the city center with the names of the many things seen now blurring as there was so much. These included the love symbol, the mural of times past, and the symbol of the city the Sumska (Purse), two churches, and strolling of the two main streets. A romantic dinner followed with snow falling at the end of the date. I can't begin to list all the cafes and restaurants that have been comfortable, warm and inviting. I am no connoisseur of fine dining, but everything I have had has been great!
A new experience for me has been the Ukrainian Banya. Wow!!! So very cool! We prepared a meal, enjoyed the sauna and swimming. BBQ in the middle of winter? Heck Yea! Another afternoon was spent horse riding. It was a long day when we travelled to Kharkov and enjoyed a day of fun at the water park "Jungle". In the evening we toured a little, and also went for a short stroll in Gorky Park. I hope to return here in the spring.
A spa/salon day is planned for my lady today, and this evening we have reserved a private room at restaurant "Versal" and shall enjoy a special meal, a little champagne, some quite music and hopefully a slow dance or two (more?). We have not planned Saturday yet, but Sunday I will tour Kiev before flying home to California on Monday.
My lady has been amazing! She is beautiful, intelligent, and determined. I find my feelings for her growing each day. I can only hope to win her heart as she has captured mine! I look forward to the prospect of an incredible future with this lady. She has accepted an offer for a committed relationship until we meet again in the spring! :)
Video:
So, I have had an amazing time, here in Sumy. And have gone to some incredible places, seen incredible things, and had some really good food. I have spent a lot of time with a lady that I came to visit and I am very happy to say that we have a good relationship and we are going to continue that relationship.
And it would not be possible without UaDreams and been able to come here, and me and no one another… and I cannot say too terribly much other than thank you. And it has been a wonderful experience!
For the gentlemen who maybe watching this – it's all real, despite anything else you may read or seen! And I would encourage you - check it out for yourself! And come to Ukraine!

Leave testimonial about UaDreams

Gregg / USA
7-11 August 2014
trip to Sumy
Gregg: I felt completely safe and comfortable during my entire visit
This is my last day in Sumy and has been one of the best of trips of my life. Two months ago I met a wonderful lady online. After exchanging letters and photos for a few weeks, we decided to video chat. We would talk several times a week and still exchanged letters. We decided to meet in person but each of us could not meet before mid-August sue to work obstacles.
Despite the short time to plan and make arrangements, the agency staff made it happen. I can not express my appreciation enough to the staff helped me. When I arrived at the airport, I was met by my driver and was called by the translator to check on me.
I meet a wonderful lady and we had so much fun during our time together. Julia (our translator) was wonderful. She was always there to help translate but also made sure dinner reservations were made. She also helped me in making sure the taxi and restaurants treated me fairly. Thank you Julia! I will remember your kind and professional attitude.
Despite the recent conflict in the southeast part of Ukraine, there was not sign of trouble in Sumy. I felt completely safe and comfortable during my entire visit.
Thank you to the main branch and Sumy branch!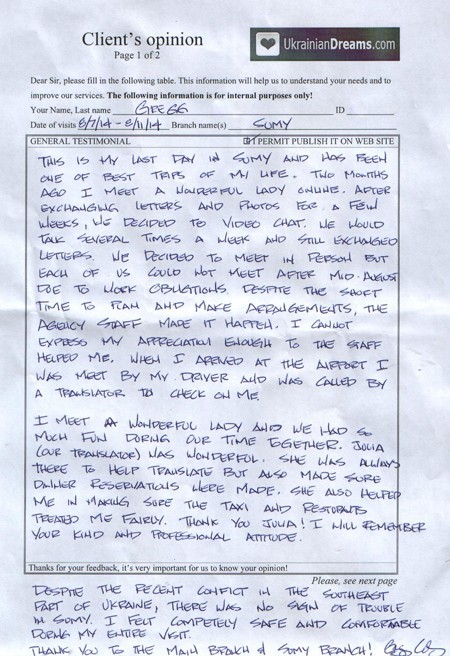 See what our clients say
Inna, 36

Kristina, 22

Kate, 30

Anastasia, 26

Yana, 31

Nadia, 33

Maryana, 31

Lilia, 28

Diana, 22

Anetti, 29

Nadya, 22

Masha, 23

Katrin, 25

Yana, 24

Olesya, 31

Julia, 34

Tatiana, 44

Liya, 35

Ira, 25

Julie, 34
More 900+ ladies
Support questions
Support: Good afternoon, Kenneth!
How can I help?
You: Goodmorning, Where to look new marieag girls sexy only photos