Testimonials & reviews
Dear Gentlemen, here we are happy to present you the testimonials of the members who have found their soulmates with help of our Agency.
Here they express their opinion, experience and suggestions for those who are looking for a second half in another country, as well as appreciation to the company and staff.
Please read our ladies' testimonials about UaDreams, reviews of our agency as well — they are also very happy to be with our agency! Some ladies' testimonials you can also find in How we take our ladies photos.
We are so proud of what you, our dearest members, are saying about us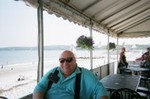 Al / USA
4 March 2014
trip to Odessa
Al: Guys come on over and take a look at these beautiful ladies
Hi! I am here in Odessa, Ukraine. I have come from Plymouth, Massachusetts in the USA. I have been the member of UADREAMS for three and half years. And I can say their service and their professionalism and the service that they have given to me for these 3.5 years have been excellent. I have made two trips to Ukraine. Last year I spent a month in Cherkasy. And this year I've spent a month here in Odessa. And all of the ladies that have been presented to me were all beautiful. They are very lovely and smart. They have everything that I was looking for. And fortunately and finally I have met my Dream Girl here in Odessa. And she has agreed to come back to USA and live with me in the USA this summer as soon as she can get her visa and passport together. And I am extremely excited about finally finding my true love with a wonderful and beautiful lady from Odessa, Ukraine.
And all along all the service that I have ever received from UADREAMS has been first class. The interpreter, Kate (Ekaterina – that is a little bit tough for me to tell that name, but as she said Kate for short) has been excellent. She has been with me all the time I have been here for a month. She has been with me all the step of the way. She has taking me on a guided tour. She has made all the appointments and all the arrangements for my driver. I can't ask for anything better than she was. She is a true friend of mine now. And I will be forever grateful to both UADREAMS and Kate.
I have been living in the past month in this beautiful hotel. It is only three years old, very modern. People here are… at this hotel... It's a family hotel... They have been wonderful to me. They have served me breakfast every morning. Everything in this trip and every time that I have come to Ukraine has just been excellent to me. You know, men from USA really to go to UADREAMS and take a look for themselves. The best luck secret in the world is the beautiful ladies of the Ukraine. And I am just so excited that the only thing was missing in my life and I am so happy that I was persisting enough to finally find her . I went through numbers of ladies. They were all very lovely, they are who are presented in their profiles. Everything about them is true. But I am so delighted and excited. Everything along the way of three and a half years is just been great... my e-mails, my video- chats with the ladies all this time has been excellent. The interpretation has been wonderful. And I highly recommend for you guys in the USA to come and to find the greatest secret in the world.
And even traveling around Odessa... Odessa is beautiful especially is on the ocean. It's very similar to the place I live. I live in Cape-cod, Massachusetts with the ocean and everything that is on the Black Sea is very similar like I said to where I live. I would enjoy living here and living there. We do plan on doing both you know in our lives as well. So my life has been 100 per cent in my favor. And I am so grateful to my interpretor, to UADREAMS for giving me this opportunity. And like I said guys come on over and take a look at greatest secret that this world has and at these beautiful ladies of the Ukraine.
Leave testimonial about UaDreams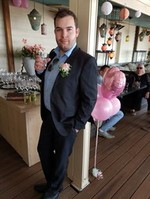 Adrie / Netherlands
27-29 September 2019
trip to Sumy
Adrie: There were romantic sparkles flying between us
For me the trip started bad because toilet in kiev was flooded. But that was are only bad shit.
The trip was perfect, the locals are friendly. And the street graffiti beautiful. I was a little nervous meeting with my lady. And she was also nervous. Julia (translator) made us feel comfortable.
There were romantic sparkles flying between us. I feel very happy during the trip because of my lady. One of the best moment in my life.
I will never forget this memory and I hope to make more memories with her.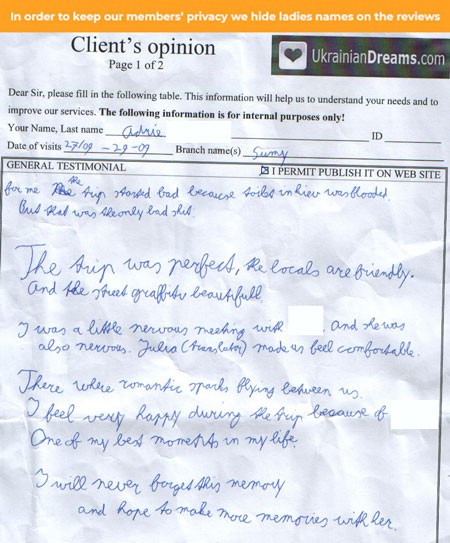 See what our clients say
Alexandra, 34

Kate, 30

Oksana, 25

Valeria, 29

Alla, 37

Marta, 21

Julie, 25

Lana, 27

Alyona, 47

Marie, 25

Alina, 21

Anna, 37

Natalie, 25

Nadya, 30

Tetiana, 32

Maria, 34

Katherine, 40

Margarita, 24

Julia, 28

Marisha, 32
More 900+ ladies
Support questions
Support: Good evening, Edwin!
How can I help?
You: Goodafternoon, I would like to russian mobile girl photo