Testimonials & reviews
Dear Gentlemen, here we are happy to present you the testimonials of the members who have found their soulmates with help of our Agency.
Here they express their opinion, experience and suggestions for those who are looking for a second half in another country, as well as appreciation to the company and staff.
Please read our ladies' testimonials about UaDreams, reviews of our agency as well — they are also very happy to be with our agency! Some ladies' testimonials you can also find in How we take our ladies photos.
We are so proud of what you, our dearest members, are saying about us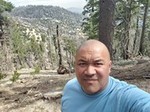 Abraham / USA
23 May - 5 June 2021
trip to Odessa
Abraham: I was truly amazed to see and meet my beautiful lady in real life
My lady and I met in December of 2019, and right away I felt very good feeling about her. We talked through chats and emails for many months. I originally made plans to come to visit her in April 2020, but the corona pandemic broke out and kept us from making first meeting. I originally thought that she would try to move on and find someone else to start communication with, but she was true to her words that she was not interested in starting with another man and was in this for good.
We continued our communication throughout the year 2020 and when 2021 came arrived the things started looking up again. I went to get vaccine in hopes that my travel to Odessa to see her would be easier. Thanks be to God things opened up, I booked my flight, hotel stay and purchased our meeting and interpreter.
I finally arrived in Odessa, met my wonderful and very opened interpreter and my girl. To make a long story short, I was truly amazed to see and meet my beautiful lady in real life. She is so attentive to me and and even more beautiful and amazing then the photos and chats. This is the beginning of forever for me but once if she is ready.
Thanks to UaDreams and thank to my interpreter Natalia for making my time here in Odessa and myself feel comfortable. Also thank you to my lady for showing me her beautiful city Odessa. Will be back.
Video
Hi, my name is Abraham and I just would like to do this small video to let you know that I am here in beautiful Odessa. I am right now here. I made to it May, 22.
I love this city, it's very beautiful. Unfortunately, I am leaving back to America tomorrow and I don't want to leave. I had a great time, I had a wonderful translation with Natalia who helps me to navigate to the city to see many beautiful places that Odessa has to offer like Arcadia, museums, art museums, many different restaurants that we got to eat in.
So thankful to her to help me out, for making my stay here very comfortable. I do want to come back some time this year. Yeah, we will see how is all goes there.
So, my trip here to Odessa was to meet my lovely lady. We met on May, 23 2021 and we spent a wonderful time here together. She was exactly as advertised, laughed a lot and we had much fun, very beautiful, very intelligent.
We had to spend some time with her family, she showed me around this beautiful city Odessa, we went to many excursions, we went to Arcadia beach, Shabo, — this is a little place outside of Odessa. She took me to many places and showed me this wonderful place and I love this place. I do want to return back and spend more time with her.
I just want to say thank you to UaDreams for making this trip very unique and wonderful and also thanks Natalia also for being my excellent translator and I want to work with her more in future. Thank you.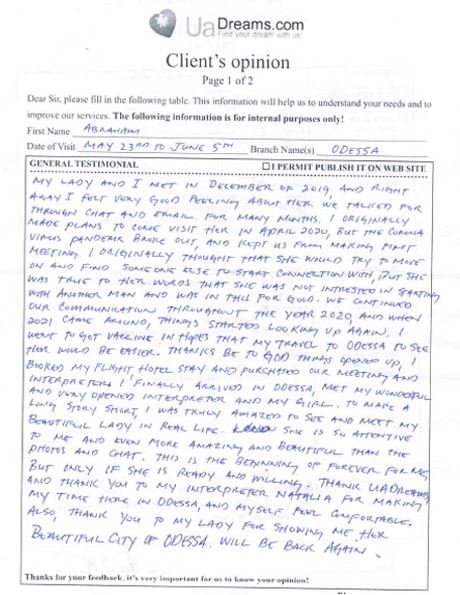 Leave testimonial about UaDreams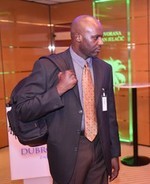 Dominic / USA
17-21 July 2017
trip to Kremenchug
Dominic: She is so attentive to me
Well it took me over 2 years to make the trip to the Ukraine and see the lady that initially brought me to the site. I had a lot of mixed emotions about UaDreams but the lady was so sincere in her body language on the chats. She always threw me many kisses and was so excited to see me. I kept thinking why should I pay for such service? But I received a response from the agency saying that paying customers are serious about dating and they are most likely single guys looking for real love and not married guys playing around dating sites. This made a lot of sense and I fit the single guy category.
To make a long story short, I was truly amazed to see my beautiful lady in real life. She is so attentive to me and even more amazing than the photos and chat. I hope this is the beginning of a new chapter in my life.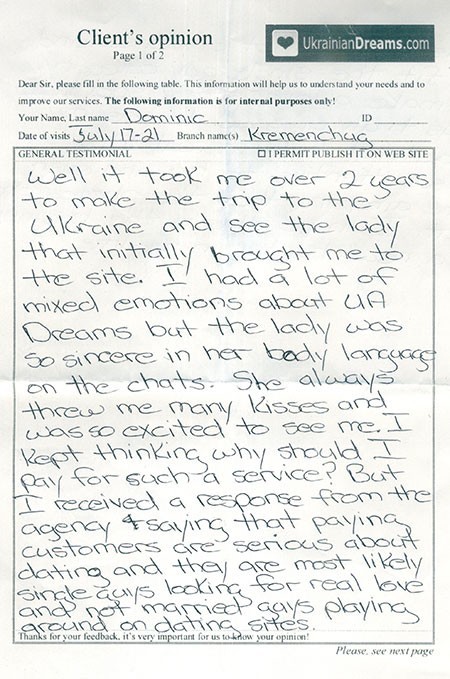 See what our clients say
Anna, 36

Oksana, 25

Kate, 24

Alyona, 28

Margarita, 24

Julia, 32

Lilia, 32

Helena, 21

Alina, 24

Taisia, 22

Natalia, 20

Alyona, 35

Kristi, 31

Nastya, 27

Alexa, 28
More 900+ ladies
Support questions
Support: Good afternoon, Lester!
How can I help?
You: Goodmorning, I need Russian Bride Pictures Gallery