Testimonials & reviews
Dear Gentlemen, here we are happy to present you the testimonials of the members who have found their soulmates with help of our Agency.
Here they express their opinion, experience and suggestions for those who are looking for a second half in another country, as well as appreciation to the company and staff.
Please read our ladies' testimonials about UaDreams, reviews of our agency as well — they are also very happy to be with our agency! Some ladies' testimonials you can also find in How we take our ladies photos.
We are so proud of what you, our dearest members, are saying about us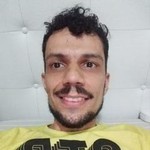 Saulo / Brazil
30 March 2021
Saulo: Compliments
Hello, I would like to report my experience. I confess that in the beginning it was difficult to trust the site, because I have already received many scam emails and scans on other sites. He was tired of it and discredited the human being for a few moments. But I must confess that I am thrilled and delighted with your purpose.
I almost cried when I read behind the scenes of the photos and I couldn't believe it because these women were afraid or don't believe in themselves. I have known the most beautiful flowers in the garden of God on Earth here on this site.
I confess that I am a man with my weaknesses like anyone, and amid so many women with exuberant beauty, our sexual instincts do seek beauty, because for us to give our life and heart to one woman for the rest of our lives, we want the one that attracts us the most, I can't be hypocritical, especially when it comes to women than from all the countries I researched a wife, (Venezuela, Colombia, South Korea, Russia) for finding the most beautiful in the world, I didn't even imagine that the Ukrainians were not only beautiful. They are the sweetest, smartest, most educated, modest, simple yet ambitious women, focused on the family, respectful of the leadership role of men in a marriage, and I am sure that each one here will be a great wife and exemplary mothers.
Not that I underestimated them, but it exceeded my expectations, I came at the invitation of a very special lady, but I received and talked with other girls respectfully to get to know better how they think. I never want to hurt anyone's heart, but we need to be loyal and choose only one, this is the only difficult part on this site lol Because each one carries something special that will change the way I see women and I see each one as my future daughters. The girls in the eyes of the Creator of the Universe. Gratitude for you to exist! If I could I would give a warm hug to all of them and say how amazing and wonderful you are!
Unfortunately I have lost some friends due to the pandemic and I can't travel now, so I don't want to warm the hearts of the girls right now because I still need to overcome the bureaucracy to work some time there and learn a little of the language and learn more about your culture and family. to give the least they expect from a man.
But it was already a very nice experience! Keep taking good care of our treasures with affection and respect because they deserve it!
Congratulations, since Brazil!
Leave testimonial about UaDreams

Gregg / USA
7-11 August 2014
trip to Sumy
Gregg: I felt completely safe and comfortable during my entire visit
This is my last day in Sumy and has been one of the best of trips of my life. Two months ago I met a wonderful lady online. After exchanging letters and photos for a few weeks, we decided to video chat. We would talk several times a week and still exchanged letters. We decided to meet in person but each of us could not meet before mid-August sue to work obstacles.
Despite the short time to plan and make arrangements, the agency staff made it happen. I can not express my appreciation enough to the staff helped me. When I arrived at the airport, I was met by my driver and was called by the translator to check on me.
I meet a wonderful lady and we had so much fun during our time together. Julia (our translator) was wonderful. She was always there to help translate but also made sure dinner reservations were made. She also helped me in making sure the taxi and restaurants treated me fairly. Thank you Julia! I will remember your kind and professional attitude.
Despite the recent conflict in the southeast part of Ukraine, there was not sign of trouble in Sumy. I felt completely safe and comfortable during my entire visit.
Thank you to the main branch and Sumy branch!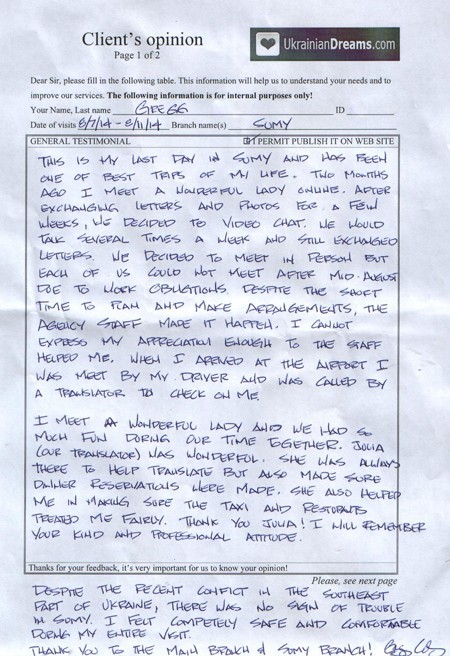 See what our clients say
Natalia, 34

Anna, 21

Viktoria, 29

Karina, 23

Alia, 29

Lesya, 21

Ulyana, 24

Anzhelika, 22

Kate, 24

Marta, 22

Margo, 20

Taisiya, 19

Iren, 35

Anastasia, 27

Lizzie, 21

Lana, 21

Olena, 45

Victoria, 23

Anastasia, 27

Dasha, 21
More 900+ ladies
Support questions
Support: Good evening, Dean!
All ears.
You: Hello, Where to look online girls video chat