Testimonials & reviews
Dear Gentlemen, here you can find testimonials of the ladies who joined our agency and who would like to express their opinion about our work, to share their dreams and hopes.
Why did these ladies join us? How do they feel while searching their second half with UaDreams.com? We sincerely hope that you will enjoy reading reviews and watching the below videos.
Read also UaDreams testimonials of our members — they all visited their ladies in Ukraine and would like to share their impressions. You are more than welcome to check them out!

Lady's testimonial
Tatiana: The name of the agency says for itself
Dear UADreams Staff,
I was asked to evaluate your work and of course I have much to tell you. There are also a lot of things I have to thank you for. First and foremost I like your attitude. Whenever I enter the agency office it seems to me I am the one and the only for them! There are days when I have to work late at night, but the translator would always answer my calls to let me know if there is any news for me personally. When I have no access to the Internet and cannot come to the agency, I can listen to the translation of my letter over the phone! Believe me, I've got here even more than I ever hoped for...
I know there were made happy couples and I do hope the next year another happy couple would be mine…
I could tell so much more…if interested just call me!
Tatiana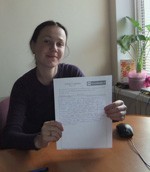 Lady's testimonial
Ulyana: There is always such a pleasant atmosphere
I got to this agency accidentally, even I didn't know, that such agencies exist in our city. My friend worked at the nearby office, and she advised me to register here. At first, I didn't want to do that, but now I am amused. There is always such a pleasant atmosphere, almost family atmosphere in the agency. Very good and jolly girls work here, they try to pay a lot of attention to each lady, who is registered in the agency.
Every time, when I come here, I wait impatiently for a letter from a man, who can become my second half, my destiny.
I hope, that it will happen as soon as possible. I guess, I can wait for something real and eternal in my life.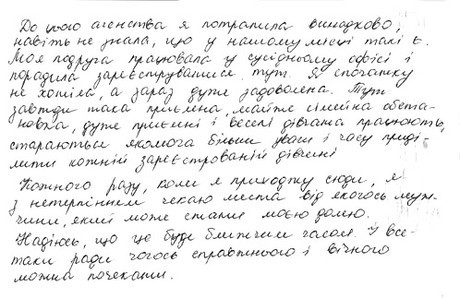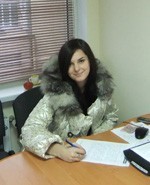 Lady's testimonial
Galya: I recommend all to join Uadreams!
I have never thought that it was possible to find your love via the Internet. When my friend who has been already registered here, suggested me to apply for the help to the agency, my reaction was skeptical. But having read the terms of the contract which appeared to be very loyal toward the clients I decided to try. Soon I became assured that I correspond with real people.
So, I recommend all the girls who haven't found their second half to join Uadreams. You'll be lucky for sure!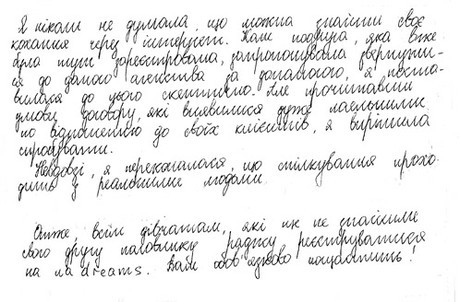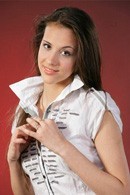 Lady's testimonial
Yana: I am always happy to come to the agency
I would like to express my gratitude to the staff of the agency for their help, their positive attitude, for all their work done in time and for their wish and readiness to help. I am always happy to come to the agency knowing that friendly and smiling workers are waiting for me as well as a cup of cheering coffee :)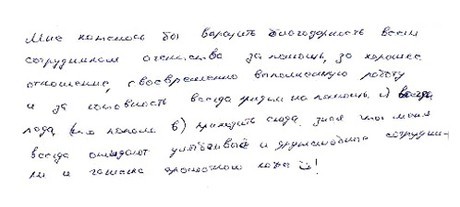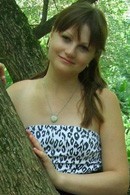 Lady's testimonial
Ella: You can always feel a warm atmosphere
I would like to say thanks to UaDreams staff for warm attitude to clients and for their support in everything. Providing a great service, they never forget about professional attitude to any situation and give much attention to every client individually. Besides, you can always feel a warm atmosphere and find a cup of hot coffee there.
Respectfully, Ella.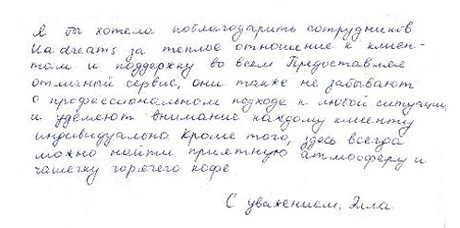 Lady's testimonial
Olga: I will recommend this agency to my unmarried friends
I don't know what to say first about this agency. It is really difficult to do when you have lots of nice words about the staff and the agency. I came to the agency to find my man. My life is not easy and I have not time to meet somebody, so I thought that it would be great to find Him here. I have heard lots of words about foreign men and all of them were nice.
I like the staff of Cherkassy agency and I like the opportunities which they give. I took English lessons and I see big results in it. I hope that when my man comes to me I will be completely ready for our communication. Besides, I like to be informed about his letters and I get not only the translation of the letters, but the original variants. This is very convenient for my learning lessons.
I will recommend this agency to my unmarried friends, because I really believe that it is possible to find the only one;)
Olga

Lady's testimonial
Larisa: Nice, isn't it? :-)
Hi to everyone who is reading this message!
You will definitely not be the first who learns my experience as I spent a great deal of time before this sharing my thoughts with girls. You know, I have such a job that involves constant communication with people. So, I usually spread the word about unique services I can obtain with you free of charge. It is no secret that a humble hairdresser cannot allow hiring a translator, and so here the agency interprets it for free! I can use their office computer to write a letter, they are always glad to see me, even on weekends, and if I cannot type the message I just jot it down on a piece of paper and (!) the translator comes to my beauty salon where I work to take it. Nice, isn't it? :-)
There was one drawback, it was hard to communicate through letters, having only a few photos, but they've recently introduced video chats and now it is like meeting in real.
To tell the truth I've tried other dating agencies, but this one is right for me. Our city is quite small, people talk, but I trust them and I know other clients who also appreciate confidentiality.
Larisa
Juliya, 34

Alina, 24

Svitlana, 25

Alina, 30

Darina, 20

Alyona, 33

Anna, 19

Karina, 20

Alyona, 32

Tanya, 33

Slava, 26

Maryana, 18

Anna, 27

Dasha, 21

Agnessa, 32

Vikusya, 34

Julia, 19
More 900+ ladies
Support questions
Support: Hi, Julio!
All ears.
You: Goodafternoon, Where to look free ukrainian dating agency