Dear Gentlemen, here we are happy to present you the testimonials of the members who have found their soulmates with help of our Marriage Making Agency.
Here they express their opinion, experience and suggestions for those who are looking for a second half in another country, as well as appreciation to the company and staff.
Please read our ladies' testimonials about UaDreams, reviews of our agency as well — they are also very happy to be with our agency! Some ladies' testimonials you can also find in How we take ladies photos.
We are so proud of what you, our dearest members,
are saying about us
Just look at these people and their sincere gratitude towards us. Each employee of our company invested a part of his or her efforts and talent, to help you to find your dream!
Show next random testimonials
Steve: The costs justify the results
I was pleasantly surprised at the services provided by UA Dreams. I had reservations at the first about online dating and looking for women from another country. But the agency from the very beginning helped me with my trip to meet my special lady. From booking the trip, to car to pick me up at airport, hotel reservation was more than I expected. The translator was great and the entire experience was very romantic and enjoyable. My fears and doubts were put to ease, and the costs justify the results. I highly recommend the agency UA Dreams if you want to make yours come true.
Video:
Hi, my name is Steve. I came to Ukraine via the UaDreams agency to meet a special woman, the agency exceeded my expectations and I would recommend it to anybody that once take a chance in finding love here through the agency, everything that I have said and more. I found the people very warm and friendly here in the Ukraine. There is a lot to do: dancing, gourmet eating, nice coffee shops, and just the food is great, people are warm and friendly, and the women are beautiful!
Testimonial sent by E-Mail:
Thanks for the email and question. First I want to again state that I was so impressed with the trip to Sumy and Ukraine overall. My trip was so great and one of my best trips/vacations ever. I have started to spread the word about your services to my single friends. Kate our translator was off the charts with her ability. She's invaluable.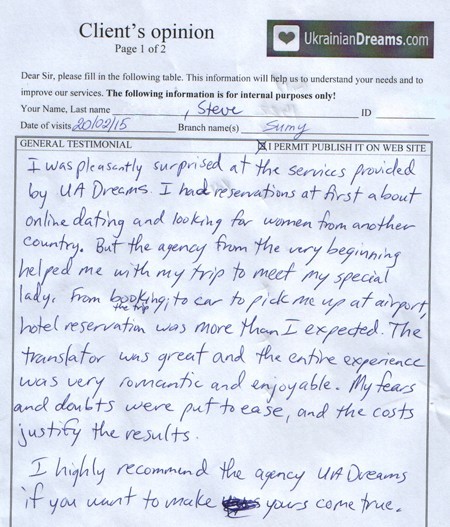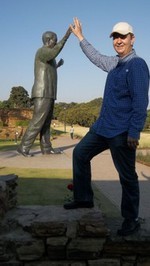 Steve / USA
20 February 2015
trip to Sumy
Show next random testimonials
Dave: I must give Yana an excellent review
I must give Yana an excellent review. Her translating ability and knowledge was very, very good. What was even better than her great translation service was that she was also genuinely and personally concerned about the welfare happiness, and success for the meeting between the lady and I.
She also provided a lot of extra services and did them very well. For example, I wanted to buy a gift for the little boy for the lady I was seeing. So she met me at the agency, took me personally to the toy store, and she took her time, and was very helpful in looking for the best gift possible, but also being concerned about the cost of the gift, so I did not over spend.
She also handled the logistic of the arranging a picnic for my lady and her family and I, when included her 3 sons.This included finding a beautiful place and making reservation, purchasing the food, transportation to the site and preparation of the food.
She even with her own money purchased a device in which to hold the food for grilling. A very good time was had by everyone and it was all thanks to her. So, she is very skilled at what she does as I know it is much harder to translate when there are 3 extra people.
So in summary, I'm sure that there are a lot of translators that are good translators as far as their technical skills and then knowledge of the 2 languages.
But with Yana you only have a very good translator with excellent skills for translating letters and speech, you also have a very personable, friendly, helpful, resourceful person that taken great pride in her word and seems genuinely interested and hopeful that the couple she is translated for, will be happy and able to develop a happy relationship.
I'm hopeful that my lady and I will develop a successful relationship, and that I never again will need the service of a translator. But if some reason I did, I would hope it would be Yana, because I do not think anyone could do a better job then she did.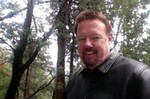 Dave / USA
20 April 2016
trip to Sumy
Junichiro: Support worked very well
Thank you for taking time and waiting for me.
I'm so glad to meet my lady. And the agency is really helpful.
When I got problem, I almost give up to meet my lady. But support worked very well. Then finally I had meeting with my lady.
I'm so appreciated from the agency assistance.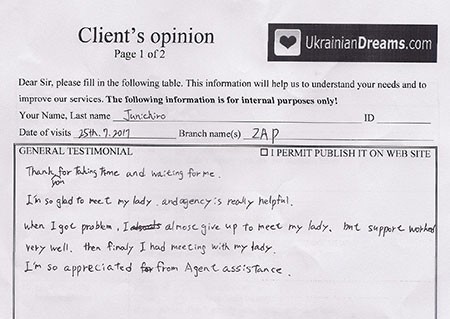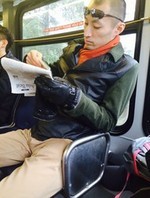 Junichiro / Japan
25 July 2017
trip to Zaporozhye
Calvin: UaDreams is the only choice
This was my first experience with an international dating site visit. I had done my homework and it seemed that UaDreams offered wonderful ladies on the site, as well as complete services for my trip to meet the lady I met and became attracted to.
When planning the trip I chose their Gold Package, which included pick-up and delivery to my apartment for the stay!
My interpreter and driver met me at the airport as I cleared baggage claim. They found me immediately and took control from that point on.
The apartment was clean and comfortable. The services were as advertised, and my stay was very nice.
If you are as choosey about your services as you are about your lady – UaDreams is the only choice.
P.S. Natasha is a wonderful translator + interpreter. She did a top notch job for me on my visit.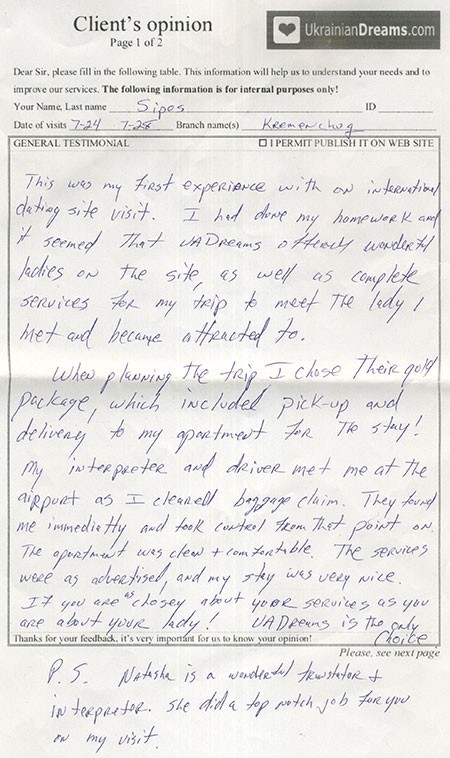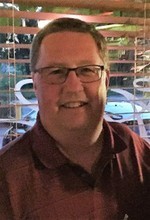 Calvin / USA
24-28 July 2017
trip to Kremenchug
Kenneth: I liked the city a lot
Saturday: we met in the office (which I could not find) and after that we had an excursion around the city — saw churches and a museum, the parks, and a small zoo. After that we split up and met again later to go to an "open air" movie.
Sunday we walked to the University campus and after that the ladies had dinner.
I liked the city a lot, especially downtown area with the parks. The movie was fun.
Maybe we should've had less "waste time", but it's also my own fault, since I didn't plan anything.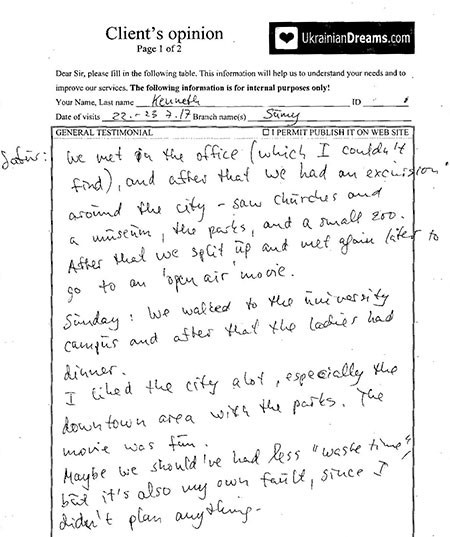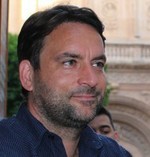 Kenneth / Denmark
22-23 July 2017
trip to Sumy
Jonathan: Happy with the service and help
Everything is fine. Translation is quite interactive. Lady and me are both happy with the service and help.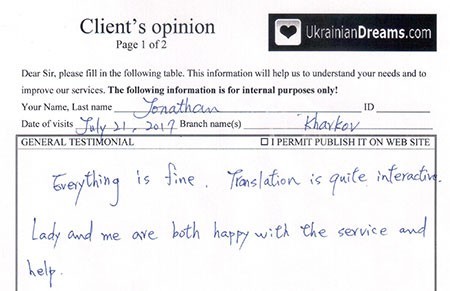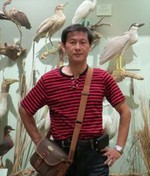 Jonathan / Taiwan
21 July 2017
trip to Kharkiv
Finn: I feel that I am welcome in her family
I was visiting Sumy and my lady for the 2nd time and it becomes more convinient with the same translator and I feel me more comfortable in the city after I have learnt more streets and places. My lady's family and friends have taken well about me, I feel that I am welcome in her family and I appreciate it very much.
So I will return soon again to Sumy and my lady and her children!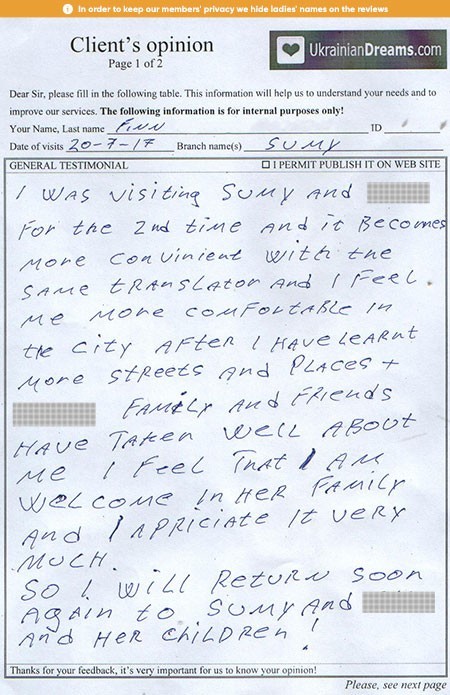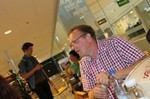 Finn / Denmark
20 July 2017
trip to Sumy
Tim: Thorough and friendly
Anna is a very good professional, but she can be fun and be your friend at the same time. I think highly of her and consider her a friend.
Regards, Tim.
PS: Svetlana is a very good manager and coordinater as well. She is thorough and friendly. She took care of all my needs in a timely and proper manner.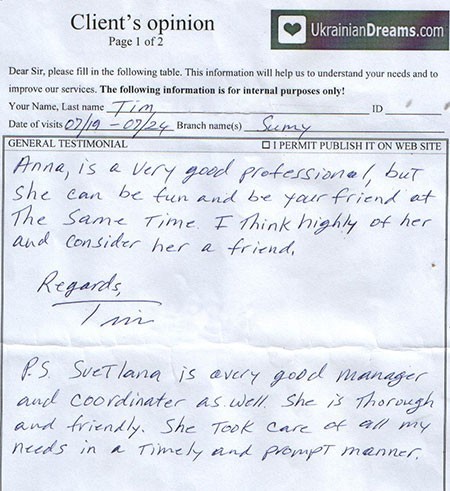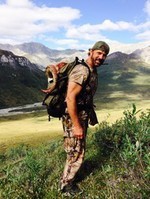 Tim / USA
19-24 July 2017
trip to Sumy
Guillermo: So did get to experience some excellent fine dining
I have had the priviledge and opportunity to visit Michelin star restaurants in several different countries and it is in my opinion that the restaurants I visited in Rivne Ukraine have the same qualities and I am sure there are many more of these gems that are in heart of the city except for one which was I believe north east of where I stayed. So did get to experience some excellent fine dining which is a good change from my typical Taco Tuesdays at the Bel Aire Cantina!
The list of restaurants included Irish Pub, Lyublin, The Barga, Marmalade and Irish Pub: definite places to visit when visiting Rivne. And none of this would have been possible if it was not for Ivanna and her knowledge of the city and of course English language. Ivannas translations for me where very accurate and tactful. I very much enjoyed her company as well as the tranlsation service!
I will definitely Ivanna for translations if the need arises.
Sincerely,
Guillermo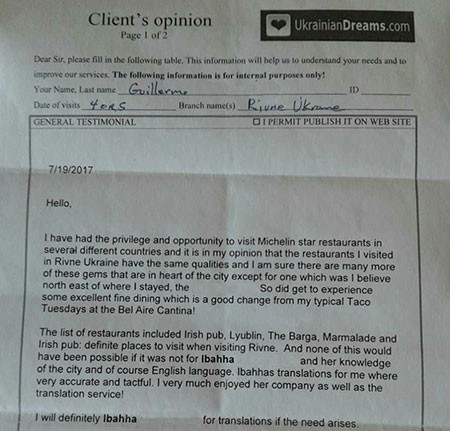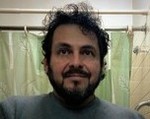 Guillermo / USA
19 July 2017
trip to Rovno
Doug: I very much enjoyed my time with this group
I was greeted in a friendly manner by Victoria, when I walked into the office. She offered me water and a place to sit. We chatted pleasantly while we waited for my date. Luba brought me a bouquet of roses to present to my date. She checked on my well being and was friendly. The cafe was most pleasant. I very much enjoyed my time with this group and will consider using them again.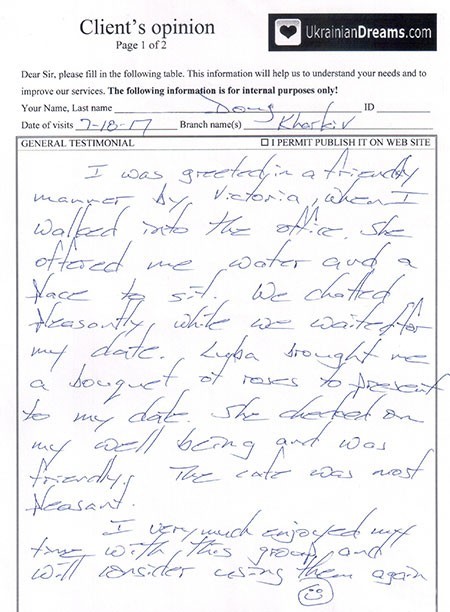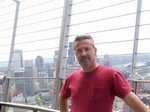 Doug / USA
18 July 2017
trip to Kharkiv
Dominic: She is so attentive to me
Well it took me over 2 years to make the trip to the Ukraine and see the lady that initially brought me to the site. I had a lot of mixed emotions about UaDreams but the lady was so sincere in her body language on the chats. She always threw me many kisses and was so excited to see me. I kept thinking why should I pay for such service? But I received a response from the agency saying that paying customers are serious about dating and they are most likely single guys looking for real love and not married guys playing around dating sites. This made a lot of sense and I fit the single guy category.
To make a long story short, I was truly amazed to see my beautiful lady in real life. She is so attentive to me and even more amazing than the photos and chat. I hope this is the beginning of a new chapter in my life.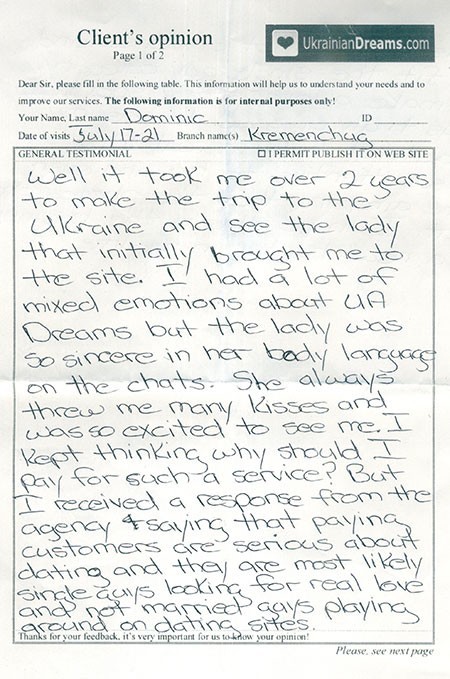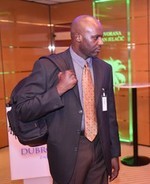 Dominic / USA
17-21 July 2017
trip to Kremenchug
Jeff: The branch did an excellent job
The branch did an excellent job arranging the meeting.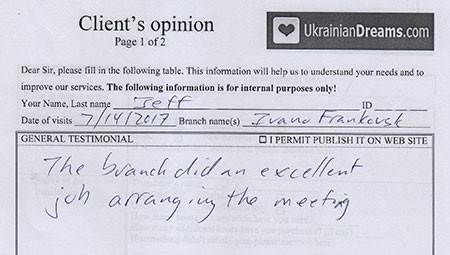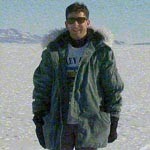 Jeff / USA
14 July 2017
trip to Ivano-Frankovsk
Mark: I will hopefully be back soon
This has been my second visit to Ukraine through UaDreams, and the service once again has been excellent.
My accommodation has surprised my expectations and the service I had received from my translator Kate and my driver Eugine was first class.
I can honestly say that throughout my trip have not felt out of place, as I have seen the Ukrainian way of life visiting lady and meeting her family and friends. I know I will hopefully be back soon. Thank you a wonderful trip. Mark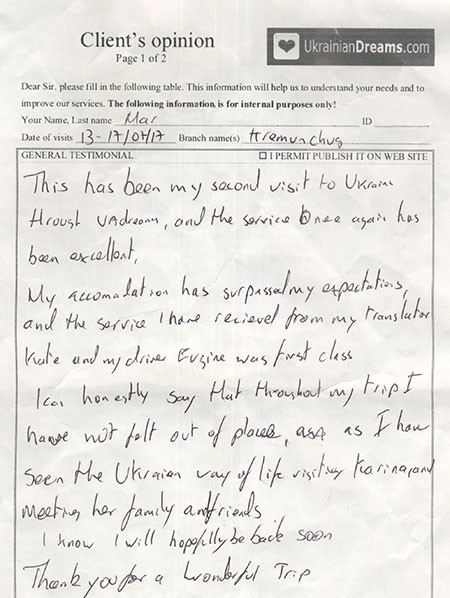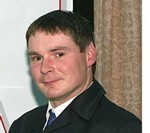 Mark / United Kingdom
13-17 July 2017
trip to Kremenchug
Jan: Feel at once comfortable
I met a very social translator in Alena. Feel at once comfortable. Everything was natural. Thank you.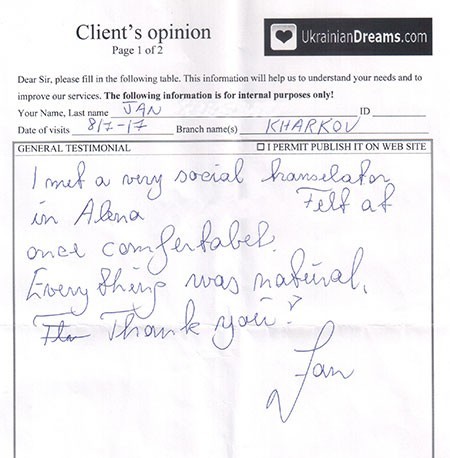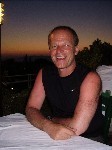 Jan / Norway
8 July 2017
trip to Kharkiv
Ricardo: Thanks for your support and professionalism
Thanks for your support and professionalism
Ricardo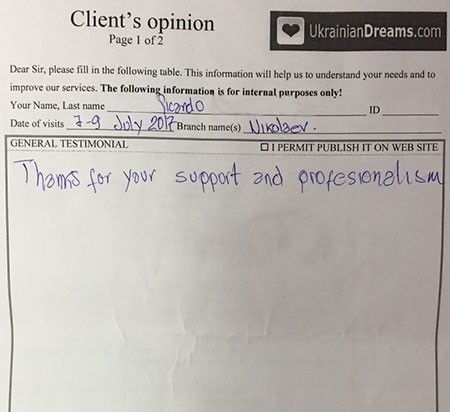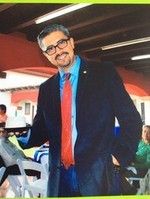 Ricardo / Mexico
7-9 July 2017
trip to Nikolaev
Rick: This trip will forever be in my heart
I was directed to UaDreams from a lady I met on a different site. She knew a little English but was not fluent so, we brought one communication to this site. I have never before done anything like this and did not know what to expect. We wrote letters and videochat for about 4 months. I scheduled my trip to Ukraine to confirm my feelings for her in person. I purchased the Gold package and everything was taken care of.
The first day we met in the office and to all of you that use videochat "If you like your lady in chat, you will love them in person. " Our translator spent the day with us showing me around the city and explained everything my lady was saying to me and did the same for me to her. After a few hours we were comfortable enough with each other. Our translator left us together for a romantic dinner, after we walked through the beautiful parks and did not want the day to end. The next day we meet and continued to see many sites of Sumy.
I was introduced to some of the best food I've ever had. This city is beautiful, has a lot of history and the people are some of the most accomodating I've met. I will be planning my next trip soon. I have met the lady of my dreams here and this trip will forever be in my heart.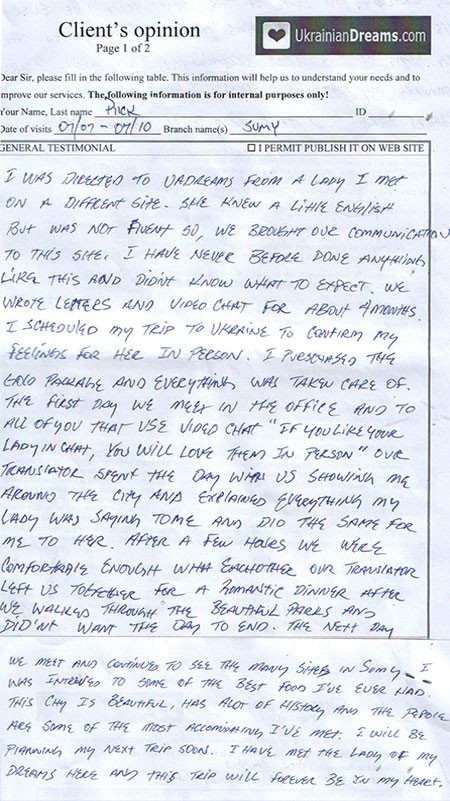 Rick / USA
7-10 July 2017
trip to Sumy
Patrick: She was always there when I needed
In my opinion, the translator and the only person what take care of its Valeriya, she is a wonderful translator and a real good lady. She was always there when I needed, for this person I can pay on 10 to give 10 of 10.
With respect and understanding.
P.S. the lady is a real nice lady and I feel all will be alright with her!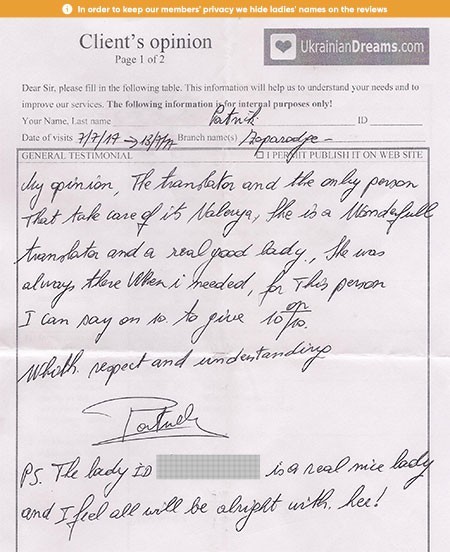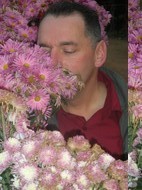 Patrick / Belgium
7-13 July 2017
trip to Zaporozhye
Michael: I recommend to book via the agency they are very helpful
I've visited Zaporozhye in July 2017 to meet a lady which I met in Uadreams.
Because I was several times before in Ukraine, I decided to book a hotel and flight by my own. If you don't have the experience, I recommend to book via the agency they are very helpful.
Zaporozhye is more than 220 km away from the war zone. So don't be afraid to come here. I felt every time safe, also when I went alone through the town. The town offers a lot to spend time with your lady: Museums, Beach, cinemas, ship cruises and of course «Cossack's-Island». Not to forget the nice restaurants. Our translator was very helpful to organize the meetings and with the translation had ideas that to do a.s.p.
— Ok. How are you doing?
— I am fine, thank you!
— And your name? Where did you come from?
— My name is Michael and I have come from the North of Germany.
— So, you came to Ukraine to meet your lady.
— Yes.
— Is this your first time in Ukraine?
— No, that's my seventh time to be in Ukraine.
— You visited it often? Different places, travelling...
— Yes, I am visiting different places, I have been to Odessa, Bessarabia, Lutsk, Lviv and now Zaporozhye.
— How do you find Ukraine? Do you like this country?
— Yes, I like this country. It's a comfortable place, people are friendly, nice. It's a safe place at all. And has lots of to see, lots of culture.
— Did you come by your own or came with the help of some agency, travel agency or Uadreams agency?
— This time I come by my own, because the last time I have a meeting in Lutsk, I used the help of the agency, but this time I come by my own.
— How do you find the work of the agency? How professional they are? Did you manage to get all the help you needed?
— Yes, I think the agency has a professional work, Before my coming here I had some questions there were very qualified answered.
— What would you recommend to other people who want to come to Ukraine?
— If you have the experience to travel by your own to Ukraine they can do so. But if they don't have experience it's better to use the help of the agency. They can make the booking for the hotel, they can book the flights, they can book the transport to the airport.
— So, how do you rate the agency's work?
— I would give them a good rate.
— Ok, would you come back again if you have a chance?
— Yes, of course I will come back again.
— Ok. Thank you a lot!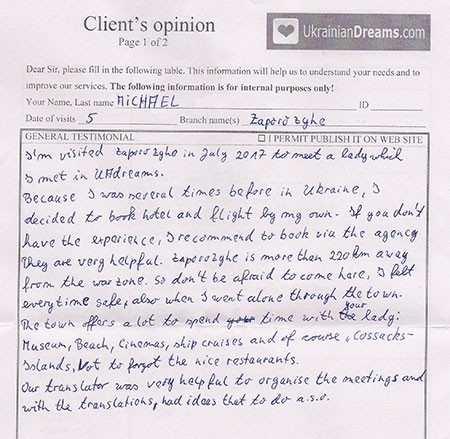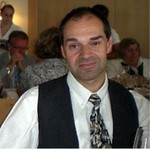 Michael / Germany
6-10 July 2017
trip to Zaporozhye
Steven: Impressions of the UaDreams video slide show
I wish to thank you and your Tech Staff for a wonderful job on my new video. I never had any doubts that your Tech Staff would, once again, do an amazing and superlative job for me.
You were so conscientious about my wishes and you, again, fulfilled them completely. It is a small project but was magnificently done.
My supreme compliments to your video Tech Staff! They are awesome and I will do another soon!
Sincerely Amazed, again!
Steven
On-line "dating" is oft "misunderstood" by those whom have never used it. However, it is one of the best if not the best ways to get to know another human being's "inner-world". There are not "physical distractions", initially, as there certainly are in "conventional dating". It is a unique and very effective way to meet your potential "Split-Apart" as Plato so eloquently described. I know that I will meet mine at UaDreams because I believe in what you do and I believe in you.
Many, many, Thanks for years of excellent service, advise and council!
Sincerely Yours,
Steven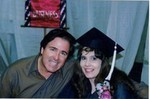 Steven / USA
5 July 2017
Per-Fredrik: I'm satisfied with the agency
In general everything was good. The translator was very good. She had a good relationhsip with me and the lady.
The lady was very nice to be with. Was going shopping, visiting cinema, spending a lot of time with the lady. We were bowling on evening, it was very nice.
I'm satisfied with the agency and will use the services at my next trip to Sumy. I'm very satisfied with the service at my hotel, the shop and the restaurants / cafes in Sumy, even if they don't speak English.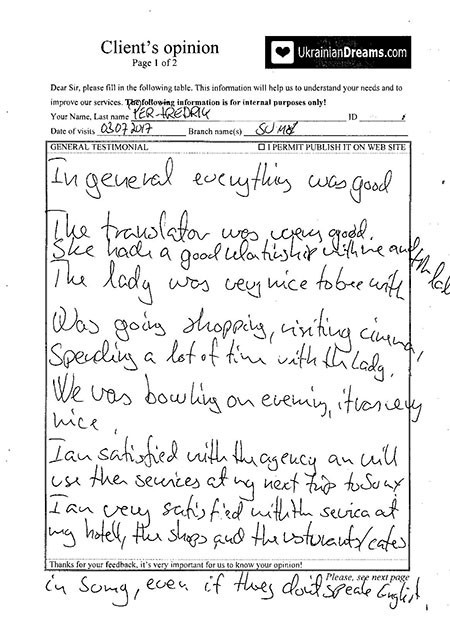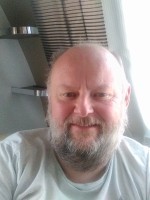 Per-Fredrik / Norway
3 July 2017
trip to Sumy
José: I have spent great several days together with my lady
Ha sido una viaje interesante y agradable, he sido tratado amablemente en todo momento por los personas de la empresa, he pasado unos días muy buenas junto a mi dama y al traductor que en todo momento ha estado a nuestra disposición de forma amable y con una traducción correcta, ahora espero que todo el esfuerzo que hecho haya venido la pena. Espero que así sea, y el viaje haya sido la pena.
It was an interesting and pleasant trip. I have been treated kindly at all time by the workers of the agency, I have spent great several days together with my lady and the translator who has been always at our disposal in a friendly way and with a correct translation, now I hope all the effort I have made is worth it. I hope so and I hope that the trip was worth it.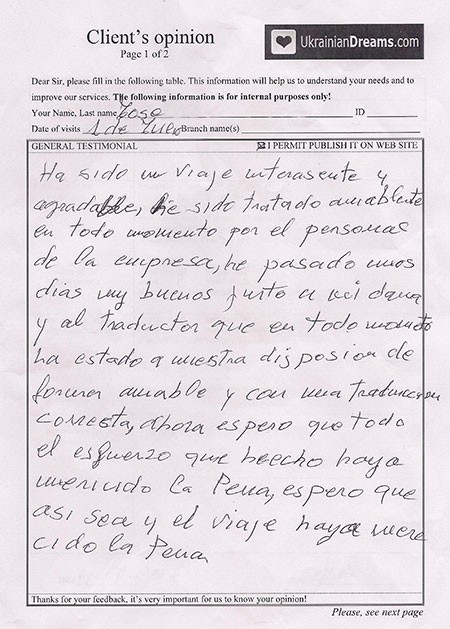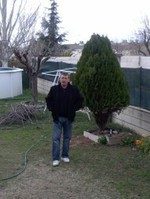 José / Spain
1-4 July 2017
trip to Zaporozhye
Benjamin: UaDreams gloire et la gloire des Ukrainiens
Merci à l'agence UaDreams, pour leur sérieux et Margo pour la traduction. Merci à eux j'ai pu dans la troisième femme très belle. Pour ceux qui doutent de cette agence — vous pouvez venir voir que cela est grave. UaDreams gloire et la gloire des Ukrainiens.
Thanks to the agency UaDreams for their seriousness and Margo for the translation. Thanks to them I could meet a very beautiful woman. For those who doubt in this agency — you can come and see that this is serious. Glory of UaDreams is a glory of Ukrainians.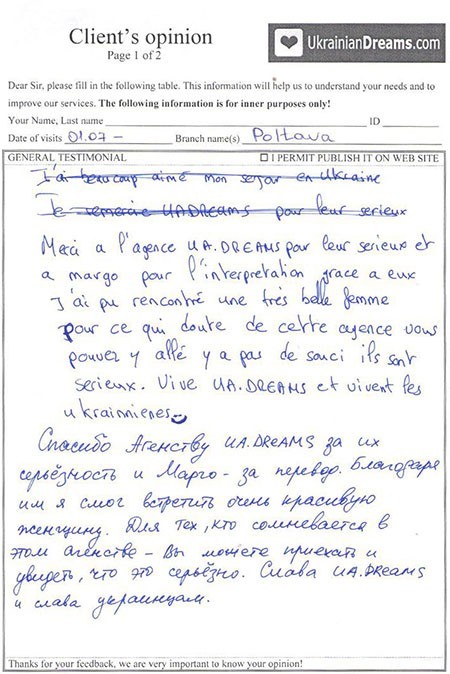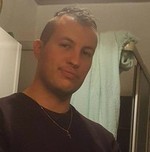 Benjamin / France
1 July 2017
trip to Poltava
Raphael: Un grand merci a toute l'equipe
C'etait mon deuxieme voyage a Lutsk, cette fois j'ai decide d'organiser le voyage moi-meme. Tout s'est bien passe grasse a l'excellent travail de me traductrice Ludmilla. Cependant je conseils a tous ceux qui aurait la meme idee de moi de prendre le packages voyage de l'agence. Ils fournissent le travail formidable et vous me serrez pas decu.
Un grand merci a toute l'equipe et surtout a ma formidable traductrice Luda.
It was my second trip to Lutsk, this time I decided to organize the trip by myself. Everything went well thanks to the excellent work of the translator Ludmilla. However I advise to take a travel package of the agency, if you have the same idea as I had. They do a great work and you will be not disappointed.
A big thank you to all the team and especially to my formidable translator Luda.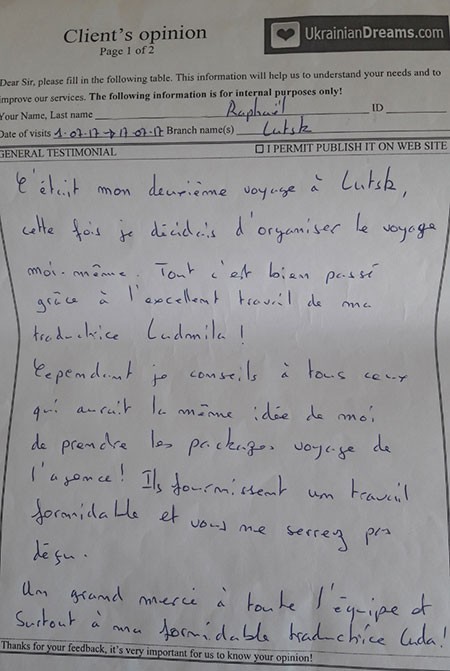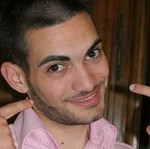 Raphael / France
1-17 July 2017
trip to Lutsk
John: I felt very comfortable with her
I had a really wonderful time with my lady. Elena was a brilliant translator and host. I hope this will be the first of many very enjoyable visits to meet with my lady. We seemed to share a similar sense of fun and like similar activities. I felt very comfortable with her and I am delighted to hear she felt the same.
I think the service offered by the agency is excellent and allows people from different countries to get together in friendship and hopefully that will grow to something much deeper.
Thank you all very much!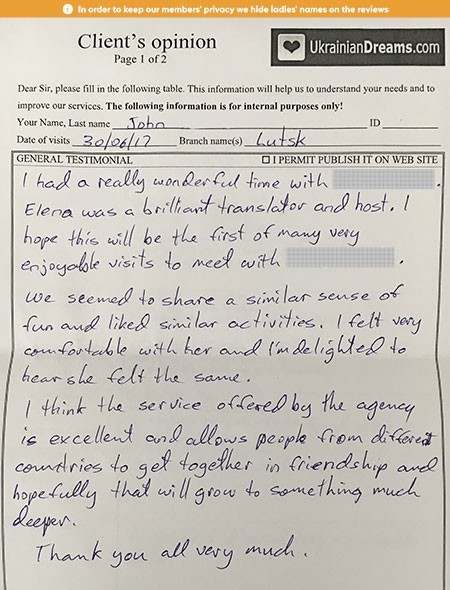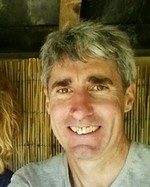 John / United Kingdom
30 June 2017
trip to Lutsk
Amgad: Very helpful, very professional
Translator Marina was very helpful, very professional, she helped my lady to understand all my concerns and questions.
I was glad to meet with my lady.
Agency was very good, organizing all meetings and communications was on time. Irina the manager, was very polite and answered all my concern.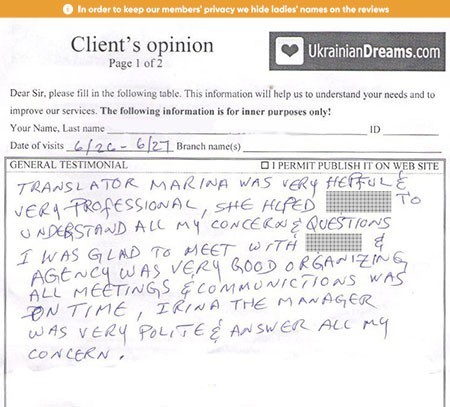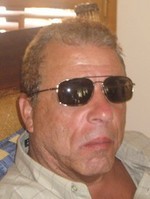 Amgad / USA
28-29 June 2017
trip to Poltava
Salman: I will advice my friends to use Uadreams
Translation / Hospitality / Organization / Services / Quality / Professionality all were perfect.
I had interesting time with my date and the translator provided really great service.
I will advice my friends who are looking for similar service to use Uadreams.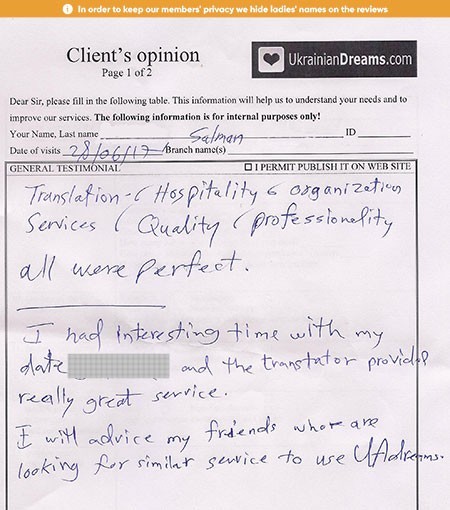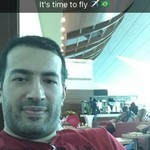 Salman / Saudi Arabia
28 June 2017
trip to Zaporozhye
Uadreams reviews
Average:
1661 UaDreams review(s)
Latest review 25 days ago