Dear Gentlemen, here we are happy to present you the testimonials of the members who have found their soulmates with help of our Marriage Making Agency.
Here they express their opinion, experience and suggestions for those who are looking for a second half in another country, as well as appreciation to the company and staff.
Please read our ladies' testimonials about UaDreams, reviews of our agency as well — they are also very happy to be with our agency! Some ladies' testimonials you can also find in How we take ladies photos.
We are so proud of what you, our dearest members,
are saying about us
Just look at these people and their sincere gratitude towards us. Each employee of our company invested a part of his or her efforts and talent, to help you to find your dream!
Show next random testimonials
Kenneth: Don't be afraid to come to UA, it's a lot of fun
Hello! I came from Abu Dhabi to Cherkassy to visit with my lady, so far it is when incredible, it is a lot of fun, she is brilliant. It's the best decision that I've ever made was to come here.
People are great, service is fantastic. I'm just enjoying myself. Don't be afraid to come to UA, it's a lot of fun.
I'm having a great time! This lovely country is excellent, people are super friendly, the food is unbelievable, prices are great. How can be it?
It's not a typical tourist destination and i think that actually adds to UA its charm. Welcome to Ukraine!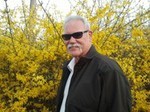 Kenneth / USA
20-24 April 2013
trip to Cherkasy
Show next random testimonials
Steven: Impressions of the UaDreams video slide show
I wish to thank you and your Tech Staff for a wonderful job on my new video. I never had any doubts that your Tech Staff would, once again, do an amazing and superlative job for me.
You were so conscientious about my wishes and you, again, fulfilled them completely. It is a small project but was magnificently done.
My supreme compliments to your video Tech Staff! They are awesome and I will do another soon!
Sincerely Amazed, again!
Steven
On-line "dating" is oft "misunderstood" by those whom have never used it. However, it is one of the best if not the best ways to get to know another human being's "inner-world". There are not "physical distractions", initially, as there certainly are in "conventional dating". It is a unique and very effective way to meet your potential "Split-Apart" as Plato so eloquently described. I know that I will meet mine at UaDreams because I believe in what you do and I believe in you.
Many, many, Thanks for years of excellent service, advise and council!
Sincerely Yours,
Steven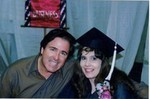 Steven / USA
5 July 2017
Latest and fresh testimonials date by date
Hüseyin: Congratulation
I am very pleased with your esteemed UaDreams team, your work, perhaps thanks to you, I will find here the woman I want to marry. For this reason, I already celebrate your Christmas holiday, your new year, with all my best wishes! thank you for everything, your whole team is doing a wonderful, very nice job! endless congratulations! Huseyin from Turkey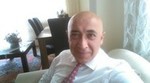 Hüseyin / Turkey
29 December 2017
Peter: A happy, happy new year 2018!
Hello, dear Dream Team,
I wish you a happy, happy new year 2018 and stay the way you are!
Your Peter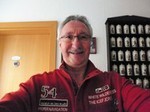 Peter / Germany
29 December 2017
Andres: Una feliz navidad a todos ustedes!
Muy buenos días me complace saludarlos y estoy feliz de haber conocido este sitio uadreams tienen buen servicio y mujeres muy hermosas así mismo desearles una feliz navidad a todos ustedes y que sus deseos se hagan realidad.
Hello, I am very glad to congratulate you and I am happy to know this site, uadreams provides a good service and women are very beautiful, I also wish you all a Merry Christmas and may your dreams come true.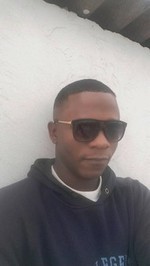 Andres / Colombia
28 December 2017
Robbie: Merry Christmas, enjoy holidays and snow!!
Wish everybody in Ukraine blessed, very safe/very healthy Christmas from USA 2 Ukraine and also let all ladies here of my greetings, please? Lord God Jesus Christ is reason 4the season, my sweet dear comrades. Merry Christmas, enjoy holidays and snow!!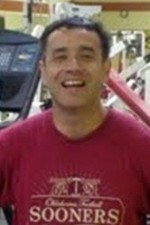 Robbie / USA
28 December 2017
Dwayne: Merry Christmas!
Hey Guys, just dropping a line to say Merry Christmas. Hop you have a wonderful holiday season... and thank you so much for helping us :)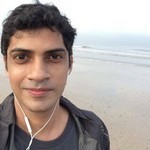 Dwayne / India
28 December 2017
Boris: Funny and very informative
Elena was an amazing translator. She was funny and very informative. I would definitely recommend her for any translations in the future. Sincerely Boris.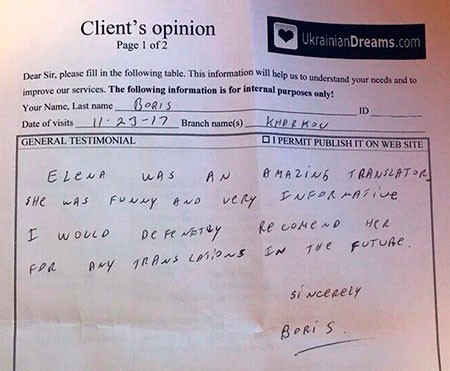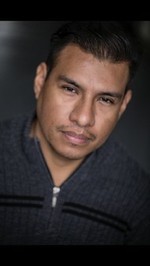 Boris / USA
23 November 2017
trip to Kharkiv
Mark: Love. To be or not to be?
Love. To be or not to be? That is always the question, isn't it? I am a long time client of the Agency, with many trips to Ukraine, and many meetings behind me. I suppose success of the heart heart is not so easy achieved. However, my lady might be the one. But, of course, only time will tell. Everything comes in small steps.
Although I have been to many cities and villages of Ukraine, this is my first trip to Rivne. It is another beautiful city, rich in history and culture. The lady is lovely, and if our continued conversation after the meeting is good, then certainly, I will be returning.
My translator Irina is splendid! She takes care about me, has show me many of the local sites, and is doing an outstanding job relaying the conversation between the lady and myself.
A successful meeting and possibly the start of something special.
Today I find myself in Rivne, I have had another very enjoyable and a pleasant meeting with a young lady. Visited another beautiful city of Ukraine, rich in culture, in history, very interesting to see. I am hoping that the relationship with young lady that I am meeting will be pleasant and we will continue the conversation after this meeting. Today I hope for some surprises perhaps.
And Rivne may belong to my return visit next... we shall see. My thanks to Irina for her ongoing support and helping communication with the young lady who does not speak very much English, transferring our thoughts in worlds to one another. I am having a very pleasant time.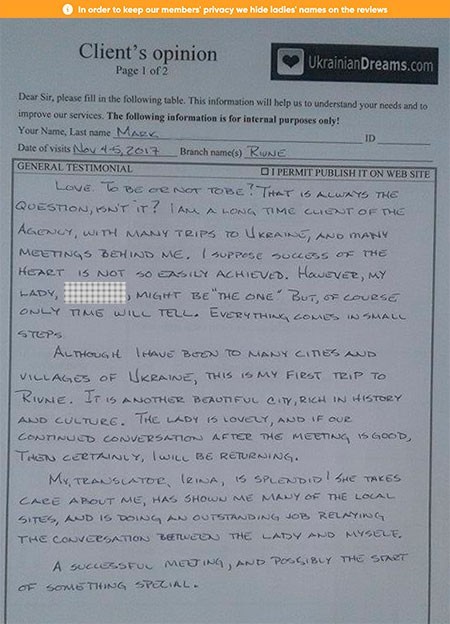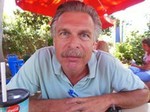 Mark / USA
4-5 November 2017
trip to Rovno
Michel: I am satisfied by UaDreams service
I am satisfied by UaDreams service, the meet could take place even out of the normal hours of service of the agency.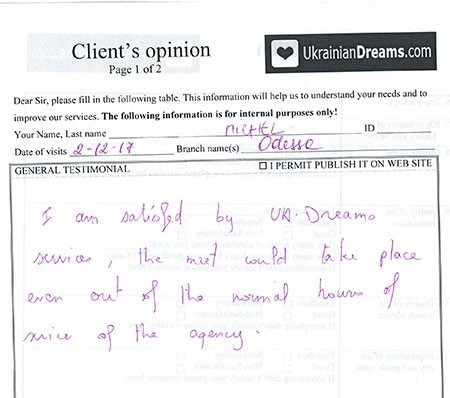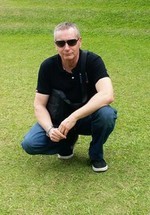 Michel / France
2 December 2017
trip to Odessa
Graham: You can be assured you are in safe hands
Uadreams are extremely professional agency. From the compliments on chats you could almost believe this is too good to be true. But after meeting the office staff and watching then at work you can be assured you are in safe hands.
I have experienced good response from service line, quick responses from various questions, I was met at my arrival as promised the aparment was ideal and the hotel options looked good too. My translator Anna in Dnipro was fantastic my lady could not speak English well and she was quick funny polite and helped with dates superbly well. Personal details are exchanged as promised by looking around this is a brilliant and safe way to protect the girls and clients. Well done.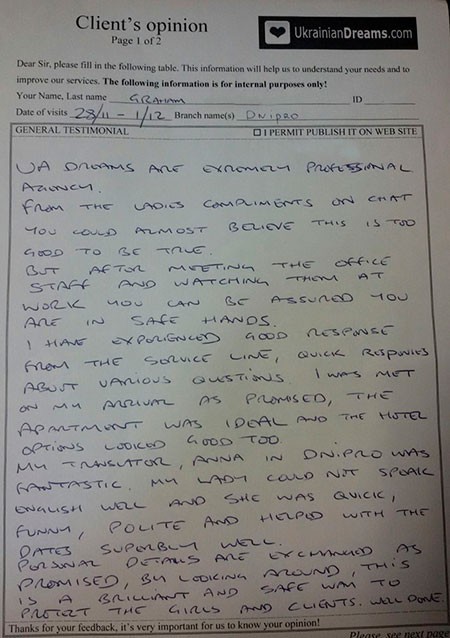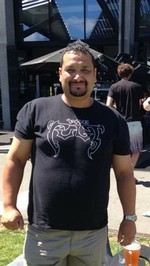 Graham / New Zealand
28 Nov. — 1 Dec. 2017
trip to Dnipro
Martin: Helpful, nice and professional
The translator is very helpful, nice and professional.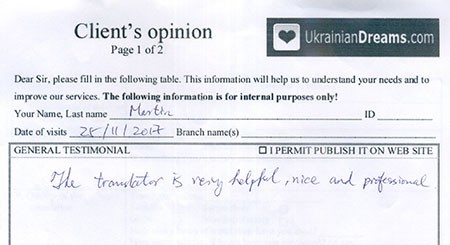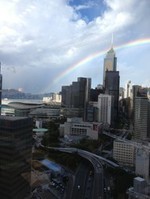 Martin / Hong Kong
25 November 2017
trip to Kremenchug
Arturo: The most beautiful girl I have ever met
First, I wanted to congratulate Victoria, our translator, for making this visit a success. Victoria went beyond and above to help to create a smooth first meeting with the most beautiful girl I have ever met from Kolomiya.
Victoria is a great asset to UaDreams, she has become a good friend to both of us.
Thank you again for a great experience.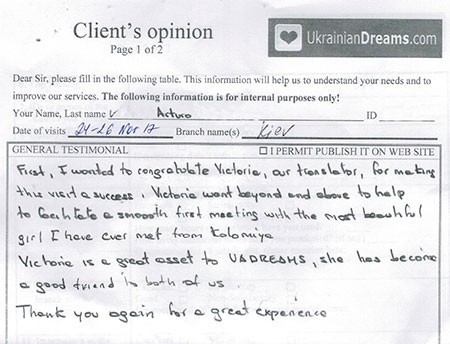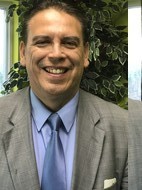 Arturo / USA
24-26 November 2017
trip to Kiev
Josef: It was a wonderful trip
It was a wonderful trip. Translator organized everything in a wonderful way. Services about agency was super.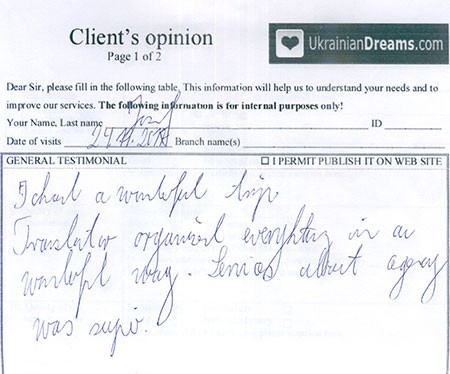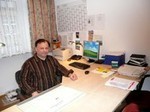 Josef / Germany
24 November 2017
trip to Kremenchug
Steven: Thank you for the very heart-felt greeting for our Thanksgiving!
UADreams Staff! Thank you for the very heart-felt greeting for our Thanksgiving Holiday! I will spend it with all of you... in my heart at least! You are all so Wonderful, as well. The joy and happiness you provide to your clients is a blessing for all of us! You are the finest Agency of it's kind in the World!
Those of us whom have had the pleasure of being your subscribers and patrons know how talented all of you are in presenting your Ladies in all of their feminine charm and natural beauty!
Sincerely yours,
Steven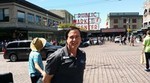 Steven / USA
23 November 2017
Shai: The lady was lovely and sweet
Everything was good.
The translator was very nice.
The lady was lovely and sweet.
The only problem was the location of the office which was quite strange.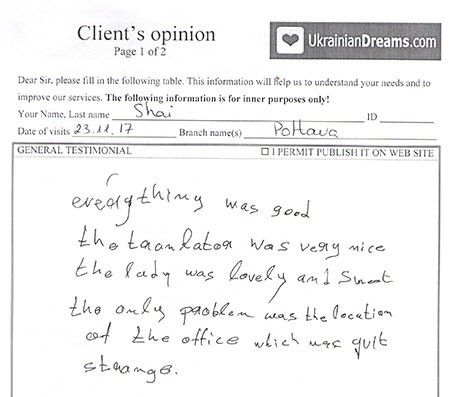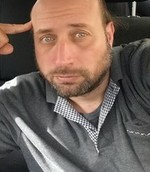 Shai / Israel
23 November 2017
trip to Poltava
Customer: This is a weekend I never forget
As usual meeting was with translators they make a fantastic work. And my lady is wonderful and We had a nice funny moments there.
Translator did a super work.
So this is a weekend I never forget.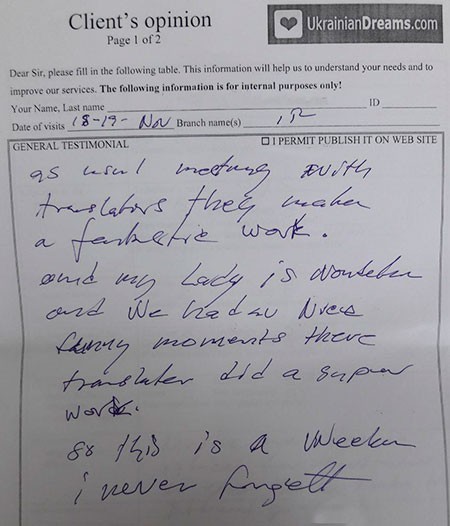 Customer / Sweden
18-19 November 2017
trip to Ivano-Frankovsk
Christophe: Extremely helpful even before the date began
I came to Dnipropetrovsk on my own but made contact with the lady and the agency about our date.
The agency and my translator were extremely helpful even before the date began. First, my translator helped me found the place, then she made me comfortable while waiting for my lady.
The date itself, which lasted three hours, was a good moment. We had dinner and discussed a lot of things. We met again two days later. Even if our translator was interned at the last moment, she made herself available immediately.
We spend three more hours which were important for the lady to know me better. We will continue exchanging and to develop this relationship on our own. But the translator, the agency and every service I have been using on UaDreams have been instrumental in getting this relationship started.
I only hope that it will grow into a relationship for life.
Thank you again UaDreams and thanks again to my translator.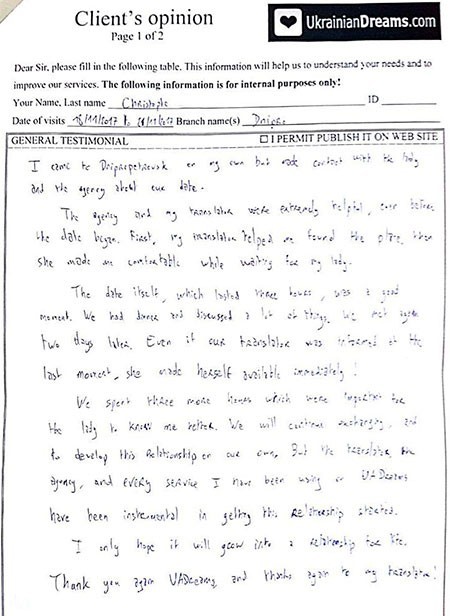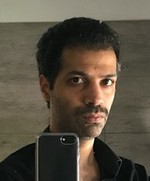 Christophe / France
18-21 November 2017
trip to Dnipro
Timothy: UaDreams is a remarkable agency and one that could be fully trusted
The Agency: UA Dreams: Excellent – high class, very honest and professional. Everything they say is true. They are very transparent in all communications. Their prices are reasonable for the services they provide and security they give.
The Interpreters: Very professional, English is excellent. Translates not just words and expressions but also conveys meaning with all correct emotions. Every day was meaningful and very special as my lady and I built our relationship. The interpreter was dedicated specifically to the lady and myself for many months. We were like a family.
The City: Sumy. During the visit toured the most beautiful Sumy park, monuments, museums, churches and best restaurants.
The Lady: 19 months of communications with letters and video chat twice weekly. By the time I arrived to daily meet my lady, our foundation for friendship and trust were established. We could spend our special time together getting to know each other more closely and in the proper way. My heart will stay in Ukraine, Sumy with my lady.
Overall: I've been to Ukraine many times before this trip and love the country and the people. This trip was my most enjoyable and successful. UaDreams is a remarkable agency and one that could be fully trusted.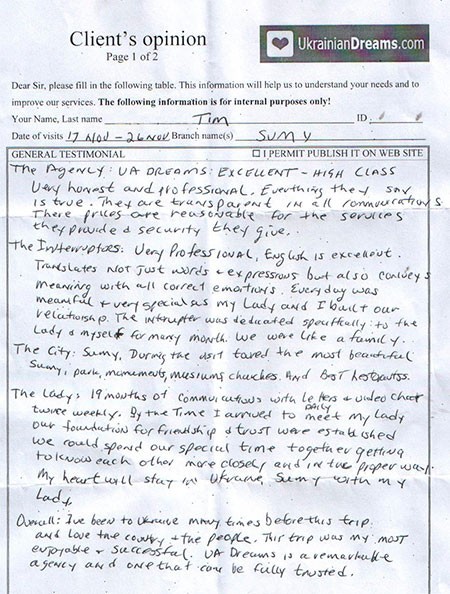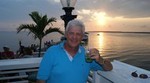 Timothy / USA
17-26 November 2017
trip to Sumy
Brad: I can not say enough positive things
Hello, my name is Brad. I recently came to Cherkassy, and my translator and guide for my trip here was Irina. I can not say enough positive things for my experiences here. So all this city, nice city, people are great, services and care provided to you by the staff are beyond words, they make you feel instantly at home or a part of family. I highly recommend it to anyone.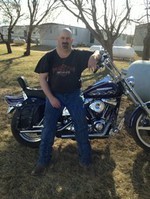 Brad / USA
16 November 2017
trip to Cherkassy
Steve: Excellent quality
Excellent quality of translation services and very friendly informative translator Anna.
Good variety of visits, museums, shopping centre, tours of city Sumy. Email to know :-)
I did not write anymore as this Anna did not compromise to finish her chicken kebab ask trade off for me to write more!
:-)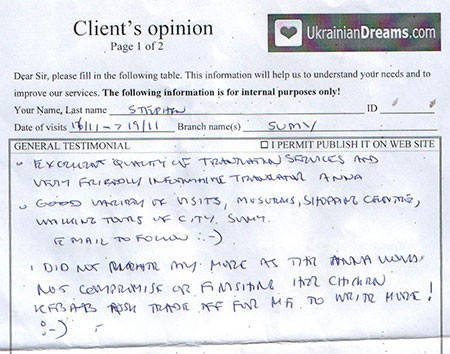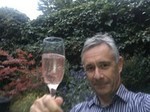 Steve / Belgium
16-19 November 2017
trip to Sumy
Sandy: The girl is beautiful, smart and real
Wonderful woman and great translation. I very much liked the assistance I received from the office and translator. The girl is beautiful, smart and real. I would like more time with her.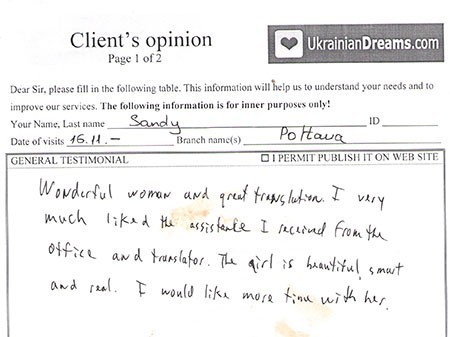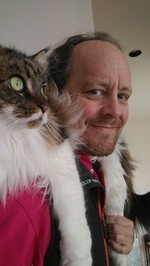 Sandy / USA
16 November 2017
trip to Poltava
Edwin: I just booked 4 days, I had to book 4 weeks!
Hello! My name is Edwin. I am from Holland. I met a girl on a dating site. And we talked about a lot of hours. After some weeks we decided to meet. Meeting should take place in Ukraine. And it could only be arranged through this dating agency.
So... I did not feel very good, but I tried my luck. I asked them to arrange everything for me... ticket, hotel, everything. So they did. They sent me a bill I need to pay in dollars. I payed a bill. And after 5 days I got a mail from them that money got lost. So I felt really bad. I thought this site was just about collecting money, not about bringing people together. They asked to pay again, but I did not. I think "I want to see my money back".
After 10 days I got my money back. It was indeed lost between banks, and sent back. So I payed again in euros. After 1 day I got a mail from the agency the money was there, the ticket was booked, the transport from Kiev to Kremenchug was booked, apartment was booked. Ready to go. So. I felt good. I took at a date I was expecting. I took my car to skip airport, went to airplane to Kiev. At Kiev someone was waiting for me as planned. Very good. He brought me to Kremenchug to my apartment where my translator was waiting (nice woman, very nice woman) with a girl I want to meet (very nice girl).
I really like her. So... this trip was perfectly arranged. The days I spent here were more nice. We had some very nice days, did a lot of fun stuff. It was very good time. Everything was arranged perfectly... more than perfectly! I had some really, guys, a good time and this is something... When you want to find soulmate you like, you can find it here. All people are very nice. And the girl I wanted to meet... that's her! I made just one mistake - I just booked 4 days, I had to book 4 weeks. But... Today I go back... it's not fun. But I go back...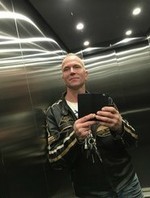 Edwin / Netherlands
14-18 November 2017
trip to Kremenchug
Steve: So kind, friendly and helpful
I had a very warm welcome at the agency and Nazar made me feel at ease even although I was feeling very nervous before the meeting with my lady! I have nothing but praise for Nazar, so kind, friendly and helpful. Thanks a lot Nazar!
Steve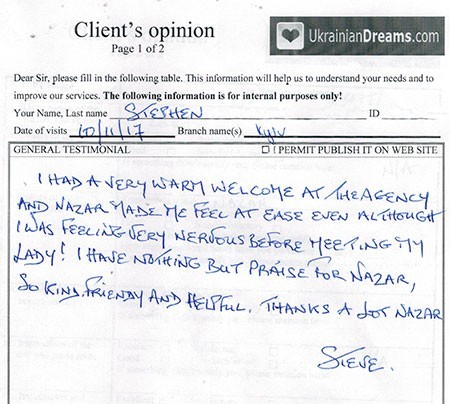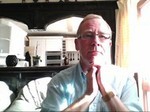 Steve / United Kingdom
10-23 November 2017
trip to Kiev
Uadreams reviews
Average:
1762 UaDreams review(s)
Latest review 20 days ago