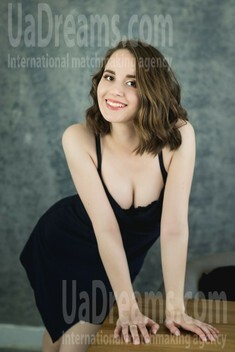 What I do in my leisure time?
My leisure time is always precious for me. I don't like to waste my time. I have hobbies, among them are reading, watching films and drawing. By the way, it would be great if my future husband had some of those hobbies ;) Now I like to read science fiction, documentary and about self-development. As for films - the same science fiction and documentary and also comedies and sometimes horror films. Drawing is my main hobby. This is what I do almost all my life and this is my passion.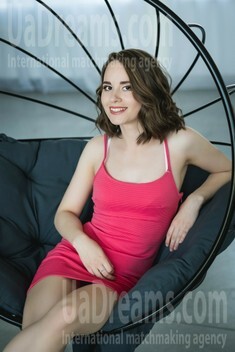 Our personal opinion of this Lady
This young lady has such a positive energy, she is like a sun. We got a very good impression about Alla. While communicating with her we noticed that she isn't just a pretty girl, she is also a very interesting person. We all think that her future husband will be happy to be with her.
See her fascinating movements and charming smile...
Feel as if it was your first date with this lady — it is worth 1000 pictures!
Watch this video for FREE
Domestic abilities
I am a simple Ukrainian girl so I can do everything at home. My mother taught me to love when your home is clean. That is why I am very tidy. Besides, I like to create cozy atmosphere in the house. As for me, coziness is in small things - beautiful cup, unusual lamp, in pictures... Talking about cooking, I can say that I really like to do that. I like to bake something tasty and bring it for sister or for parents. They adore it. I like to do something pleasant for them. ;)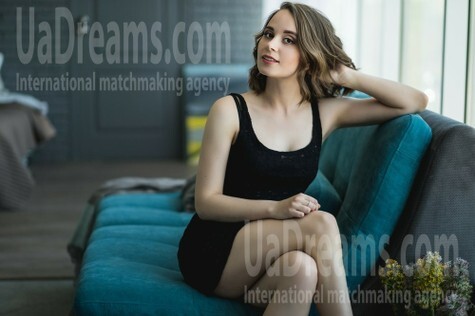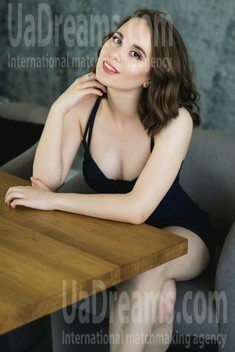 About my family
My family is not very big. It consists of my parents, me and my elder sister. We all are very friendly and always support each other. Of course family is very important for me. And also I always consider their opinions. I have very close relations with my elder sister. She is my true friend. Surprisingly, but we have never argued, really. We even finish each other's sentences. I can say that I am lucky to have such a family!
My future goals are
The main goal is to create a family with the right man. I want to be the best wife and further, the best mother. And also some my future goals are connected with self improvement. I want to receive doctorate degree in medicine, I love my profession and I feel that this is what I have to do. I am very happy to help people. I also have a dream - to become a graphic designer because it is my passion. I don't know how to express in words my feelings when I draw. It is amazing!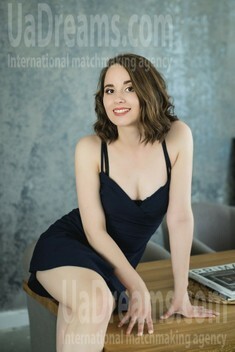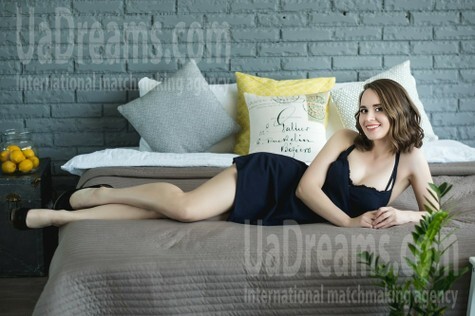 How would I describe myself
It is hard to talk about myself, but I will try to be objective. When you meet me in real, in front of you you will see a young lady with sincere smile, with kindness in her eyes. I am very open person so it is very easy to communicate with me. I am usually positive. Of course I have bad mood sometimes, but I hate this state and that is why I try to find the reason of my bad mood as soon as I can and think about it. In such a moment I put off my emotions and it helps me to find the right way out. :) My friends say that I always find the right words and that I know how to support in bad times. I like this quality in me because I like to help people.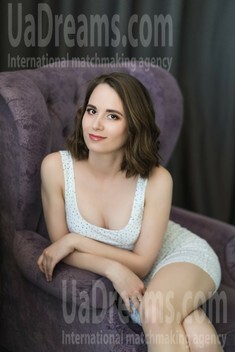 My typical day
Every my day is different. But there are some things which I do every day, it is work of course and some of my hobbies. I live alone so I cook every day for myself. Oh, sorry, I lied, I do not live alone, I have a cat! Hope you like animals :) After work I usually relax and play with my cat. She misses me when I am not at home and when I come back she is always near me. Then I go and cook dinner. I usually listen to my favorite music while cooking and dance :) And before going to bed I can read something interesting or draw. Oh, and I also do some exercises every day. Maybe I will go to the gym soon.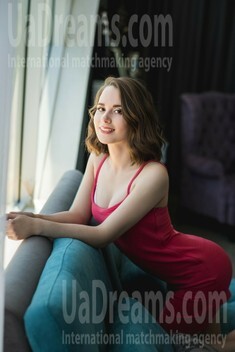 The type of man that I desire
I am looking for an intelligent man with an open mind, who takes care of himself and has a good sense of humor. I want to be with a man who will respect me as a person. I want to find my soulmate and best friend. I love kind-hearted and communicative people who are open to new experiences :) I think that happy relations are those in which partners have mutual understanding and respect to each other. And for me also important when there is a kind of variety in relations, when partners try new things together.