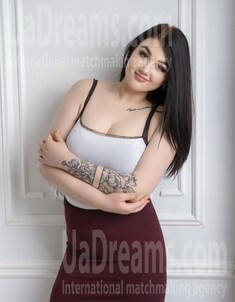 Domestic abilities
I can do everything at home - cook, clean up, wash the dishes etc. Especially I like cooking. I've noticed, that I can cook everything I want, really. I screw up very very rarely. So, you can ask me to cook anything you want, and I will try. :):):) I also can do something in garden when I visit my granny in the village. I like to spend time with her. She always can give a good advice. She grows many different flowers and also vegetables. And she taught me how to take care of all of them. By the way, my favourite flower is rose :):):)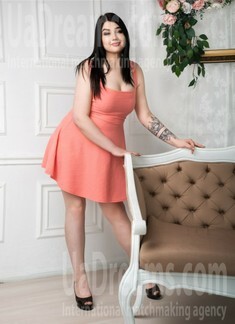 My future goals are
As all ambitious people, I also have some future goals. Among them the most important is creation of my own family. I have clear idea of my family - I want to have a big, friendly, positive, loving, generous, reliable and trustworthy family. And I will do everything for that and will do my best. I also have a goal to create my own business - to open a beauty salon. I adore everything connected with beauty. I know a lot about beauty. Now I study how to do eyelash extensions. Further I want to learn how to do professional make-up. I love cars and I dream that one day I will drive my own car. So, one more goal - to get a driver's license.
See her fascinating movements and charming smile...
Feel as if it was your first date with this lady — it is worth 1000 pictures!
Watch this video for FREE
The type of man that I desire
I don't have preferences as for appearance of man I desire, but I have particular desires as for his personalty. It is very important for me to have some similar character features with my beloved man - such as singleness of purpose, proactive approach to life and ambitiousness. In addition to everything else, as I like positive people, I would like him to have a good sense of humor and to be friendly, open-minded person.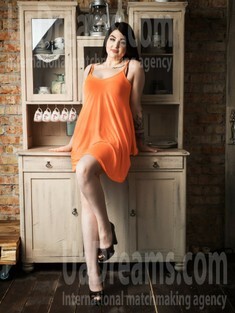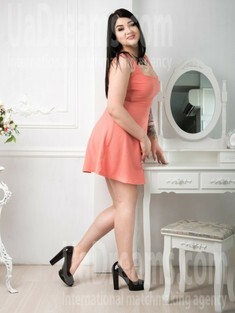 About my family
My family is very friendly, we all are funny and sincerely love each other and always ready to help, no matter what happened. My mother and father is a very lovely couple, I see how much they love each other and I always admire that. I dream to have the same relations with my future husband. I have an older brother, he is older than me for two years. He is my best friend, I always can rely on him, trust him, he is always ready to help me and I am always ready to help him . Besides, we have three cats - they all are the members of our family. Mother, father, brother, me and our other relatives - we all love cats. It is so unusual. Maybe the love for cats is in our genes :):):)
How would I describe myself
Well, people always ask me - You are always so funny and cheerful. How do you do that? Don't you have problems? Of course I have! But I am not the person who gives up. I am always so positive because I think that there is nothing what we cannot change or correct in our life. I see only opportunities and I always believe in myself. To think - I will never do that - means to waste precious minutes of life. So, that is who I am - positive and ambitious young lady.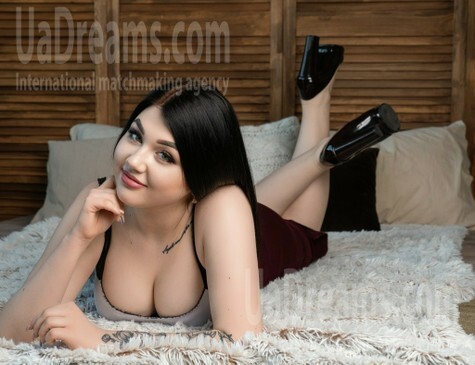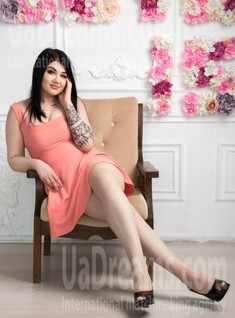 Our personal opinion of this Lady
This young lady has very beautiful and sincere smile. It is hard to forget it. She is very positive and also very intelligent. We all have noticed her sincere desire to find love on this site. Alla has big plans for future and we have no doubts that she will meet all her goals.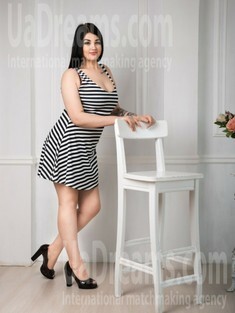 My typical day
Every morning when I am still in bed, I reread my list of goals and that helps me to be motivated all day long. Then I stand up and do a little warm-up, as a result I feel myself much better, active and full of energy. After I cook some tasty breakfast, and during eating I read some news in the sphere of beauty. These are my regular morning doings. What I do later, depends on the day of week. If it is a week-day I go to university and spend there almost all day. After university I like to meet with my friends and then I always try to do something useful - to read and to know something new, in other words to improve my knowledge in the sphere of beauty, or do fitness. And if it is day-off I like to spend the day time at home, with my parents and to help them. In the evening I rest with my friends or just stay at home and watch some film.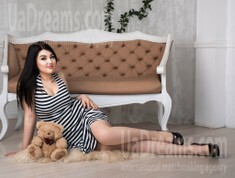 What I do in my leisure time?
I am active and purposeful young lady. That is why in my leisure time I spend a lot of time trying to become better. You know, wise man says, that we all don't have to be jealous to another people and try to become better than they, we have to try to improve ourselves, and become better than we were yesterday. I think this is the key for success, So, when I have free time, I like to read and find something new and to do different "women's" things to improve my appearance. Few times a week I do fitness with my friend. And of course I like to spend time with my friends and relatives. I am very sociable and I cannot imagine my life without communication.