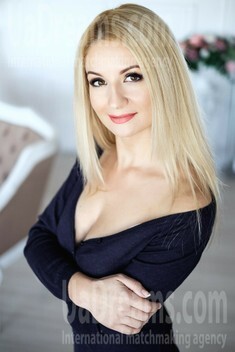 The type of man that I desire
I understand that there are no ideal people and I believe that people can be ideal for each other only after long time of working on this together in relationships. The first thing which is important for me is kindness, because I believe that it is the only way to act toward everything around us. Then it is loyalty, I am the person who will never cheat on and I would like to have it in return. The last features are diligence and desire to develop and work together on something whether it is a usual job, or something around the house. But in general I used to accept people for what they are. Also I believe in real chemistry between people and love which can cover everything! :)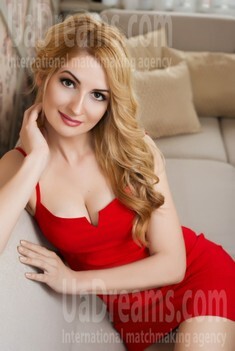 Domestic abilities
I am not a lazy person or I am not eager to run away from the house to leave all the chores for my mother :) I like to clean the house and make it cozy; I like to do permutation in the room and rearrange things, making my home cozy. I try to teach my son always to keep his toys in order and take care of our pets, and he is happy to do it together with me. I do almost everything: cooking, ironing, cleaning, watching up, dusting, watering the flowers and taking care of pets :) And what about you? ;)
See her fascinating movements and charming smile...
Feel as if it was your first date with this lady — it is worth 1000 pictures!
Watch this video for FREE
What I do in my leisure time?
I am a very calm and family-oriented lady and I like to spend my leisure time both - being outdoor and indoor. I like to spend my time in nature and I often go to the riverside with my friends to cook the BBQ, swim or enjoy tender sun. I am curious and like to learn something new, I like to visit new cities and adore learning Ukrainian history and culture. In the evening the best pleasure for me is to read an interesting book or some fairytales to my son. Also I like watching movies and go to the cinema, I like different genres.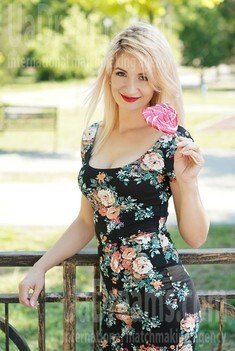 About my family
I was the only one child in my family, but I grew up not spoiled and understanding. My parents are very hardworking people and they taught me how to be the same. My parents are deaf, but in spite of this they have always tried to lead a normal life. They are for me an example of how to be strong in all circumstances. I have a son, his name is Maxim and he is my little protector and joy. He is very active and he dreams to be a policeman that is why he likes to save someone, especially animals. By the way, we have two cats and aquarium fish, the entire house to save someone :)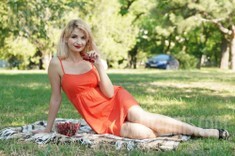 How would I describe myself
I am calm and polite person, I am proud of being mother and I prefer to look into my future and believe that I can be happier with each day. I perfectly know the sign language because I used to be the connector between my parents and the people who are used to communicate only using speech. It has taught me to understand people more and be kinder. I love my job and I like to keep order in the shop where I am working. I am pleased to know that I'm helping and doing good work. The only thing I am missing is an understanding and strong man next to me, which I can devote all of myself.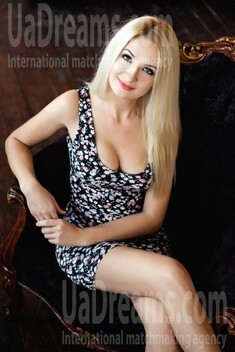 My typical day
I like to start my day from the early morning. Even in my days off I can wake up early, but then I like to stay in bed for one hour more and dream about something, planning my day or watching how my son is slеeping :) I like to take shower in the morning and do some exercises to feel more cheerful. My son willingly can do it with me. My mother likes to cook very much and it is pleasure for me too in helping her with this. We have two men to take care of them and spoil with something tasty! And do not forget to feed the animals who need attention from the morning too! :) I am working in the cosmetic shop as administrator and I am responsible for good work of salespeople. We have very good and friendly staff and we always find a common language. I mostly work with documents and I like to feel responsible. After work I need to organize my day and pay attention to each person of my family and especially my son. At the evening I usually watch TV or read interesting book.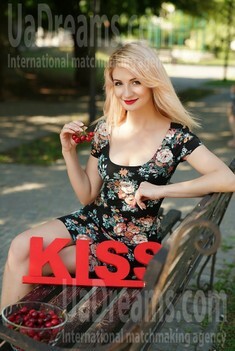 Our personal opinion of this Lady
Alyona is very sweet and polite lady who can attach to her at the first sight. She is very modest and nice, she has kind eyes and a charming smile. She is intelligent and educated, her temper is soft and calm. She is really interested in finding her soul mate and creating a family.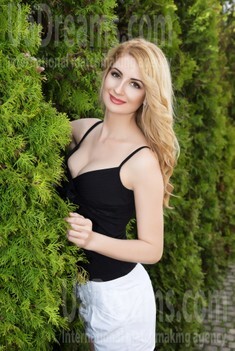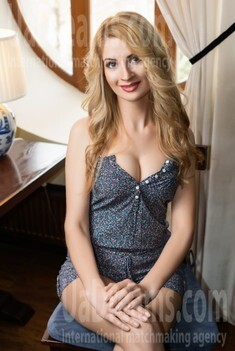 My future goals are
Now I have stable work and time to spend it with my son, but the only thing I need in my life is friendly and full family. I know that career and money will never be the substitution of real woman's happiness. I am very devoted person and I want to make my family the most trustful and strong. And each day I am working on making myself better :) Also I want my son to have good education and be happy :) I would like to have my own family business connected with restaurants or small cafe; I think that it would be the thing for money and hobby at the same time. Likewise I dream to see different countries and take photos with the most beautiful sights there.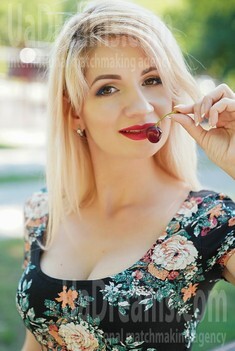 Get a much better idea of the lady's personality!
Discover her life and secrets no other men know :)
It's intriguing like finding an unknown world...


Get a much better idea of the lady's personality!
Discover her life and secrets no other men know :)
It's intriguing like finding an unknown world...