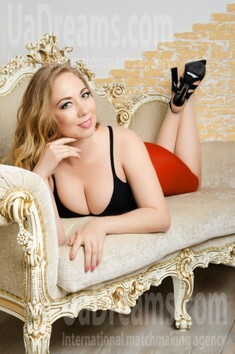 My typical day
Each and every day is very active and busy! I stand up early in the morning, go to the stadium to run. After that I have more energy for the rest of the day. After a cold shower in summer and warm in winter, I drink a cup of green or fruit tea and go to work. Both my jobs are connected with kids as I am a teacher at the university and a choreographer. So, in the end of my working day I feel exhausted but very satisfied and happy! Children are full of energy and they share it with me! I love my job and I love children! After a hot shower at home I am free to go to my soft and warm bed. Good night!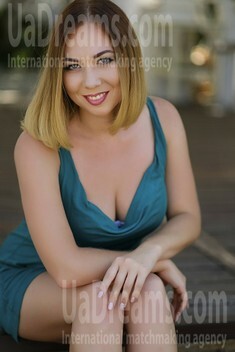 The type of man that I desire
As I am an active and creative person, I dream that my man is also active person. I am sure that together we will never be bored! I am a very honest and sincere lady, I cannot lie to people, especially to my close people, so I prefer my future husband to be also very sincere, honest and devoted man. I think that people that love each other will never lie to each other, so these qualities are very simple and natural. If there is a real love between us, then I will love all his qualities and no matter whether they are good or bad, for me all of them will be good!
See her fascinating movements and charming smile...
Feel as if it was your first date with this lady — it is worth 1000 pictures!
Watch this video for FREE
My future goals are
The goals of my life are very simple, but at the same time they are very saturated and deep! I am a dancer and singer, so in my near future I want to open my own "School of talents". I want to take the sewing lessons and create and make the costumes for my concerts and the concerts of children from my own school. Also, I want to take some lessons of photography. I want to swim in the pool with the dolphins and I want to visit a new country every new year. Of course, the main goal is to have a happy and strong family!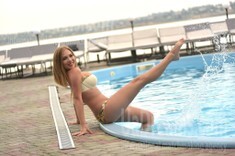 About my family
My family is rather small, but very friendly and funny! I have my dear mom and daddy! We are close friends to each other, however I think that I am closer with my mother. The reason of this is very simple - we are both women, and women understand each other better because of their nature. We spend much time together, all the family holidays such as Christmas, Easter, New Year we celebrate together. I hope that my own future family will be as much successful and happy as this one. Watching my parents, I see that they love each other in spite of so many years, I hope that my love will also last forever!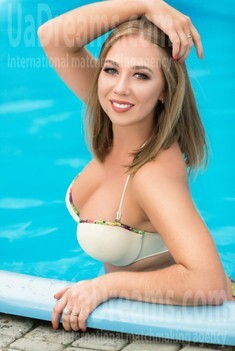 Our personal opinion of this Lady
This lady is a pearl from the ocean. Very active, very funny and sincere! She is the ray of the sun in the dark room! And her sparkling eyes and bright smile will leave speechless every men in the world!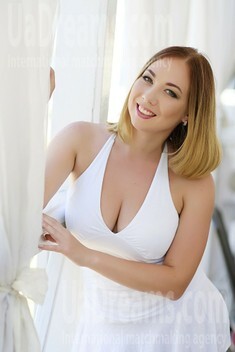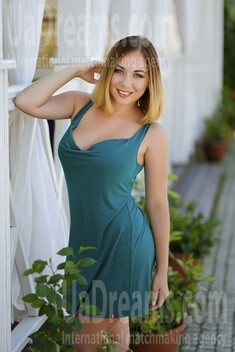 Domestic abilities
I spend a very little time at home alone. As I am always working or dancing or spending time with my friends, I have not too much domestic abilities. I love to keep my house clean and shining! I like to cook something delicious on my own comfortable kitchen. However, I like to cook for somebody, so I try not to eat alone. I hope that in my near future I will do this with my man.
How would I describe myself
Do the right things right - that is my life moto and you can be sure that I am following it! I want to find a man who also has his life moto and we will combine those two into one and will follow it hand by hand, step by step, kiss by kiss, year by year, eternity by eternity.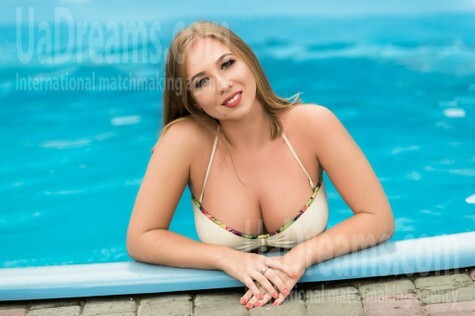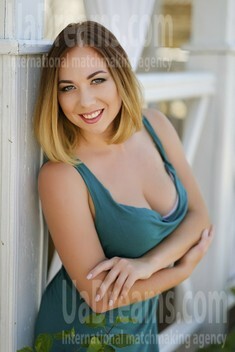 What I do in my leisure time?
I am so active lady and I am full of life! I adore dancing! I dance from the age of 5 years. So, dance is all my life. Only while I am dancing I can feel the life, I can express my mood and feelings. Dancing around, I can not only express my feelings, I can take the feelings of the audience! This is not the whole story, I teach children how to dance, so can say that I am a choreographer. I live children and I like their way of perception of the dance. I am enjoying this feeling! To be honest, I can say that I am a rather creative person as I also sing. I adore to see people's smile when they are listening to me. And there is no better gift as their applause! Also, as every person I like to spend my leisure time with my friends, go for outdoor picnics and BBQ and have an active rest in general! You will never be bored with me, I promise!
Get a much better idea of the lady's personality!
Discover her life and secrets no other men know :)
It's intriguing like finding an unknown world...