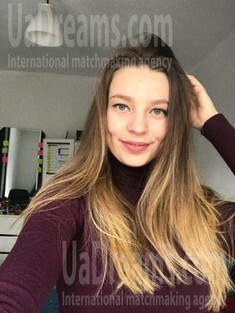 What I do in my leisure time?
I like to spend my time outdoors, to read fiction and fashion magazines, to cook different delicacy, to do sports. I love active lifestyle and travels. I want to learn surfing and skiing. Practicing Yoga. I am also interested of different countries, I am looking for interesting places to visit. I like watching new movies, especially romantic and comedies. If I have a lot of free time, especially on weekends I can go to the mountains or just to the forest for a walk with my family and friends. I also like to embroider in my leisure time.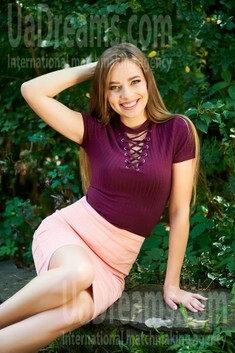 Our personal opinion of this Lady
Ira is a very kind and positive person. At first glance you can see that she is sincere and open to communication. She is looking for a serious relationship and wants to build a solid family. Her priority is to build a happy family and create a brilliant career. She deliberately moves towards her goal. As a person, she is a well-read, responsible and goal-oriented lady. She continues to develop her personality in every possible way in various spheres.
See her fascinating movements and charming smile...
Feel as if it was your first date with this lady — it is worth 1000 pictures!
Watch this video for FREE
My future goals are
It is important for me to be realized both in a career and in a family life. I want to create a strong and happy family and live in harmony! I think, it's important for a woman to realize herself in some profession. If the woman does what she really loves, there will be harmony in her family. I studied tourism at the university and I want to connect my life with it. It would be great if I managed to create my own hotel business. I have visited many countries (Bulgaria, Russia, Turkey, Greece, Germany, Austria, Hungary, Israel, Poland, Thailand), I like to communicate with people, to be needed and to help people with my knowledge and professionalism. For me, this profession is very interesting and promising.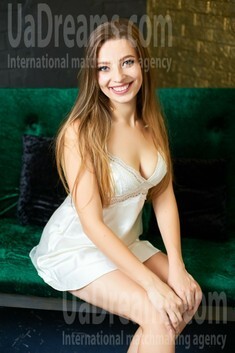 Domestic abilities
I'm used to doing everything by myself since my childhood! Mom taught me everything, because she was busy at work. Since I was a schoolgirl, I had to take care of my younger sister. I had to feed and dress her and take her for a walk. Not much changed since that time, I clean the house, I cook but it's not a problem for me as I like it. I like to treat my family with new dishes. I am good at desserts! My family can't wait to enjoy the weekend baking. By the way, my favorite dessert is Tiramisu :)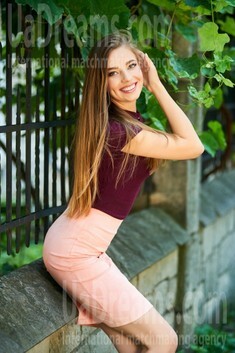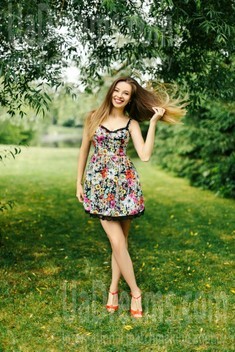 The type of man that I desire
For me, first of all, a man should be kind and honest. He must love and respect his woman. He must also be persistent in reaching his goals. I really love when a man has a sense of humor. He has to be reliable and support his wife in everything. It is also important that he is faithful to his woman and doesn't betray. I want to meet a man who would treat me in a good way and it will be just great if our goals coincide. He should love children because I have a son and it is very important for me that 2 most important people in my life got on well.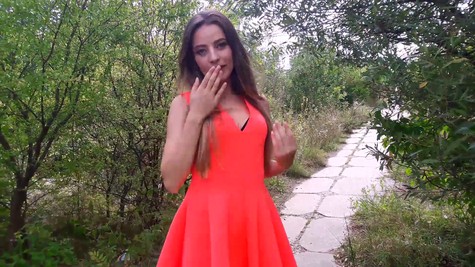 Get a much better idea of the lady's personality!
Discover her life and secrets no other men know :)
It's intriguing like finding an unknown world...


My typical day
I wake up in the morning, I exercise, then I take a shower. After, I have breakfast with my son and I go to work. I like to cook a lunch myself. After dinner I go for a walk with my son. We like to spend time together. I am attending courses of German language, it is important for me to know several languages. Several times a week I go to the gym. In the evening I do my best to have a good rest, I can read a book or watch something interesting on TV. After that I have an evening walk in the park, and then I take a shower and go to sIeep.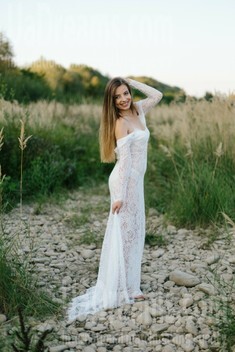 How would I describe myself
I consider myself to be a good person. Since I grew up in a loving family, I was educated to be a kind, sympathetic and positive person. I always try to smile and make a good mood to others. My favorite saying is - "Let your smile change the world, but don't let the world change your smile" I am a kind of a person who is always there when needed, I like helping people. I am not naive but at the same time I want my world to be without lies, betrayal and hypocrisy, where is kindness, cosines and peace. I am a person who will never betray because I think, that when you love someone, you don't need anyone else!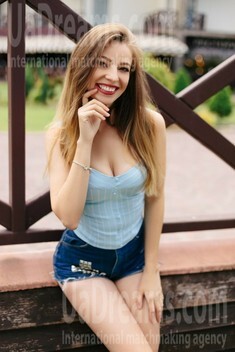 About my family
My family consists of 4 people: my son, my mom, my sister and me. My mother is Russian and my dad - Ukrainian, that's why I always lived in Ivano-Frankivsk. Unfortunately, he died 5 years ago. I miss him so much. Previously, we traveled to Sochi to visit our relatives. I really appreciate that my family is friendly and we always support each other. When I was a little girl, I lived with my grandparents, I still have many good memories since that time. But the greatest happiness in my life is my son Vladimir. I love him very much, he is a very handsome and kind boy. :) He likes to walk in the park with me, he also likes to watch cartoons.