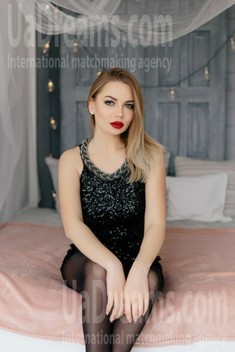 Our personal opinion of this Lady
This lady is very pretty. She has blue eyes and short blonde hair. She is very communicative, polite and nice. She also has a good sense of humour. She has a distinctive style of clothes. Always looks fashionable. This lady is modest, shy and funny. She looks sportive and is graceful. It is easy to guess that she has serious intentions about finding a life partner.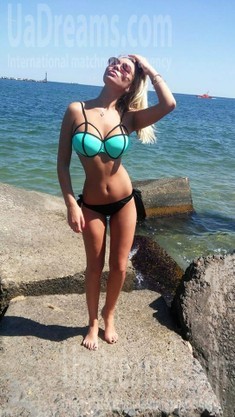 How would I describe myself
I am a confident, sincere and loyal person. I am always responsible and reliable. When somebody asks me for help, I do everything I can. I like Ukrainian, Italian and Georgian cuisine. Also, I like travelling. I have visited Egypt, Turkey and Italy. It was great. I was captured by seeing those places. In the future, I am planning to see Monaco, Las-Vegas, Dominican Republic and many other places. I hope my dreams will come true. I have a lot of friends, all of them are positive and incredible. I want to see my future life full of bright emotions.
See her fascinating movements and charming smile...
Feel as if it was your first date with this lady — it is worth 1000 pictures!
Watch this video for FREE
Domestic abilities
I always try to find time to cook or clean the house. Most of all, I like to care for plants. I have a few bushes of roses in my room. When I am alone at home, I always try to cook some delicious food, even my younger brother helps me sometimes. I like to bake cupcakes and biscuits. It is great to make such surprises for my parents. I even buy some recipe magazines and cook new dishes. When I clean the house, I listen to music. And the time goes two times faster. My mum taught me to the cleanliness in the house.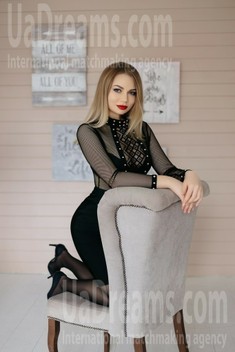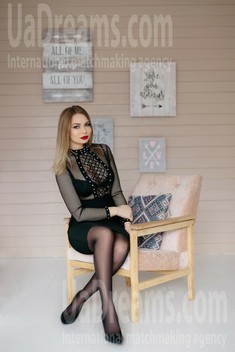 My future goals are
I graduated from Medical University. Now I work as a pharmacist. I like my job very much. Now I am getting the work experience. In the future, maybe in 5 years, I want to open a pharmacy. It is my one of dreams from childhood. I also like to make people happy. That is why I also want to open a big beauty salon, which would include hairdressing services, manicure and massage. I am sure, I will get all of it if I work hard. And, of course, I want to have a family, a big family. I am proud to say that it is the biggest dream in my life.
My typical day
My typical day starts at 7 o'clock. I always do morning exercises and cook breakfast. Then I go to work till 5 P.M. After work, I usually meet my friends. When I am back home, first of all I help my mother to cook supper and then clean my house. After supper, I often help my younger brother with his homework. If the weather is great, we can go the stadium, or we can just stay at home and watch tv programs about the universe or animals. In the evening I prefer reading books, especially fantasy fiction.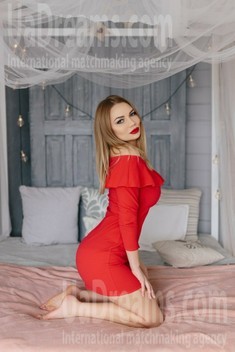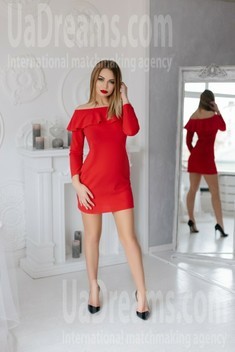 The type of man that I desire
For me, very important characteristics of a man are sincerity, purposefulness and diligence. He should be confident and know the family values. It would be perfect if he likes sports and we could go to the gym or run together. It is also very important that he must respect, support me and love children. I will appreciate it if the man wants to have a big family. The only one thing, which I won't forgive is a betrayal.
About my family
My family is very friendly, active and modern. We spend a lot of time together. I have a younger brother, with whom I have a lot of common interests. My best friend is my mom. She always worries about me, gives advice and supports me. When we have free time, we go shopping and talk about different things. Mutual understanding, respect and care are the most valuable things in my family. And all of these values I want to see in my future family.
What I do in my leisure time?
I am a communicative person. Most of my free time I like to spend with my friends. We often go to the cinema, cafes or just walk. Also, I like reading books. Sometimes, I go to the park, drink coffee and read books. Sports is a part of my life that's why three times a week I go to the gym there. On weekends I go cycling or running in the park. When the weather is nice, I can have a picnic with my friends. Most of all I like to spend free time with my younger brother. We often go to the stadium and play volleyball. In the evening we can watch a film together and then discuss it.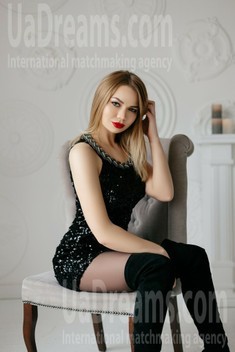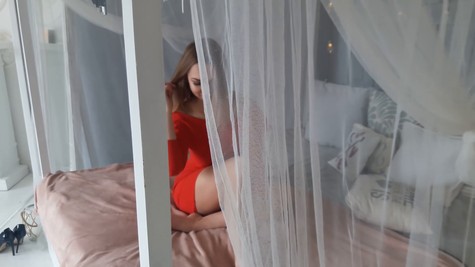 Get a much better idea of the lady's personality!
Discover her life and secrets no other men know :)
It's intriguing like finding an unknown world...