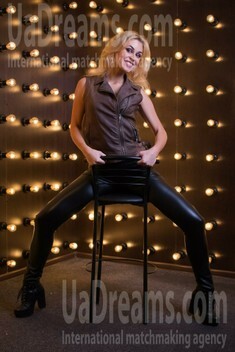 The type of man that I desire
The one who will love me. Simple and with taste, right?)))) I do not have a picture of my perfect man, because life is an interesting thing and sometimes it shows not all we want, but what we really need. Do you agree?))) I just want to be with a man who understands me and my life. Who will never leave me when I feel bad…Caring, positive and loving. Who can make me laugh and who will let me be myself beside him. I want to feel protected and to know I am not alone in this world. I want to feel that our souls are united and I was born for him. Yes, I do believe in it!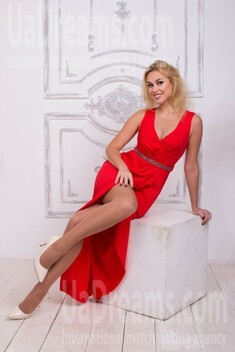 What I do in my leisure time?
I never liked the feeling that I can go by the flow in my life, that is why I prefer to fill my spare time with something useful for my body and my soul. Speaking about first choice, it is sport. I love staying energetic and active. I have a team which consists of few amazing girls who can support me in my desire to be more plastic and skilled. Who run the world? Girls!)))) I like to have some fun with my friends also. This what makes me feel alive and I am proud of those people, who are beside me at any times. When I have a lazy day (that is very rare though), I like to watch a movie with a deep sense, like «A Ghost» with Demi Moore or « P.S. I love you» with Hilary Swank. I think that we should create our small world around us and that will be the beginning of changing the real one…What is your opinion?
See her fascinating movements and charming smile...
Feel as if it was your first date with this lady — it is worth 1000 pictures!
Watch this video for FREE
My typical day
Every day is a gift, so we need to live it like it is the last one. I like to wake up early in the morning and to plan my next actions. Usually they start from my kitchen, where I have a cup of coffee and light breakfast. Then I go to my work and till the evening I am a doctor in the white medical robe. My patients think that it suits me. I hope so!)))) After I get a portion of compliments from my patients and they get healthy teeth, I go to my training. Of course I can't just spend my day without seeing my friends. I like telling them my news and listening to theirs. We know that we have each other and that is the main thing. At the end of my day I like to read something which can make me analyse things around me. A good book I would recommend to everyone is «A monk who sold Ferrari». My opinion is that we should think about our self-development and to become better in order to make our beloved people happy.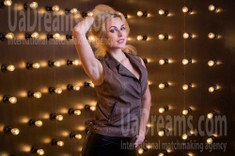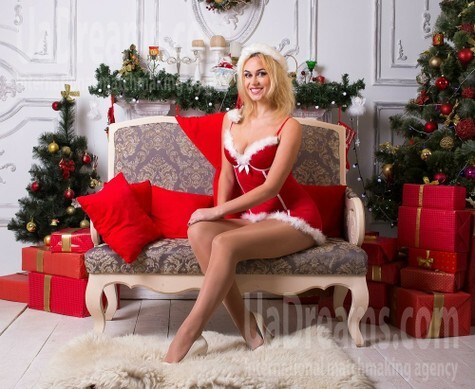 Our personal opinion of this Lady
This lady has charged us with her energy and kindness. There is a light inside her and she wants to share it with everyone. Her smile is incredible and she reminded us a cat with her plasticity! This lady is goal orientated and sincere. She has her inner power and her beloved will be the happiest to have a woman like her by his side.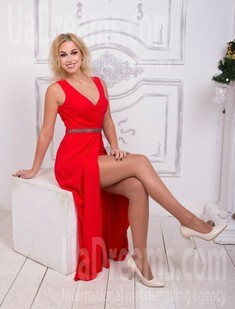 Domestic abilities
I like to stay in a place where I feel comfortable. No dirtiness, just tasty smells and my cozy small flat where I can do whatever I want. By saying «Whatever» I mean cooking, cleaning… I can't say I am a fan of kitchen, but I know that I can make my man feel hungry when he will smell my eatable masterpieces. I love sea food, and I would like to cook something exotic for my beloved. I would like to spoil him with my desserts. My man's appetite will be the proof that I am a good cook. What else do I need?))))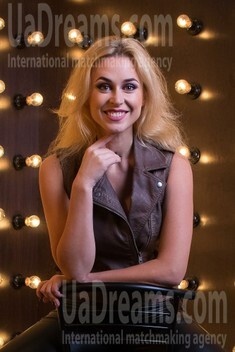 How would I describe myself
My principle is «All is possible»! I am a positive person and I do not like to think about anything bad, because our thoughts are material. I believe that love and care can make this world better. I am open and kind. I love people and I prefer to give, than to take. I am honest and I never give up. I prefer to stay smiling and that is always sincere, because I do not like to pretend. My favorite color is yellow and that is not a coincidence, because the sun always comes after the darkness. My friends say I am the sunshine. I am not the most beautiful girl in the world, but the real beauty is about the soul.
Get a much better idea of the lady's personality!
Discover her life and secrets no other men know :)
It's intriguing like finding an unknown world...


Get a much better idea of the lady's personality!
Discover her life and secrets no other men know :)
It's intriguing like finding an unknown world...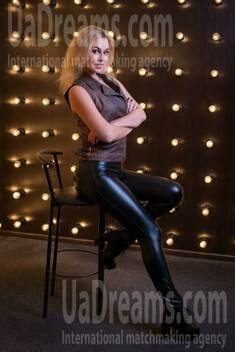 About my family
I like number four. Mother, father, sister and a brother. Fantastic four, right?)))) We have always been very close. My mother is my best friend, to whom I can tell everything. She is a woman, so who else can understand me better? We have gone through so many difficult situations in our lives and nothing can break this connection. My father is a wise man who will always give me a needed piece of advice. He likes drinking tea with me and discussing politics and news in the world. I know that I can always count on him and that is how it should be. He is an example of the real man for me! My younger brother just starts his way in this life and I feel responsibility for him.He is 18 years old now. I feel tenderness towards him and he answers me the same. If he will call me in the middle of the night, I will pick up the phone wherever I am. He asks me how to invite a girl on a date and that makes me smile. I do not want to miss all these moments, because this takes me back into times when I was a student and those years were just incredible. Recently we got a cute dog called Monica! She is amazing!
My future goals are
I am interested to know what will you think looking at my photos. Do you think I am an actress? You are very close, because few years ago I acted at one Russian movie and I hope it was not the last experience in my life. Do you think I am a singer? You are smart and very close again, because I love singing and will never miss a visit to karaoke bar. Maybe a dancer? I took dance classes before, so you have great intuition. Now look at my picture once again and … «Hello. My name is Katya and I will take care of your teeth." I am a dentist. Are you ready for my procedures?))) If seriously, I want to be successful in my career, because this is what I really like to do. It can seem as a boring job, but not for me. I like seeing so many different faces and their cute smiles. Of course I am not only interested in my job. Family is the most important for me and I want to create it with the man of my life. I am ready to work hard for that!)))