How would I describe myself
I would like to find that unique feeling people need and desire most of all in their life. Love, find me, pleaseeee!
What I do in my leisure time?
My additional job for pleasure is my hobby.:) I'm creative master of a pair of scissors art. I adore to bring joy and happiness from those positive emotions I give to a person with new style or small but pleasant changes. I adore to make everything beautiful close to me and my dear people. I can't imagine this world without beauty. In my leisure time I never forget about myself. I'm a woman and I need to blossom all day and all night long. I'm always ready to meet my fate with all the set of beautiful sides I work on in me. I love animals and that's why I never forget to take the best care of my three cats and a dog.
See her fascinating movements and charming smile...
Feel as if it was your first date with this lady — it is worth 1000 pictures!
Watch this video for FREE
My future goals are
The main aim is to find myself next to my only one, to become a wonderful wife and careful loving mother. I would like to create my own nest and it doesn't matter where I follow my only. My heart is eager to ever lasting love, I would never let it go.
The type of man that I desire
He should be a confident person, elder than me, person with good sense of humor, balanced type, he should respect women and love children, be able to keep his family and able to reach a compromise when necessary. He should be a man with all his merits and demerits. A woman in love will accept all because real man is a king, hero on the Earth, God for his wife.
About my family
I have a loving family. I'm not the only one, I have a brother. He is married and has a wonderful daughter. From time to time we gather together for family dinner. I guess this is wonderful weekedn tradition or spontaneous one during a week. Nothing will replace family warmth, right?:)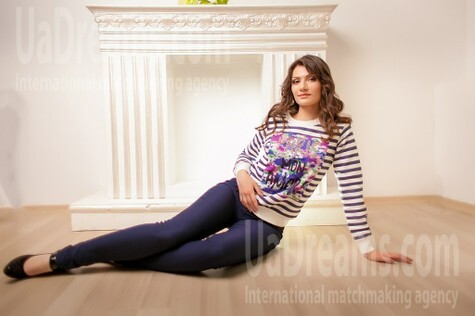 Domestic abilities
Actually, I would like to take care about my home but I live with my parents and two ladies can't survive at one kitchen.:) Mom never let me do something. I have no problems to take care about cleaning, washing-up etc. I like to do domestic work of all kinds...but not in parents house where mom is the Queen. Home should be sweet home...I want it so much!
My typical day
I need to confess that I like to sleep deeply and long. Then I feel myself fresh and ready for new day. I'm very happy that I can do it and my day always starts the best. It is such a rare thing to meet me in bad mood. I spend each day like it the most fabulous. Life is short and we need to make it colorful and bright. Of course there could be days with obstacles. I take myself in hands and cope with it to smile again.
Our personal opinion of this Lady
This lady is very charming, communicative, easy-going, confident, attentive, reliable.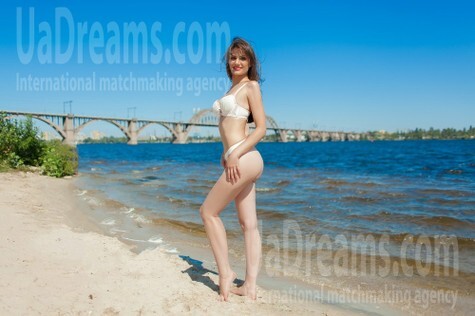 Get a much better idea of the lady's personality!
Discover her life and secrets no other men know :)
It's intriguing like finding an unknown world...