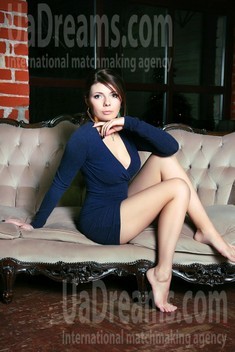 What I do in my leisure time?
To be honest, I do not have much of free time, due to the fact that I have a son. This little crazy man doesn't let his mother get bored, so all the time I am busy with something;). But I am happy about it:). When there is a possibility to dedicate some time for myself, I usually go to the gym, enjoy listening to music, watching movies or meeting up with friends. Mostly, I enjoy spending time with my family and dear people:).
Our personal opinion of this Lady
A very optimistic lady who knows how to cherish what she has in life and she is very positive:).
See her fascinating movements and charming smile...
Feel as if it was your first date with this lady — it is worth 1000 pictures!
Watch this video for FREE
Domestic abilities
Well, as for my domestic abilities, I enjoy cooking and improving my skills in it while experimenting with the recipes. Besides that I have even once tried to make a wine and I can tell you for sure that it was something:). The process itself is interesting and it seems to me is worth it:). I also like to keep everything in order and I know how to make a house a home with filling it with warmth, care and desire to come back to:).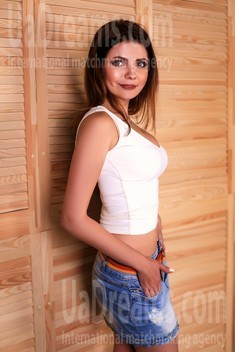 How would I describe myself
They say that I have got a complicated character, but it seems to me that '' As many people as many characters'', and if you are eager to check it yourself, just try to find it out! I have the feeling that you won't regret:). Ready to take up the challenge?;)
My typical day
To be honest, it is impossible to describe my typical day at this period of life, because I have a little son and all the time I am busy with him. Every day we go for walks, play different games, I am trying to develop his skills in everything step by step, as the child needs to know everything, and of course, needs to feel loved and needed. And I am doing my best to provide him with such feelings:), as I want my son to grow up as a Real Gentleman.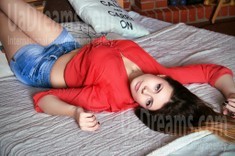 My future goals are
The question is a bit complicated. I want my son to have a happy childhood and life, and I will do my best for him to have it. Besides that of course, I dream about having the right and strong man with us, so that we would be able to share good and bad moments, being sure that both can lean on each other, and for sure, enjoy the happy life:).
Get a much better idea of the lady's personality!
Discover her life and secrets no other men know :)
It's intriguing like finding an unknown world...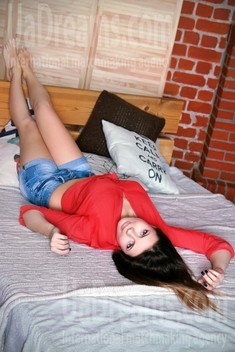 About my family
My family is not that big, I have a mother, a sister and my son:), who is everything to me and I will do my best for him to have a happy childhood:). I can tell you that I am grateful to my family for my upbringing, as they have filled me with everything needed for the life, and I am full of love and care which I would love to give to my beloved man:).
The type of man that I desire
I have got a wish to meet the man who is taller than me, kind, reliable, loving, understanding and supportive. The man who I will be sure in and who I can lean on, and feel fragile with. I want him to have a rich inner world, so may be it can be you?