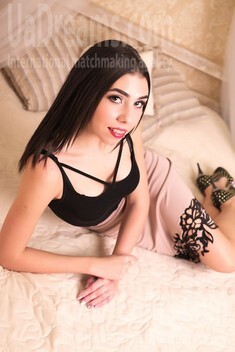 How would I describe myself
It's difficult to describe myself, but I can characterize myself with my friends' words. They often tell me that I am communicative and easy-going person, who enjoys everything in this life and stays positive all the time. I like moving, because for me moving - is life. I like to express my emotions through the dance and to show all my femininity.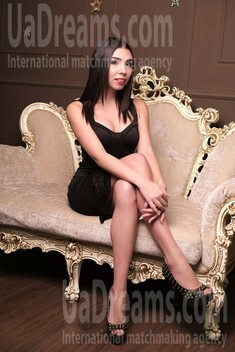 Domestic abilities
As a real Ukrainian lady I adore taking care of my home, because I was grown with those values. I like to keep our family hearth and to make everything for comfortable life in my home. I have usual responsibilities, which I do every day. I clean my home, I water the flowers, iron clothes. Also I adore cooking for my relatives:) Especially something delicious and sweet. I like to bake cakes, pies, cookies. I get a lot of pleasure when I see how my close people eat my meals and say that they like them and want more:) I adore such moments:)
See her fascinating movements and charming smile...
Feel as if it was your first date with this lady — it is worth 1000 pictures!
Watch this video for FREE
The type of man that I desire
I have a big desire to meet a man, who will be my real other half, my protector and the best man in the world. I want to have such a man close to me, who is strong, courageous and faithful. I like people, who live and see positive in every moment of life. I hope that he will have a good sense of humour:) I want to be the best woman for him and to take care of him. I will give him my attention and love and I hope to get the same from him:) I think that we will be able to create tender relations and find reasons for happiness every day:)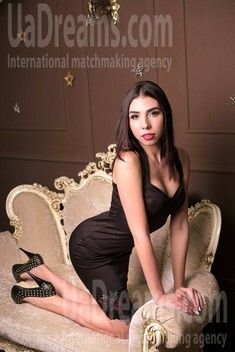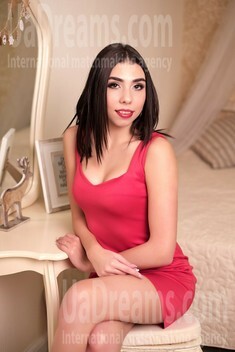 What I do in my leisure time?
I prefer to spend my leisure time with benefit. I try to get new knowledge and positive emotions all the time. I try to develop myself in different directions and do everything for that. For example, I study psychology, so I choose this field of science, because it helps me to understand different people and their actions better. Also I try to learn English, I think that every modern person must speak few foreign languages. In the evening I like reading different books and watching films. After the university I go to the gym, because I like to keep my body in a good shape. My main passion is photography and dancing. These kinds of activity give me a lot of pleasure and happiness. And I want to develop in this direction:)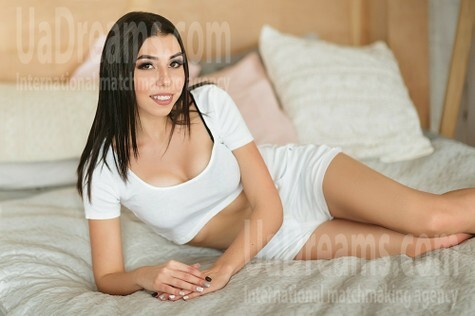 About my family
My family consists of 6 people. My parents have been working on the plant during all their lives. They love each other very much and take care and it looks so tenderly:) They both like travelling. My relationships with mother are very close and warm. She is my best friend and she never blamed me for anything. I like that we have such good relationships. I am thankful to my destiny that I have such parents. They are good example to follow for everyone and for me too. I would be glad to have the same tender relationships between the members of my family.
My future goals are
For today I have a few main goals, which inspire me and help to go ahead. Firstly, I want to get education. Secondly, I dream to create a family with its own traditions and values. I want to take care of my relatives and give them my tenderness and love. My next goal - is to learn English and maybe a second foreign language - for myself or for my future beloved man who will speak another language. Also I have a desire to develop my knowledge of psychology and photography. I am sure that our destiny is in our hands and we can achieve everything:)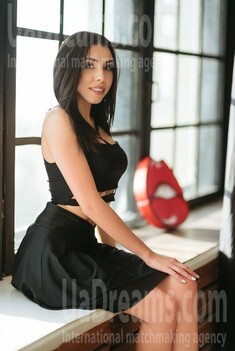 Our personal opinion of this Lady
We can say that despite her young age, this lady is ready for serious relations. She is very open-minded and interesting girl, with whom it will be easy to find common language. She is a tender and kind lady.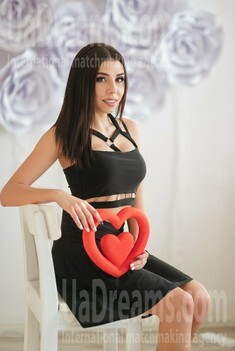 My typical day
My typical day is full of positive emotions and events. Usually every day I wake up, drink a cup of coffee and go to the university. After university I need to get new strength and go to the gym. I like sport and I feel better in such a way:) Then I come back home, find some time for the rest, cook something, take a bath, do my homework. In the evening I can read an interesting book or walk with my friends to a cozy cafe and sometimes I make different experiments with them, for example, conduct psychological tests, my friends like that:)