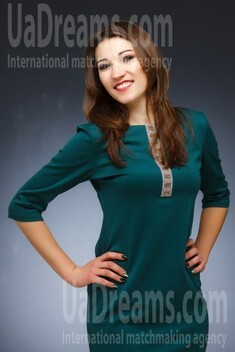 My future goals are
I do not set any unrealistic goals, I understand that I live a simple life and I do not purport to become someone famous. I want to be sure that I am living my life following God's instructions, that I am a nice person, a devoted wife and a loving mother. I think that a woman is made to combine all of these roles. I have almost all I wish to have to be happy, but loneliness feels sharp when I stay alone at night, when I wake up alone in my bed, and have nobody to look at me with care and love. So my first and utmost goal is to create a loving family. Hope I will achieve that soon.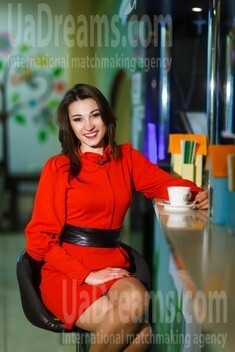 What I do in my leisure time?
I work regular working days Monday through Friday, the weekend I have off and I try to make it memorable for me and my son. We love sports, and active lifestyle, so we often are outside, hiking, fishing or camping. I have many friends, who share my interests and we often gather to spend time together out in the nature. I think that as many other people mostly my days are routine, but a nice book in the end of the day gives me a chance to travel to unknown faraway places the story describes. I enjoy life, and I try to find happy moments in everything around me.
See her fascinating movements and charming smile...
Feel as if it was your first date with this lady — it is worth 1000 pictures!
Watch this video for FREE
The type of man that I desire
I hope to meet a man who will be my best friend first, and who will take the position of my one and only till the end of days. I hope to find someone, who will know what the words "love", "loyalty" and "devotion" mean. My past experience was not very happy, but I am over it now, and I decided I shouldn't give up the hope to find happiness in the life. So I am here, hoping to find a simple man, nobody but a nice and ordinary man. I am not chasing money, I do not strive for social position, I just want to have simple woman's happiness. A beloved and loving man by my side.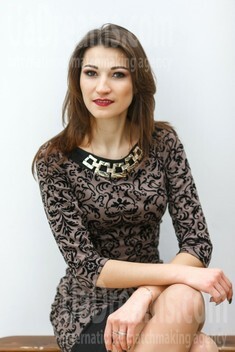 Domestic abilities
Well telling about my typical day I have already told the most of the things I do at home. But I didn't have a chance to mention that I also love cooking. I truly enjoy it and I want told I know how to do it well. My friends call my borsh the best in Ukraine ;) And that is a very high reward, as borsh is a very important food in Ukrainian cuisine :) I can honestly say that I am a good housekeeper, not just because I do it as I need to, but because I love doing it. :)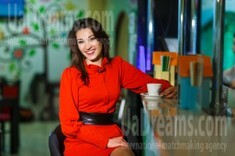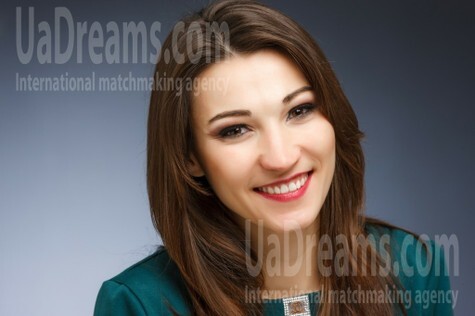 About my family
There are only four of us in my family. Me, my son, my sister, and my best friend at the same time, and of course my Mother. Lately my Mom has been very sick, and she needs a lot of our love and care now. That is hard to watch your beloved one to suffer, as my Mom does now, but my sister and I are trying to do all we can to make her life better. We have always been very close together, and we are ready to support each other through anything. For some reason there are no men in our family, except my son :) So we had to learn how to survive in this life , ladies only. I am sure that my chosen one will be accepted to my family with all the care and love we are used to give each other.
My typical day
Monday through Friday my days look the same. I live in the village outside the city, so to get to work place in time I have to wake up about 4 am, get all the household errand done, make breakfast for all the family, take shower and take care of the livestock, we have two cows, four pigs, numerous geese, turkeys and chicken and they all need to be fed :) Then I take the suburban electric train and go to my work. Where I stay till 6 pm five days a week. After I get back home, I spend time with my son, and with my family, and do all the evening routine things for my family and the livestock again. My day probably sound boring, as I don't have time for much fun in my everyday life, but I am never complaining about my life, just one thing is missing.. the true love in my heart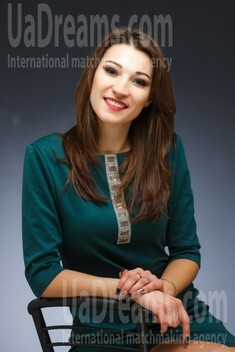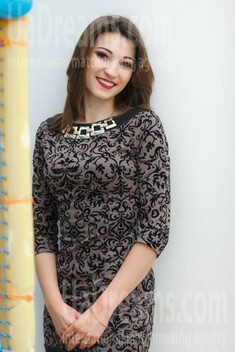 How would I describe myself
I think I am a kind, open, sincere and understanding lady. The only thing I would never be able to understand is a betray. I won't be able to continue relations with a man, who would think about another lady in a very close way. I love life. I try to be a good mother. I am a hard worker. I am not a troublemaker and I am not supporting argues. I think of life as of a good place no matter what, and I hope to be able to share a happy life with a man, who would think of it the same way as I do.
Our personal opinion of this Lady
Very nice, calm and sweet lady. She is not a fancy chick, she is not a clubber, but she is definitely a woman to create a family with. And we sincerely wish her good luck in her search.