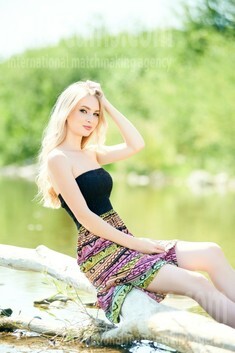 Domestic abilities
My family owns a nice apartment and I like to take care of it :) Since I like to turn any activity into fun, I turn on my best music and do cleaning, cooking, baking cakes, taking care of my plants :) I have a lot of them, by the way :) Sometimes I like changing the interior design of my flat, and I do that from time to time. My mom gladly joins me and shares her ideas :) Of course, my house needs a man, if you know what I mean. A woman cannot do everything. So I hope I will have a nice company while doing all the housework soon if I am lucky enough to find my man here :)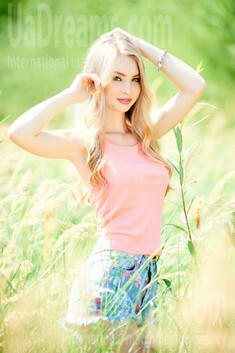 My future goals are
The main goal of mine is to become a happy wife and find out at last what is happiness :). I would like to have a very loving family very soon. That's not only my goal, that's my biggest dream. I wanna become successful in my career and achieve a good self-development in my life. I am not that much career - oriented so far, since I study at the university yet, but that will be important for me either to get a good job :) Another one passionate goal of mine is to visit many places and travel around the world, hopefully with my future beloved :)
See her fascinating movements and charming smile...
Feel as if it was your first date with this lady — it is worth 1000 pictures!
Watch this video for FREE
How would I describe myself
I am quite easy-going, and always ready for something new. I am sociable, fun to be with, and it seems like I have a nice sense of humor :) I am very caring, and I could be a loving wife when I meet my man. I am very passionate, too. I am a giver - I enjoy making people happy. Sometimes I can be quite emotional. I like showing my real feelings to a man. I have many different interests, and I am quite curious by nature.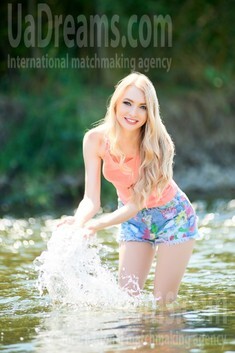 What I do in my leisure time?
I prefer to spend my spare time in very different ways :) I spend much time on self-development, which means I read a lot, watch quite much on the Internet, attend different exhibitions :) I am interested in art, famous artists' works, painting:) I spend quite a lot of time on sports. I go to the gym and I distract from my routine, and I get the feeling of satisfaction because when you do something for self-improvement, you are always in a good mood... I also enjoy going to the cinema with a nice company. I like every kind of outdoor activities, too.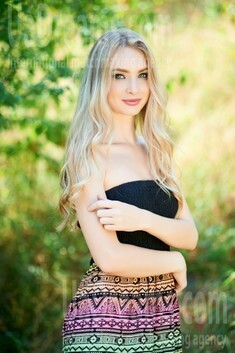 Our personal opinion of this Lady
The lady is very outgoing, very beautiful and very feminine. She likes communication with other people a lot. :) She is very pleasant to talk to, and she seems to be very polite with other people and well-mannered. She is very-very romantic, a real dreamer, quite cheerful and well-mannered:)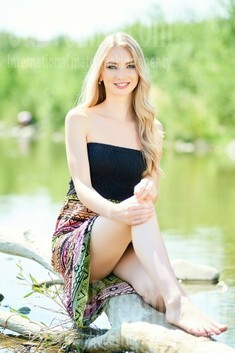 My typical day
Well, my morning starts with a light breakfast, a little workout, a pleasant shower. Then I do my makeup, drink a cup of coffee. I always do it while listening to music. After doing all that I am in a hurry for to the university where I have classes normally every day :) I spend half of the day listening to lectures, different classes which are rather interesting for me:) At the same time I meet my groupmates, friends there and we like to spend breaks in between classes together :) After that I can spend my time on walking, or shopping which is a good relax for the brain :)) Having come back home, I cook some tasty dinner for myself and the rest of the family:) Yeah, I like to spoil them a little. Who doesn't like this, right?:) I like reading magazines and books when I have some time or watch something nice before going to sleep :)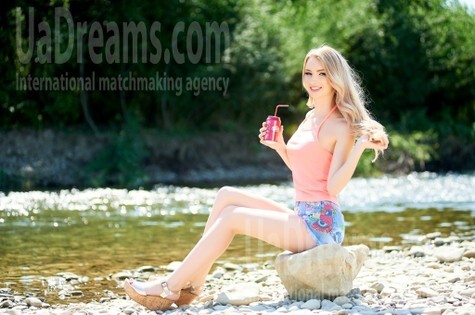 About my family
I am fortunate to have the best and the most beautiful family in the world. It consists of loyal, loving and caring people who are my parents and an older brother:) We all always tried to help and support each other :) My parents managed to give me and my brother good education, and inculcated good manners in us. We are all very friendly, we get along well. Of course, we use every single opportunity when we get to spend some time together, plan our vacations and always help each other when it's necessary :) When we have some free time, we go to the mountains, or have picnics, and I adore those times.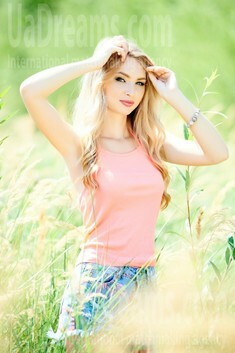 The type of man that I desire
I am really eager to find an honest, kind, mature and responsible man. I want someone to take care of me, love me and respect me. I want this man to be my friend, who could listen to me and talk to me after a hard and long day, and who would be able to share my happiness too :) I am not demanding, and don't look for the ideal person. I need the one who will enjoy every minute of being with me:) I would give him everything I can give. I am very caring, and I would want my man to be my shoulder. am a good listener, and I will be the most caring wife in return.