Domestic abilities
I can do everything about the house, I like to keep my home clean and cozy. I enjoy cooking and I do it quite well because my grandmother taught me how to cook. I like to find new recipes and make them and to invite my friends for dinner to my home. Preparing meal always makes my mood better. I hope that you will be glad to try my dishes someday.)) I like when all things have thier own place. I also have many plants around my house and I like to take a good care about them.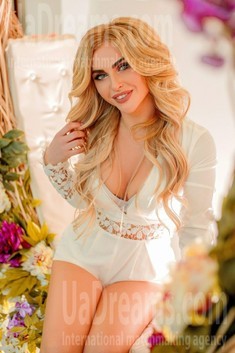 Our personal opinion of this Lady
Alyona is very charming and communicative lady, she is easy-going, cheerful, confident and attentive. She is very serious with her intention to meet her future beloved man here and create family.) Don't miss the chance to communicate with her and meet her in real life.
See her fascinating movements and charming smile...
Feel as if it was your first date with this lady — it is worth 1000 pictures!
Watch this video for FREE
How would I describe myself
I am kind, loving and sensual woman. I like passion and I want to be always attractive for my future man! I am not materialistic and I am not selfish at all. I believe in feminity and my passion is to help to other people. Because when I see people's smile, only then I am happy person! My friends say that I have a big heart. For me is important to have balanced and organised life. There should be a golden middle in everything. I hope to find a man with whom I can create cozy home and feel strong shoulder next to me! So, I enjoy my life and do believe in the best for me. I am an optimist and I very smiling and positive person. I don't like any confrontation and I don't like to make things complicated.
My typical day
My typical day looks different every day. I like to start my day wiht some exercices or if the weather is good jogging in the park. I get up in the morning and go to make the breakfast for my daughter and myself. Then I bring her to school and go to work. After work I take my daughter off from school and we go home. On weekends we can go to the park to walk or cafe to have pizza. I love spending my time with my daughter. I wish to have a nice man next to me to enjoy our time together being as a nice and friendly family.))
About my family
I was born in Odessa and was raised in a nice and friendly family.... but when I was 6 my mother has passed away( I still miss her very much in my life.. but I know that even if she is far from me, she will be always in my heart. I don't communicate with my father very often. I was raised by my grandparents. My family is two my sisters, my daughter and my grandmother. The one sister is 10 years elder me and another one is 3 years younger than me. We have good relations between us and we love to gather together and spend our time together.
My future goals are
I am divorced and I should say that it was a hard and painful time in my life. I don't want to go through another one!) I look for a strong marriage. I believe in true love and I am ready for serious relations with a man who will be my second half and my friend! I want my man to be caring, kind, loving, but also responsible and understanding. I need a person whom I can trust and who will trust me. I want us to have common interests to share together. I think it's very important in family. I dream about nice and loving family where each of us will feel only love and care about each other!))
The type of man that I desire
I am looking for a man with whom I feel happy and comfortable. I appreciate if he is loyal and with strong family values. He must be responsible for me and our family. I am ready to open my heart to him if he doesn't afraid to fall in love with me! I need a person with whom I feel myself a happy woman every day, the person who is willing to work on common life goals and who doesn't afraid of difficulties in life and can support his family. I just want to meet a simple and kind man who will love me and will accept my love to him.))
What I do in my leisure time?
I am very active and dymanic person. I can say that there are lots of different things that I like to do in my leisure time. I enjoy reading interesting books, watching a romantic movie or meeting with my friends for dinner or go to cinema together. But my passion is dancing. I love dancing very much, it helps me to stay fit. I also like doing sport and enjoy being outdoors or at the beach during the summer time. That makes me relax having a great mood.))) Also I am mother of a sweet little girl who makes me happy every day and brings much joy into my life. I dedicate all my free time to my daughter. We like to play together and walk in the park. I adore spending my free time with her.
Get a much better idea of the lady's personality!
Discover her life and secrets no other men know :)
It's intriguing like finding an unknown world...