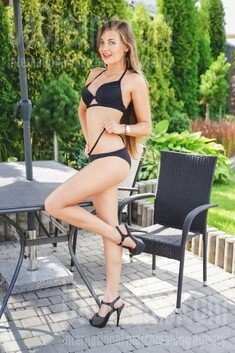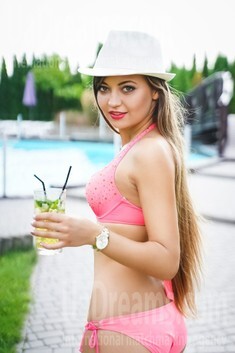 Our personal opinion of this Lady
Anastasia is a very nice girl. It is seen from her schedule that she is very busy and goal-oriented young lady. She is very beautiful. She has a natural beauty and has a nice feminine style. She is smart and communicative. She always plans her day and know what she will do the next week. She has a lot of hobbies and even finds time to do what she likes. She is very attentive, well-mannered, well-educated, open, sincere and ready to help if someone needs her help. She is ready for serious relations and will be a nice wife and mother in the future.
See her fascinating movements and charming smile...
Feel as if it was your first date with this lady — it is worth 1000 pictures!
Watch this video for FREE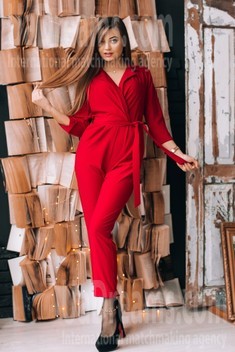 My future goals are
I have a lot of future goals and all of them I want to achieve by myself. I don't want to depend on somebody and I know that I am able to be independent. I told about being dependent upon the parents. Frankly speaking, I would like to be with a man who also has a lot of goals and ready to achieve them with me. I want to have my own business, a loving husband, family, children, true friends, a nice house, car and be happy with all these people and things. I know that it is not easy but I am ready to work and go to my aims.
Get a much better idea of the lady's personality!
Discover her life and secrets no other men know :)
It's intriguing like finding an unknown world...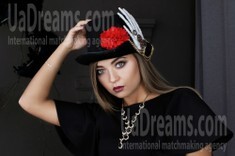 My typical day
I get up early in the morning, have shower, breakfast, get ready to go out and go to my study. I go to my work after the study and work there till 6 pm. After the work I usually go to the gym if I don't have any meetings. Sometimes I go to the repetitions. If the weather is nice I like to walk to the gym which is not so close from my work. I can also meet my friends and go to have a cup of tea or dinner out. WE also like to go shopping if we need to buy something. Then I go home, help my mother with the dinner and my younger sister with her homework.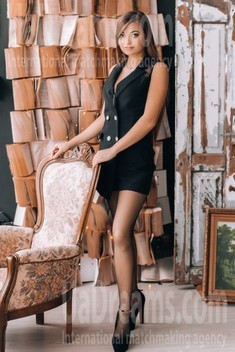 What I do in my leisure time?
I have a lot of hobbies that is why my leisure time is always very interesting. I like singing and sometimes I am invited to sing at the weddings as a special guest. I like sports very much and go to the gym regularly. I also got to kickboxing. My first workout there was to be able to defend myself in bad situations. But then I liked this kind of sports more and more. I can play piano and it gives me a lot of enjoyment. I am a model and often take part in the shows. Reading and watching movies are mostly for silent cold winter evenings. And, of course, I like to meet my friends.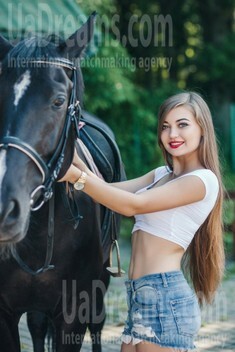 The type of man that I desire
I want to find a man with whom I will feel that I am happy and can make him happy also. I want to feel relaxed with him. It means that I want to be myself with him and feel that he loves me as I am. I want to feel comfortable crying in front of him, yelling in front him, and even having quiet moments. I need a loyal, honest, smart, brave, hard-working, helping, adequate, well-mannered and without bad habits man. Maybe it is too much but I hope such a man exists. And I want a man who can't wait to kiss me every morning and every night.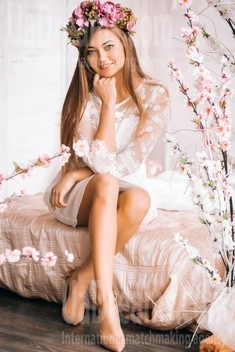 Get a much better idea of the lady's personality!
Discover her life and secrets no other men know :)
It's intriguing like finding an unknown world...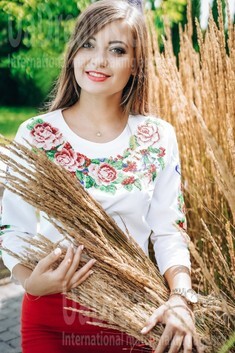 Get a much better idea of the lady's personality!
Discover her life and secrets no other men know :)
It's intriguing like finding an unknown world...


About my family
I have a family of four: my father, my mother and my younger sister. She is 11 years younger than me. My family is very nice, we all are in good relations, respect and understand each other. But I have an aunt who is not so much older than me. She is great and I can talk with her about everything. I know that she always gives me the best advices and support if I need this. She is a frequent guest in our house and sometimes I feel as if she is my elder sister. She also likes to go to our place as my mother is very hospitable and cooks well.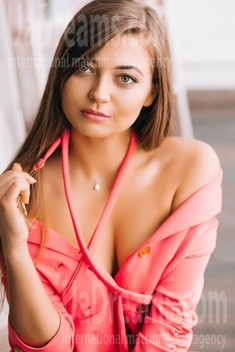 How would I describe myself
I don't like to talk about myself but, okay, I will try. I am open and have a straightforward character. My best features are: my honesty, kindness, righteousness. The most important for me is that people do not throw words into the wind, and they can always answer for their actions without blushing. I know what I want to achieve in this life and I always succeed my goals and wishes. I think that I am also kind and sympathetic. I always try to understand people and their life positions. I don't like to judge anybody and gossip.