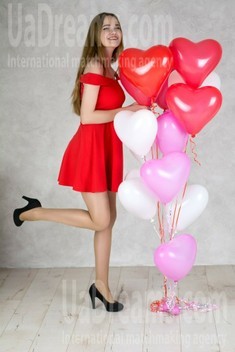 Our personal opinion of this Lady
Anna is very positive and nice girl. She is a kind and open-hearted person. She already knows what she wants in her life. She is very responsible, hardworking, purposeful and serious. She is creative and full of interesting ideas. Anna is fit and sporty girl. She is very beautiful. At the same time she is intelligent and cleaver.She is good at studying, working, sport and dancing.She is a multi-faceted person. She is communicative and sociable. It is a pleasure to talk with her. We think, she deserves all the best.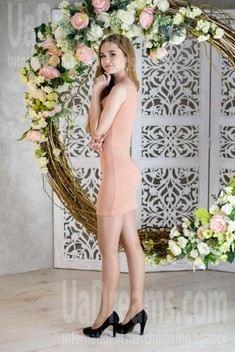 The type of man that I desire
First of all my man should love and appreciate me. It is the most important for me. He should be kind and sympathetic. Secondly, I would like to feel safe with him. A perfect man for me is a good listener and my best friend who will always understand, support and respect me. My future husband will be a good and caring father as well. Moreover, I prefer to build our relationships in trust. I can not stand lie and betrayal. So my perfect man should be honest and trust me. I will be honest and trust him as well. It is very important for me. At the same time a man should be successful in his job and in all other spheres of his life. He is responsible, purposeful and serious. He knows what he wants in his life.
See her fascinating movements and charming smile...
Feel as if it was your first date with this lady — it is worth 1000 pictures!
Watch this video for FREE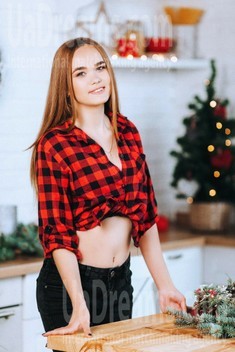 What I do in my leisure time?
Lying on the sofa and watching TV during leisure time is not for me. I can not stand such way of rest, only when I get a cold. During such lazy free time I think that I waste my time. Instead I would better go to the gym. I am fond of sport and try to keep fit and to be healthy, beautiful as well. Also, I adore dancing. It gives me energy and it makes my mood better. Besides, I am a creative person. I adore making some products with beads or other decorative items, especially when I want to relax, or when the weather is bad, it is raining or something like that. Also I do not forget about my friends. I adore spending time with them. As soon as I have free time, I call my best friends and we go for a walk. They make my life brighter and full of fun.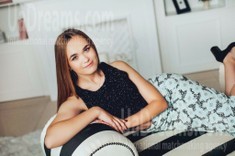 My future goals are
First of all, I want to find a loving and kind husband. I want to have big, friendly family full of love. I want to have two children (boy and girl). Family is the most important part in my life. Secondly, as for working, I desire to open my own business. I think, it will be the author workshop or I will open my own chain of stores with handmade products. I do not want to give up my creative hobby. I am sure it will bring me money in future. Thirdly, if my life is busy and full of household chores I will find free time for myself. I plan go to the gym and to dance as well. All in all everything is depends on me. I am sure I will achieve all my goals.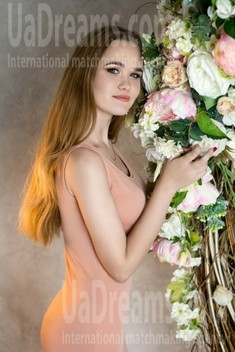 About my family
My family is not very big. I am the only child. I just adore my parents. They are the most important people in my life. My parents made a lot of efforts to educate me. I am very thankful to them. I always find free time to spend it with them. My parents are wise people who help me, give me a piece of advice when I need it. My mother is my best friend, who listens to me and understands. We can talk about everything during several hours. She always supports me and helps. My mother is the best. My father is my model for imitation. He is very responsible and hardworking person. He does his best in order to make our life better. Also coming after work and being very tired he stays positive. My father is a kind-hearted man. All in all my parents are the best. I love them so much!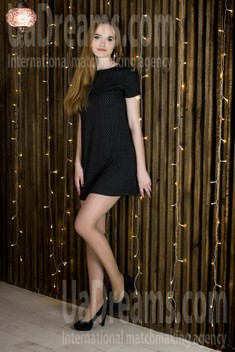 My typical day
My typical day starts when I wake up. I do not like to oversIeep, so usually I wake up early. After that I go for a morning jog. I adore running, it gives me energy for the whole day.Then I have my delicious breakfast. After that I go to my university where I get useful knowledge. Then I have a dinner and go to my work. After that I have free time and go to the gym. Then I come home, have a supper and do my homework. And go to bed. Almost every day is bright, busy and active. I like such way of live, because I know that I do not waste my time. It is a pleasure for me to see the results and to realize that the day was not in vain.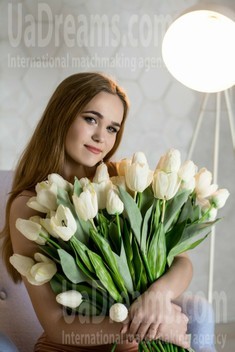 How would I describe myself
Firstly, I am a very creative person. I have good imagination which helps me to make different handmade products. I want to connect my future profession with my hobby. Secondly, I am fit and sporty. I am fond of sport and dancing. Thirdly, I am sociable, communicative person, because I spend a lot of time with my friends and I am surrounded by people almost every time. I am open for new acquaintances. I am positive, self-confident, responsible, purposeful, serious person. I am always busy as a bee. Also I think, I am kind and sympathetic, because I like to help people and to take care about homeless animals.