About my family
I was raised up at a full family with mom, dad, and elder brother. When I was a kid I wasn't very close with my brother but now I think we have a good calm and warm relations. He supports me, helps me and of course, defends me from too persistent boyfriends));) But my best friend is my mom. she understands me and always can give me wise advice and she always says to me: "Dasha, you have to have a cold head with men)))" I know but sometimes this is too difficult))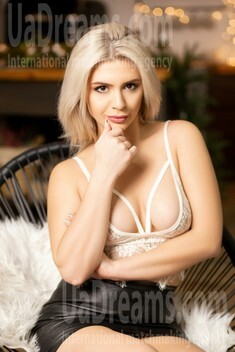 My future goals are
As I said above I want to see my world beautiful so my main goal is to feel harmony inside and outside. I want to achieve all the goals I have at my visualization board, do you have such a thing? ))) And of course a huge place there is dedicated to my future family. I want to create a strong, beautiful and happy family. I want to find my piece of the puzzle... The second step is to see the world and to find the place for my soul, the place of my power)
See her fascinating movements and charming smile...
Feel as if it was your first date with this lady — it is worth 1000 pictures!
Watch this video for FREE
The type of man that I desire
He is calm, confident, well mannered, a man who has big ambitions and knows what he wants and how he will achieve this. He cares about his health. He loves me and supports me at all my crazy ideas)) He thinks I am beautiful and doesn't tire to tell me about this haha;) He is always direct and honest with me, even if the dress makes me look fuller ))) He is very-very simple but at the same time clever and has a kind heart)
My typical day
I am a busy lady) At least at this period of time) I am a marketing manager and almost whole my day consists of the communicating with clients... but I do not forget about myself) I try to dedicate time to myself to spoil a little Dasha with aroma bath or little sweet candy after hard working day)) Do you have any little weakness? Also, I attend gym three times a week and meet with relatives as often as I can.
Get a much better idea of the lady's personality!
Discover her life and secrets no other men know :)
It's intriguing like finding an unknown world...


How would I describe myself
I am very calm and want to see the same calm person close to me. I know what I want and even see my future world and I feel I can find here the person with whom I can share my life and who will share all my interests and intentions in life))
What I do in my leisure time?
I want to see and feel my world calm and beautiful so I think if you have free time you have to spend it with pleasure) And I used to dedicate time to myself, to my friends and my family) Free time is free to spend it in a way you love)))) ;)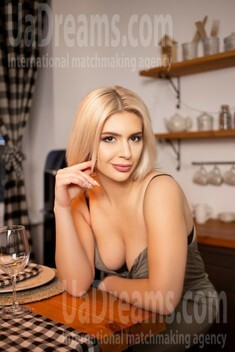 Our personal opinion of this Lady
She is very calm. She rays confidence and feminine energy)) She is like a panther: graceful and calm. Once you saw her eyes you would never forget them.