New lady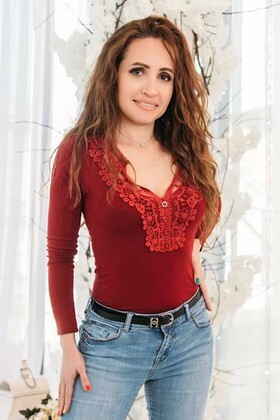 kharkov
Birth Date
Height
Weight
Eyes
Hair
Build
Glasses
She is
Smoke
Drink
20 January
162 cm 5' 4''
54 kg 119 lbs
brown
brown
average
No
right-handed
No
Never
Share your love with Elena!
Share your love with Elena!
Birth Date
City
Height
Weight
Eyes
Hair
Build
Glasses
She is
Smoke
Drink
I'm looking for
20 January
162 cm 5' 4''
54 kg 119 lbs
brown
brown
average
No
right-handed
No
Never
Marriage, Romance, Relationship, Dating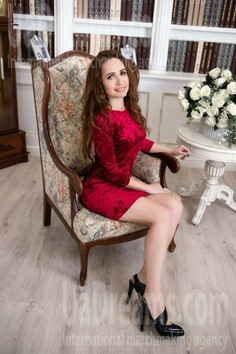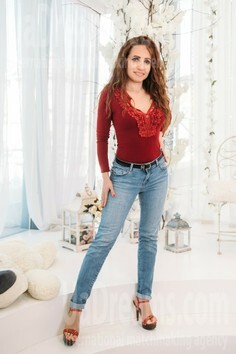 How would I describe myself
I am optimistic by nature. My friends say that I am a super-positive, high-spirited and sunny person. Well, that's true, because being such a person is essential for me. Also it is worth mentioning that I like following fashion trends. To me it is nice to look good, that's why I appreciate people with a good taste. I don't think that being fashionable means only wasting a huge amount of money or just wearing nice clothes. The inner light of a person could never be extinguished. I find myself quite interesting, really :) The day of my birth is the 20th of January. Half Capricorn, half Aquarius. There are many contradictions ans paradoxes inside of me, sooo... It won't be boring with me. Never! ;)
The type of man that I desire
I want to be with someone who I can count on. Trust is a very important feeling. When you know that there is someone in this world, who is always on your side, when you feel that you're not alone and there is a friend, who is ready to give you his hand at any time, who loves you the way you are and completely shares your life... This is happiness. This is worth living. Trust. Respect. Compromises. Love. Kindness. Understanding. Gentleness. Wisdom and tolerance. Passion. May sound like I'm going to build a fort of Love. Yes, that's right. Sand castles are out of fashion! ;)
My typical day
I am an early bird, dear ;) 6:30 a.m. on my clock, shower, the smells of toothpaste, shower gel, fresh air from the opened window and a cup of hot coffee with vanilla... This is my usual morning. Delicate aroma of my favourite Jean Paul Gaultier "Scandal" - and I leave my apartment. The time from 9 a.m. till 5 p.m. I spend at work. Document management may sound boring, but for me it's not. I like my job. It disciplines me and doesn't give me to throw mysels into my dreams :) After work I usually have a training. Yoga, fitness or dancing - it depends on my mood. After having a training my plans are always different. An entertaining evening with friends, bowling or a concert, cinema or theatre, shopping or just having a calm walk in the park... There are multiple ways to have a good time and interesting days, but I am sure you understand me and hope you have the same opinion: all those things make sense and find fulfilment only when there is someone holding your hand and sharing your life.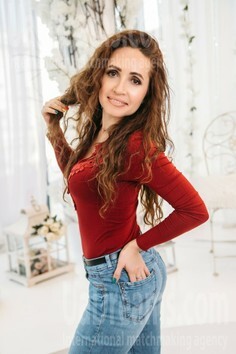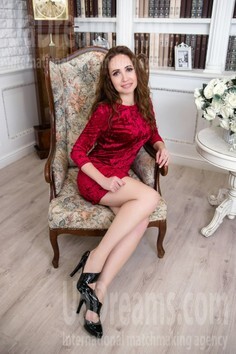 My future goals are
I think it's not difficult to guess :) My profile is imbued with the goal of my life, my dream and the only thing which can make me happy - my future family. Yes, I truly believe that life is senseless without love. There is nothing stronger and more important in this world than love. Building a strong relationship, happy family and a lifetime friendship with my partner means everything for me. I'd love to travel together, be involved with educating each other and explore all this amazing world. Together. Side by side. Hand-in-hand.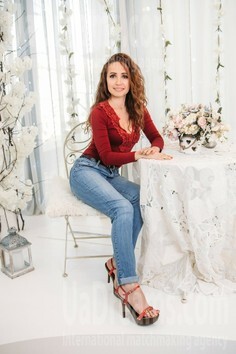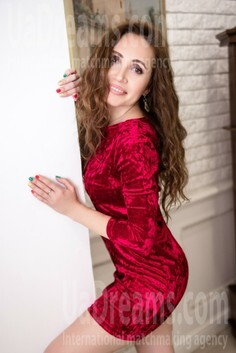 Our personal opinion of this Lady
Optimistic, intelligent, mellow lady with a good taste and a very warm smile :)
About my family
My family is not very big, but very friendly. Mother, father and two children. I have a sister 3 years my junior. She is a very important "page of my life". And I am very grateful to my parents for such a gift. She is a very kind and open lady. She is my best friend! "A sister is a gift to the heart, a friend to the spirit, a golden thread to the meaning of life". That's right about her. My family gave me the best memories, and my parents gave me a good upbringing. My father alwas has a funny story to tell. Mom always has something delicious for every guest of our house. Being hospitable, having a good sense of humor, staying kind and optimistic - my treasures given to me by my wonderful family. But the closest family member to me is my grandmother. She blessed me for good luck and wisdom. Granny tells me that I have a gift that runs in my family: making people around happy! A very nice gift, yes? :) So I always tried hard to follow her words! :)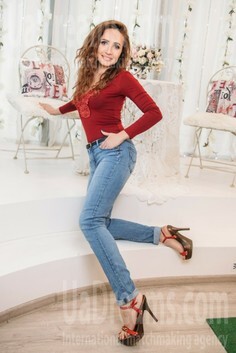 What I do in my leisure time?
I never waste my time for nothing. I use every minute of to find something what can make me better and bring light into my life. That's why there is a huge amount of hobbies I have. I don't have any of social networks. Many ladies use them to play a role of a happy and successful woman. Sorry, presenting myself as a fake princess is not about me :) My day is always lilled up with active and really interesting things to do. Sport is a great part of it. Being in a good shape is important for every person, especially for a woman. :) Fitness, yoga and dancing are my favorite instruments for it. :) Reading books, visiting cinemas and theatres, watching ballet and listening to music - yes, all those things are very important for me too. And, of course, what a lady without fashion and shopping? :) Where do I find so much time? Don't ask, because I don't know! :):):) I just live the way I like and value every moment of life! ;)
Lady will meet you in 11 hours Good luck!
Lady wants to chat with you in 11 hours
Lady offers to move chat for 11 hours
Lady declined invitation, but explains why:
Thanks but I can't come. Thanks though! Appreciate it!
She's online and waiting for you!
Lady is late, will be at 12:30