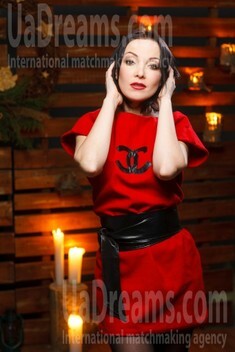 My typical day
My day starts early, with morning exercises and getting Evelina ready for school, when she leaves I do yoga training, take a shower and go to work. If I am off then I go to the studio where we work on the cloths. After work I like making a short stop in a coffee house on the way home, there is a place by the window where I like to sit and watch the streets being busy with people and cars. I like the feeling of observer and the feeling of time stop for a few minute. In the evening we do homework with my daughter, cook the dinner and watch some TV together. I think my life is simple and I am enjoying it.
What I do in my leisure time?
I work as a nurse and this is a job which requires a certain mentality, but I love that I am able to help people when they need it. On me time off I am enjoying being outside with my daughter, we love traveling and being out in the nature. Each day is good for a new trip, no matter if it is just a walk in the park or a visit to the other city. I have a hobby which is my passion also, I like creating clothes, right now me and my lady friend are working on the first collection of female cloths, hopefully in spring we will be able to have the opening night of our fashion store.
See her fascinating movements and charming smile...
Feel as if it was your first date with this lady — it is worth 1000 pictures!
Watch this video for FREE
About my family
I was raised in a loving family. My native father has left us when I was a baby, but I was blessed as my step-father has always loved me as his blood child. I have a brother who is 5 years younger than me , and we are very close. We are in touch often with my family members, even though we live far from each other now. Right now there are just two of us, me and Evelina, my daughter in everyday life. But I hope that soon a man will come into our life and make is better :)
How would I describe myself
I am a simple and down to earth lady. I don't need much to feel happy. I think that I am a good and trustworthy friend and I hope soon I will find a man who will wish to see me as a loving wife and a passionate lover.
The type of man that I desire
I dream to find a man who will be loving, loyal and sincere. I believe in love for a lifetime, but I haven't found it yet for myself. I have never been a bride as I have never been married. My ex relations gave me my lovely daughter and a lot of experience, which has helped me to become who I am now. I want to be with a man who will be supporting and loving. Who will not change his mind about the future in a blink or eye and who will be able to accept my daughter. I want to feel myself a real woman, I hope I can say I am a good mother, but I want to accomplish as a loving wife too.
Our personal opinion of this Lady
Nice, simple and smiling lady. She is calm and realistic, she came to our agency hoping to find her beloved with our help and we hope she will be able to find her happiness here.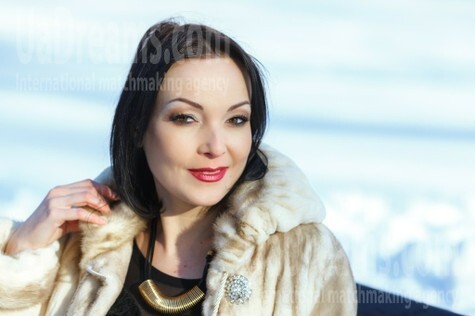 My future goals are
I am a woman with goals. My utmost goal is a loving family, as the family is the support and the ground for the goals to come true. I hope to raise a good lady in my daughter, and to give her right life values. I am very much involved in the creation of the collection of cloths now, and I hope this project will be successful and I hope ladies will like what we will create. I always come up with the new goals and dreams, I hope I will find a man who will have the same strong call for life and the same desire to achieve something with every new day/
Domestic abilities
I like my house to be neat, and I keep it clean always. I enjoy cleaning and I often do it when I need a chance to think. I also enjoy cooking, I like to experiment with old recipes, mix different cuisines and surprise my family and friends. I think that it is not hard to do any domestic errands, for me it is always a pleasure and I am enjoying the days when I can spend a day cooking :) I would like to find a man who would be enjoying cooking as much as I do, or at least who will be happy to try what I will cook :)