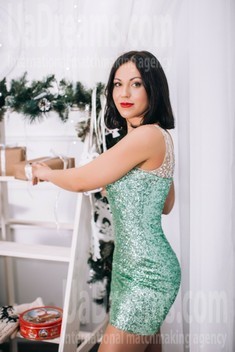 My future goals are
In the future, I see myself as the recognized expert in the sphere of my work. I'm also planning on learning to speak at least one foreign language fluently. I dream of traveling around the world and seeing other cultures, meeting different people, tasting the food from all over the world:) And of course, my main goal is to find my soul mate! I'm sure that with that man I will build a strong, happy family. I'm dreaming of the nice, cozy family house filled with children's laughter, love, care and happy evenings when the whole family is together.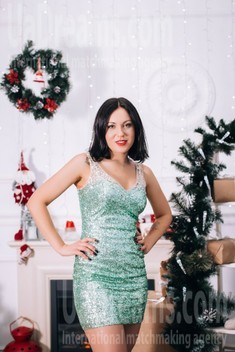 What I do in my leisure time?
I spend a lot of time at work so I like to have a good rest. I prefer reading a book or watching a good movie at home or going to the cinema with my friends. Meeting with friends is important for me. I think social life plays important role in our lives. I also like to spend quality time with my older (middle) sister. We are very close together and have many things in common. And, of course, I love sitting in a cozy chair with my kitty cat, Kira (it's a British cat. It doesn't like strangers but it is very trustful with me:))
See her fascinating movements and charming smile...
Feel as if it was your first date with this lady — it is worth 1000 pictures!
Watch this video for FREE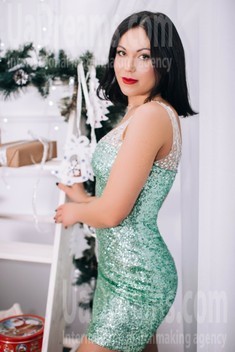 About my family
I grew up in the countryside, in a big friendly family. My family consists of four so far: me, my father and two sisters. I'm the youngest one. My sisters are ten and eight years older. We love and trust each other and these qualities I would like to see in my future relations. I'm sure that support, trust and the ability to make compromises are very important for successful family existence. I was raised in conditions where I learned how important it is to share; how important it is to be open and to know and respect other peoples' needs and desires. That is why it is hard for me to stand egoists and self-concentrated individuals.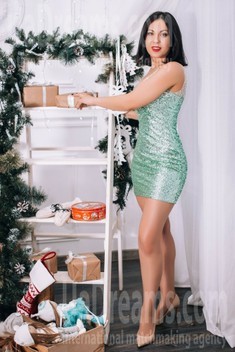 How would I describe myself
I'm one positive lady with quite a life experience behind:) I was in a relationship, we dated for some time but it didn't work out. Right now I'm seeking happiness and the synonym of happiness for me is to be joyful with my love, family, and kids. I also want to learn English as far as I travel a lot (I've been to Poland and France) and I'm planning to continue doing that (Great Britain, Austria, and the United States are next on my wishlist). So, knowing English is obligatory for me! I dream of having kids! I'm sure I'm ready for that. Most of all I want to live in a peaceful world without lie and hypocrisy...I'm not sure it is possible, though. I always hope for the best, anyway:)
My typical day
My typical day is rather...typical:) I wake up, go to work. I work as a sales consultant in a lingerie department. I love love love my job very much. I help ladies to find what they need to feel sexy, nice, beautiful! I go to the beauty salon to get my nails and hair done regularly. From times to times I manage to do these pleasant procedures before work:) I also go to the spa salon for the mаssage and I run to stay healthy and fit. Running keeps both: my body and my mind fit and clear:) I work till late, after work I love spending time with my friends (if nothing important appears).
Our personal opinion of this Lady
She sounds very optimistic and self-confident young lady. She's very interesting to talk with; possesses a good sense of humor:) She is sincere and she is ready to create a family. Everything she says makes you believe her. She lives active life filled with friends, relatives, interesting events and the only thing she lacks is... a reliable man by her side! She is not at all self-concentrated; the most important thing for her is her beloved ones to be healthy and happy. She hates lies and can't stand liars and, as she said, she tries always to be sincere. She's positive, optimistic, beautiful young lady:)
The type of man that I desire
I'm looking for a soul mate. I wish he would be purposeful, caring and would possess a good sense of humor. I see a reliable, self-confident man by my side. I'm looking for someone I would trust to and share a lifetime together and of course, he will love me till death separates us:) "LOVE" for me means deep affection, care, sympathy, respect, responsibility, and intimacy. I mentioned TRUST. I'm sure if we trust each other we would be able to find compromises to solve any trouble which appears in our family life. I think I would be able to forgive and find the way out whatever happens if that man will steal my heart. I'm seeking for a loyal, devoted person who will become my strong, secure shoulder I can lean on; my lover and best friend.