The type of man that I desire
It's important for me to find a good man, because I'm very kind and calm person and it's important to have the same partner next to me. A man must be an understanding person who will appreciate me and my child and be able to accept him and be good father. A man should share interests with me, I believe that we need to spend time together in an interesting way and enjoy each minute. I want to give happiness to my man and share my love with him. By the way, I want to see a man near me, who will not offend me and will also give me his love.
See her fascinating movements and charming smile...
Feel as if it was your first date with this lady — it is worth 1000 pictures!
Watch this video for FREE
My future goals are
My goals in life are very simple, I want to be happy, but I do not need much for happiness. It is important for me to find my love and build a family with this person. I want to be needed and desirable, to be always together with my loved one, and if there are any life problems, then we could easily overcome them with my partner. A person is very interesting while he is developing, I also want to develop, to see the world, visit many countries and try national food there. And I want to help my son to be a real man, honest and sincere.
Our personal opinion of this Lady
The lady is kind and open. She is ready to give love but for this she needs to find a man who will love her. She is afraid to be betrayed and does not want to be disappointed in a man.
About my family
My family is very small and consists of 2 people, it's me and my son. I also have parents but they live not in Nikolaev, but I try to meet with them as often as I can. I have an elder brother, but he does not live in Nikolaev and we meet only on holidays. My family - is my wealth. My parents tried to grow my brother and me in loving and caring atmosphere. I appreciate relationships of my parents and how they relate to me. I would like to have my future family also so friendly and loving. Mom is my best friend because I can discuss everything with her and she will give me some good advice.
What I do in my leisure time?
As you already understood, I do not have much free time, but if I find time for myself then the first thing I do is run to gym. I want to be healthy and to have nice body, for this I need to train a lot. When the weather is good, I can go home by foot and enjoy the views on beautiful city. Of course, I also like to spend time with friends, although it happens very seldom, we can go to cinema or cafe or just sit by the river and talk.I like to be in the nature and that is why I try to go out with my son as often as possible on picnics and a couple of times even we were fishing.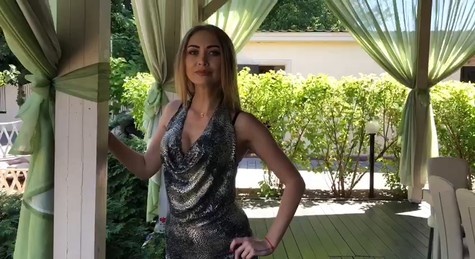 Get a much better idea of the lady's personality!
Discover her life and secrets no other men know :)
It's intriguing like finding an unknown world...


How would I describe myself
I am cheerful and positive lady who is looking for a decent man. I want to love and be loved, and I think that true love exists - we just need to find it. I am ready for serious relationships and building a family.
Get a much better idea of the lady's personality!
Discover her life and secrets no other men know :)
It's intriguing like finding an unknown world...


My typical day
My morning always starts with a cup of coffee because only coffee helps me to wake up and and get energy for the whole day. If this is the school period, then I take my son to school, and go to work. As my son is still a kid and he can not take care of himself, after school I take him to his training. After his training, we stroll around the park and cook a tasty dinner. I'm trying to find time and go to gym because this is very important for me. My day depends on my son's schedule, we live only together, no one can help me and I have to take care of him.